Hello and welcome to the 109th installment of the SWD. For those of you interested, a new Facebook page for Syrian War Daily is now up and running, you can find it here.
Military events/news are listed below by the governorates:
Aleppo:
Hayat Tahrir al-Sham attacked the HQ of the 23rd Division (Al-Firqa 23) of Free Syrian Army in the southern Aleppo countryside. HTS arrested several fighters and commanders of the division, but besides arresting members of the aforementioned group, HTS also arrested several fighters of Ahrar al-Sham. This led to violent clashes between HTS and AAS in Zharat al-Madayin, casualty numbers for either side are currently unknown, but casualties have been reported.
Syrian Arab Army captured Maskanah silos, Jadia Kabira, and Jadia Saghira from Islamic State southwest of Maskanah.
Situation around Maskanah. Source: Global Event Map
Raqqa:
It appears that there is still Islamic State's presence in the Baath dam area, contrary to yesterday's reports. IS' fighters presence in the surrounding area is so high that they even tried to break the siege of the Baath dam. However, they failed in their intention and all of the attacks were repelled by SDF. IS' losses from the failed attacks are 19 fighters killed and four military vehicles lost, SDF seized two tanks and two BMPs.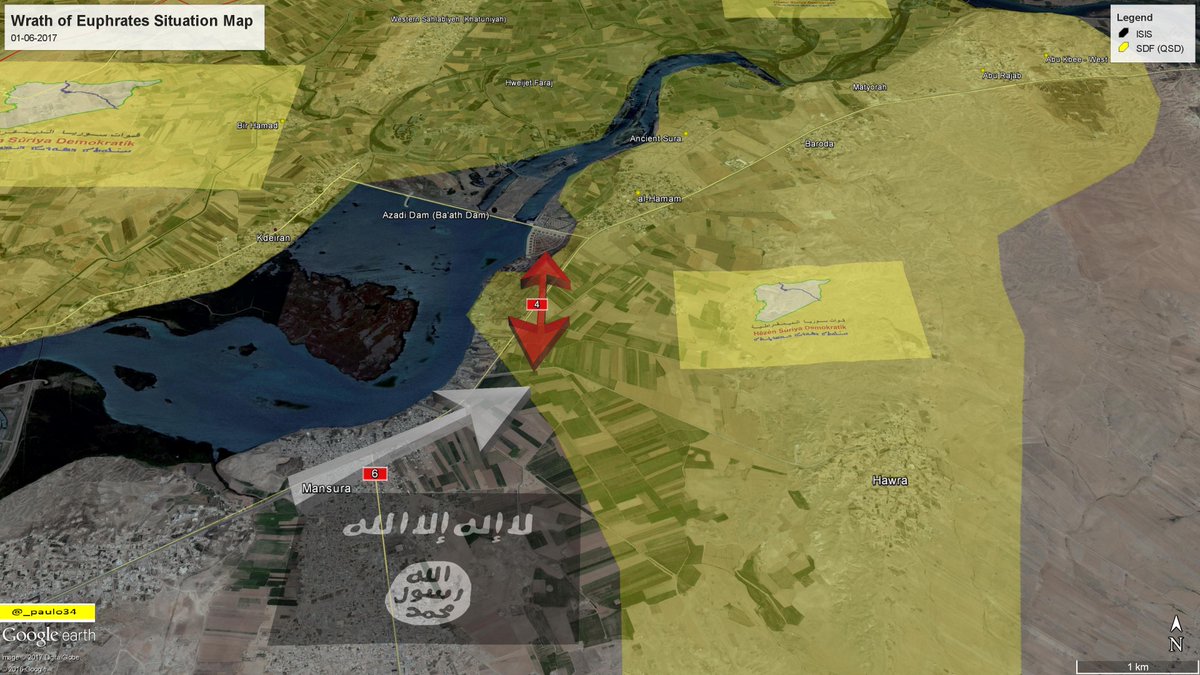 Situation around Baath dam. Source: _paulo34
Al-Hasakah:
Yesterday's highly unconfirmed reports about Iraqi Al-Hashd al-Shaabi entering Syria and capturing two localities from SDF turned out to be false. The same sources that reported the capture are now saying that Iraqi forces withdrew from the area they allegedly captured.
Idlib:
Explosion occurred in Kafr Takharim, near the Great Omari Mosque in the town, explosion only resulted in material damage to the nearby buildings and lightly injured several civilians.
Hama:
Islamic State repelled Syrian Arab Army's attack on Al-Barghoutiya village, the former reportedly killed three latter's soldiers, injured another 10, and destroyed a tank during the failed attack.
Homs:
Amaq Agency released a statement saying that the Russian airstrikes on Al-Sukhnah have killed five and injured 17 civilians.
Damascus:
Syrian Arab Army and Jaysh al-Islam clashed around Hawsh al-Dawahirah as the former tried to advance in the area.
Daraa:
Daraa governorate has been hit by a couple of explosions today, during the night, improvised explosive device exploded on the road between Al-Ghariya al-Sharqiyah and Al-Sourah killing three people.
Two more improvised explosive devices exploded on the road between Kafr Shams and Aqraba, this attack was more deadlier as the casualties from it are at least 15 killed and 20 more wounded. According to several sources, SAA shelled and targeted with guided missiles the area where two explosions occurred. Pro-government sources reported that the explosions on Kafr Shams-Aqraba road targeted rebel convoy.
Commander in Liwa Sayf al-Janoub, part of the Free Syrian Army, Ahmed al-Mutab was wounded by unknown gunmen in Al-Hara.
Rebel factions clashed with Islamic State's affiliate Jaysh Khalid ibn al-Walid around Al-Shaykh Saad, south of Nawa.
Iraq
Nineveh:
Situation remains mainly the same territory-wise in west Mosul as Iraqi forces and Islamic State continue to clash. Islamic State's foreign commander from France, Abu Maria al-Faransi was killed by Iraqi forces in Al-Zanjili district. In the same district, Islamic State damaged Iraqi Humvee with an RPG.
In Al-Shafaa district, west Mosul, Iraqi Army found a mass grave containing remains of around 60 civilians which were executed by Islamic State at some point.
Al-Hashd al-Shaabi (Popular Mobilization Units) advanced against Islamic State southeast of Baaj and captured Al-Khibra and Al-Sakaar. After these advances, Iraqi forces freed around 300 families from Islamic State.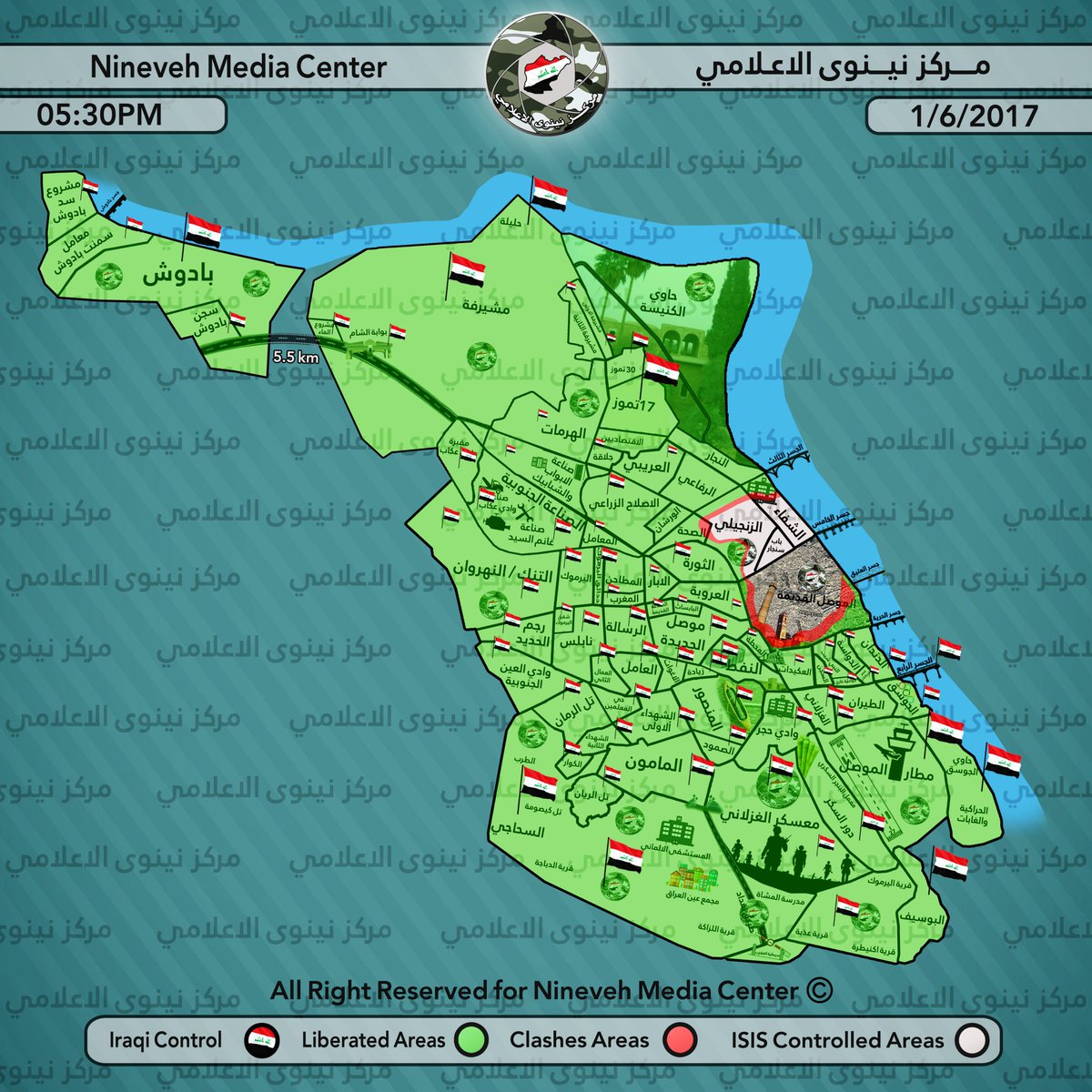 Latest map of west Mosul. Source: Nineveh Media Center
Situation around Baaj. Source: Harakat Tahrir Tal Afar
Salah al-Deen:
Islamic State attacked a military installation in the village of Al-Shabali, north of Al-Shirqat. According to Amaq, one Iraqi police officer was killed and other two wounded.
Amaq Agency claimed Islamic State's fighters ambushed Al-Hashd al-Shaabi's convoy on the road between Baghdad and Samarra. Casualties from the ambush are allegedly 10 killed and seven wounded.
Baghdad:
Islamic State's improvised explosive device reportedly destroyed Iraqi Army's Humvee and killed three soldiers. Incident occurred in Hamid Shaaban district, Abu Ghraib, west of Baghdad.
CJTF-OIR:
On the 31st of May 2017 CJTF-OIR has conducted 23 strikes in Syria. CJTF-OIR's main focus in Syria at the moment is Tabqa-Raqqa-Deir al-Zour region where they did 21 strikes supporting SDF's operations against IS destroying four IS well heads, four IS oil tanks, an IS oil truck, an IS oil storage tank, an IS oil storage trailer, eight fighting positions, two vehicles, two anti-air artillery systems, a front-end loader, and a tactical vehicle.
Other area where two strikes occurred is Abu Kamal (Al-Bukamal) destroying an IS well head and a vehicle. Full report on CJTF-OIR strikes conducted in both Syria & Iraq can be found here.
Intellectual credited property used may vary from an edition to edition.
Feel free to voice your opinion in the comments section below, constructive criticism is welcomed.
For those of you interested, you can follow us on an official Twitter account @SyrianWarDaily, or me personally on my biased twitter @joskobaric where I occasionally tweet some things.