Hello and welcome to the 100th installment of the SWD.
Military events/news are listed below by the governorates:
Aleppo:
Syrian Arab Army made big advances against Islamic State in east Aleppo getting a step closer to Maskanah. Some of the localities captured today include Tal al-Hamra, sugar factory, Khirbet Hajj Amidan (Al-Thania / Al-Juzia), Jamiliyah, Rasm Hammam al-Gharbi, Mahsanah, Al-Mazran and Qanawi. Islamic State destroyed a tank and a technical mounted with a machine gun south of Jirah Air Base, according to Amaq's statement.
Several groups from Turkish-backed Free Syrian Army started a small infighting in northern Aleppo last night, Jabhat al-Shamiya backed by Firqat al-Sultan Murad and Furqat al-Hamza attacked localities held by Faylaq al-Sham & their subgroups. Faylaq al-Sham has been accussed of pledging allegiance to Harakat Nour al-Din al-Zenki which is a part of Hayat Tahrir al-Sham. Defection of Nour al-Din al-Zenki members to Faylaq al-Sham back in January might be related to these accusations. Nour al-Din al-Zenki in northern Aleppo formed Liwa Fursan al-Thawra affiliated with Free Syrian Army and joined Faylaq al-Sham.
Jabhat al-Shamiya-led attack on Faylaq al-Sham was successful as it has captured Kafr Ghan, Baraghida and Sheikh Rih leaving Faylaq al-Sham only in control of their last stronghold, Al-Rai. Jabhat al-Shamiya-led "rebel coalition" surrounded Al-Rai demanding Faylaq al-Sham fighters surrender and deliver their weapons. Current infighting has killed at least four rebels and wounded a dozen.
Situation in eastern Aleppo, HD version of this map can be found here. Source: Vasto
Raqqa:
Syrian Democratic Forces captured Bir Hamad, Ciya, Al-Khatuniya and Yamamah villages from Islamic State around Raqqa. Clashes are still ongoing between SDF and IS in Hamrat Nasir.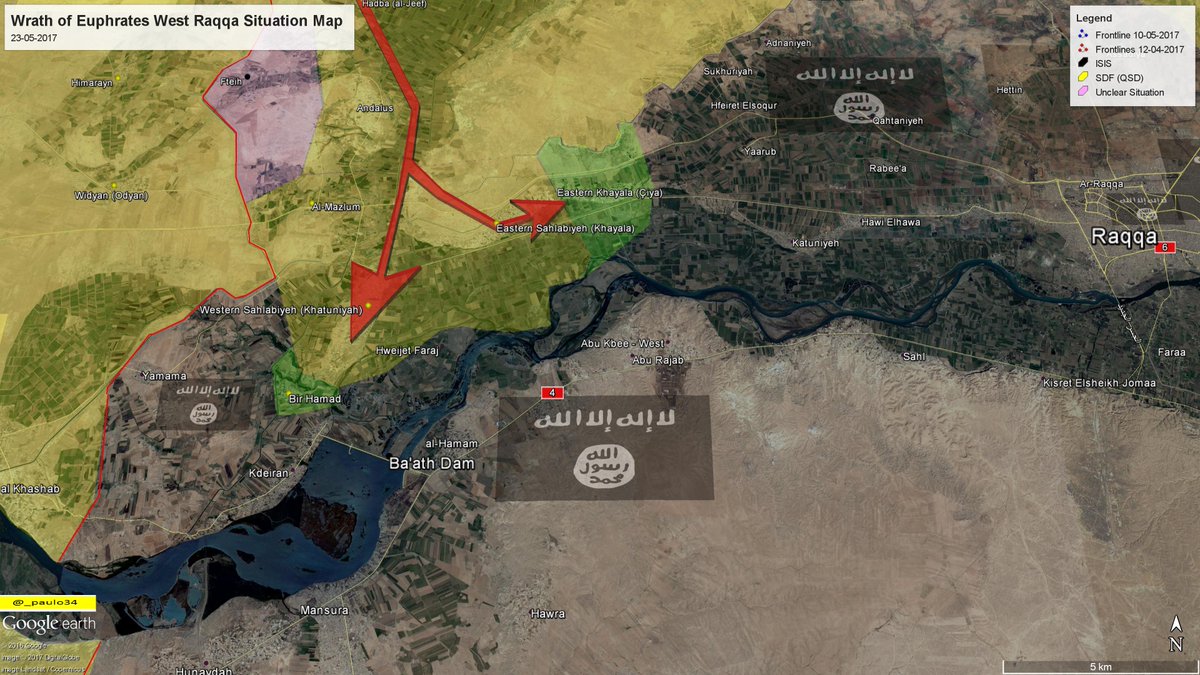 Situation west of Raqqa. Source: _paulo34
Idlib:
Last night, unknown gunmen opened fire and wounded Jaysh al-Nasr's 1st Lieutenant Alaa Rahmoun in front of his house in the village of Kafr Batikh. After getting wounded Rahmoun was transferred to Al-Ehsan hospital in Saraqib where he died due to his wounds. Rahmoun was one of the best TOW operators Jaysh al-Nasr had, he reportedly destroyed over a dozen of SAA's tanks. He was one of the first officers to defect from SAA to Free Syrian Army. News about Rahmoun's death were transmitted by the spokesmen of Jaysh al-Nasr, Mohammed Rashid and later confirmed once again by the group's statement.
Liwa al-Sadiq based in Abu al-Duhur and led by Abu al-Sami joined Faylaq al-Sham. This was confirmed by Faylaq al-Sham in a statement.
Unknown gunmen kidnapped and robbed Jaysh Idlib al-Hurr's (Free Idlib Army) commander Naji Mustafa, he was later released.
Homs:
Islamic State's car bomb exploded in Al-Zahra neighborhood, Homs killing four and wounding more than 30 people, explosion occurred near the main power station. Among the killed civilians is Director of the Electricity Emergency Center in Al-Zahra, Hossam al-Assas. Second car bomb with two suicide bombers on board was destroyed before reaching its target, bombers were reportedly wearing military uniforms.
Islamic State's Amaq Agency reported 14 SAA's soldiers were killed and six more wounded during clashes with IS near Palmyra silos.
Syrian Arab Army's 11th Division started a large offensive against Islamic State east and south of Al-Qaryatayn, offensive is led by the 60th and 67th brigades backed by allies. Today's captured localities include Tell Shuhada, Tallat Syriatel, Umm Tuwaqin, Al-Mashtal, Jabal Mahassat, Siwanat Mahassat, Al-Qaryatayn dam, Jabal Khanazir, Tulul al-Kaddariyah, Talal Al-Amdat, Jabal Al-Abd and Al-Bardieh.
After these advances SAA's forces around Al-Qaryatayn are close to linking up with those north of Al-Seen Air Base. This means that the rebel dream of connecting East Qalamoun rebels with rebels in southeastern Syrian desertous area through capturing land from Islamic State is almost over. Any new rebel attempts to break the siege of East Qalamoun will have to go through SAA and allies.
Approximate situation around Al-Qaryatayn (circled in yellow = localities captured today). Source: Al-Alam al-Harbi Markazi
Damascus:
Islamic State's SVBIED exploded on the road to Damascus International Airport close to Al-Mustaqbal checkpoint near Sayyidah Zaynab. Explosion killed one civilian and wounded several others.
Faylaq al-Rahman has been accused of displacing 760 families in the recent rebel infighting in East Ghouta. Families were reportedly forced to flee from the central sector of Ghouta towards Jaysh al-Islam-held towns of Mesraba and Douma.
Jaysh al-Islam's spokesman Hamza Birqidar stated that the group has released 150 of Faylaq al-Rahman's fighters detained/arrested during the rebel infighting in Ghouta.
Syrian Arab Army and allies captured Al-Ruhba area from rebels, which means that now around 30 kilometers (~18.6 miles) separates northern and southern SAA's units. "Northern" SAA units advanced five kilometers (three miles) around Scientific Research Battalion captured on the 21st of May. These latest advances confirmed SAA's plans of making a large rebel pocket in desertous area east of Damascus.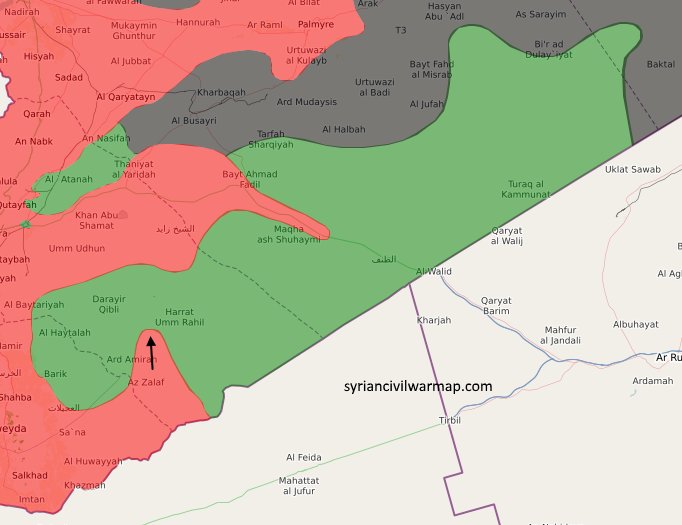 Approximate situation eastern Damascus and Homs. Source: Syrian Civil War Map
Iraq
Nineveh:
Islamic State's attack south of Al-Hadher, southwest of Mosul reportedly killed seven members of Al-Hashd al-Shaabi (Popular Mobilization Units).
Islamic State launched an attack yesterday on Sakinia (Sikeni) village, west of Sinjar (Shingal). Attack consisted of three suicide bombers which detonated against the elements of Yekineyen Berxwedana Sengale (Sinjar Resistance Units). According to ANF's report, clashes with IS lasted for several hours resulting in death of two IS' suicide bombers, the remaining IS' fighters fled the area. Report also states that Yekineyen Berxwedana Sengale didn't suffer any casualties during the encounter with IS.
Al-Hashd al-Shaabi (Popular Mobilization Units) conducted a night operation against the remaining Islamic State's fighters in Al-Qayrawan region. Operation was led by Hadi al-Amiri and resulted in the capture of Al-Qayrawan, Hazel al-Ghabiya, Tal Hathil and other villages in the area. After the operation, Iraq Joint Operations officially announced Al-Qayrawan region as completely captured by the Iraqi forces from Islamic State.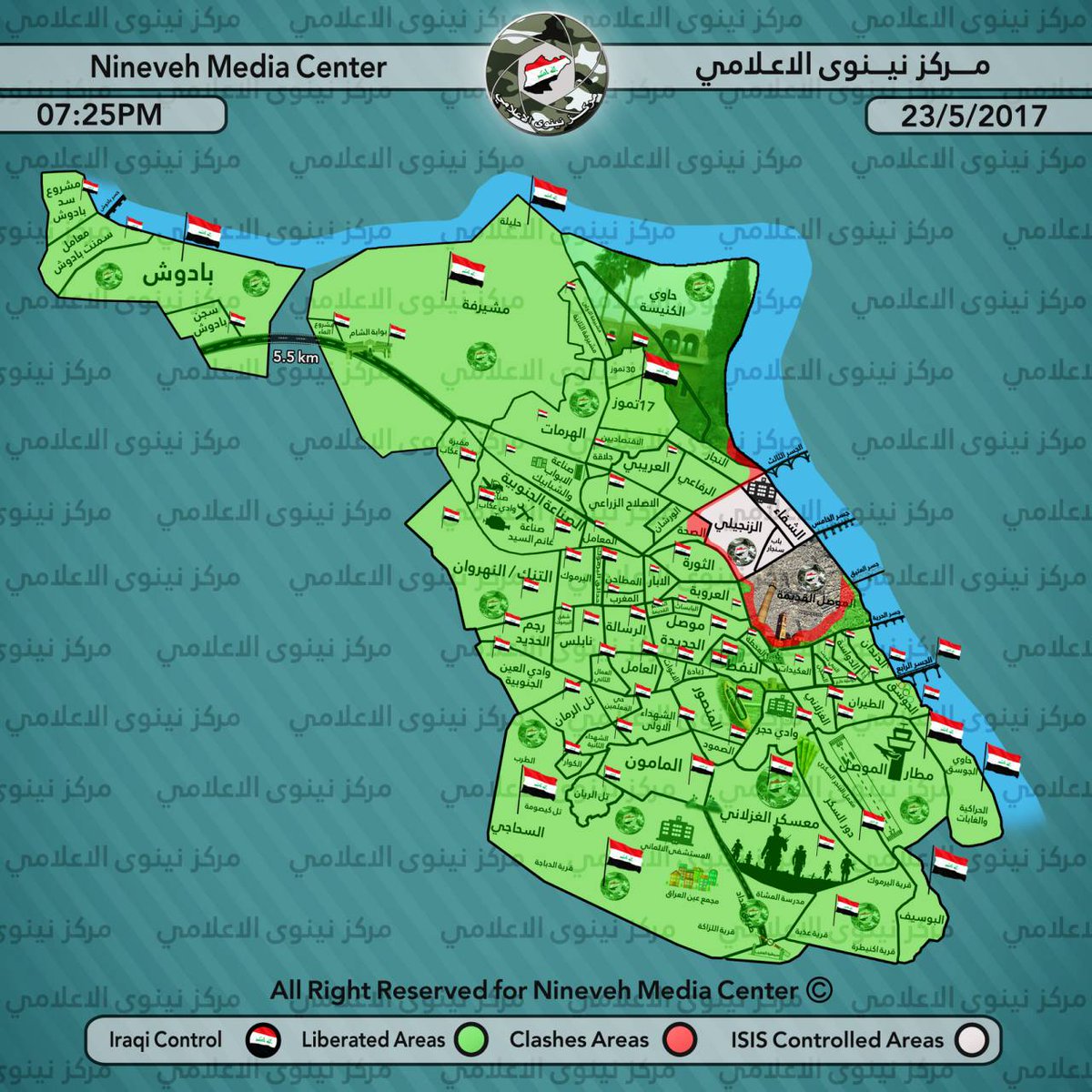 Latest map of west Mosul. Source: NinevehMC
Salah al-Deen:
Amaq claimed assassination of two Al-Hashd al-Shaabi fighters yesterday in the village of Al-Jamesa, north of Al-Shirqat. Another statement from Amaq Agency claimed IS' sniper killed five Iraqi soldiers north of Baiji.
Anbar:
Iraqi Air Force targeted Islamic State's positions around Al-Qaim reportedly killing over 20 important IS figures such as IS deputy governor for Baghdad, several VBIED experts and commanders responsible for suicide attack operations.
CJTF-OIR:
On the 23rd of May 2017 CJTF-OIR has conducted 18 strikes in Syria. CJTF-OIR's main focus in Syria at the moment is Tabqa-Raqqa-Deir al-Zour region where they did 18 strikes supporting SDF's operation against IS destroying four IS oil trucks, three IS pump jacks, an IS wellhead, 15 fighting positions, two vehicles and a weapons cache; and damaging an IS supply route.
Full report on CJTF-OIR strikes conducted in both Syria & Iraq can be found here.
Intellectual credited property used may vary from an edition to edition.
Feel free to voice your opinion in the comments section below, constructive criticism is welcomed.
For those of you interested, you can follow us on an official Twitter account @SyrianWarDaily, or me personally on my biased twitter @joskobaric where I occasionally tweet some things.