Hello and welcome to the 97th installment of the SWD.
Military events/news are listed below by the governorates:
Aleppo:
Syrian Arab Army's Tiger Forces advanced against Islamic State southwest of Jirah Air Base capturing Tell Hassan train station and several farms around it.
Kataib al-Muntasir Billah, part of TFSA released footage apparently showing three captured SAA fighters. The fighters were captured as they were reportedly trying to infiltrate an area east of Al-Bab.
Citizens of Al-Bab protested against Turkey bulldozing homes in order to build a military base in Sheikh Aqil area. First reports about Turkey building a military base in that area were spread on the 28th of February and considered to be rumors. Video from the protest can be found below.
Situation south of Jirah Air Base. Source: Ian Grant
Raqqa:
Syrian Democratic Forces repelled Islamic State's attack on Al-Mazloum west of Raqqa. Bad weather conditions are slowing down SDF's offensive. Islamic State tried to exploit the bad weather in order to regain part of the lost territory but SDF was prepared for counterattacks.
According to a statement released by Amaq Agency, SDF commander was killed along with one more SDF fighter by an improvised explosive device. The incident reportedly occurred on the road between Al-Kantar and Suluk.
Another IS' improvised explosive device allegedly exploded on the road northeast of Tel Saman killing three SDF fighters.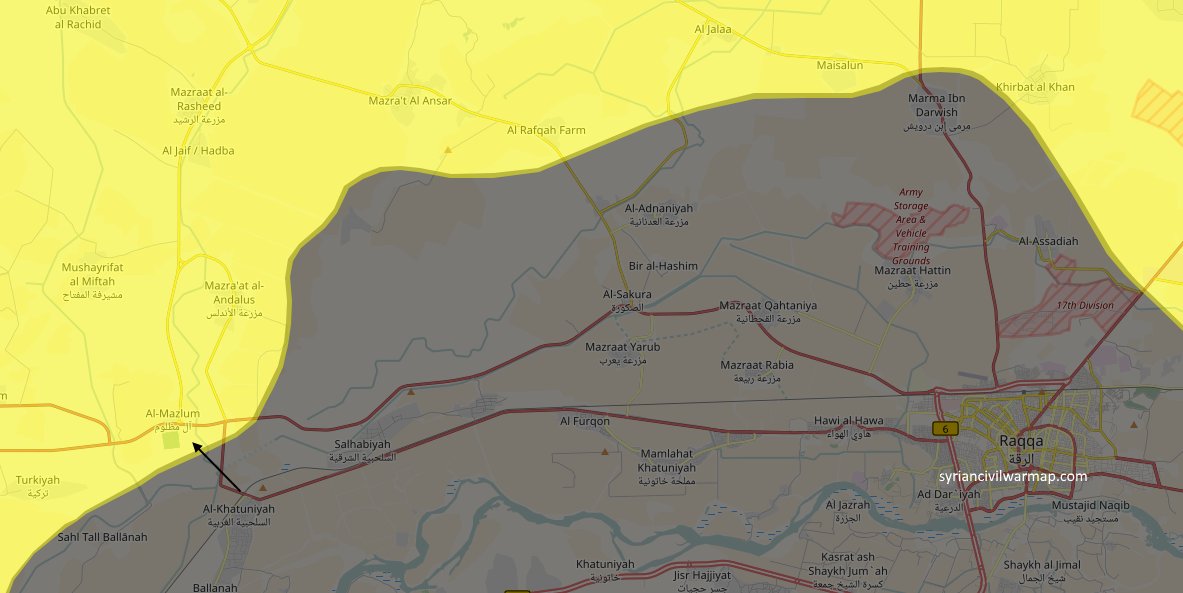 Situation north of Raqqa showing direction of IS' attack. Source: Syrian Civil War Map
Al-Hasakah:
Islamic State launched an attack and detonated an improvised explosive device against SDF south of Al-Shaddadi.
Homs:
Islamic State reportedly destroyed SAA's tank with an anti-tank guided missile north of Palmyra silos.
NRT English published a report about Norway deploying forces on the border between Iraq and Syria. Report also states that Iraqi commander Shakir Obeid said Norway was assigned as the protector of Al-Tanf border crossing with Iraq. This report if true, confirms the presence of Norway's forces with rebel group Maghawir al-Thawra, besides the already known US' and British forces.
Deir al-Zour:
Amaq Agency released a statement claiming Islamic State launched an attack against SDF east of Al-Kabir, northwest of Deir al-Zour. In the attack four SDF fighters were killed and two vehicles along with weapons seized.
Damascus:
Third batch of evacuees left rebel pocket of Barzeh towards Idlib. The batch consisted of around 1600 civilians and 1100 rebels.
Al-Suwayda:
Syrian Arab Army backed by allies made a big push against rebel factions located in eastern Al-Suwayda governorate. The advance occurred along the Jordanian border, since this area is almost deserted, a faction that controls few localities in the area gets to control the vast uninhabited area surrounding it. SAA reportedly captured Khirbet Nmara and Zuluf Dam from rebels.
Approximate situation east of Al-Suwayda (territory in white border is vast desertous area now under the control of SAA after today's advances). Source: loomis
Iraq
Nineveh:
According to several sources Iraqi Army captured 17 Tammuz district in west Mosul from Islamic State. This announcement should be taken with a grain of salt until officially confirmed by Iraq Joint Operations. Besides 17 Tammuz district, Al-Rabie neighborhood was also reported as captured by the Army.
Two Islamic State's SVBIEDs targeted Iraqi forces in west Mosul today. The first SVBIED detonated in Al-Rifai district destroying a bulldozer and causing several casualties among Iraqi Special Operations Forces' ranks. In the same district IS' sniper allegedly killed six members of Iraqi Special Operations Forces. The second SVBIED hit Al-Fatah district destroying a Humvee and a BMP as well as injuring and wounding several members of Iraqi Federal Police.
Islamic State reportedly executed 17 of their individuals in west Mosul. The individuals were executed because they deserted their positions avoiding confrontation with advancing Iraqi forces.
Last night Islamic State's SVBIED targeted Al-Hashd al-Shaabi's gathering near Tal Afar airport according to Amaq's statement.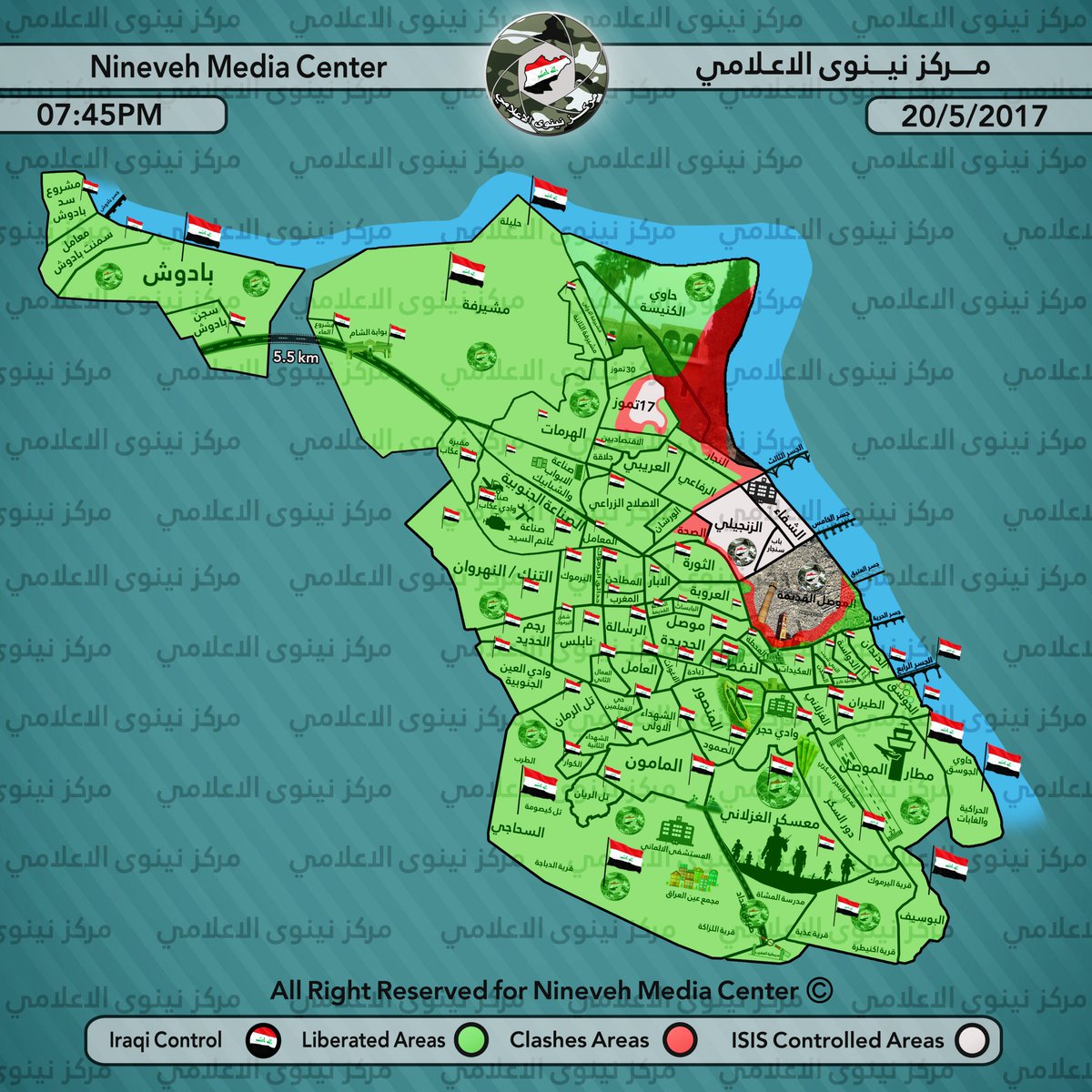 Latest map of west Mosul. Source: NinevehMC
Salah al-Deen:
Islamic State launched a large attack on Jabal Makhoul, north of Baiji reportedly killing 30 Iraqi soldiers. Furthermore Amaq also claimed destruction of a Humvee and several other vehicles. Pro-Iraq sources reported Islamic State's attack was repelled and 25 IS fighters were killed in the failed attack.
Diyala:
Islamic State's improvised explosive device destroyed Iraqi Army's mine-resistant ambush protected Cougar vehicle in Al-Dainiyah, south Baldrouz.
Anbar:
Amaq Agency claimed an improvised explosive device destroyed a vehicle carrying Iraqi police members in Kilo 110 area east of Rutbah, this supposed incident occurred yesterday.
Baghdad:
Yesterday two Islamic State's improvised explosive devices destroyed a Humvee and caused several casualties among the Army's ranks in Sheikh Hamad north of Baghdad.
Islamic State's improvised explosive device killed three Iraqi soldiers and destroyed a Humvee in Khan Dari area, Abu Ghraib west of Baghdad according to Amaq Agency's statement.
CJTF-OIR:
On the 20th of May 2017 CJTF-OIR has conducted four strikes in Syria. CJTF-OIR's main focus in Syria at the moment is Tabqa-Raqqa-Deir al-Zour region where they did four strikes supporting SDF's operation against IS destroying three oil trucks, two fighting positions and a heavy machine gun.
Full report on CJTF-OIR strikes conducted in both Syria & Iraq can be found here.
Intellectual credited property used may vary from an edition to edition.
Feel free to voice your opinion in the comments section below, constructive criticism is welcomed.
For those of you interested, you can follow us on an official Twitter account @SyrianWarDaily, or me personally on my biased twitter @joskobaric where I occasionally tweet some things.