Hello and welcome to the 96th installment of the SWD.
Military events/news are listed below by the governorates:
Aleppo:
Syrian Arab Army's Tiger Forces captured villages of Qawas and Al-Hamra / Al-Duroubiyah Saghir from Islamic State east of Jirah Air Base. Islamic State is still trying to put up a fight against Tiger Forces as Amaq released statements claiming SAA's tank was destroyed in Al-Hamra as well as five soldiers killed in a night raid on Tal Hassan. The last statement from Amaq is about an SVBIED targeting SAA's gathering and killing 22 soldiers near the village of Mazyouna south of Jirah Air Base.
Syrian Democratic Forces and Turkish-backed Free Syrian Army clashed around the village of Iska and Samaan's citadel, south of Afrin. Clashes lasted for several hours with TFSA allegedly losing three fighters.
Situation around Jirah Air Base. Source: loomis
Raqqa:
Syrian Democratic Forces advanced east of Raqqa capturing villages of Hamra al-Buwaitiyah and Madar from Islamic State. SDF killed at least 15 IS' fighters during this wave of advances. Islamic State's attack on Hamrat Ghanam was repelled by SDF, IS lost this village yesterday.
Amaq Agency claimed CJTF-OIR's airstrike accidentally targeted SDF's positions near Hamra al-Buwaitiyah killing one and wounding seven soldiers.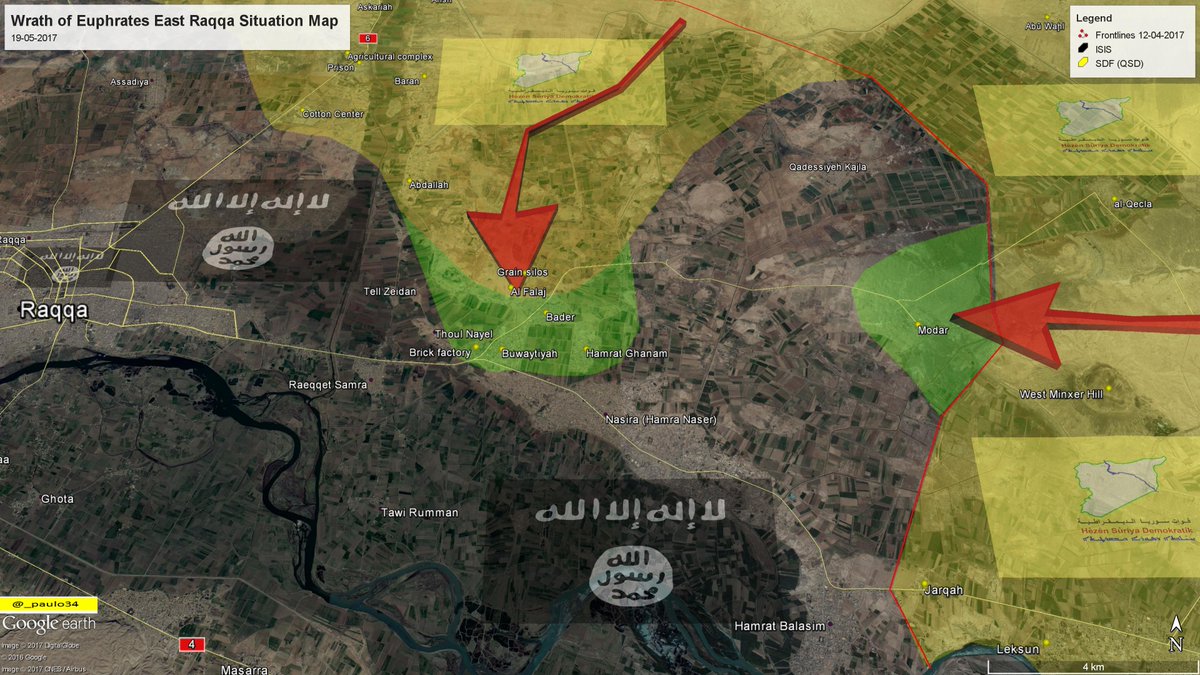 Situation east of Raqqa. Source: _paulo34
Idlib:
Hayat Tahrir al-Sham arrested Liwa Furqan Mareiyan's commander Ahmed Rahal on charges of participating in Turkey-led Euphrates Shield operation.
Ahrar al-Sham released a statement about Mohammed Aloush (Abu Sami) commander in Qatie Junud al-Malahim defecting to them. Qatie Junud al-Malahim is affiliated with Hayat Tahrir al-Sham.
Hama:
Islamic State launched an attack against SAA in eastern Hama governorate, IS' fighters attacked Al-Saboura, Aqrab al-Safi and Mabujah.
Homs:
The last batch of evacuees will leave Al-Waer neighborhood towards Idlib and Jarablus, batch consists of 1900 civilians and 600 rebels which will be evacuated during Friday and Saturday. After the evacuation is finished Syrian police along with Russian Military Police will enter the neighborhood and maintain stability and security in it.
Syrian Arab Army reportedly advanced seven kilometers (four miles) south of Bir Qasr al-Hallabat towards Sawwanah. Goal of this operation is to connect with units near Al-Seen Air Base preventing Eastern Qalamoun rebels from linking with rebels in eastern Damascus/Homs desertous area. If two SAA's units link it would also mean that Palmyra would get another supply route, directly from Damascus.
Islamic State attacked village of Khirbet Masto west of Tiyas (T4) airport killing one SAA soldier and capturing a seizable ghanima (war spoils). Footage released by Amaq showed one BMP captured and several anti-tank guided missiles.
Syrian Arab Army and allies continued advancing towards Al-Tanf border crossing despite yesterday's airstrikes by CJTF-OIR on their positions. SAA and allies captured large swaths of desert and reached Zarqa Crossroad putting them around 30 kilometers (18.6 miles) away from Al-Tanf. Unconfirmed reports suggested that United States told rebels not to engage SAA backed by allies and just withdraw from the area.
According to an article by Baladi News rebel group Maghawir al-Thawra has big plans for the city and governorate of Deir al-Zour. Media official in the group known as Abu Abdullah stated that they are aiming at fully liberating governorate of Deir al-Zour from both SAA and IS. Abu Abdallah also boasted about equipment and air cover received from the United States as well as about US' forces supporting Maghawir al-Thawra on the ground. The group is now preparing for an assault on Abu Kamal (Al-Bukamal).
For a group with around 250 fighters Maghawir al-Tharwa sure does have very high ambitions for Deir al-Zour governorate. With this manpower the group will struggle in battle of Abu Kamal, unless this and future advances are heavily backed and mostly consisting of United States' and British special forces.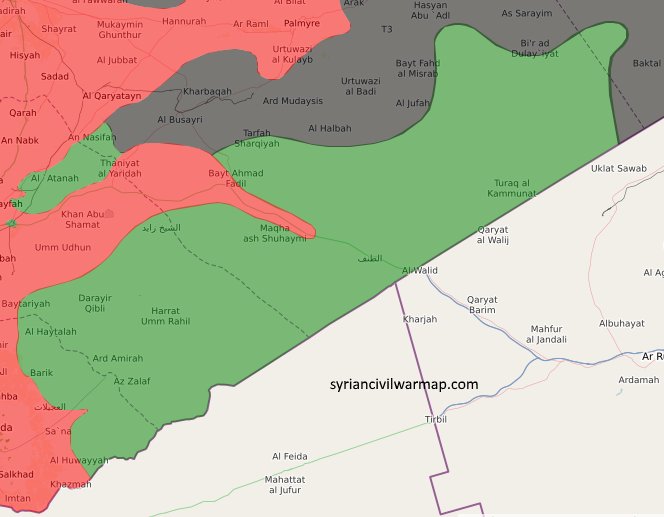 Situation in eastern Damascus/Homs desertous area. Source: Syrian Civil War Map
Damascus:
Jaysh al-Islam's inghimasi (suicide fighters) launched a surprising raid against Islamic State in Al-Zayn district located between Yalda and Hajar al-Aswad, south of Damascus. In the raid one IS' fighter was captured and three were killed. Jaysh al-Islam took control of Islamic State's headquarters seizing weapons and mines. Once everything was cleaned up and looted inghimasi retreated from headquarters after booby trapping it. Headquarters were then detonated as Islamic State's fighters entered it.
Daraa:
Free Syrian Army's commander of the 8th Infantry Brigade Mazen Mohammed Qasim al-Jawad (Abu Walid) was killed by the unknown gunmen in the city of Inkhil north of Daraa.
Iraq
Nineveh:
Iraqi Army completely captured Al-Warshan district in west Mosul from Islamic State, during the clashes for the district more than 40 IS' fighters were reportedly killed. Islamic State's Amaq Agency reported death of six Iraqi soldiers in Al-Warshan and Al-Rifai districts.
Al-Hashd al-Shaabi (Popular Mobilization Units) captured Al-Qahira village south of Al-Qayrawan from Islamic State. This capture was indirectly confirmed by Amaq as they've released a statement claiming that Islamic State destroyed an M1 Abrams tank and a BMP in Al-Qahira.
Deputy Chairman of Popular Mobilization Committee, Jamal Jafaar Mohammed Ali Ebrahimi known as Abu Mahdi al-Muhandis visited Yazidi branch of Liwa al-Hussein, part of Al-Hashd al-Shaabi. Yazidi Lalish Regiment is currently fighting against Islamic State in Al-Qayrawan area. Fakhir Khilmatikar, a Yezidi cleric also visited the aforementioned regiment's positions near Tal Banat.
Iraqi Air Force heavily targeted Islamic State's stronghold of Baaj destroying a training camp, a weapons depot, a building occupied by suicide bombers and a large VBIED factory.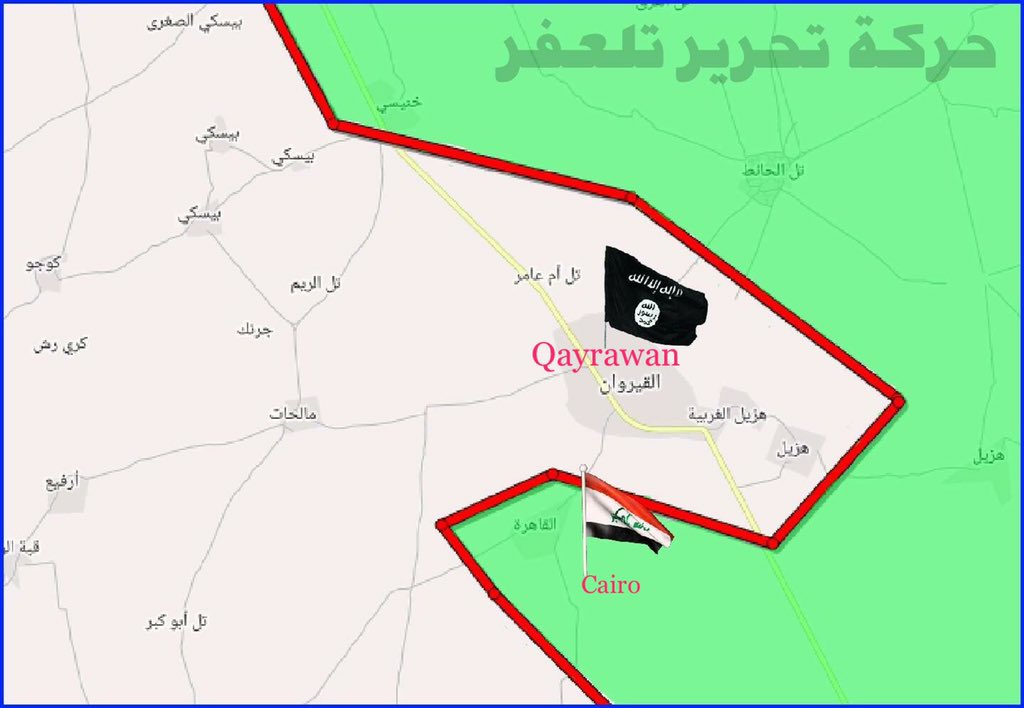 Situation around Al-Qayrawan. Source: Iraqi Day
Al-Sulaymaniyah:
Leader of the Movement for Change party (Gorran) Nawshirwan Mustafa died of lung cancer. He was a commander of Pesmerga from the late 1970s till early 1990s. In 2009 Mustafa founded the Movement for Change, an opposition party in Kurdistan Region.
Baghdad:
Islamic State's SVBIED targeted a checkpoint near Al-Yusufiyah south of Baghdad, casualties from the attack are unknown for now. Two more IS' SVBIEDs hit Baghdad, a checkpoint and a police station were targeted in Abu Dashir killing four and wounding 14 people.
Basra:
Two SVBIEDs exploded at Rumaila checkpoint between Basra and Dhi Qar governorates. Initial casualty numbers from both SVBIED attacks are seven dead soldiers and at least 30 wounded civilians. Among the injured ones is the intelligence director of Basra's operations. Islamic State claimed twin SVBIED attack through its media outlet, Amaq Agency.
CJTF-OIR:
On the 19th of May 2017 CJTF-OIR has conducted 19 strikes in Syria. CJTF-OIR's main focus in Syria at the moment is Tabqa-Raqqa-Deir al-Zour region where they did 12 strikes supporting SDF's operation against IS destroying five fighting positions, two tunnels, two vehicle bomb-making facilities, a mortar system, three vehicles, a supply cache, an IS headquarters, a weapons cache, a tactical vehicle and a tunnel entrance; and damaging three fighting positions.
Other areas where seven strikes occurred are Abu Kamal and Al-Tanf destroying 10 IS oil storage tanks, three IS wellheads, an IS oil tanker, two front-end loaders, a piece of construction equipment, a tactical vehicle and a tank. Full report on CJTF-OIR strikes conducted in both Syria & Iraq can be found here.
Intellectual credited property used may vary from an edition to edition.
Feel free to voice your opinion in the comments section below, constructive criticism is welcomed.
For those of you interested, you can follow us on an official Twitter account @SyrianWarDaily, or me personally on my biased twitter @joskobaric where I occasionally tweet some things.