Hello and welcome to the 95th instalment of the SWD.
Military events/news are listed below by the governorates:
 Aleppo:
Manbij Military Council captured 5 Turkish-backed fighters that tried to sneak into the village of Umm Al-Julud. One of the fighters belongs to Faylaq al-Sham and the other 4 belong to the Sham Front. Also, an unknown gunman tried to assassinate Captain Abu Hazem from Faylaq al-Sham south of Jarablus.
Moreover, some protests took place in Manbij asking for the Government removal from al-Khafsa and calling for the SDF to enter that zones.
The Syrian Arab Army advanced further south Jirah Air Base liberating 9 villages. According to the SF these locations are Jarah Kabir, Durubiyah al-Kabirah, NAfiiyah, Atira Farm and other areas from the terrorist organization. The attack, led by the Tiger Forces, lost another Commander, Mohamed Al-Barudi.
Another Major General Suheil Marshid has been killed fighting against ISIS in the Khanasir region. The extremist group has been recently targeting the Aleppo supply route in order to centre the attention of the Syrian Army. All points lost to ISIS had been allegedly recaptured -or attacks repelled.
Raqqa:
SDF liberated Hamra Ghannam village from ISIS in eastern Raqqa. They also captured Badr village, 6 km east of Raqqa, and Andalus and Mazlum villages, western Raqqa. The eastern axis of the attack is now heading towards the village of Hamra al-Buwaitiyah.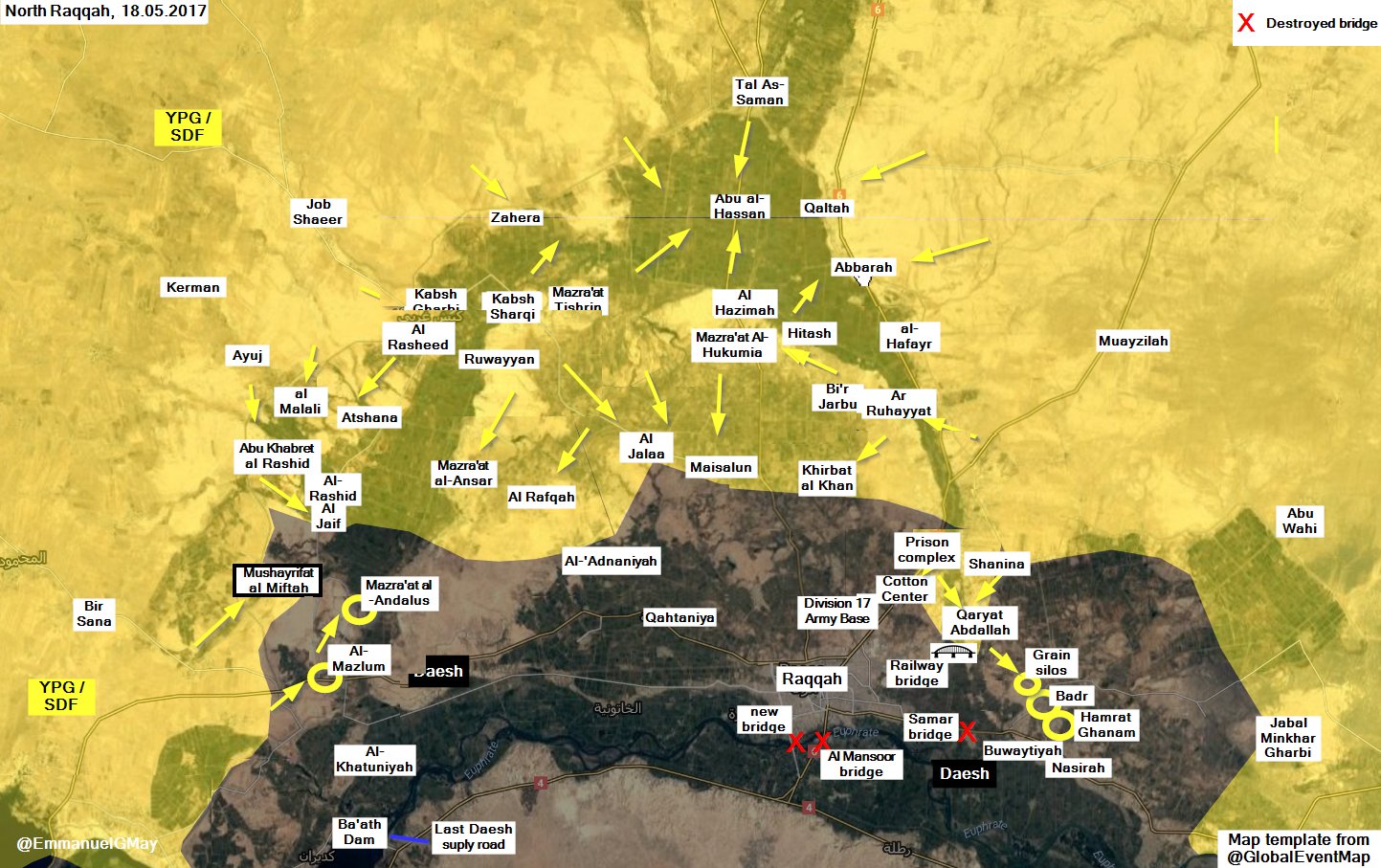 Kurdish forces announced that the sixth gate of Euphrates dam is fixed and opened, but rehabilitation of the dam is still to be finished.
Homs:
Today, the Syrian Arab Army was attacked by the US-led Coalition after several days advancing against the US/Jordan backed rebels. The airstrikes targeted a convoy and destroyed at leat 4 tanks, one Shilka, several pick-ups and troops transports. Other sources report at least 6 military personnel killed and 3 wounded. This convoy consistent mainly of SAA, NDF, Hezbollah and Imam Al-'Ali militias. Furthermore, the convoy was allegedly 37 km from the Free Syrian Army HQ in Al-Tanf. The US strike area can be found on this map provided by @miladvisor. 
The Free Syrian Army uploaded a video showing a technical convoy with 20 vehicles carrying TOW ATGM-s on the N-2 Damascus – at-Tanf highway heading towards the Coalition backed assault on al-Bukamal in Deir al-Zour.
The Islamic State forces launched multiple attacks today against pro-regime forces, including several SVBIED. The attacks targeted some positions North-West of Tiyas Air Base (T4).  After three consecutive days offensive, the Syrian Army achieved fire control over Manukh village. The offensive, launched from the Air Defence bases around the Tiyas Air Base achieved to capture up to 84,6 square km of land from Islamic State control.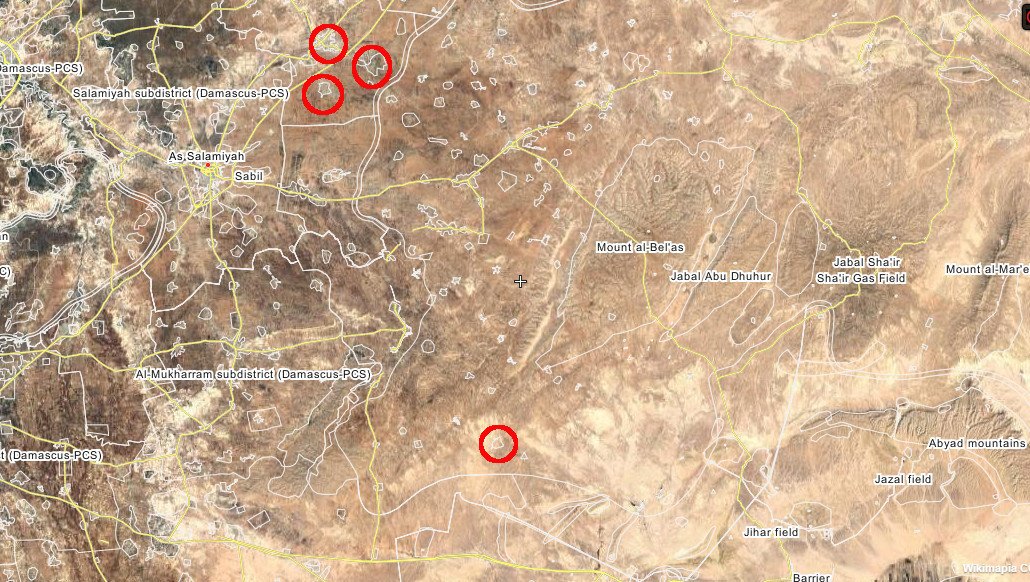 Clashes between ISIS and the Syrian Army continue near Tadmor silos as the later tries to advance towards Arak and T3 ni Eastern Homs governorate.
Hama: 
Today ISIS forces attacked the government-held city of Aqrab, according to Hama governor at least 34 were killed and more than 120 injured. Most of the victims are women and children targeted by the terrorist group. The attack also tried to cut the Salamiyah supply road essential for the city of Aleppo. At least, pro-government reports confirm that the attack was repelled.
As-Suwayda: 
Syrian Army and Druze fighter captured Abrar ar Rusay'i well from US/Jordanian-backed Free Syrian Army, location here.
Iraq
Nineveh:
Iraqi Army fully captured Al-Aqtasadeen district north-west Mosul, and also captured the Yahya mosque" in the Al-Rafae An ISIS sniper has been captured alive by the Iraqi Federal Police in west Mosul. Iraq Federal Police units continue to move toward the Al-Nuri mosque in Mosul Old district despite the fierce clashes. Some significant advances have been made in 17 Tamouz district. Iraqi forces are also storing Al-Najar neighbourhood west Mosul, a strategically important neighbourhood that, once captured, will allow Iraqi forces to control Mosul's third bridge.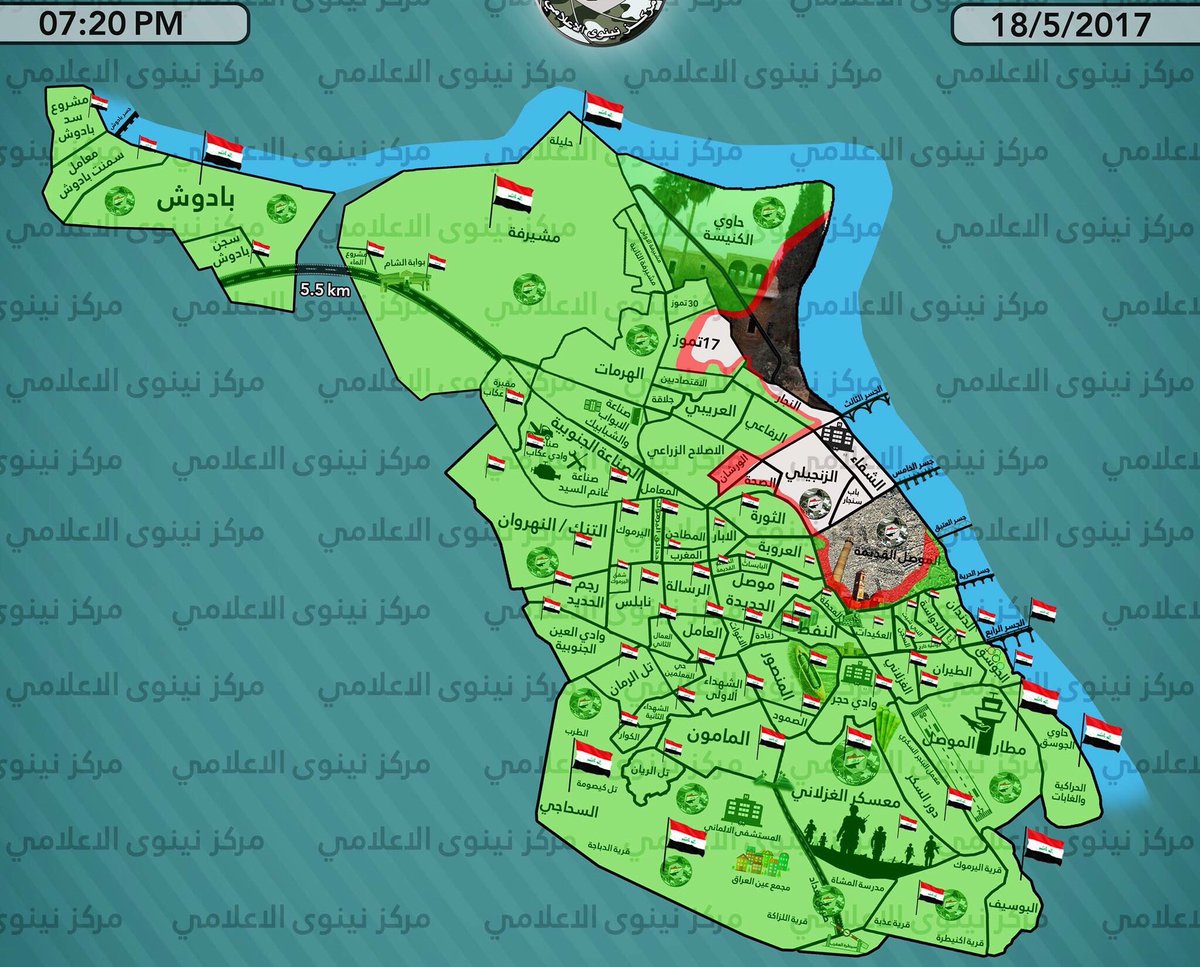 The Iraqi forces have officially captured the Sahl Sinjar Airbase west of Mosul and also cleared the villages of Kams Talol, Adhila and Khalaf al-Dibris near Qayrawn. Some Yezidi slaves were freed by Iraq's Raid Response units in Iqtisadiyeen village, west of Mosul too.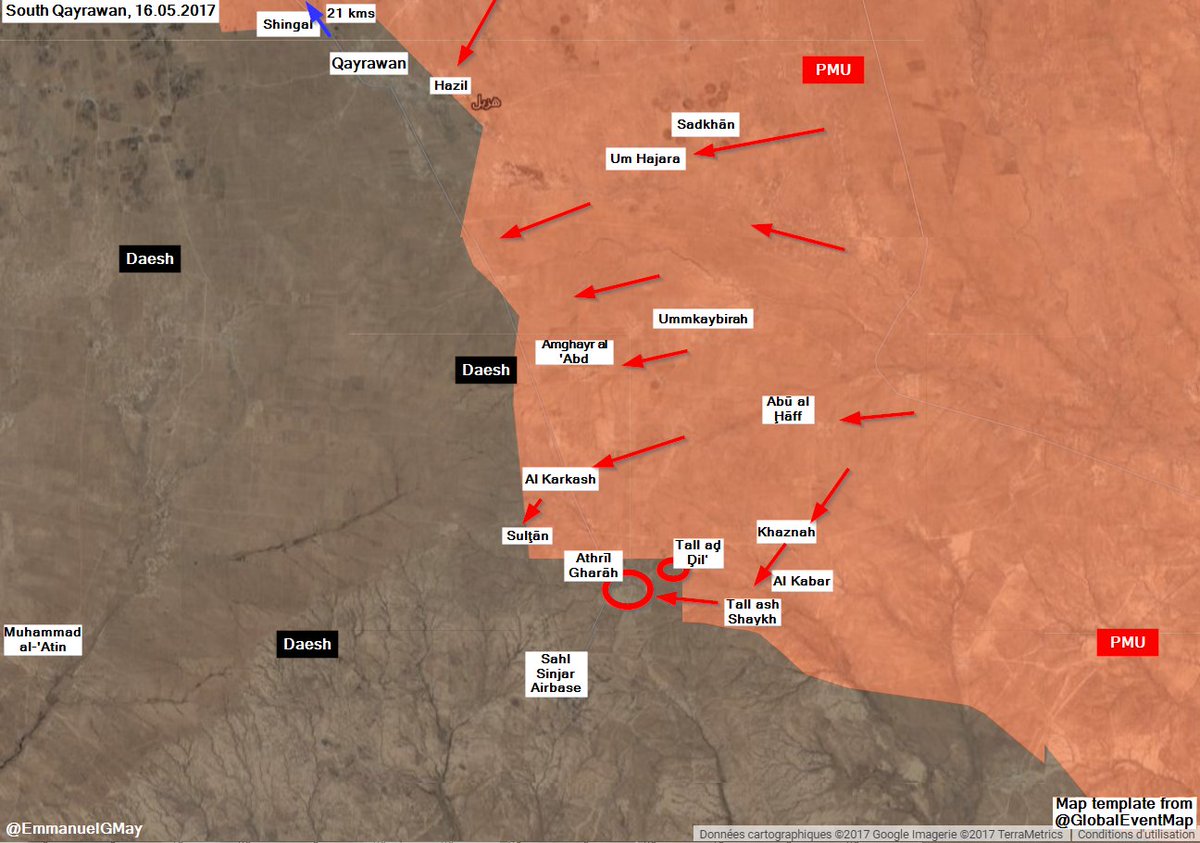 According to some reports, more than 20 militants are dead (with the death toll likely to rise) after Iraqi jets attacked ISIS camp "Abu Mus'ab Al-Zarqawi" in Western Iraq desert.
The Yazidi Sheik and Commander of the Kojo regiment have defected from Peshmerga and joined the Iraqi forces with the entire manpower and weapons he has under its control.
CJTF-OIR:
On the 18th of May 2017, CJTF-OIR has conducted 22 airstrikes in Syria. Today's airstrikes destroyed seven wellheads near Abu Kamal village, and also a mortar and a front-end loader system. Airstrikes focused near Raqqa by striking 11 times against ISIS tactical units. Today's campaign has targeted ISIS supply routes and oil-related infrastructure.
Today's campaign has targeted ISIS supply routes and oil-related infrastructure. The full report on CJTF-OIR strikes conducted in both Syria & Iraq can be found here.
Intellectual credited property used may vary from an edition to edition.
Feel free to voice your opinion in the comments section below, constructive criticism is welcomed.
For those of you interested, you can follow me on my personal, controversial twitter @alextorrell where I constantly tweet about different issues and conflicts.