Hello and welcome to the 94th installment of the SWD.
Military events/news are listed below by the governorates:
Aleppo:
Syrian Arab Army advanced around Jirah Air Base attempting to secure its surroundings from Islamic State, today's advances occurred in two waves. In the first wave Alyah al-Bukamal, Tall Hasan quarries and Al-Atira quaries were captured, in the second wave Jarah Kabir and Durubiyah al-Kabirah were captured. SAA then stormed a large Islamic State-held cattle farm east of Al-Atira.
Syrian Arab Army's commander in Tiger Forces' Panthers/Leopards group Ali Dalla (Abu Hussein) has been killed in clashes with Islamic State in eastern Aleppo.
Faylaq al-Sham, part of TFSA released footage reportedly showing four captured Syrian Democratic Forces' fighters. The fighters were captured around Al-Dandaliyah south of Jarablus.
Situation around Jirah Air Base. Source: Vasto
Raqqa:
Syrian Democratic Forces captured Annadah, Tall Zaidan and Thoul Nail from Islamic State east of Raqqa while clashes are still ongoing in Raqqat al-Samrah as SDF is trying to advance.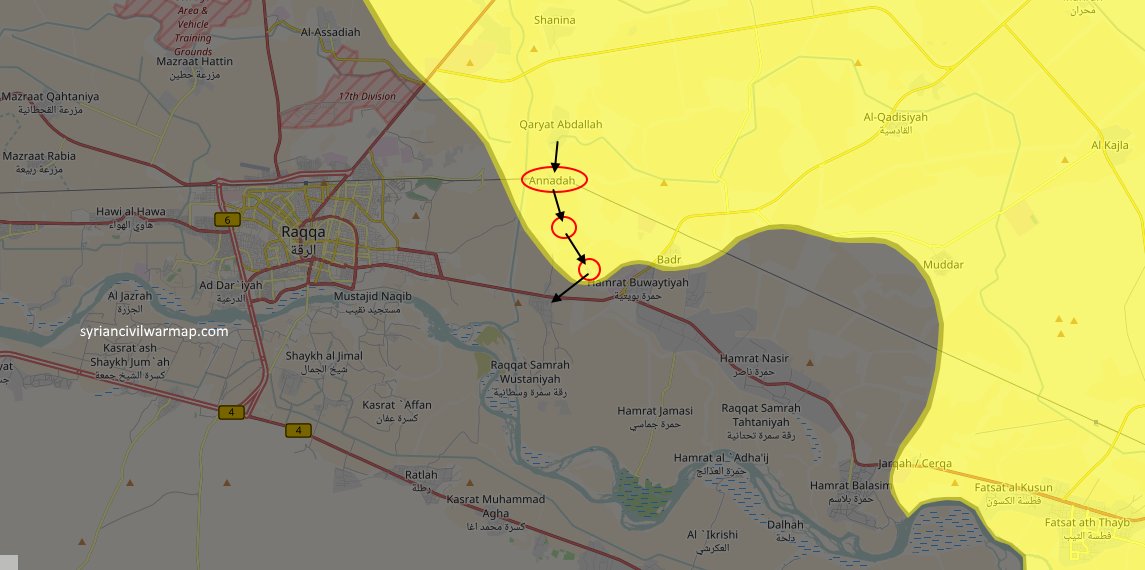 Situation east of Raqqa. Source: Syrian Civil War Map
Idlib:
Clashes erupted between local groups affiliated with Ahrar al-Sham and Hayaat Tahrir al-Sham in Sinjar southeast of Idlib. Dispute between the two sides started two days ago when Hayaat Tahrir al-Sham decided to set up headquarters in the village. Local groups managed to expel Hayaat Tahrir al-Sham from Sinjar for some time before HTS' reinforcements arrived from the nearby Abu al-Duhur Air Base. Once HTS received reinforcements it was able to assert full control over Sinjar.
An improvised explosive device exploded on the road between Salqin and Isqat causing no casualties.
Deir al-Zour:
Syrian Arab Army repelled Islamic State's attack in Deir al-Zour reportedly killing more than 20 IS' fighters and destroying an SVBIED, a BMP and two technicals. Clashes lasted for several hours with Syrian Arab Air Force assisting the army in defense.
Damascus:
Syrian Arab Army launched another attack on Jaysh al-Islam-held Beit Naim, reports suggested SAA was able to advance in the southern part capturing several points. However, Jaysh al-Islam reported that they've repelled the attack killing 16 SAA's soldiers and damaging two tanks.
Daraa:
Syrian Arab Army tried to advance against rebels in the northern part of Al-Manashiyah district in Daraa, no advances were reported just reports about clashes taking place.
Iraq
Nineveh:
Iraqi Army fully captured Al-Rifai district in west Mosul from Islamic State, during the last clashes for the district more than 30 IS' fighters were reportedly killed. One Islamic State's SVBIED targeted Iraqi Army's gathering in Al-Aerabi district while IS' sniper reportedly killed nine soldiers in Al-Aerabi district and Bab al-Toub neighborhood in Old Mosul district.
Al-Hashd al-Shaabi (Popular Mobilization Units) didn't advance against Islamic State in Al-Qayrawan region today but rather reinforced recently captured localities and assisted civilians fleeing from IS-held areas. This, however, didn't stop Islamic State from once again attacking Tal Banat area, three Humvees were reportedly destroyed by guided missiles.
Around Al-Hadher southwest of Mosul Islamic State launched an attack allegedly killing eight Al-Hashd al-Shaabi's fighters.
Iraqi Air Force targeted Islamic State's convoy in western Nineveh desert as it arrived from Syria reportedly killing more than 40 IS' fighters. Convoy consisted of dire reinforcements for Islamic State in Nineveh governorate as they are getting seriously pushed back by the Iraqi forces.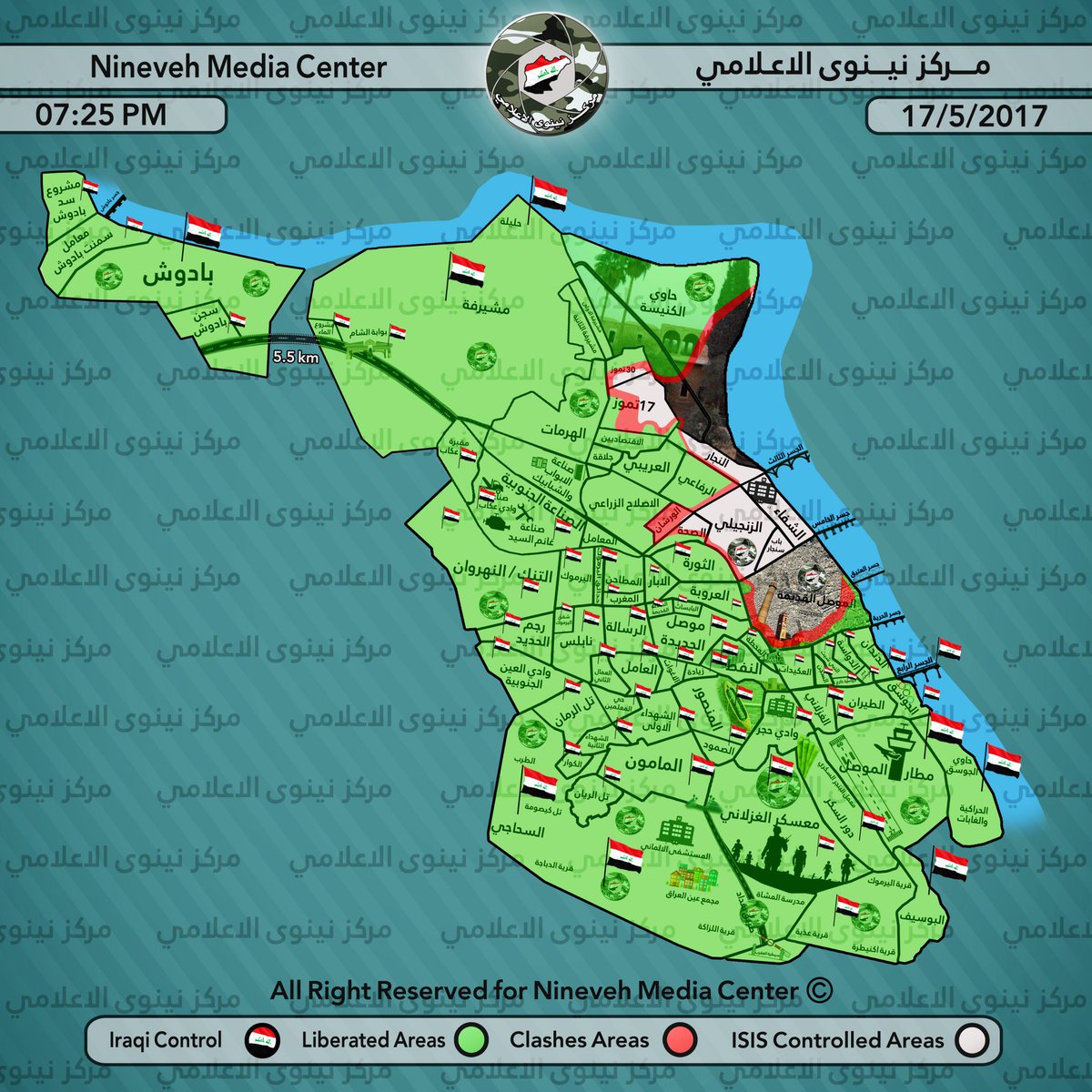 Latest map of west Mosul. Source: NinevehMC
Salah al-Deen:
Islamic State damaged Iraqi Army's M1 Abrams tank with a mortar shell during the shelling of Al-Shirqat's outskirts.
Baghdad:
Last night Islamic State's VBIED exploded in north Baghdad wounding at least two civilians.
Babil:
Iraqi court in Babil has sentenced to death two Islamic State's members for participating in Hillah suicide truck bombing in 2016 which killed and wounded more than 100 civilians.
CJTF-OIR:
On the 16th of May 2017 CJTF-OIR has conducted 17 strikes in Syria. CJTF-OIR's main focus in Syria at the moment is Tabqa-Raqqa-Deir al-Zour region where they did 15 strikes supporting SDF's operation against IS destroying four IS wellheads, three IS pump jacks, four vehicles, four fighting positions, a tactical vehicle, two vehicle bombs, a front-end loader and a supply cache; and damaging an IS supply route.
Other area where two strikes occurred is Abu Kamal destroying two IS wellheads. Full report on CJTF-OIR strikes conducted in both Syria & Iraq can be found here.
Intellectual credited property used may vary from an edition to edition.
Feel free to voice your opinion in the comments section below, constructive criticism is welcomed.
For those of you interested, you can follow us on an official Twitter account @SyrianWarDaily, or me personally on my biased twitter @joskobaric where I occasionally tweet some things.