Hello and welcome to the 92nd installment of the SWD.
Military events/news are listed below by the governorates:
Raqqa:
Syrian Democratic Forces continue to advance on two axis against Islamic State north of Raqqa, on the western axis Abu Kubret al-Rashid (Al-Koubra) and on the eastern axis Qaryat Abdullah villages were captured from the Islamic State.
Amaq Agency claimed CJTF-OIR's airstrike targeted a civilian convoy carrying women killing 22 of them and wounding another eight in the village of Al-Akirishi southeast of Raqqa.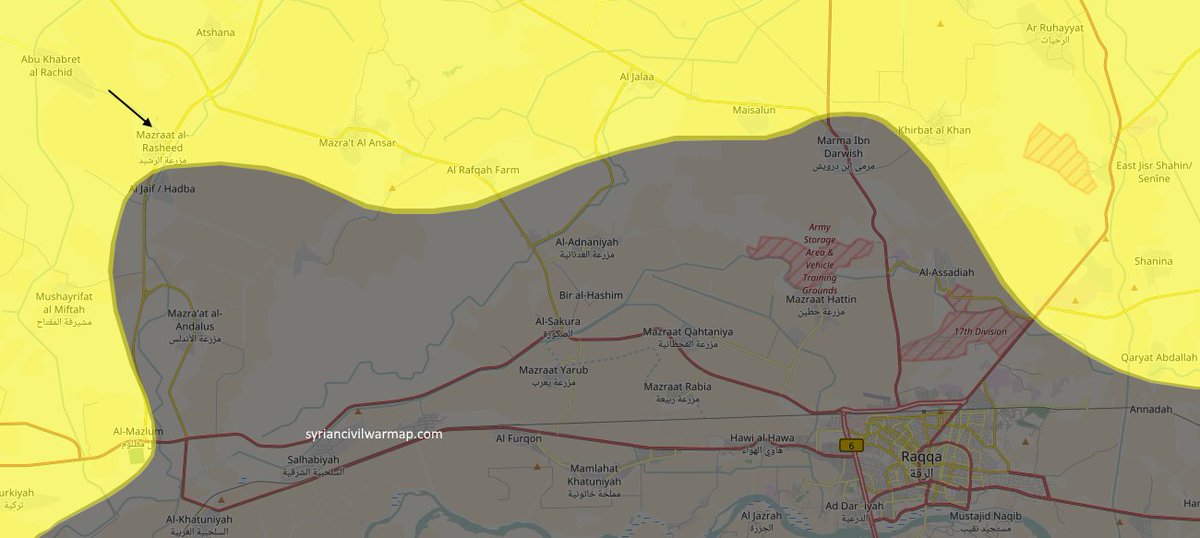 Situation north of Raqqa. Source: Syrian Civil War Map
Al-Hasakah:
Amaq Agency reported that Islamic State's improvised explosive devices killed 19 Syrian Democratic Force's fighters and destroyed two vehicles near the village of Malha.
Idlib:
An improvised explosive device targeted the car of Ahrar al-Sham's commander Hassan Abu Merhaf on the road between Saraqib and Abu al-Duhur. Abu Merhaf was injured in the attack, the status of his family which was with him in the car is currently unknown.
Hayaat Tahrir al-Sham's foreign commander from France known as Abu Said al-Faransi was killed by an improvised explosive device on Aleppo – Damascus highway in rebel-held territory.
Hama:
Islamic State launched another attack on Syrian Arab Army's positions in Wadi al-Adhib area on Al-Salamiyah – Ithriya road. The attack was concentrated on the Majbal checkpoint but was eventually repelled with Islamic State losing at least two fighters.
Homs:
Tenth batch of evacuees left Al-Waer neighborhood towards Idlib, the batch was composed of around 190 civilians and at least 30 rebels. According to Talal Barazi, Governor of Homs Al-Waer neighborhood will be completely cleared of rebel presence on Saturday, 20th of May.
Maghwar al-Thawra backed by United States' and British special forces launched a large attack on Islamic State's positions in the desert reportedly towards Abu Kamal (Al-Bukamal). Main attacking force consists of 150 Maghwar al-Thawra fighters supplied with armored vehicles by the Western powers. This operation could be potentially very dangerous for the attacking force if Syrian Arab Army continues with its own offensive towards Al-Tanf border crossing with Iraq. If Syrian Arab Army was to capture Al-Tanf and surrounding area Maghwar al-Thawra would be besieged in the vast desertous area.
Islamic State destroyed Syrian Arab Army's tank with an anti-tank guided missile in Al-Talila area, east of Palmyra.
Deir al-Zour:
CJTF-OIR's airstrikes on Abu Kamal (Al-Bukamal) reportedly caused casualties among the civilians, airstrikes were carried out in an attempt to weaken Islamic State's defenses in the city as Maghwar al-Tahrwa is expected to launch an attack on it soon. First reported casualties numbers were 15 dead and 35 wounded but quickly rose to 25 dead and 40 injured including women and children according to Amaq.
Damascus:
Jaysh al-Islam launched an attack on Faylaq al-Rahman and Hayaat Tahrir al-Sham in Al-Ash'ari and Al-Aftaris, even though Jaysh al-Islam didn't state its motive for this attack it is quite possible that it is related to the recent FAR and HTS attacks on medical personnel in East Ghouta.
New statement by Jaysh al-Islam expressed the concern for medical facilities and personnel operating in East Ghouta, in the statement Jaysh al-Islam also condemned the attacks on medical personnel and asked all military groups to refrain themselves from attacking these individuals and institutions in the future.
Faylaq al-Rahman also released a statement of their own saying that they've abstained from attacking Jaysh al-Islam and seriously participated in talks aimed at resolving the rebel infighting. The statement includes confirmation of Jaysh al-Islam's attack on FAR positions this morning, it also states that FAR will respond to Jaysh al-Islam's attacks and repel them.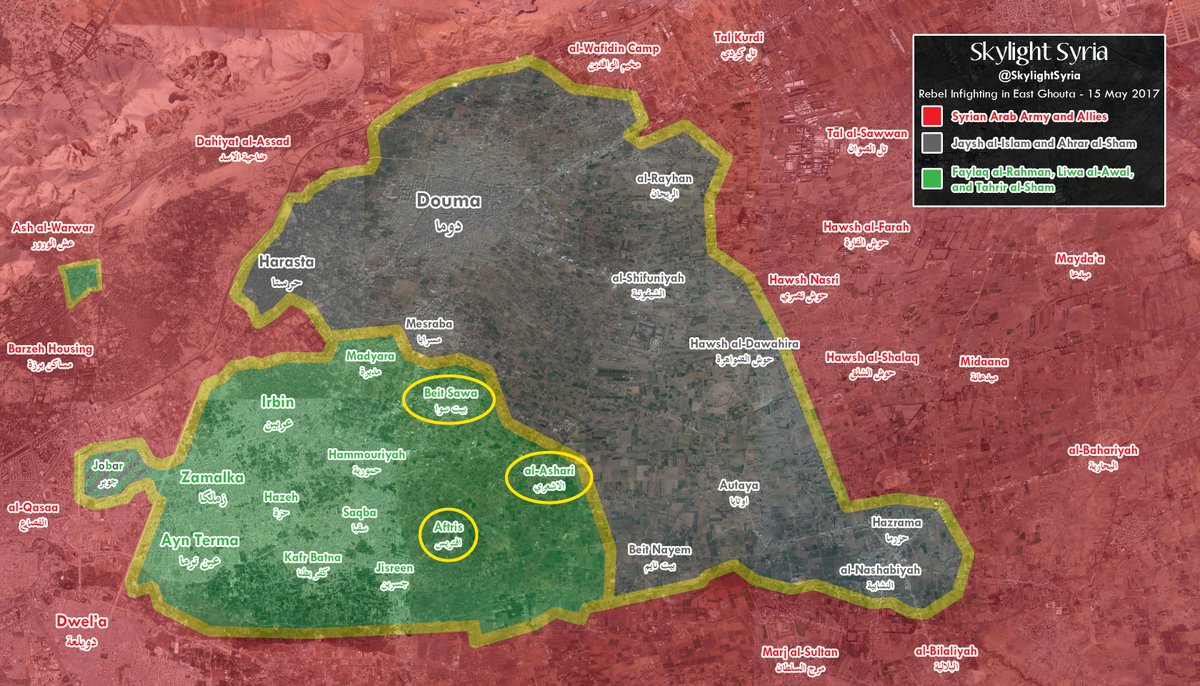 Situation in East Ghouta (circled = today's clashes). Source: Skylight Syria
Iraq
Nineveh:
Al-Hashd al-Shaabi (Popular Mobilization Units) captured a number of villages from Islamic State in Al-Qayrawan area including Khaznah al-Janoubia, Khaznah al-Shamalia, Karkash, Sultan and Tall Sheikh. Islamic State put up the resistance in form of anti-tank guided missiles destroying one bulldozer in Tal Qasab and another one in Tal Banat. Furthermore anti-tank guided missiles reportedly destroyed an armored vehicle, a tank and three vehicles during the battles near the village of Umm Hajara.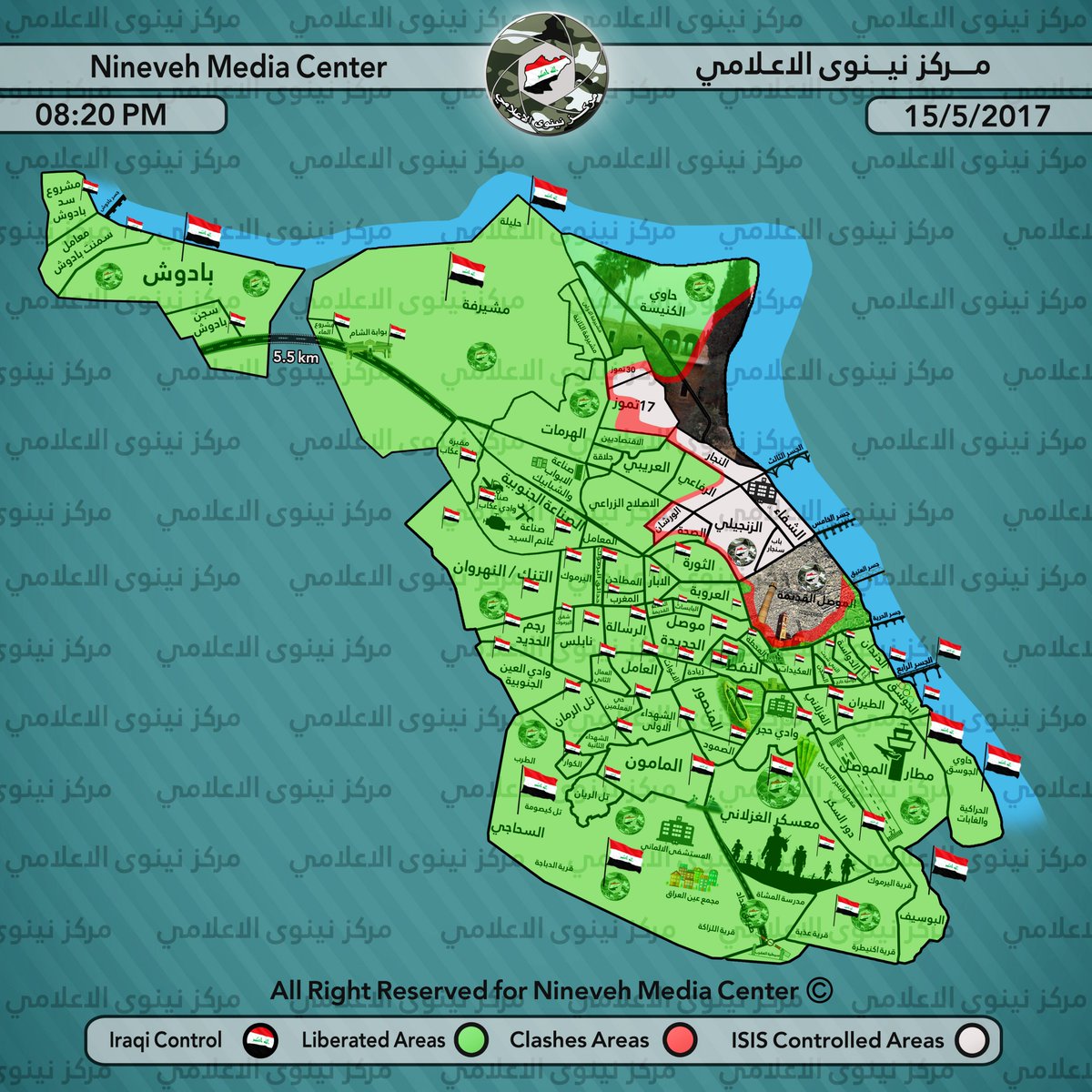 Latest map of west Mosul. Source: NinevehMC
Salah al-Deen:
Amaq Agency claimed Islamic State's improvised explosive devices destroyed a bulldozer and a vehicle carrying Iraqi forces in the village of Al-Ayth.
Iraqi Army repelled two Islamic State's attacks north of Tikrit killing several fighters and destroying a couple of vehicles.
Anbar:
Amaq Agency released a statement about three Islamic State's inghimasi (suicide fighters) infiltrating the city of Haditha. Inghimasi clashed with security forces for five hours reportedly killing 15 and wounding 20 before detonating themselves after running out of ammunition. According to pro-Iraq sources four suicide bombers were killed as they infiltrated Haditha last night.
Baghdad:
Iraqi security forces seized a truck used as a large VBIED in Al-Amal district Baghdad preventing potentially more than a dozen of civilian casualties.
CJTF-OIR:
On the 14th of May 2017 CJTF-OIR has conducted 22 strikes in Syria. CJTF-OIR's main focus in Syria at the moment is Tabqa-Raqqa-Deir al-Zour region where they did 20 strikes supporting SDF's operation against IS destroying three IS oil tankers, a command-and-control node, five vehicles, six fighting positions, two front-end loaders, a tactical vehicle, an IS crane, an artillery system, a mortar system, two IS headquarters and a vehicle bomb factory.
Other area where two strikes occurred is Abu Kamal destroying an IS pump jack and an IS vehicle. Full report on CJTF-OIR strikes conducted in both Syria & Iraq can be found here.
Intellectual credited property used may vary from an edition to edition.
Feel free to voice your opinion in the comments section below, constructive criticism is welcomed.
For those of you interested, you can follow us on an official Twitter account @SyrianWarDaily, or me personally on my biased twitter @joskobaric where I occasionally tweet some things.