Hello and welcome to the 91st installment of the SWD.
Military events/news are listed below by the governorates:
Aleppo:
Liwa al-Fatah, subgroup in Jabhat al-Shamiyah part of TFSA confirmed that one of its fighters was killed and three more wounded when a missile landed next to one of its mortar warehouses in the village of Talil al-Sham near Azaz. Confirmation of this event was transmitted by Abdul Karim Qarindil military commander in the group without mentioning the size of material damage caused by the missile.
Raqqa:
SDF captured Atashana, Al-Rasheed and Al-Malali villages from Islamic State north of Raqqa. It appears that after all SDF isn't going to make IS' pocket on the western axis yet as they've directly attacked localities in the area, reason for that could be because Islamic State's resistance is weaker and number of fighters fewer than believed.
However this does not mean that IS is defenseless as one of its improvised explosive devices reportedly killed two SDF fighters in Maysaloun (Mayselum) village, north of Raqqa. Furthermore an Islamic State's suicide bomber detonated himself against SDF in the village of Shenneh (Shanina) also north of Raqqa.
Situation north of Raqqa (territory captured recently by SDF is marked with a red border). Source: loomis
Al-Hasakah:
Amaq Agency reported destruction of SDF's vehicle with a guided missile killing everyone on board in Tel Bashair southeast of Al-Shaddadi.
Idlib:
An improvised explosive device exploded on the road between Saraqib and Ariha causing no casualties.
Damascus:
Around 700 rebels and 1200 civilians were evacuated from Qaboun towards Idlib, close to 500 people settled their cases with the Syrian government and will remain in the neighborhood.
Jaysh al-Islam repelled another Syrian Arab Army's attack on Beit Naim in the southern part of East Ghouta, according to the group's spokesman Hamza Birqidar Jaysh al-Islam killed 11 SAA soldiers, destroyed a ZSU-23-4 Shilka and a T-72 tank.
As the rebel infighting continues in East Ghouta, though on a lower scale than in the past non-combatants bear the biggest brunt of it, Al-Yaman medical association issued a statement saying that Faylaq al-Rahman attacked their institution on Friday, Faylaq al-Rahman also issued a statement yesterday apologizing for the attack. However, despite that Unified Medical Bureau in East Ghouta released a statement saying that they are suspending the work of their medical institutions due to Faylaq al-Rahman's and Hayaat Tahrir al-Sham's attacks on medical personnel.
Iraq
Nineveh:
Iraqi Army fully captured Al-Aerebi and Al-Aqtasadeen districts in west Mosul from Islamic State. Iraqi Army also made advances in Al-Rifai and 17 Tammuz districts, west Mosul breaking Islamic State's defense lines and capturing important localities in districts which will be used as staging areas for future attacks aimed at fully capturing the aforementioned districts. More than a dozen of Islamic State's fighters along with their families fled 17 Tammuz and Al-Rifai districts towards Islamic State-held neighborhoods of Old Mosul.
Iraqi forces seized Islamic State's laboratory in Al-Tawba mosque, Al-Aqtasadeen district used to manufacture chemical agents, several containers filled with mustard gas were found in the mosque. On the outskirts of the same district Amaq claimed Islamic State destroyed Iraqi Army's T-72 tank with an RPG.
Islamic State conducted four suicide attacks against Iraqi Special Operations Forces in Al-Aerebi district, four SVBIEDs destroyed a Humvee, a BMP, a T-72 tank and a bulldozer, damaged two Humvees and killed over a dozen of soldiers according to several Amaq statements.
West of Mosul in Al-Qayrawan area Al-Hashd al-Shaabi (Popular Mobilization Units) captured more territory from the Islamic State on third day of their offensive. Today's advances resulted in capture of Tall Qasab village and encirclement of Bashooq. Islamic State's SVBIED targeted Tall Banat village reportedly destroying four Humvees and causing casualties among Al-Hashd al-Shaabi's ranks, Islamic State lost control of the village yesterday.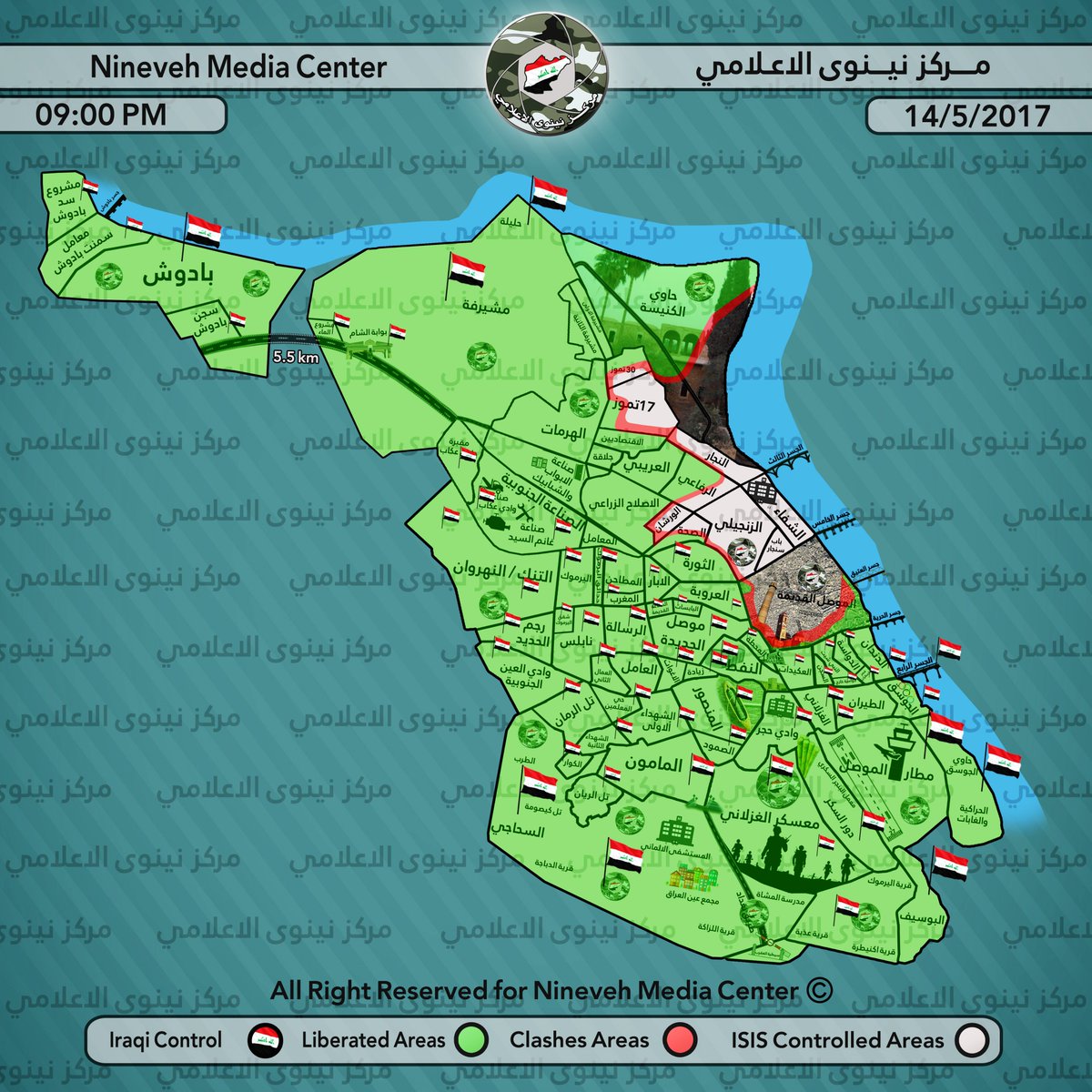 Latest map of west Mosul. Source: NinevehMC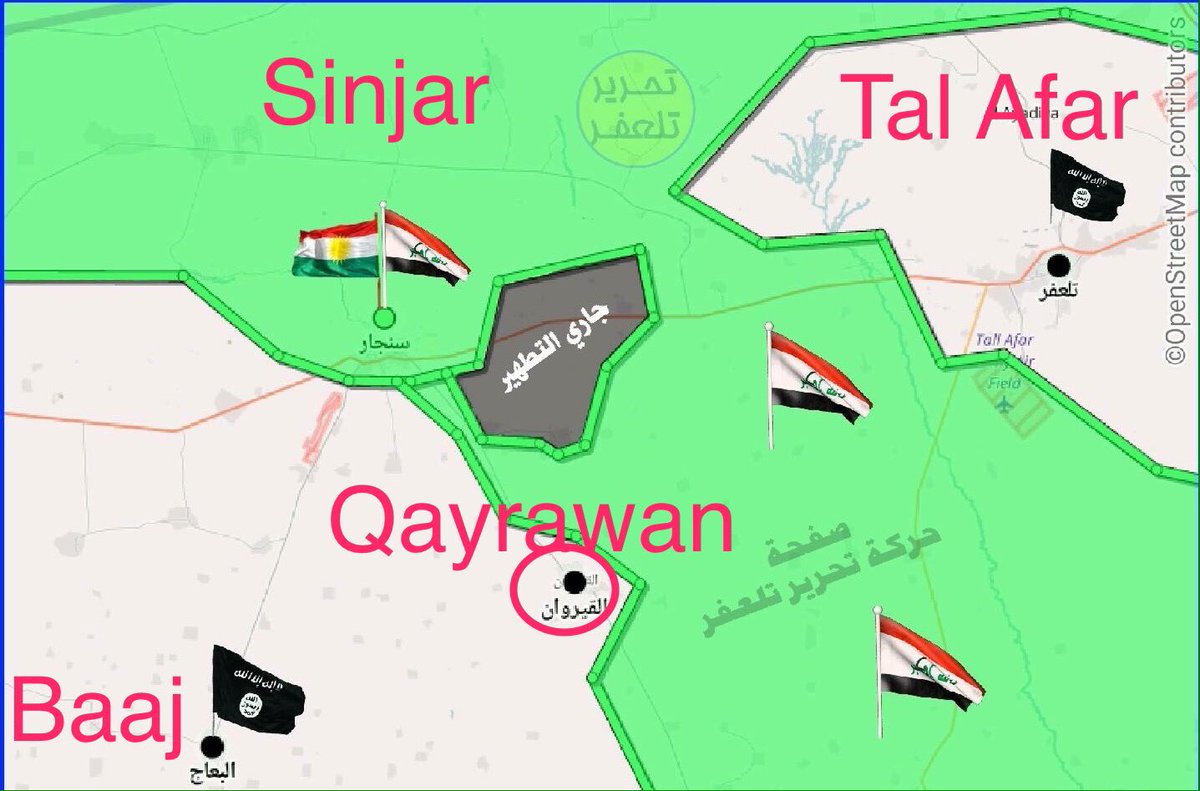 Situation in Al-Qayrawan area. Source: Iraqi Day
Baghdad:
Islamic State detonated a VBIED in Al-Rubaie street, Karrada district central Baghdad causing six casualties among the civilians. According to Amaq the VBIED targeted gathering of Shia Muslims which constitute the majority of district's population.
Iraqi security forces closed all checkpoints leading in and out of Abu Ghraib west of Baghdad as the search is in progress for the wanted individual, most likely a member of Islamic State's sleeper cell.
CJTF-OIR:
On the 13th of May 2017 CJTF-OIR has conducted 15 strikes in Syria. CJTF-OIR's main focus in Syria at the moment is Tabqa-Raqqa-Deir al-Zour region where they did 13 strikes supporting SDF's operation against IS destroying 16 IS oil tankers, two pieces of IS oil processing equipment, four fighting positions, two vehicles, a front-end loader, an IS crane, a house-born improvised explosive device and a tactical vehicle.
Other areas where two strikes occurred are Abu Kamal and Hawl destroying an IS wellhead, a vehicle and a vehicle bomb. Full report on CJTF-OIR strikes conducted in both Syria & Iraq can be found here.
Intellectual credited property used may vary from an edition to edition.
Feel free to voice your opinion in the comments section below, constructive criticism is welcomed.
For those of you interested, you can follow us on an official Twitter account @SyrianWarDaily, or me personally on my biased twitter @joskobaric where I occasionally tweet some things.