Hello and welcome to the 90th installment of the SWD.
Military events/news are listed below by the governorates:
Aleppo:
Islamic State launched a counterattack on Jirah Airbase after losing it yesterday to Syrian Arab Army, after several hours of clashes IS' attack was repelled and the airbase was fully secured by SAA. Amaq claimed in a statement that one SAA's T-72 tank was destroyed by guided missile in the village of Jirah al-Saghir.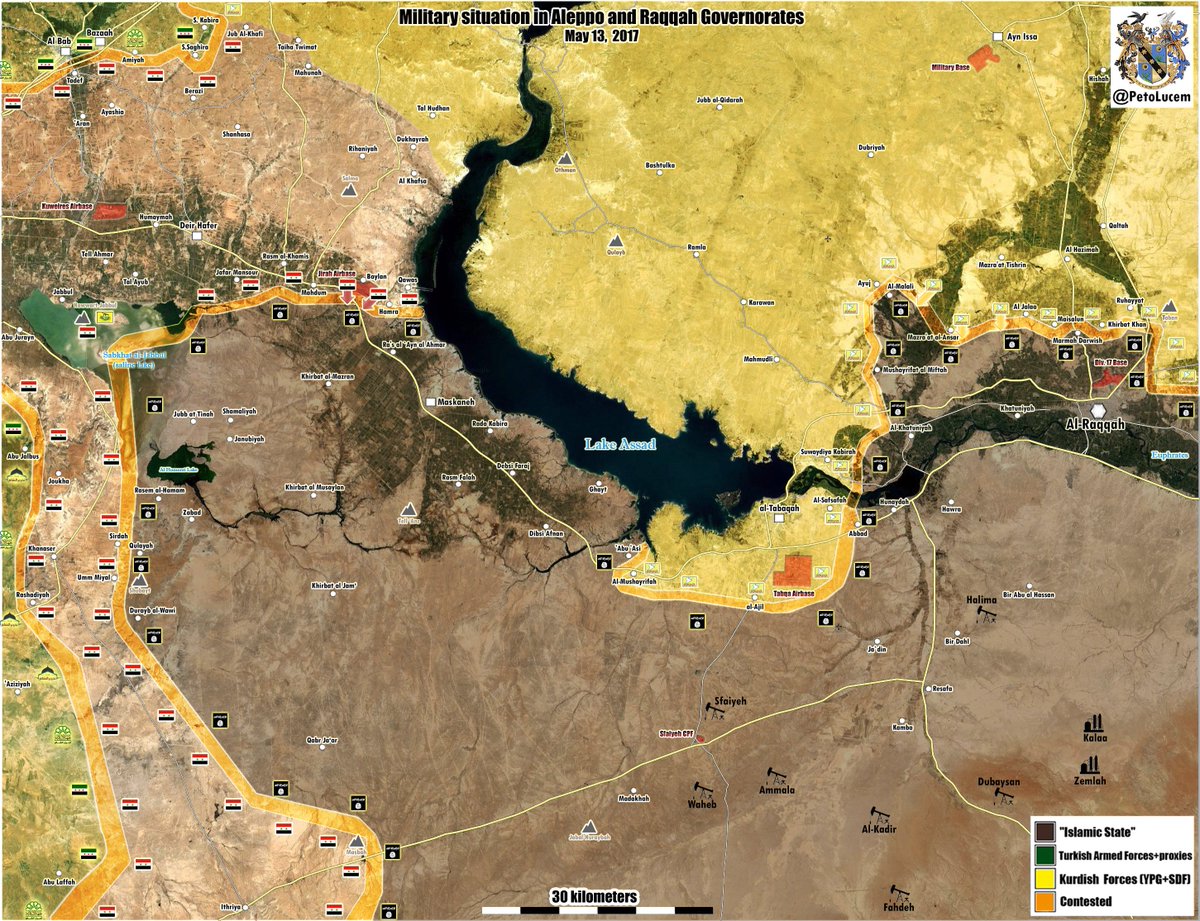 Situation in eastern Aleppo and western Raqqa governorates, HD version of this map can be found here. Source: Peto Lucem
Raqqa:
Syrian Democratic Forces advanced against Islamic State on two fronts north of Raqqa capturing Union of Farmers Center, a prison, cotton factory and several farms. In newly captured Mazraa Yarmouk (Yarmouk farm) Amaq reported that IS' SVBIED targeted SDF's gathering in the area.
On the western axis it appears that SDF will continue with the trusted strategy of encircling IS in a pocket making them withdraw from it. Since this strategy worked multiple times against Islamic State there is no need to change it.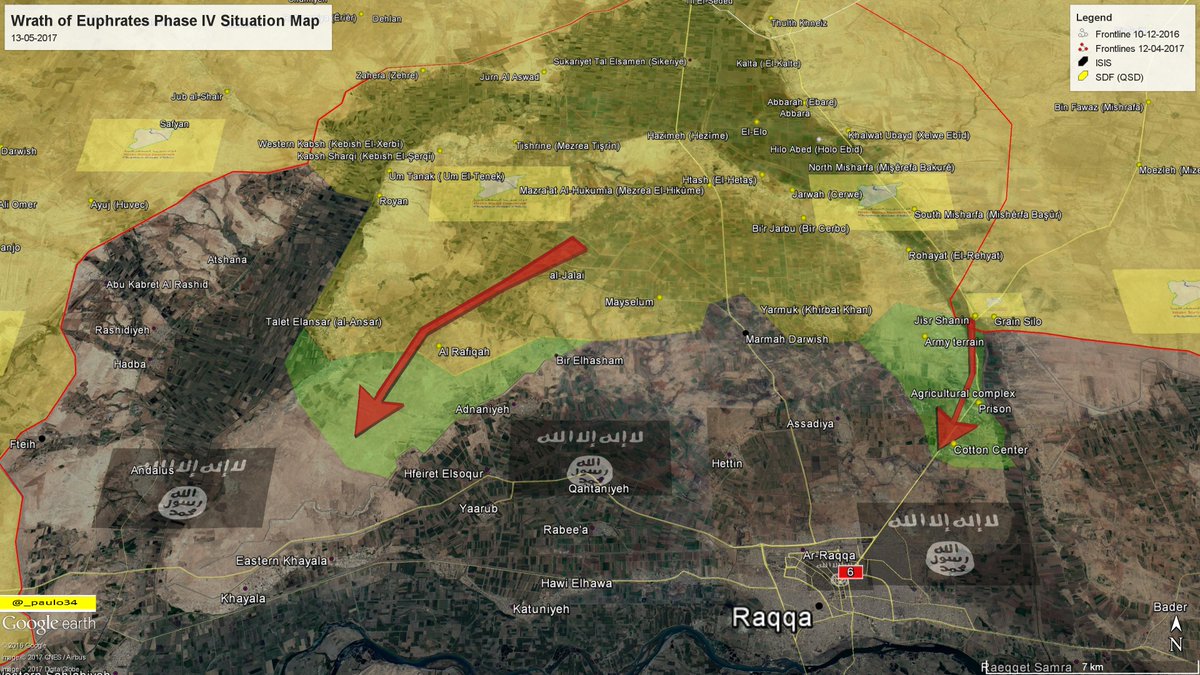 Situation north of Raqqa. Source: _paulo34
Idlib:
Hayaat Tahrir al-Sham released Suhail al-Hammoud, famously known as Abu TOW, he was arrested on 4th of May for "ridiculing" the religion and imprisoned in Al-Aqab close to Kernabal infamously known for brutal methods of torture in its military prisons.
One person was killed by a landmine in the vicinity of Sarmin, east of Idlib.
Damascus:
Syrian Arab Army is in full control of Qaboun and Tishreen neighborhoods, military operations were restarted early in the morning resulting in complete control over the neighborhoods, remaining rebels will leave Qaboun tomorrow. SAA entered Qaboun during the day and Tishreen in the evening in order to dismantle improvised explosive devices left behind by rebels.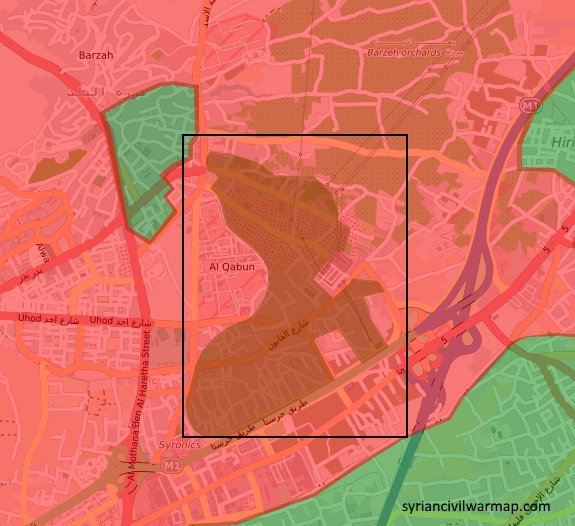 Situation in Qaboun. Source: Syrian Civil War Map
Daraa:
Jabhat Ansar al-Islam, group affiliated with Free Syrian Army clashed with Ahrar al-Sham in Al-Harah, northwestern Daraa governorate after the latter arrested several former's fighters. Ahrar al-Sham's commander known as Abu Ahyam led this anti-Ansar al-Islam operation under the excuse that the arrested individuals were a part of the Islamic State.
Unknown gunmen kidnapped three civilians in Gharya village northwest of Daraa, a women was subsequently released once the attackers stole all her money and valuable items. Two other kidnapped civilians are still missing and their fates are unknown for now.
Town of Mahajjah signed a reconciliation agreement with the Syrian government, more than 1000 people settled their cases. Deal also includes entry of aid convoys and a ceasefire with local rebels being able to keep their weapons and garrison the town.
Iraq
Nineveh:
Iraqi Army started a new wave of attacks in west Mosul, Al-Warshan and Al-Aqtasadeen districts have been stormed by the Army. Several sources reported that Hawi al-Kanisa district is completely captured by the Army from IS but these reports could be premature and IS might still hold certain parts of it.
Islamic State was most active in Al-Islah al-Zeraei district captured yesterday by the Army, according to a number of Amaq Agency's statements an SVBIED targeted Iraqi Special Operations Forces on the outskirts of the district, three members of the aforementioned force were killed by IS' sniper also in Al-Islah district as well as four Iraqi Army soldiers killed during clashes with IS.
In Mushrifa area north of Mosul Islamic State's sniper reportedly killed 10 Iraqi soldiers while in Al-Haramat district an SVBIED targeted Iraqi Army destroying three Humvees and killing eight soldiers.
Al-Hashd al-Shaabi (Popular Mobilization Units) made big advances against Islamic State during the second day of their offensive on Al-Qayrawan area. Even five reported IS' SVBIEDs didn't stop Iraqi forces from advancing as they've captured a number of localities today including: Tall Azou, Tall Haat, Mohammed Zaid, Hazil, Umm Hajara, Mugheira al-Abeed, Khanisi, Tall Banat and Khilo. More than 100 families fled IS-controlled territory south of Al-Qayrawan towards Al-Hashd al-Shaabi positions, civilians were then transferred to IDP camps. However, Islamic State did make a stand around Umm al-Zanabir village detonating an SVBIED and damaging one tank.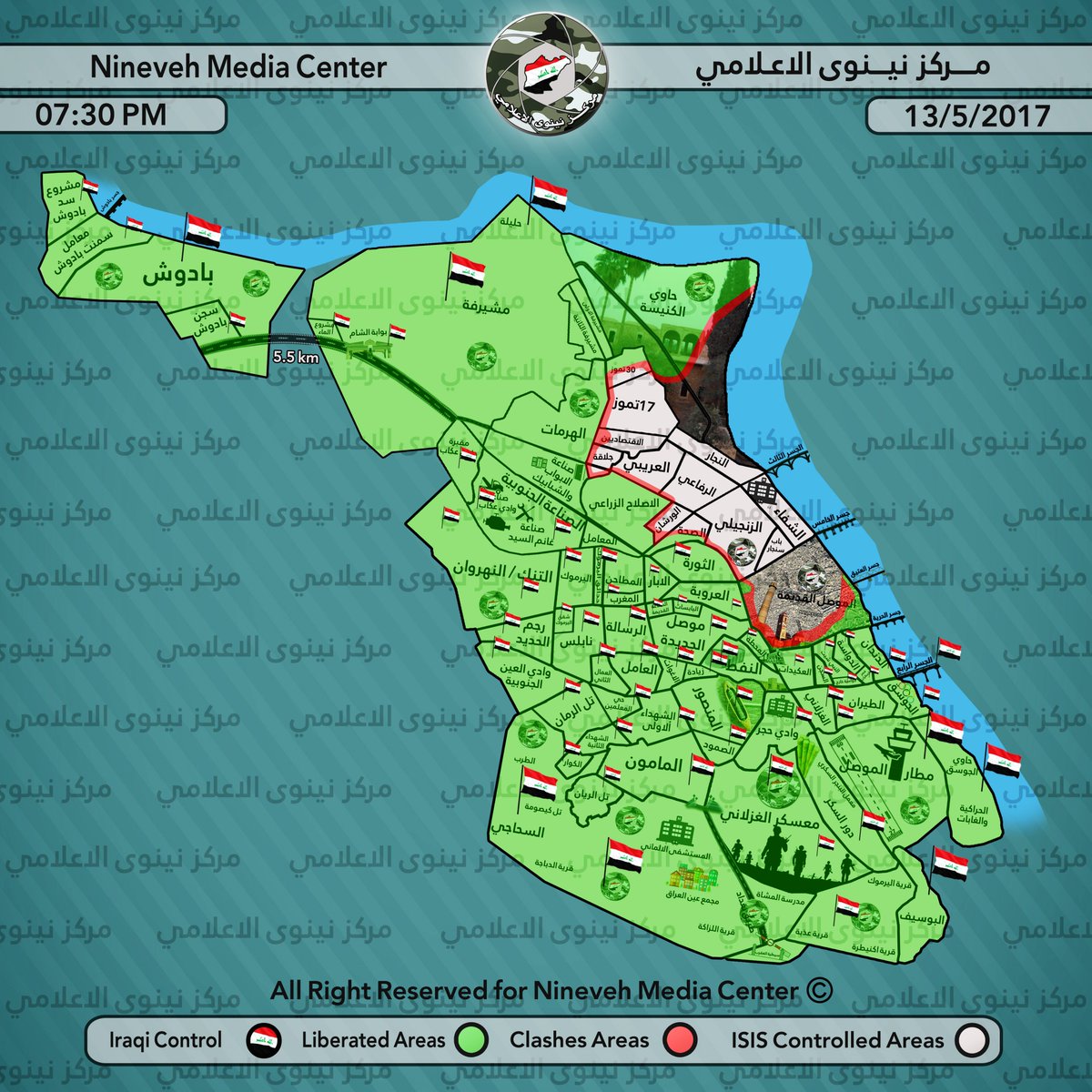 Latest map of west Mosul. Source: NinevehMC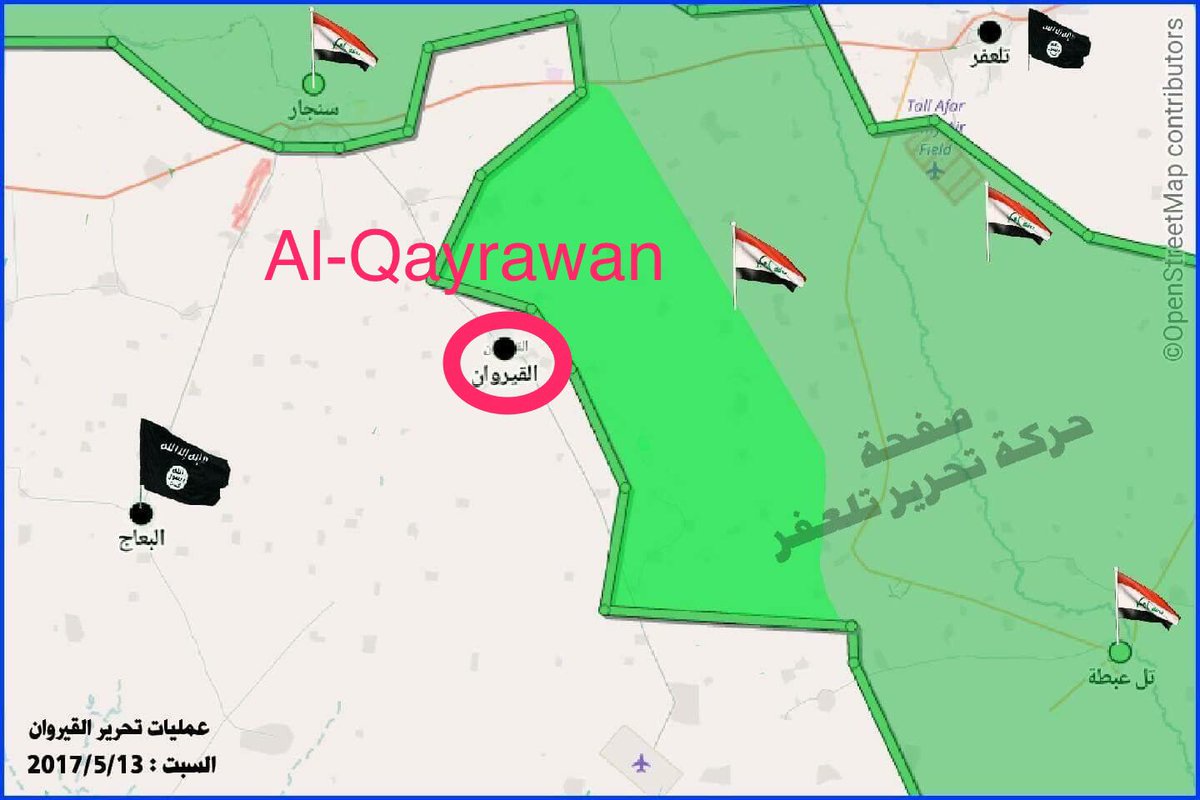 Situation around Al-Qayrawan. Source: Iraqi Day
Salah al-Deen:
Islamic State's sniper killed three Al-Hashd al-Shaabi fighters near the Baiji Thermal Power Station, north of Baiji according to Amaq Agency's statement.
Islamic State launched an attack on Al-Mirir village north of Al-Shirqat reportedly killing five members of the Iraqi Special Operations Forces.
Diyala:
Islamic State destroyed with improvised explosive devices three towers transferring electricity from Diyala governorate to parts of Baghdad.
Anbar:
Iraqi Air Force targeted meeting between Islamic State's commanders around Al-Qaim, around 13 IS' commanders were killed as they discussed future attacks on Haditha.
Baghdad:
Iraqi security forces foiled IS' suicide attack in northern Baghdad, the attacker tried to target Al-Hashd al-Shaabi's gathering.
CJTF-OIR:
On the 12th of May 2017 CJTF-OIR has conducted 23 strikes in Syria. CJTF-OIR's main focus in Syria at the moment is Tabqa-Raqqa-Deir al-Zour region where they did 22 strikes supporting SDF's operation against IS destroying three IS oil processing items, two IS wellheads, three vehicle bombs, two IS oil storage tanks, two IS oil stills, two excavators, a front-end loader, an improvised explosive device, an IS staging area, 11 fighting positions, seven tactical vehicles, a vehicle and a supply cache.
Other area where one strike occurred is Abu Kamal destroying an IS vehicle. Full report on CJTF-OIR strikes conducted in both Syria & Iraq can be found here.
Intellectual credited property used may vary from an edition to edition.
Feel free to voice your opinion in the comments section below, constructive criticism is welcomed.
For those of you interested, you can follow us on an official Twitter account @SyrianWarDaily, or me personally on my biased twitter @joskobaric where I occasionally tweet some things.