Hello and welcome to the 88th installment of the SWD.
Military events/news are listed below by the governorates:
Raqqa:
SDF repelled IS' attacks on Ayed al-Kabir and Al-Mushayrifah villages, south and west of Tabqa, respectively. More than 20 IS' fighters were killed in the clashes as well as at least five SDF's fighters according to Amaq's statement.
North of Raqqa SDF captured Khirbat al-Khan village and repelled IS' attack on Umm Tanak village, during these clashes around 20 IS' fighters were killed.
CJTF-OIR released a statement regarding the capture of Tabqa and the part that caught everyone's eye was:
 Approximately 70 ISIS fighters conceded to the SDF's terms, which included the dismantling of IEDs surrounding the dam, the surrender of all ISIS heavy weapons, and the forced withdrawal of all remaining fighters from Tabqah City.
Full CJTF-OIR's statement can be found here.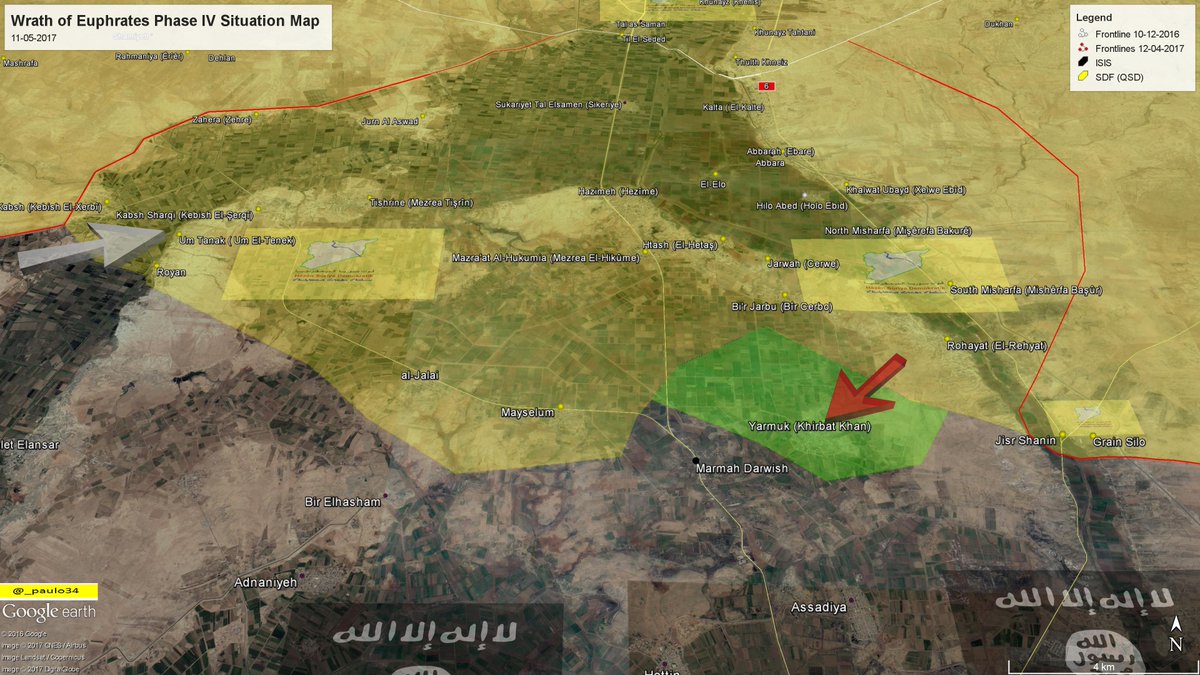 SItuation north of Raqqa. Source: _paulo34
Al-Hasakah:
New info shared by pro-Kurdish sources suggests that SDF received a new military shipment from the United States, shipment reportedly includes at least six Howitzers and several Humvees. A lot of old footage was recycled by many sources to prove that the shipment happened, however, so far only photos showing several Humvees can be considered as the confirmation of the shipment.
It is best to wait and see as it is possible that either SDF or United States will release a statement confirming the shipment and its contents.
Amaq Agency reported that four civilians were killed in CJTF-OIR's airstrike on Markadah south of Al-Hasakah.
Hama:
Free Syrian Army's Al-Firqa al-Wusta (Central Division) launched a TOW missile against SAA's infantry near Maan, based on the footage from the strike SAA suffered several casualties.
Homs:
National Defense Forces completely cleared the western part of Jabal al-Shumariya from IS' presence, east of Homs.
Damascus:
Several pro-government sources reported SAA's advances in southern part of Qaboun pocket, advances focused on the area east of Taqwa mosque.
In order to ease the tensions between the groups in East Ghouta Jaysh al-Islam released captured Faylaq al-Rahman's commander known as Abu Ammar Saab.
Jaysh al-Islam and SAA exchanged prisoners today south of Damascus in Yalda. SAA released four imprisoned women while Jaysh al-Islam released two people accused of being spies for SAA, two more males will be released by Jaysh al-Islam in a very short period. Deal was mediated and made possible by the elders of Yalda, prisoner exchange took place at Babila – Sayidi Meqdad checkpoint.
Faylaq al-Rahman attacked Ahrar al-Sham's HQ in Arbin and arrested more than a dozen of Ahrar al-Sham's fighters. Faylaq al-Rahman surrounded Ahrar al-Sham's HQs in East Ghouta on 7th of May giving them an option to defect and join their ranks or otherwise face the end of Ahrar al-Sham in East Ghouta. Since there was no response from Ahrar al-Sham, Faylaq al-Rahman decided to forcefully remove them from the area.
Iraq
Nineveh:
Iraqi Army made significant advances in Al-Islah al-Zeraei district almost fully capturing it from IS, Army freed hundreds of families used as human shields by IS in the district, however, IS is still putting up a fight not only in Al-Islah al-Zaraei district but throughout the west Mosul.
Amaq Agency claimed IS' SVBIED destroyed three Humvees and killed six members of Iraqi Special Operations Forces in Al-Islah al-Zaraei district but footage shared by pro-Iraq sources showed destruction of SVBIED before it reached their positions. In total, Iraqi Army reportedly destroyed more than 18 IS's SVBIEDs today.
In Yarmouk district IS' SVBIED reportedly destroyed a Humvee and caused several casualties among the Iraqi Special Operations Forces. Similarly IS detonated a VBIED in Hawi al-Kanisa destroying a bulldozer and a Humvee as well as killing a number of Iraqi soldiers. IS downed two Iraqi Army's reconnaissance planes/drones over west Mosul.
In Al-Maemal district captured yesterday by the Army from IS, the latter destroyed former's BMP and flattened a building with improvised explosive devices just after Iraqi Special Operations Forces entered it. Amaq claimed 18 members of Iraqi Special Operations Forces were killed and one ammunition destroyed by the Islamic State's attack in Al-Thawra district.
IS launched an attack on Mushrifa area north of Mosul recapturing a number of positions from Iraqi Army according to Amaq Agency.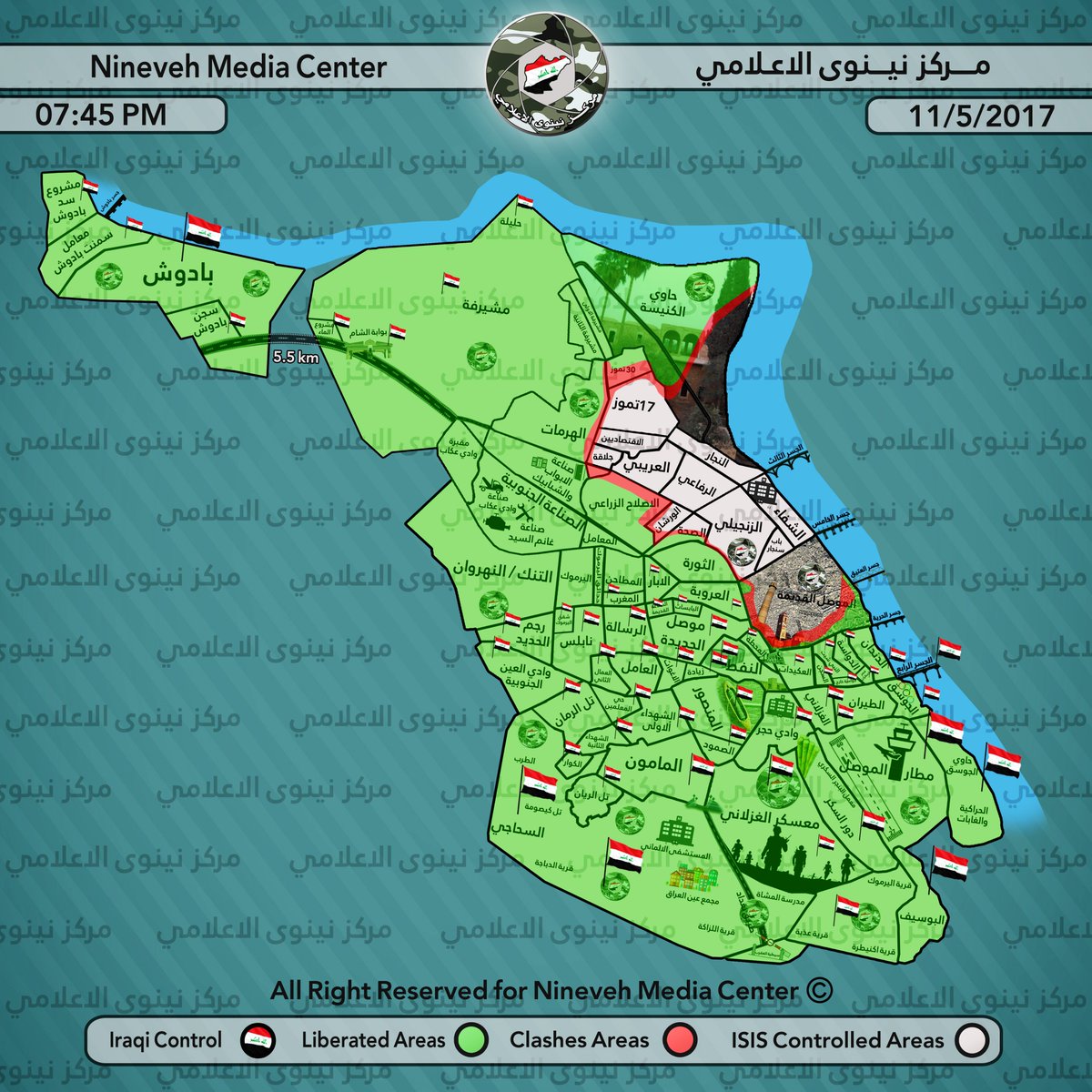 Latest map of west Mosul. Source: NinevehMC
Kirkuk:
According to Amaq Agency's statement Islamic State's sniper killed three Al-Hashd al-Shaabi (Popular Mobilization Units) fighters southwest of Kirkuk.
Anbar:
Iraqi security forces foiled IS' suicide attack by killing two IS' fighters wearing explosive belts that were in a pickup trying to target Amiriyat al-Fallujah coming from the south, attackers were neutralized close to a checkpoint near Al-Razzazah crossing.
Salah al-Deen:
Iraqi security forces arrested IS' leader in Al-Shirqat know as Muhammad Ahmad Jassem al-Aemer (al-Amer), accurate intelligence about his whereabouts was provided by the residents of Al-Zab, near Hawijah. He will be tried for several crimes including execution of civilians.
Baghdad:
IS' VBIED exploded in Al-Shaela district northwestern Baghdad reportedly killing four civilians and wounding another eight, Amaq claimed the VBIED targeted gatherings of Shias in the area.
CJTF-OIR:
On the 10th of May 2017 CJTF-OIR has conducted 11 strikes in Syria. CJTF-OIR's main focus in Syria at the moment is Tabqa-Raqqa-Deir al-Zour region where they did nine strikes supporting SDF's operation against IS destroying a front-end loader, an IS wellhead, six fighting positions, three vehicles; damaging a fighting position; and suppressing an IS tactical unit.
Other area where two strikes occurred is Abu Kamal destroying a front-end loader. Full report on CJTF-OIR strikes conducted in both Syria & Iraq can be found here.
Intellectual credited property used may vary from an edition to edition.
Feel free to voice your opinion in the comments section below, constructive criticism is welcomed.
For those of you interested, you can follow us on an official Twitter account @SyrianWarDaily, or me personally on my biased twitter @joskobaric where I occasionally tweet some things.