Hello and welcome to the 86th installment of the SWD.
Military events/news are listed below by the governorates:
Raqqa:
Clashes are still occurring between SDF and IS in districts north of Tabqa, during the clashes IS reportedly lost 30 fighters. Islamic State's media outlet Amaq Agency reported that the United States' artillery was heavily shelling districts where IS still maintains presence.
Idlib:
Hayaat Tahrir al-Sham's sharia court sentenced Suhail al-Hammoud, more famously known as "Abu TOW" to 15 days in prison for "ridiculing" the religion, he was arrested on 4th of May for sharing a photo of him smoking next to one of Hayaat Tahrir al-Sham's signs prohibiting smoking. Suhail al-Hammoud is reportedly jailed in Al-Aqab northwest of Kernabal whose prisons are infamously known for brutal methods of torture specifically designated for military prisoners.
Damascus:
Yesterday's reports from several pro-government sources about SAA capturing Beit Naim turned out to be Jaysh al-Islam's trap as the group claimed to have ambushed SAA in Beit Naim recapturing several positions. From the footage released by Jaysh al-Islam SAA lost at least four soldiers in the ambush.
Jaysh Usud al-Sharqiya, rebel group based in eastern Damascus governorate released a new statement saying that they've launched a counterattack against SAA in newly captured areas east of Al-Seen Airbase. Statement also includes Jaysh Usud al-Sharqiya's intention of breaking the siege of East Ghouta, because of this danger of rebels lifting the siege of East Ghouta one of SAA's goals in this offensive is to cut East Qalamoun rebels from the ones in eastern Damascus desert hugely undermining any possible attempt at breaking the siege.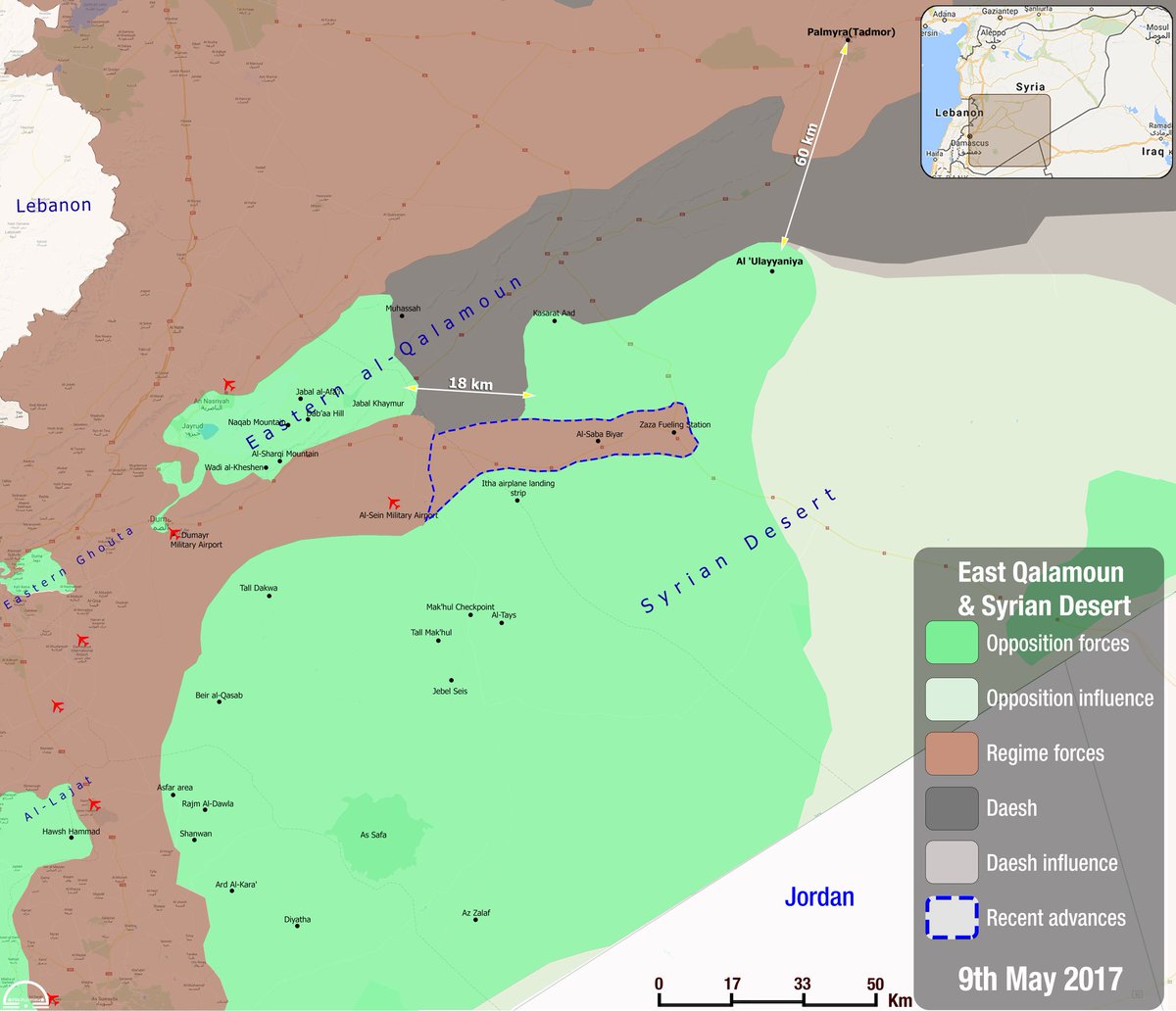 Situation in eastern Damascus and Homs governorates. Source: FSA News
Iraq
Nineveh:
Iraqi Army made huge advances in northwestern Mosul capturing North Industrial district and most of the 30 Tammuz district. IS' resistance has grown weaker as only one SVBIED attack was reported in Mushrifa destroying a BMP and causing five casualties among the Army's ranks.
In Al-Akidat (Aqeedat) district of Mosul Islamic State destroyed with most likely an improvised explosive device an SUV belonging to the Iraqi Federal Police.
Islamic State's security official, a Libyan national was killed by Iraqi Army in battles for west Mosul.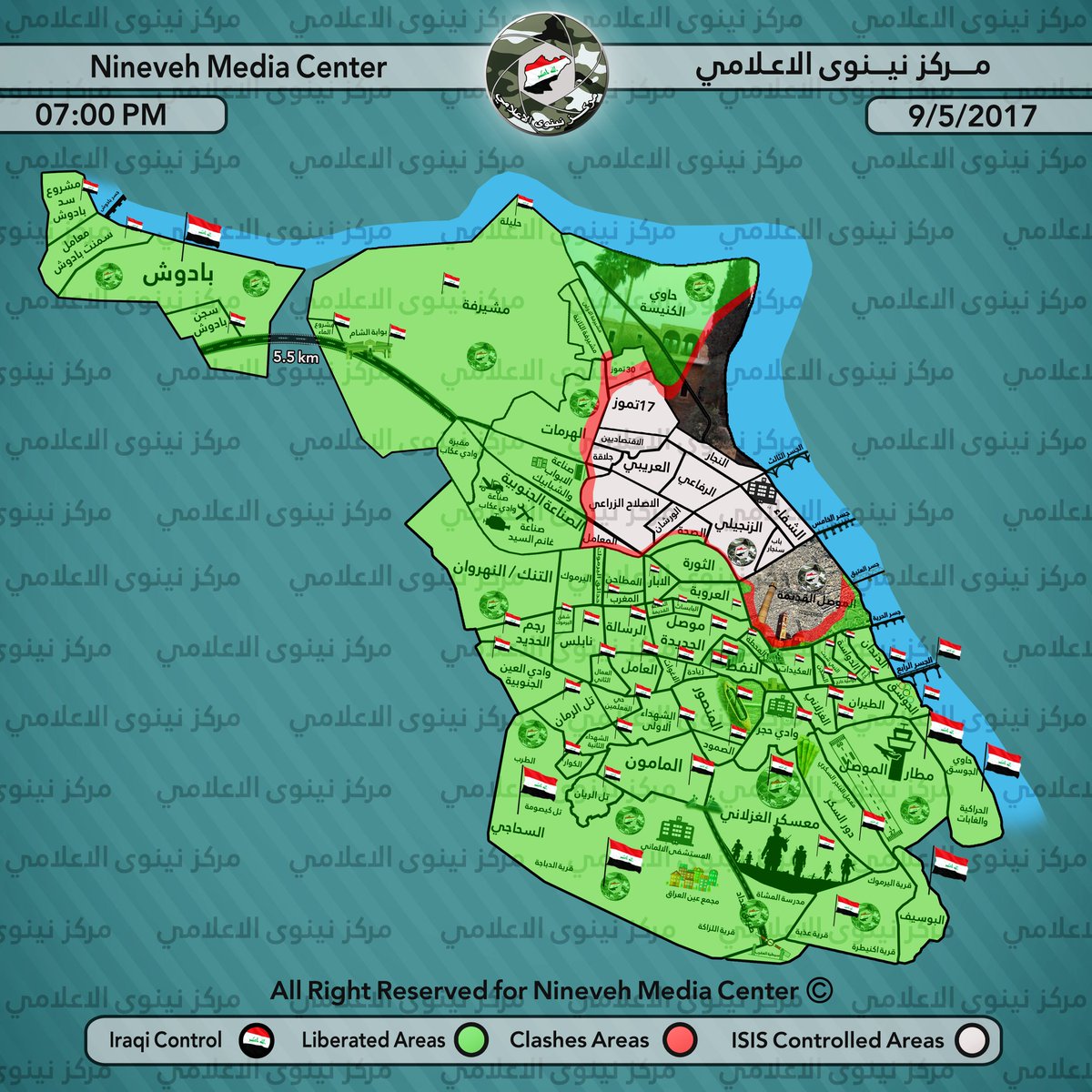 Latest map of west Mosul. Source: NinevehMC
Kirkuk:
Islamic State's official responsible for air defense was killed by an improvised explosive device south of Kirkuk.
Salah al-Deen:
IS' foreign fighter from Somalia Aideed Ramadan captured in a tunnel by Harakat Hezbollah al-Nujaba, part of Al-Hashd al-Shaabi (Popular Mobilization Units) admitted his role in Camp Speicher massacre by killing 30 recruits. Camp Speicher massacre is one of the biggest IS' crimes where between 1500 and 1700 non-Sunni Iraqi Air Force cadets were executed by IS's fighters.
Amaq Agency claimed IS' sniper killed three Iraqi Federal Police officers in Salman district, Al-Tarmiyah north of Baghdad.
Anbar:
Iraqi Air Force conducted more than a dozen of airstrikes on IS' positions in western Anbar destroying several VBIED factories as well as reportedly killing more than 100 IS fighters. Units targeted were reportedly planning to commit several suicide attacks in Baghdad's area.
CJTF-OIR:
On the 8th of May 2017 CJTF-OIR has conducted 25 strikes in Syria. CJTF-OIR's main focus in Syria at the moment is Tabqa-Raqqa-Deir al-Zour region where they did 23 strikes supporting SDF's operation against IS destroying four IS wellheads, an unmanned aerial system storage building, two vehicles, 13 IS barges, two excavators and eight fighting positions.
Other areas where two strikes occurred are Abu Kamal and Palmyra destroying an IS wellhead, an IS oil storage tank and a tunnel entrance. Full report on CJTF-OIR strikes conducted in both Syria & Iraq can be found here.
Intellectual credited property used may vary from an edition to edition.
Feel free to voice your opinion in the comments section below, constructive criticism is welcomed.
For those of you interested, you can follow us on an official Twitter account @SyrianWarDaily, or me personally on my biased twitter @joskobaric where I occasionally tweet some things.