Hello and welcome to the 84th installment of the SWD.
Military events/news are listed below by the governorates:
Aleppo:
Majority of SAA's Tiger Forces have arrived to the east Aleppo in order to continue their interrupted offensive against the Islamic State. IS-held localities close to the front line were shelled today as the offensive might start making fresh gains as soon as tomorrow.
Raqqa:
Clashes are still occurring between SDF and IS north of Tabqa with reports that the latter reportedly lost more than 30 fighters in the clashes.
Hama:
SAA regained complete control of Al-Zilaqiat village and a hill near it after expelling rebels from the area, three wounded rebel fighters were captured by SAA around Al-Zilaqiat. Several commanders died in clashes today, Brigadier General in SAA's 4th Division Yahya Balush was killed by rebels, commander in Jaysh al-Nasr Saeed al-Qasoum and commander in Faylaq al-Sham Ibrahim Muhammad al-Ibrahim were killed by SAA.
Jaysh al-Izzah launched one TOW missile around Al-Zilaqiat targeting a technical mounted with a 14.5 mm gun, a Fagot missile was also launched reportedly destroying a tank also around Al-Zilaqiat.
Situation in northern Hama. Source: Step News Agency
Homs:
National Defense Forces captured Tell Mudraja al-Sumaah in Jabal al-Shumariya's vicinity and three points southeast of IS-held Umm Sahrij village, pattern of advances suggests that the village may be first encircled and then stormed.
Amaq Agency claimed seven SAA soldiers were killed and three more wounded by IS around Al-Talila area east of Palmyra.
Situation east of Homs. Source: loomis
Deir al-Zour:
SAA repelled IS' attack on Deir al-Zour Airbase and cemeteries area, Amaq claimed death of three SAA soldiers in the clashes.
Damascus:
Evacuation of Qaboun and Barzeh pockets is being negotiated between rebels and Syrian government's National Reconciliation Committee regarding transportation of rebels from the aforementioned pockets. Several sources reported that the agreement has been reached in Barzeh but negotiations are still ongoing in Qaboun.
Due to negotiations SAA halted its offensive on the pockets, but before that Jaysh al-Islam damaged an armored bulldozer and a tank trying to pull away the damaged bulldozer around Electric Grid Station recently captured by SAA in Qaboun.
As a part of the Fuah-Kafraya-Madaya-Zabadani deal Hayaat Tahrir al-Sham will evacuate from Yarmouk Camp handing over their positions to SAA. Agreement was reportedly reached on 27th of April and it's supposed to be implemented very soon.
Jaysh al-Islam retrieved one of their weapons' caches captured by Hayaat Tahrir al-Sham during the battles in East Ghouta.
Faylaq al-Rahman reportedly surrounded Ahrar al-Sham's headquarters in East Ghouta asking them to defect or most likely face extinction in East Ghouta since Ahrar al-Sham is very small in the region.
SAA advanced against FSA east of Al-Seen Airbase and captured Al-Saba Biyar from the latter along the Damascus-Iraqi border highway. Recapturing this highway is most likely SAA's goal as it would ruin US' strategy in Syria of cutting it off from Iraq using military-backed groups.
If captured this highway would go all the way towards Teheran making it even worse for the US, Israel and allies as it would allow ground deliveries from Iran all the way to Hezbollah in Lebanon.
Situation east of Damascus following SAA's advances along the highway. Source: NORS Studies
Iraq
Nineveh:
Iraqi Army captured Wadi Akab, Al-Haramat districts and almost complete Mushrifa area from IS in northwestern Mosul. Even though Mushrifa was reported as fully captured IS launched a counterattack in the area recapturing some ground from the Army. Clashes also took place in 17 Tammuz district and Hawi Kanisa as Iraqi Army continues to advance.
Two IS' SVBIEDs targeted Iraqi Army's positions in Mushrifa reportedly destroying a BMP, four Humvees, damaging the fifth one and killing a number of soldiers. IS' IEDs also did damage today in Mushrifa according to Amaq Agency, a bulldozer was destroyed in one IED attack while a couple of soldiers were killed when IS flattened two houses using IEDs. In Al-Haramat 10 Iraqi soldiers were allegedly killed or wounded due to another house being flattened by IS with IEDs.
Southeast of Tal Afar near Al-Hamra IS reportedly destroyed two Al-Hashd al-Shaabi's (Popular Mobilization Units) machine gun positions. However, IS might not have the ability to strike these areas in the future as a large Al-Hashd al-Shaabi's convoy started heading towards Tal Afar today as the start of the offensive on the city is being heavily anticipated.
President of Munazzama Badr (Badr Organization), part of Al-Hashd al-Shaabi and member of the Iraqi parliament Hadi Al-Amiri visited Iraqi Joint Operations' base near Mosul. Al-Amiri stated that the reconnaissance has been completed for the upcoming Al-Hashd al-Shaabi's operation which will apparently surprise Islamic State's fighters.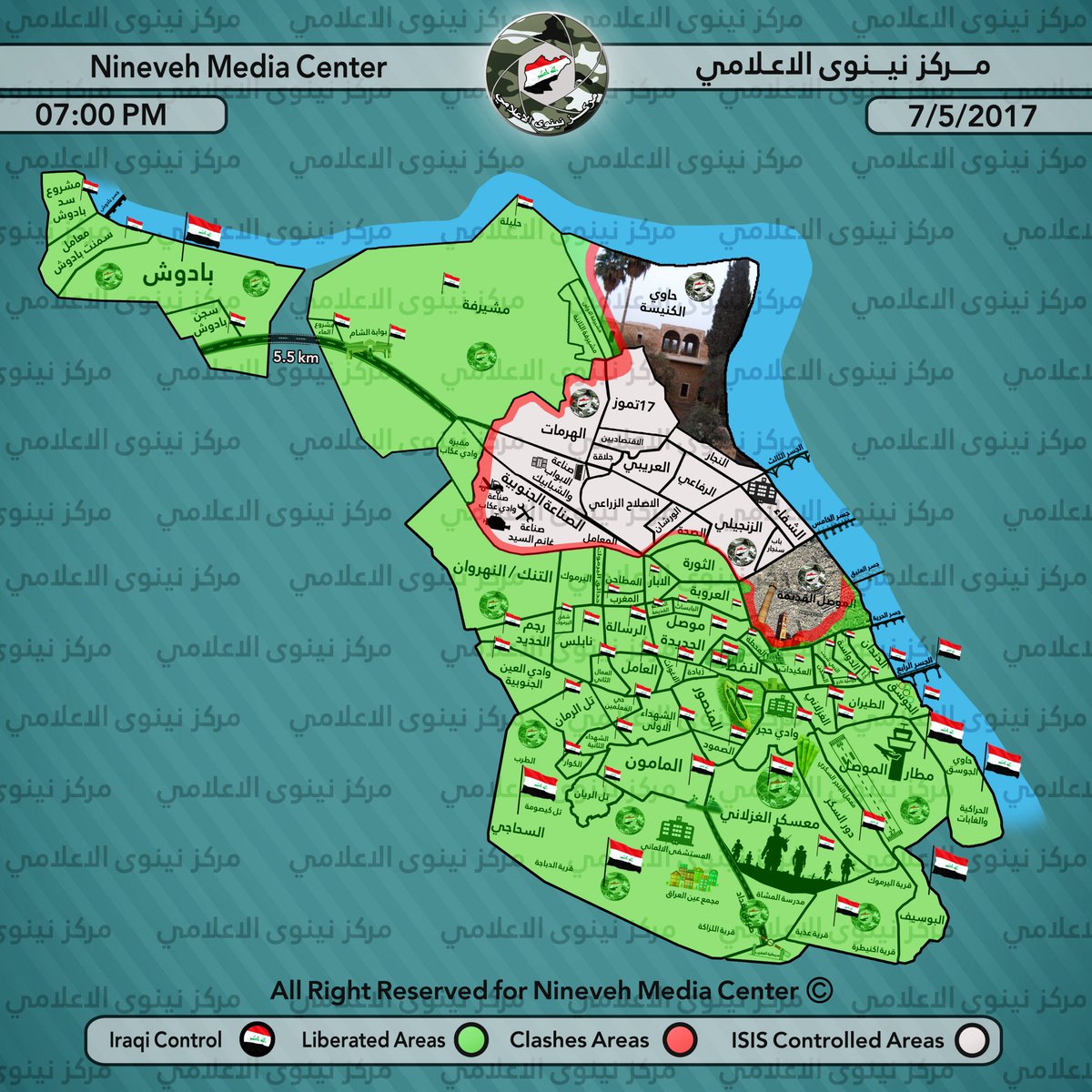 Latest map of west Mosul. Source: NinevehMC
Kirkuk:
Five Islamic State's fighters launched a night attack on Kaywan (K-1) air/military base west of Kirkuk, base is currently being operated by Peshmerga forces. Out of five attackers two detonated themselves while the other three were neutralized in clashes, Peshmerga lost two soldiers in the attack and six more were wounded. According to Amaq Agency IS fighters allegedly killed a number of Peshmerga and US soldiers as well as destroyed one Humvee.
Diyala:
Islamic State reportedly assassinated a member of Iraqi Intelligence in Buhrez south of Baquba according to Amaq's statement.
Baghdad:
IS suicide bomber detonated himself near the gathering of Al-Hashd al-Shaabi's fighters in Al-Taji north of Baghdad causing an unknown number of casualties.
CJTF-OIR:
On the 6th of May 2017 CJTF-OIR has conducted 11 strikes in Syria. CJTF-OIR's main focus in Syria at the moment is Tabqa-Raqqa-Deir al-Zour region where they did seven strikes supporting SDF's operation against IS destroying nine IS oil storage tanks, three IS wellheads, three IS oil tankers, two front-end loaders, two IS boats, two vehicles, two fighting positions and a vehicle-borne bomb.
Other area where one strike occurred is Abu Kamal destroying an IS storage unit. Full report on CJTF-OIR strikes conducted in both Syria & Iraq can be found here.
Intellectual credited property used may vary from an edition to edition.
Feel free to voice your opinion in the comments section below, constructive criticism is welcomed.
For those of you interested, you can follow us on an official Twitter account @SyrianWarDaily, or me personally on my biased twitter @joskobaric where I occasionally tweet some things.