Hello and welcome to the 83rd installment of the SWD.
Military events/news are listed below by the governorates:
Raqqa:
It is the fifth day of clashes between SDF and remaining IS elements in districts north of Tabqa, districts were heavily targeted by CJTF-OIR's airstrikes and artillery.
SDF repelled IS' attack west of Tabqa on Al-Mushayrifah village, CJTF-OIR played an important role targeting IS positions as they were preparing to attack killing at least six of them.
According to Amaq Agency's statement 20 SDF fighters were killed, 10 more wounded and four vehicles destroyed when an IS SVBIED targeted area west of Al-Hazima, north of Raqqa.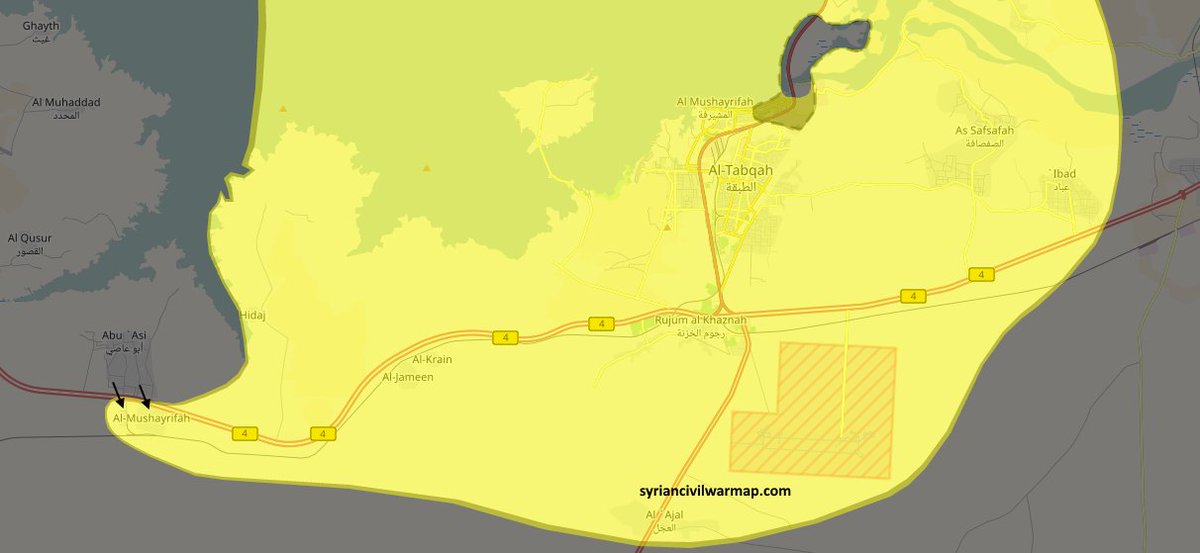 Situation in greater Tabqa area showing axis of IS attack. Source: Syrian Civil War Map
Idlib:
Faylaq al-Sham's commander in Aleppo "sector" Joumaa al-Salim was killed in Jarjanaz, southeast of Idlib while trying to solve a dispute between two unknown parties.
Hama:
Syrian Arab Army backed by National Defense Forces launched three attacks in 24 hours on Al-Zilaqiat north of Halfaya and were successful in capturing the village and a hill near it in their third attempt. However, rebels quickly regrouped and launched a counterattack on the territory lost regaining it once again according to pro-rebel sources and reportedly capturing a tank, as always ATGMs played a role in rebels' counterattack.
Jaysh al-izzah launched three TOW missiles against SAA in Al-Zilaqiat, one missile targeted a BMP completely destroying it while the other two were used against SAA infantry. In the first case missile hit fortifications below the group of SAA soldiers and in the second case missile hit the area behind the bigger group of SAA soldiers possibly injuring several of them.
Rebels' capture of Al-Zilaqiat is being disputed by pro-government sources so it should be labeled as unconfirmed for now.
Situation in northern Hama. Source: Vasto
Homs:
SAA advanced in Jabal al-Shumariya's area capturing Tallat al-Sheyhat and Tel Rajam from IS.
Maghwar al-Thawra rebel group opened Al-Tanf – Al-Waleed border crossing between Syria and Iraq.
Deir al-Zour:
Amaq Agency reported that 10 SAA soldiers were killed south of Deir al-Zour in clashes with IS.
Damascus:
SAA reportedly captured a dozen of buildings around Industrial Institute in Qaboun pocket.
Jaysh al-Islam and Faylaq al-Rahman clashed in Haza and Saqba, a day after Jaysh al-Islam announced its mission in East Ghouta as completed. Both Faylaq al-Rahman and Jaysh al-Islam have been accused of arresting people in East Ghouta.
Jaysh al-Islam allegedly arrested more than 130 women somehow connected to Faylaq al-Rahman and Hayaat Tahrir al-Sham which were transferred along with looted household items to Jaysh al-Islam's stronghold of Douma. In Mesraba Jaysh al-Islam launched raids on several houses arresting a dozen of individuals.
On the other hand Faylaq al-Rahman arrested several members of committees in Arbeen and Zamalka including Sheikh Hamed Suqarq Chairman of the Committee for the Support of the Oppressed in the Eastern Ghouta.
Faylaq al-Rahman has reportedly encircled Hammouriyah town in preparation to launch an attack against Al-Wiyat al-Majd which is based in the town. The main reason why Faylaq al-Rahman would go after Al-Wiyat al-Majd is because the latter is mostly comprised of Liwa Abu Musa al-Ash'ari fighters which defected from Faylaq al-Rahman some time after the first rebel infighting due to their close relationship with Jaysh al-Islam.
Daraa:
Jaysh al-Thawra's official statement confirmed the death of a military commander Shaher Abdullah al-Zubani (Abu Wael) by an improvised explosive device planted under his car.
Iraq
Nineveh:
Iraqi Army continues to clash with IS in northwestern Mosul, due to latter's resistance in the area Army managed only managed to make small advances today. According to a number of Amaq Agency's statements released today Islamic State inflicted heavy loses to Iraqi Army in west Mosul. In Mushrifa area IS' SVBIED detonated near Army's gathering reportedly destroying a tank and inflicting a dozen of casualties, also in Mushrifa five soldiers were killed by IS snipers and another six killed or wounded by an RPG. The last claim from Mushrifa includes IS damaging M1 Abrams tank and a Humvee.
IS was also active in Al-Haramat district today destroying a bulldozer with an RPG as well as damaging two BMPs and another bulldozer in the same attack.
West of Al-Hadhar which was recently captured by Al-Hashd al-Shaabi (Popular Mobilization Units) IS destroyed a BMP with an ATGM.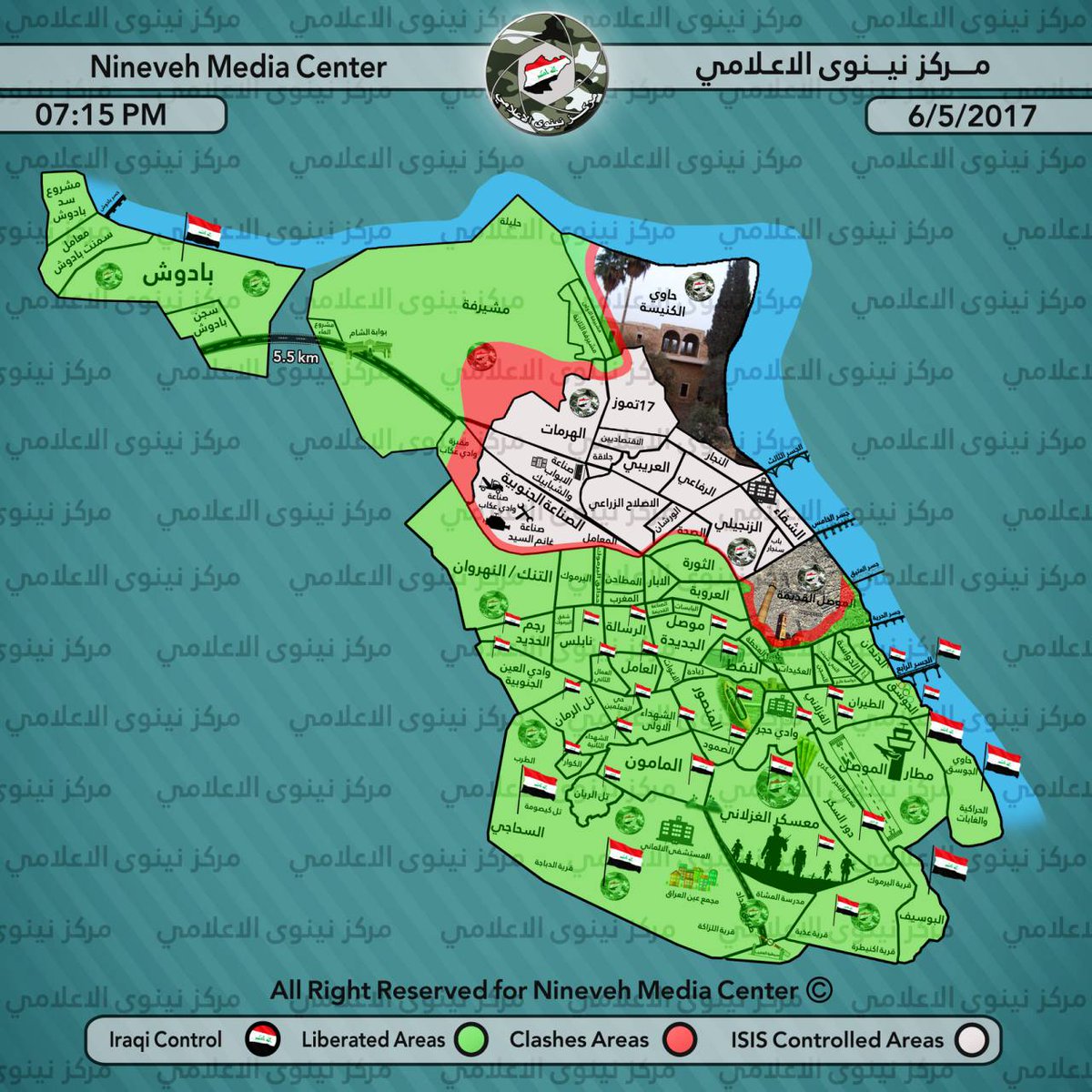 Latest map of west Mosul. Source: NinevehMC
Salah al-Deen:
IS destroyed Iraqi Army's tank with an ATGM near Sheikh Ali village north of Baiji according to Amaq Agency's statement.
Iraqi soldier was killed and two more wounded yesterday when Islamic State's improvised explosive device exploded at a checkpoint in Shat area, Al-Tarmiyah.
Diyala:
Islamic State's improvised explosive device destroyed Iraqi Army's vehicle killing everyone on board yesterday in Al-Dainiyah south Baldrouz. After this attack, Iraqi Army backed by Al-Hashd al-Shaabi launched a counterinsurgency operation in Diyala governorate against IS bases destroying three SVBIEDs.
CJTF-OIR:
On the 5th of May 2017 CJTF-OIR has conducted 10 strikes in Syria. CJTF-OIR's main focus in Syria at the moment is Tabqa-Raqqa-Deir al-Zour region where they did seven strikes supporting SDF's operation against IS destroying five IS oil storage tanks, three IS oil distillation tanks, front-end loader, an IS wellhead, two fighting positions and a vehicle.
Other areas where three strikes occurred are Abu Kamal and Palmyra destroying four IS wellheads and engaging an IS tactical unit. Full report on CJTF-OIR strikes conducted in both Syria & Iraq can be found here.
Intellectual credited property used may vary from an edition to edition.
Feel free to voice your opinion in the comments section below, constructive criticism is welcomed.
For those of you interested, you can follow us on an official Twitter account @SyrianWarDaily, or me personally on my biased twitter @joskobaric where I occasionally tweet some things.