Hello and welcome to the 81st installment of the SWD.
Military events/news are listed below by the governorates:
Aleppo:
Clashes erupted between TFSA and SDF near Um Jalud (Umm al-Julud) village northwest of Manbij.
Raqqa:
Clashes still continue between SDF and IS in districts north of Tabqa, IS has suffered at least 50 casualties in these clashes. False info was spread by several sources about an agreement between SDF and IS about latter's evacuation from Tabqa, this info was denied by official SDF channels which state that clashes still continue in Tabqa.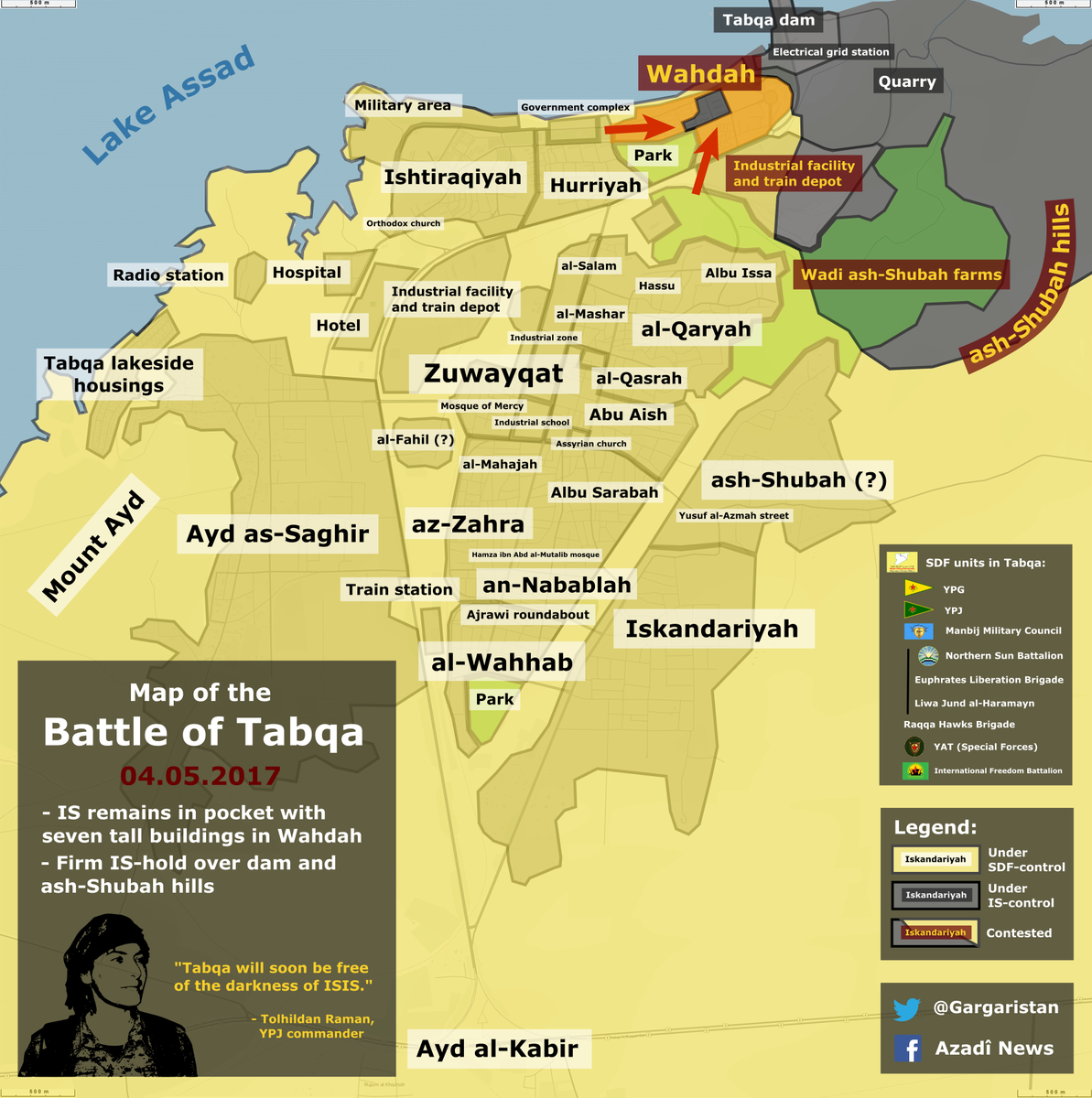 Approximate situation in Tabqa. Source: Gargari
Idlib:
Famous TOW operator nicknamed Abu TOW, real name Suhail al-Hammoud known for his numerous TOW hits against SAA armour has been arrested by Hayaat Tahrir al-Sham. During the night two Hayaat Tahrir al-Sham's vehicles arrived at his house in Abdita northwest of Maarat al-Numan and raided it. The reason why he was arrested is allegedly because he shared a picture of himself smoking on social medias near Hayaat Tahrir al-Sham's sign that prohibits smoking.
Hama:
SAA released ghanima (war spoils) from what is claimed as a failed rebel attack on Masasnsah, among the various small arms with ammo seized the most interesting capture was a Konkurs ATGM launcher.
Homs:
Eight batch of rebels and civilians from Al-Waer neighborhood, Homs are being evacuated towards Jarablus. One more batch is expected to be evacuated and then the neighborhood should be cleared from rebel presence, estimated date is 13th of May.
SAA advanced around Jabal al-Shumariya which was captured yesterday, points captured today are 968, 881 and 876. Several points were also captured by SAA west of Al-Talila area which is east of Palmyra.
Al-Humaymah area which was captured by Maghwar al-Thawra from IS on 30th of April was recaptured by the latter.
Damascus:
Former Syrian Minister of Justice Najm Hamad al-Ahmad was arrested at Damascus International Airport for trying to flee the country, former minister reportedly stole a big amount of money.
SAA advanced in southeastern part of Qaboun reportedly capturing important areas and Hayaat Tahrir al-Sham's headquarters in the district. Faylaq al-Rahman released footage showing an ID allegedly belonging to a killed SAA soldier which died in today's clashes in Qaboun.
Chief of Military Services in Jaysh al-Islam Nouman Awad (Abu Issam) was executed by Hayaat Tahrir al-Sham in Arbeen. According to several sources later in the day Jaysh al-Islam fully captured Arbeen expelling Faylaq al-Rahman and Hayaat Tahrir al-Sham from it.
Commander of a battalion in Faylaq al-Rahman, Salah al-Ashi (Abu Hassan) was killed in clashes with Jaysh al-Islam.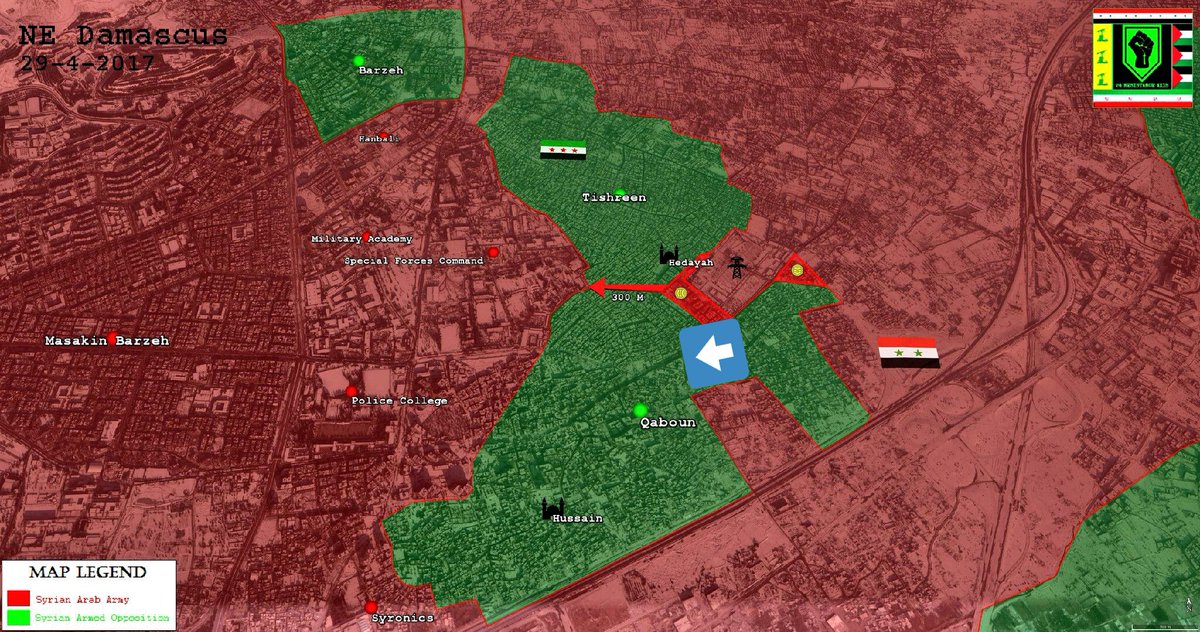 Approximate situation in Qaboun. Source: 24 Resistance Axis
Al-Suwayda:
Free Syrian Army recaptured Tell Saad northeast of Al-Suwayda after it was briefly captured by National Defense Forces in an early attack.
Iraq
Nineveh:
Iraqi Army launched today the long awaited operation in northwestern Mosul storming several IS-held neighborhoods. Army's progress was significant today, in Mushrifa area "second" and "third" districts of it were captured from IS. In Hawi al-Kanisa district Iraqi Army captured St. Michael's monastery and the 60th street. In Wadi Akab district a cemetery was captured, the last captured localities were at the western entrance to the Mosul, Hassouna village and Nineveh Gas Plant were secured from IS.
However, the captures didn't go so smoothly for Iraqi Army today as Amaq Agency claimed at least two suicide attacks on Army's positions in Mushrifa destroying three BMPs, damaging the fourth one and killing six Iraqi soldiers. IS also reportedly destroyed a T-72 and M1 Abrams tanks as well as a Humvee, a Jeep and several other vehicles.
In 17 Tammuz district reports suggest that 20 families were killed due to shelling by Iraqi Special Operations Forces on Al-Walaa school northwest of Mufti Mosque. Families were taking shelter in the school when it was reportedly targeted.
In Tal Afar IS' expert in "car bombs" Abu Yousef al-Halabi from Aleppo, Syria died along with three other IS figures in a car explosion which occurred at a vehicle borne improvised explosive devices workshop.
Islamic State was dealt another blow in Tal Afar as Um Qays, female official in the group and leader of women's wing of Al-Hesbah was found dead in an unfinished house located on the outskirts of Tal Afar. Um Qays rose among IS' ranks in summer of 2015 and has also been in charge of intelligence cells.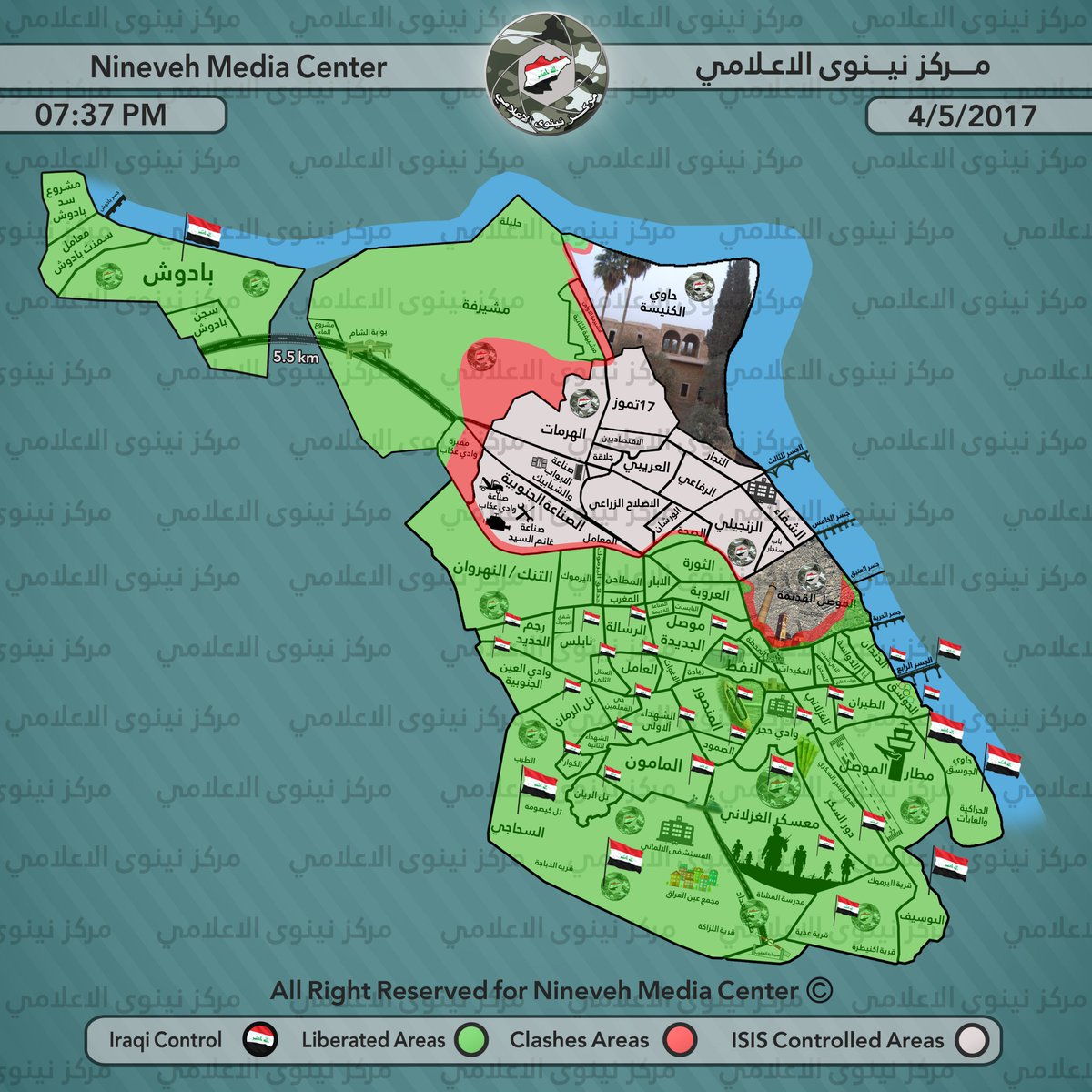 Latest map of west Mosul. Source: NinevehMC
Anbar:
Al-Hashd al-Shaabi backed by Iraqi Army reportedly launched a large operation against IS localities in western Anbar desert.
CJTF-OIR:
On the 3rd of May 2017 CJTF-OIR has conducted seven strikes in Syria. CJTF-OIR's main focus in Syria at the moment is Tabqa-Raqqa-Deir al-Zour region where they did five strikes supporting SDF's operation against IS destroying two IS oil separation tanks, an IS wellhead, 12 fighting positions, an IS supply route, and a tactical vehicle; and suppressing an IS tactical unit.
Other areas where two strikes occurred are Abu Kamal and Palmyra destroying two IS oil tanks and a fighting position. Full report on CJTF-OIR strikes conducted in both Syria & Iraq can be found here.
Intellectual credited property used may vary from an edition to edition.
Feel free to voice your opinion in the comments section below, constructive criticism is welcomed.
For those of you interested, you can follow us on an official Twitter account @SyrianWarDaily, or me personally on my biased twitter @joskobaric where I occasionally tweet some things.