Hello and welcome to the 80th installment of the SWD.
Military events/news are listed below by the governorates:
Aleppo:
Clashes erupted between SDF and TFSA west of Azaz in Maraanaz and Ayn Daqnah areas, Maraanaz area is interesting in particular since there was footage of Syrian flag flying and both Syrian and Russian troops are allegedly present in the area.
It appears that the supposed buffer zone between SDF and TFSA is not being respected, for those who don't know the last time buffer zone was being established between SDF and TFSA west of Manbij it took five dead SAA border guards and maybe even a Russian "warning" towards Turkey to control its backed groups before buffer zone west of Manbij went into full effect
Islamic State's improvised explosive device exploded in Manbij killing two SDF fighters according to Amaq Agency.
Situation around Azaz. Source: Interactive Rurikmap which can be found here
Raqqa:
SDF continues to clash with IS in newly captured districts north of Tabqa, the latter also launched an attack east of Tabqa in Safsafa area. IS Attack on Safsafa has so far resulted in at least 20 IS casualties and a sizeable ghanima (war spoils).
New information surfaced today confirming the death of three fighters from Yekineyen Anti Teror, SDF's Anti-Terror Unit. The fighters were killed in Tabqa city during clashes with IS on 21st of April.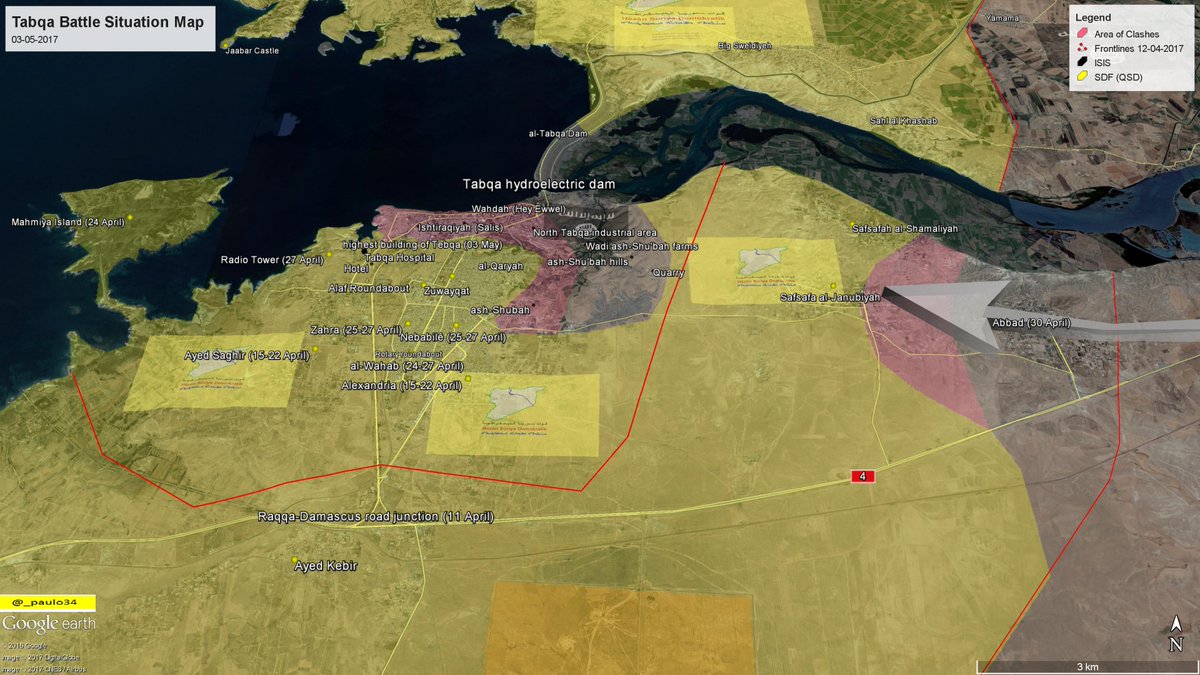 Situation around Tabqa. Source: _paulo34
Latakia:
Jaysh Idlib al-Hurr (Free Idlib Army) targeted and destroyed with a TOW missile SAA pickup carrying ammo near Jabal Aku in Jabal al-Akrad area. Group also claims to have killed a number of troops, reportedly Iranians but it is impossible to verify.
Hama:
Jaysh al-Nasr shelled SAA-held Halfaya with Grad rockets allegedly killing several SAA soldiers and a Russian officer. Jaysh al-Izzah also claimed to have killed a number of Russian officers and Iranian fighters in shelling.
Homs:
SAA advanced against IS east of Homs capturing Jabal al-Shumariya mountain range and some surrounding areas including villages of Tadmuriya, Al-Khaliliat and Al-Muhashma.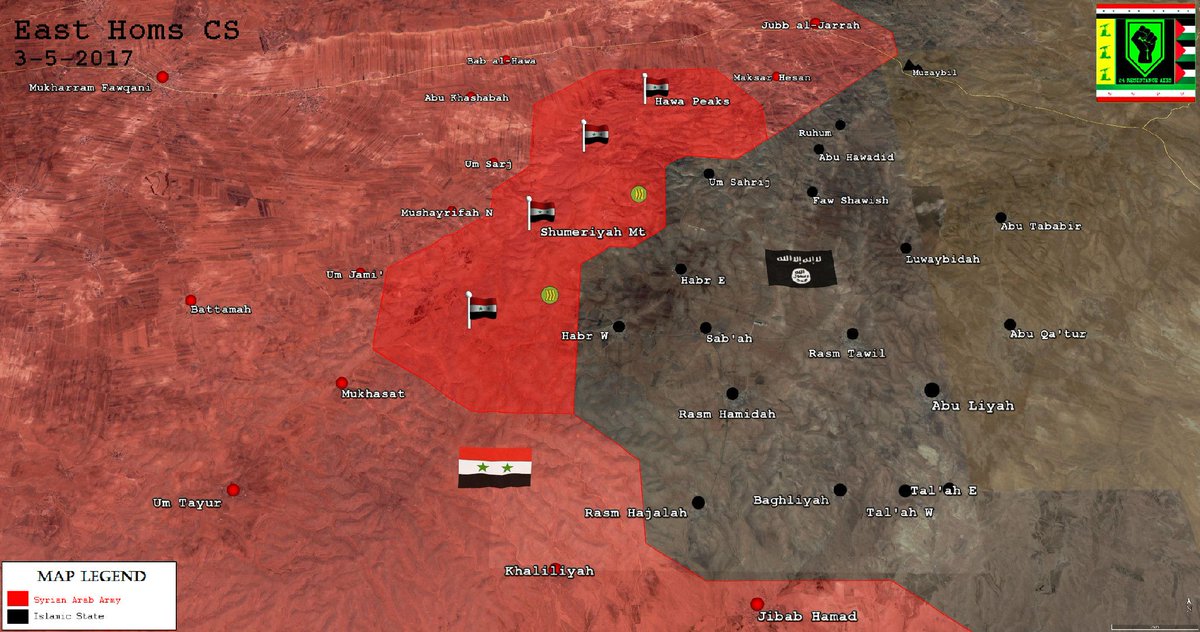 Situation east of Homs, HD version of this map can be found here. Source: 24 Resistance Axis
Damascus:
Faylaq al-Rahman destroyed SAA's tank with an ATGM in Qaboun pocket, ammo cache near the tank was also destroyed. Footage released by rebels showed one captured SAA Republican Guard also in Qaboun.
Rebel infighting in East Ghouta escalated once again with Faylaq al-Rahman and Hayaat Tahrir al-Sham capturing Beit Sawa from Jaysh al-Islam, however, the latter was able to recapture Beit Sawa and allegedly kill more than 50 Faylaq al-Rahman's and Hayaat Tahrir al-Sham's fighters during the counterattack. Faylaq al-Rahman and Hayaat Tahrir al-Sham also reportedly reversed Jaysh al-Islam's gains in Ashari and Zamalka.
Colonel known as Abu Muhammad al-Kurdi, part of Faylaq al-Rahman and commander of Katibat Abu Obeida ibn al-Jarah defected to Jaysh al-Islam due to Faylaq al-Rahman's alliance and cooperation with Hayaat Tahrir al-Sham.
First Lieutenant Qasem Qadeesh (Abu Muhammad al-Qaqae), Jaysh al-Islam's commander of 3rd brigade was killed in battles with Faylaq al-Rahman, Jaysh al-Islam wasn't able to retrieve his body because of Faylaq al-Rahman's snipers.
Situation in East Ghouta (Faylaq al-Rahman and Hayaat Tahrir al-Sham = grey, Jaysh al-Islam and other rebel groups = green, Syrian Arab Army = red). Source: loomis
Iraq
Nineveh:
Islamic State killed 12 members of Iraqi Special Operations Forces in Yarmouk district, west Mosul according to a statement released by Amaq agency. In the attack one Humvee was also allegedly destroyed.
Iraqi forces continue to amass in Mushrifa district, northwestern Mosul in preparation to launch eagerly awaited final major assault on remaining IS-held neighborhoods in northern part of the city. Huge Iraqi Federal Police convoy arrived today in Mushrifa to accompany Emergency Response Units and the 9th Armoured Division of Iraqi Army.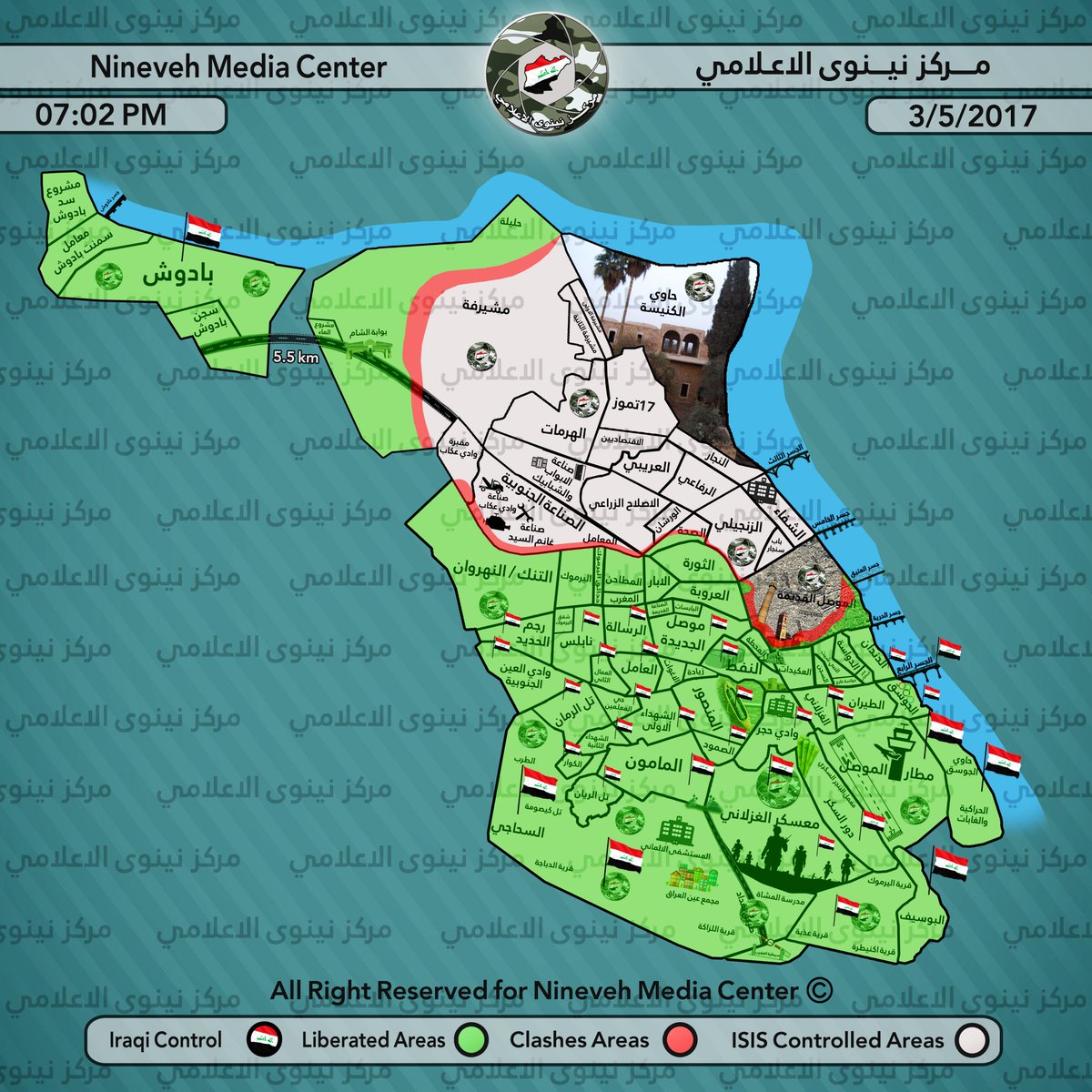 Latest map of west Mosul. Source: NinevehMC
Anbar:
According to Amaq Agency yesterday's twin IS suicide bombing in Al-Malaeb neighborhood, Ramadi allegedly killed 32 and injured 44 policemen, for comparison Iraqi sources claimed only five injuries from yesterday's attack out of which only one was a policeman.
CJTF-OIR:
On the 2nd of May 2017 CJTF-OIR has conducted 13 strikes in Syria. CJTF-OIR's main focus in Syria at the moment is Tabqa-Raqqa-Deir al-Zour region where they did eight strikes supporting SDF's operation against IS destroying 12 IS fuel tankers, an IS wellhead, an IS oil pump, three fighting positions and suppressing a mortar team.
Other area where five strikes occurred is Abu Kamal destroying three IS oil pumps, three IS wellheads and a fighting position. Full report on CJTF-OIR strikes conducted in both Syria & Iraq can be found here.
Intellectual credited property used may vary from an edition to edition.
Feel free to voice your opinion in the comments section below, constructive criticism is welcomed.
For those of you interested, you can follow us on an official Twitter account @SyrianWarDaily, or me personally on my biased twitter @joskobaric where I occasionally tweet some things.