Hello and welcome to the 78th installment of the SWD.
Military events/news are listed below by the governorates:
Aleppo:
Russian soldiers were spotted on the border between SDF-held Afrin "canton" and Turkey, soldiers were also deployed on the front line against TFSA in Maraanaz, Ayn Daqnah and Tall Jijan. Russian soldiers being embedded with SDF is an attempt to deter Turkey's current and future attacks on SDF-held Afrin "canton". Same strategy was used by the US' Army in Tal Abyad and Al-Darbasiyah, so far this strategy has proven to be effective as there weren't many reports about Turkey shelling these areas after US' deployment.
Rumors again surfaced about Russian base being built in SDF-held Afrin, rumors first appeared on 20th of March but were quickly denied by Russia. Kafr Jana is the village where the base will be supposedly built, there might be some truth to these rumors as there was footage of Syrian flag flying in Afrin area earlier today, but until more information is available this should be treated as rumors.
Raqqa:
Battle for Tabqa is coming to an end with SDF capturing three neighborhoods and industrial zone in northern part of Tabqa capturing complete city proper area from IS. Capture of industrial zone is being disputed but neighborhoods confirmed to be captured today are Al-Salam, Hassou and Al-Bou Issa, at least 40 IS fighters were killed in clashes. SDF captured three tanks, two BMPs and three unfinished VBIEDs from IS among many other things.
IS now only has presence in Hurriyah and Wahdah neighborhoods north of Tabqa and in southern part of Tabqa dam.
Situation in Tabqa, HD version of this map can be found here. Source: leshker
Hama:
Situation in Hama remains the same territory-wise as both rebels and Syrian Arab Army just continue to shell each other's localities on the front line. FSA's Al-Firqa al-Wusta (Central Division) targeted a fuel tanker around Maan with a TOW missile, even though the tanker was reported as destroyed from the footage released by the group it appears that the missile missed tanker and hit dirt below it.
FSA's Al-Firqa al-Wusta also released a statement saying that their inghimasi (suicide fighters) conducted an operation against Syrian Arab Army around Zalin checkpoint, at least seven SAA's soldiers were reportedly killed and weapons were seized.
Deir al-Zour:
IS launched a huge attack on SDF positions northwest of Deir al-Zour which sparked heavy clashes in the area. Reports suggest that IS is assaulting water station near SDF-held Kabbar village.
Situation northwest of Deir al-Zour where IS launched an attack. Source: NORS Studies
Damascus:
Syrian Arab Army made progress in southern part of Qaboun pocket capturing Abdul Ghani Al-Bajqani school and its surroundings from rebels, the school was reportedly Hayaat Tahrir al-Sham's base. According to Jaysh al-Islam three SAA attacks were repelled, two on Qaboun and one on Barzeh, in these failed attacks seven SAA soldiers were reportedly killed. Jaysh al-Islam later released a statement claiming to have destroyed an armored bulldozer and damaged a tank.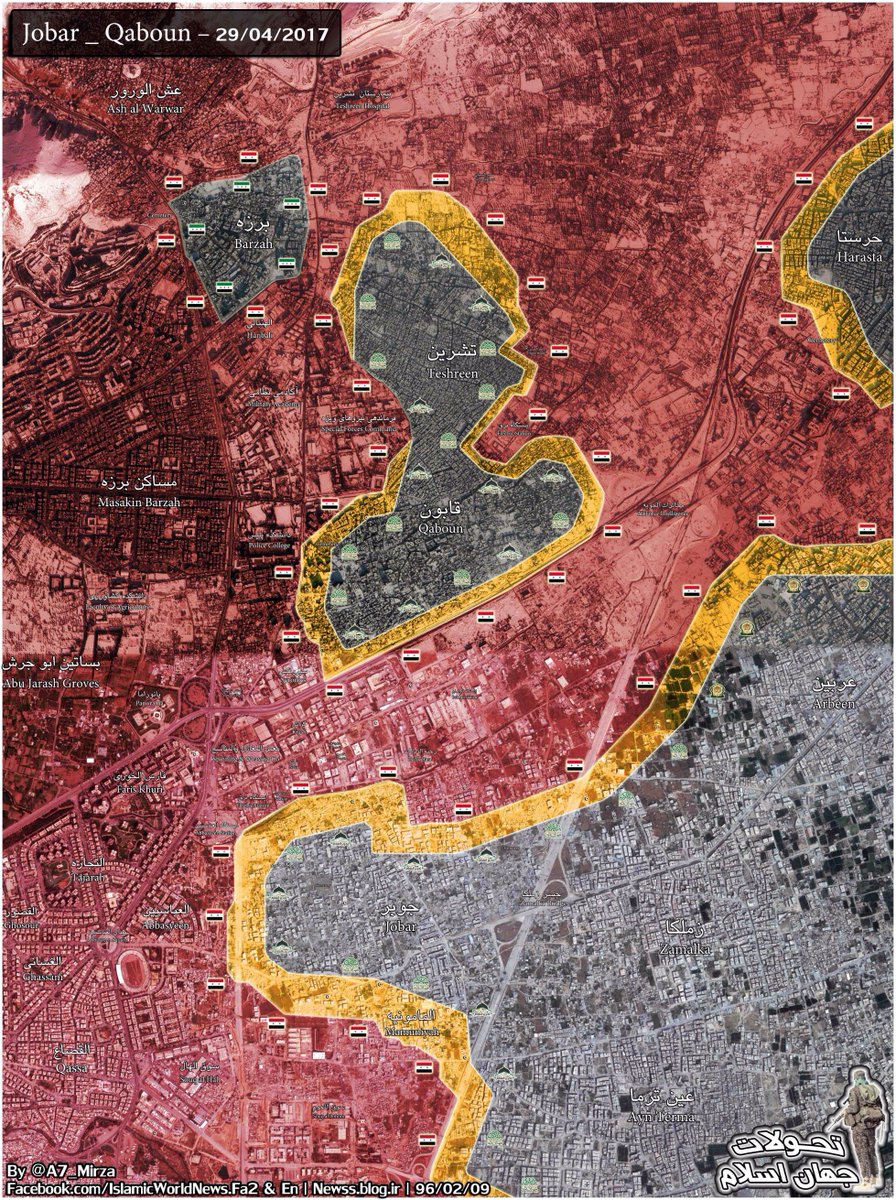 Approximate situation in Qaboun pocket, HD version of this map can be found here. Source: Islamic World News
Iraq
Nineveh:
Islamic State still hasn't thrown its last punch in west Mosul as it continues to resist heavily against Iraqi Army in Old Mosul district. According to Amaq Agency four Iraqi soldiers were killed by IS' snipers on the outskirts of Bab al-Toub neighborhood in Old Mosul district, furthermore Amaq claimed destruction of one Humvee in the same area. Humvee was reportedly destroyed by an RPG, there is a possibility that the vehicle was destroyed by IS' locally made anti-tank missile launcher which can be seen here. In the recently liberated Al-Thawra district IS killed five Iraqi soldiers also with an RPG, which could again be the locally made one.
Southeast of Tal Afar in Mahalabia area IS launched an attack and supposedly destroyed a Cougar, mine-resistant ambush protected vehicle and killed a number of Al-Hashd al-Shaabi fighters (Popular Mobilization Units).
US servicemen that was killed by an improvised explosive device during a patrol outside of Mosul on 29th of April was identified as a First Lieutenant Weston Lee, part of the US Army's 82nd Airborne Division, he was only 25 years old.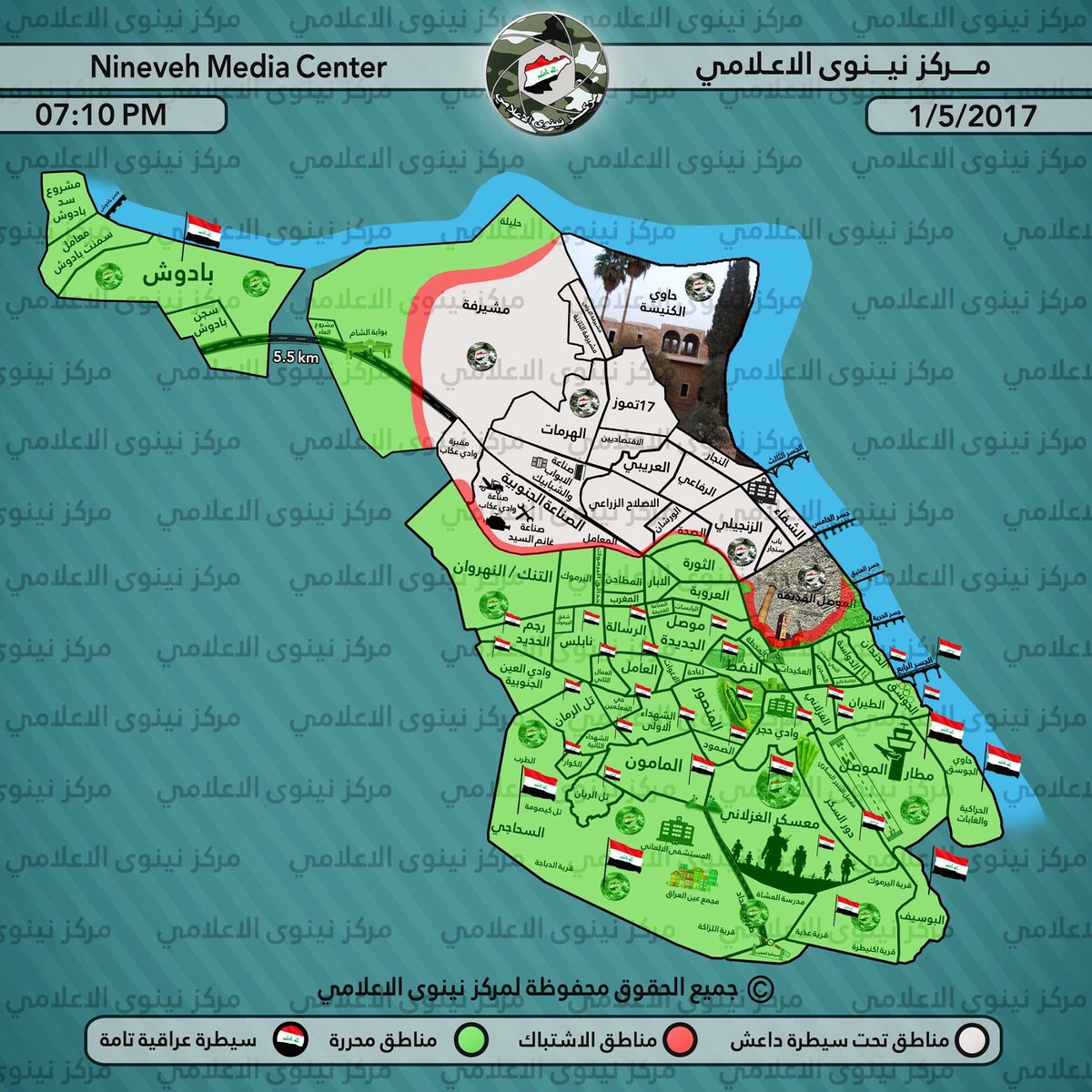 Latest map of west Mosul. Source: NinevehMC
Kirkuk:
Yesterday Iraqi Air Force carried out airstrikes on Hawijah killing IS' deputy governor, several suicide bombers and destroying more than 10 VBIEDs.
Salah al-Deen:
Amaq Agency, IS media outlet stated that two members of Al-Hashd al-Shaabi were killed by IS' snipers, one in Sahel and other on the outskirts of Ayn al-Baydah, south of Al-Shirqat.
Iraqi Army foiled an IS suicide attack in Balad killing two suicide bombers before they were able to infiltrate the city. Balad became known for its resistance against IS in 2014 when it was besieged and predominately Shia population took up arms to defend their city alongside the security forces.
Diyala:
IS executed 14 of its fighters for fleeing from Mutaibijah where counterinsurgency operations are in progress towards Hawijah pocket.
CJTF-OIR:
On the 30th of April 2017 CJTF-OIR has conducted 20 strikes in Syria. CJTF-OIR's main focus in Syria at the moment is Tabqa-Raqqa-Deir al-Zour region where they did 20 strikes supporting SDF's operation against IS destroying 22 IS barges, six pieces of oil processing equipment, two IS well heads, four vehicles, two tactical vehicles, an ISIS bridge and four fighting positions; damaging an IS supply route and suppressing an IS tactical unit.
Full report on CJTF-OIR strikes conducted in both Syria & Iraq can be found here.
Intellectual credited property used may vary from an edition to edition.
Feel free to voice your opinion in the comments section below, constructive criticism is welcomed.
For those of you interested, you can follow us on an official Twitter account @SyrianWarDaily, or me personally on my biased twitter @joskobaric where I occasionally tweet some things.