Hello and welcome to the 77th installment of the SWD.
Military events/news are listed below by the governorates:
Aleppo:
Amaq Agency released a new video showing four captured Syrian Arab Army's soldiers, they were captured by IS in yesterday's attack on Umm Miyal village east of Khanaser.
Raqqa:
Syrian Democratic Forces made huge advances in Tabqa city against IS capturing six neighborhoods: Al-Musahr, Abu Ayish, Al-Mahaje, Al-Busaraba, Al-Kasara and Al-Kanisat al-Ashouriyeh. After these advances most of Tabqa is now under SDF with only northern parts being still under IS control. Still unconfirmed reports suggest that SDF captured Ishtiraqiyah neighborhood northwestern Tabqa.
Amaq Agency's releases from Tabqa include two statements, first one stating that IS has downed US drone west of Tabqa and second reporting destruction of SDF bulldozer by an ATGM.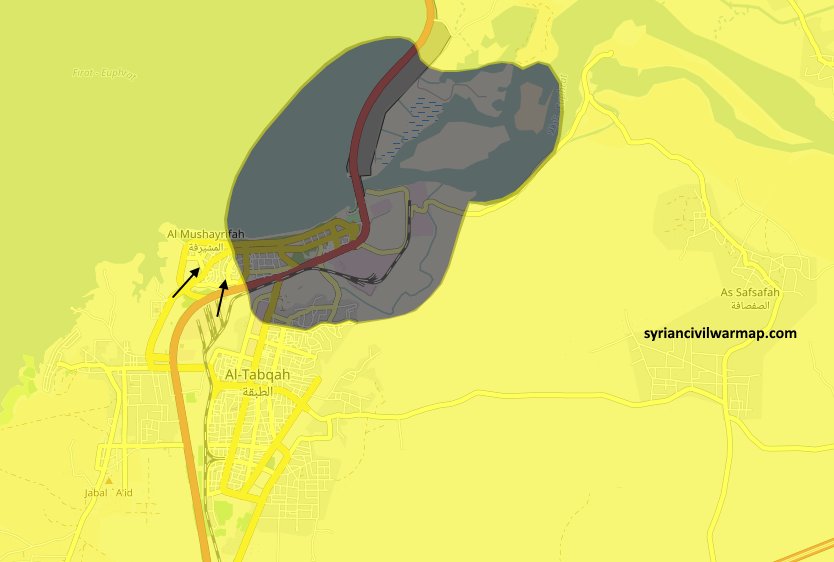 Unconfirmed situation in Tabqa showing Ishtiraqiyah as SDF-controlled. Source: Syrian Civil War Map
Homs:
Seventh batch of rebels and civilians left Al-Waer neighborhood in Homs towards Idlib, number of fighters evacuated is reportedly 400 along with their families.
Syrian Arab Army backed by National Defense Forces launched a large offensive against IS east of Homs city, attacking forces were able to capture a dozen of localities today, some of which are: Jbab Hamad, Tadmuriyah, Khaliliyah, Rajm al-Qasr, Rajm al-Ali, Rajm al-Mudraju, Tell al-Alam and Rajm Dergham.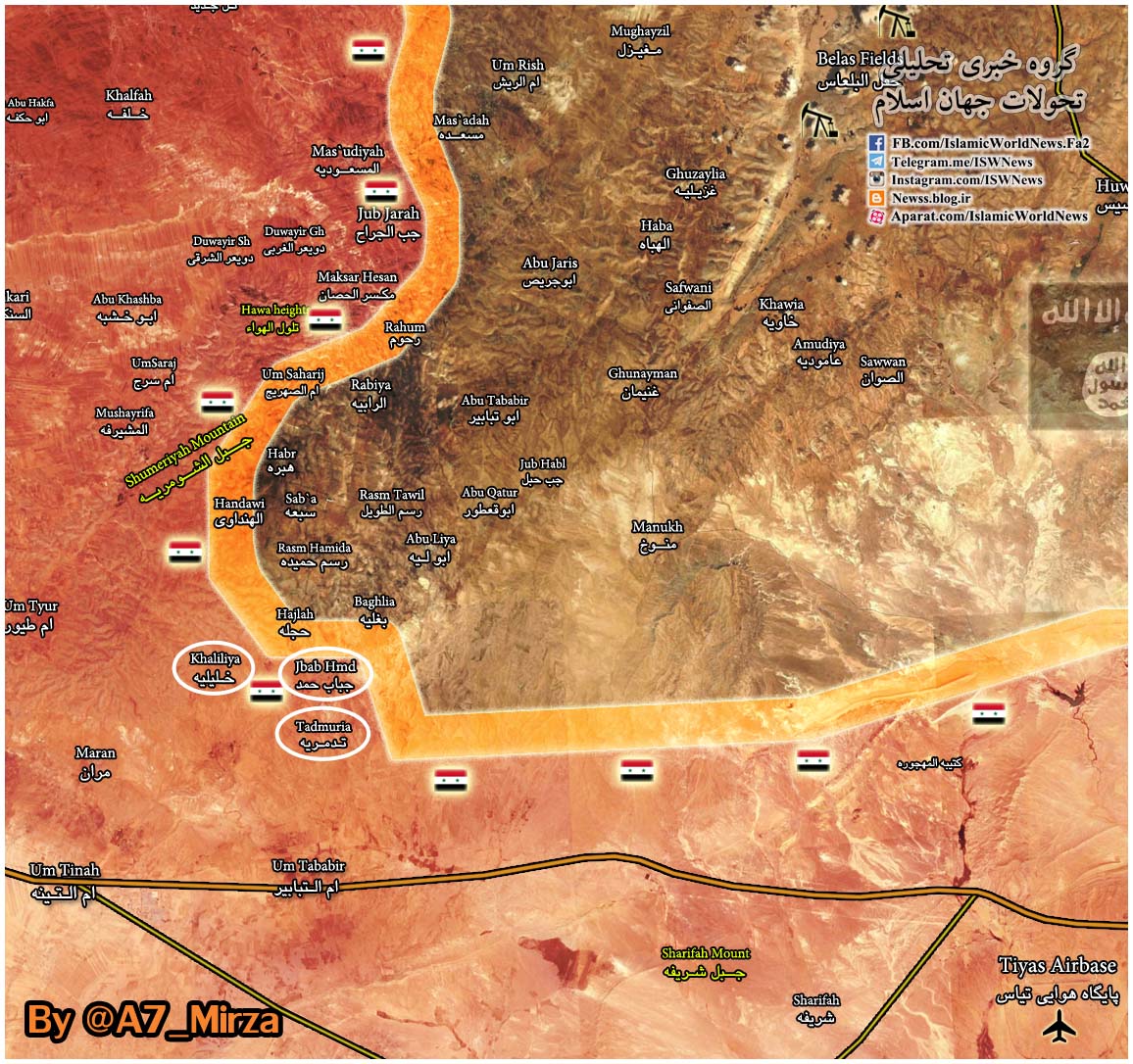 Situation east of Homs. Source: Islamic World News
Rebel group Maghwar al-Thawra, ex New Syrian Army advanced deep into IS-held territory and captured Al-Humaymah northwest of T2 airport & pumping station. Rebels are allegedly embedded with US and Jordanian special forces and their objective is to secure Syrian-Iraqi border preventing Al-Hashd al-Shaabi from aiding Syrian Government against rebels once they are done in Iraq.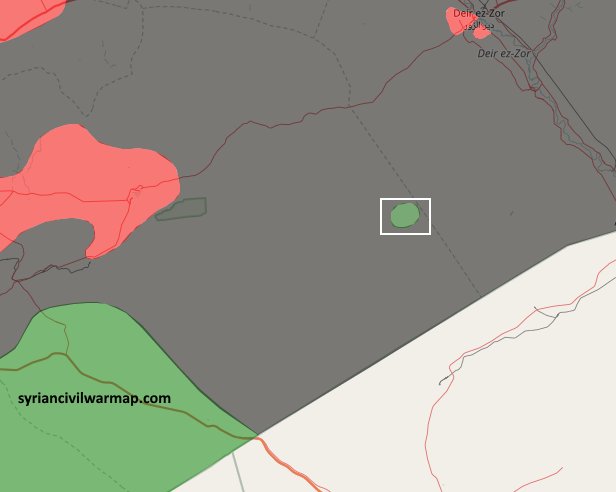 Situation in eastern Homs governorate. Source: Source: Syrian Civil War Map
Damascus:
Third day of rebel infighting in East Ghouta was the quietest one so far with little reports about clashes. Hayaat Tahrir al-Sham reportedly sent an SVBIED towards Jaysh al-Islam's positions around Arbin. Faylaq al-Rahman's convoy retreating from Al-Nashabiyah clashed with Jaysh al-Islam in Beit Naim, the latter was forced to use tanks during the clashes.
Demonstrations continue by the people of East Ghouta calling for the end of infighting, Jaysh al-Islam has recently become infamous for disrupting the protests by opening fire. New video released from the protest showed Jaysh al-Islam firing at the unarmed protesters and actually wounding one of them. Jaysh al-Islam was quick to release a statement apologizing for firing at protesters and wounding one, culprit has allegedly been imprisoned.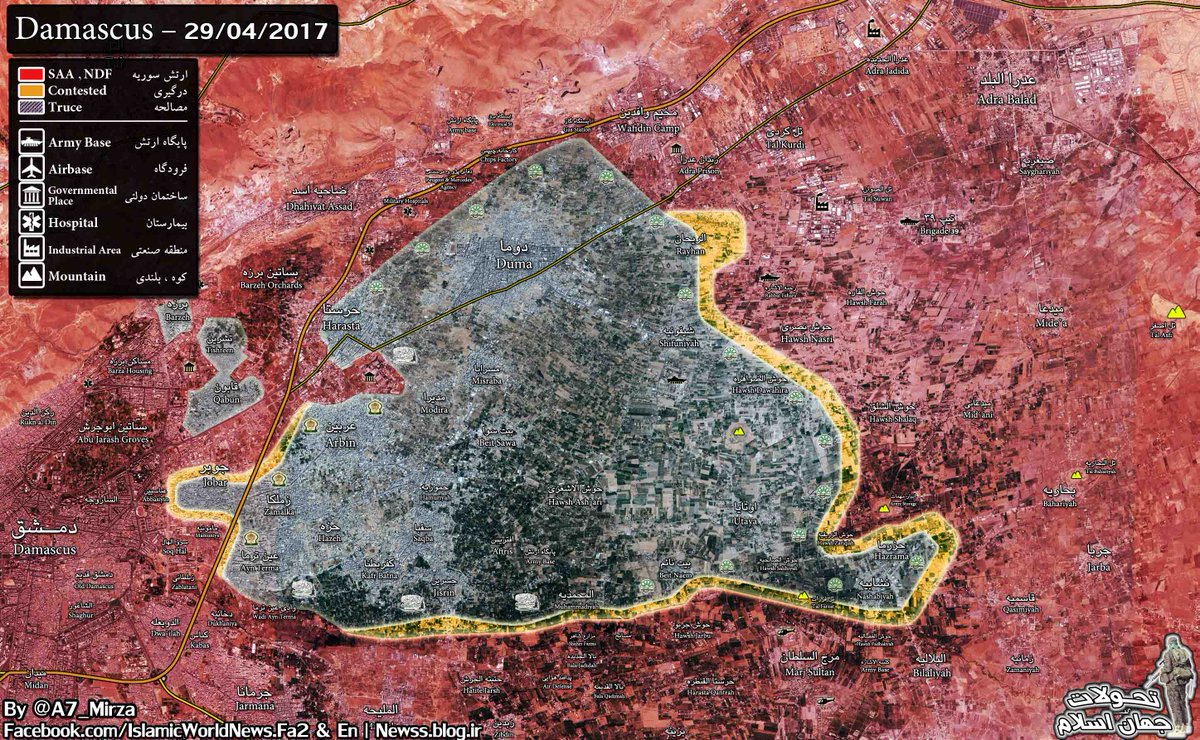 Situation in East Ghouta, HD version of this map can be found here. Source: Islamic World News
Iraq
Nineveh:
At least four IS fighters have infiltrated Iraqi Army-controlled Al-Mamun district in west Mosul, search is in progress and civilians are asked to be careful.
Al-Hashd al-Shaabi resumed their Muhammad Rasul al-Allah (Prophet Muhammad) operation northwest of Al-Hadhar region capturing villages of Boutha Musherifa, Tuwemin and Um al-Shatan from IS.
Iraqi Air Force targeted IS localities in Mosul, Tal Afar, Baaj and Hatra reportedly killing more than 50 IS fighters.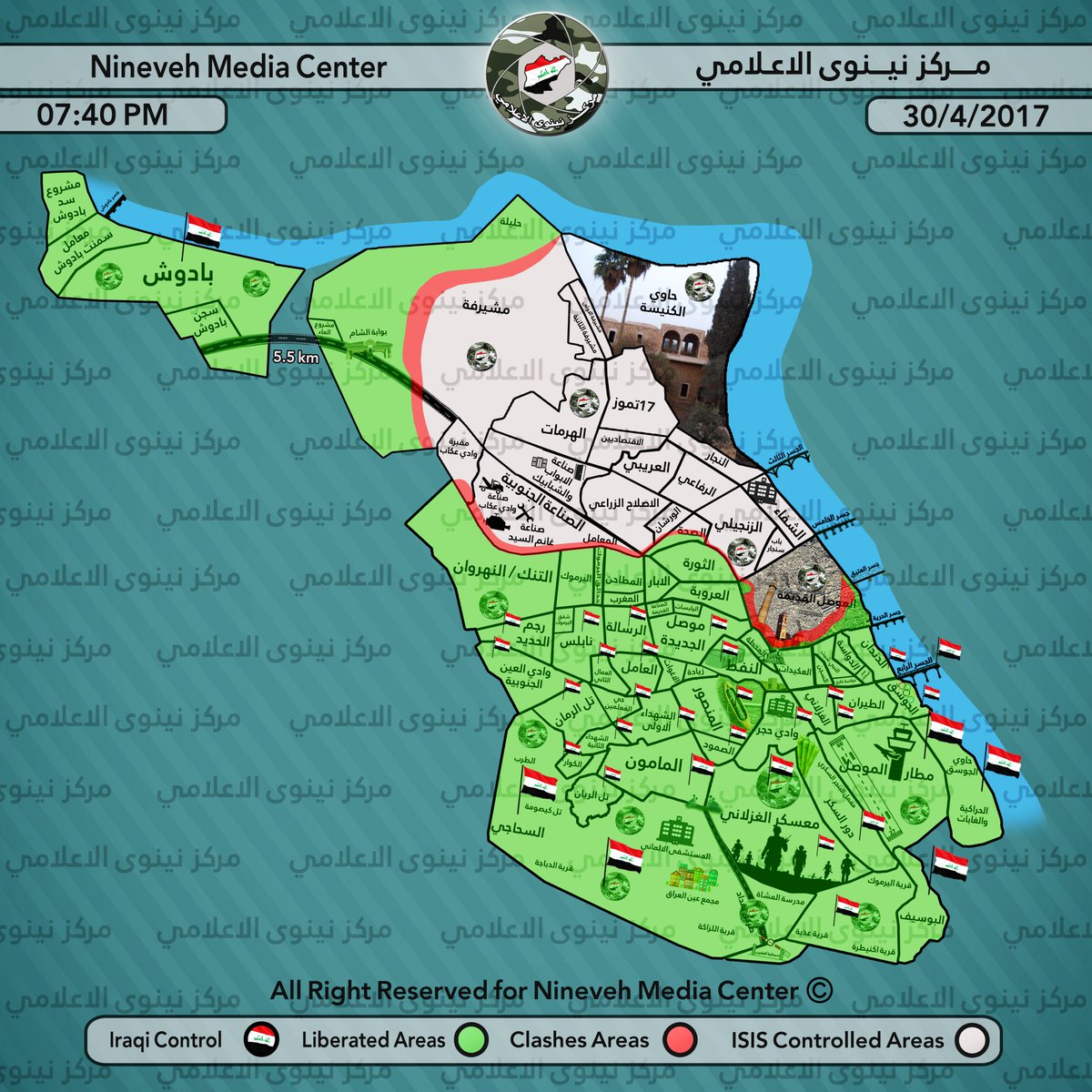 Latest map of west Mosul. Source: NinevehMC
Anbar:
Iraqi Air Force struck a gathering of IS' "Wilayat Baghdad" and a meeting between IS commanders in Al-Qaim close to Syrian border. Number of killed IS fighters due to airstrikes is around 30.
Babil:
IS SVBIED targeted a checkpoint at the entrance to Jurf al-Nasr (previously known as Jurf al-Sakhar), southwest of Baghdad. Casualty numbers state at least one dead and 11 wounded in the attack.
Diyala:
Counterinsurgency operation by Iraqi Army and Al-Hashd al-Shaabi which started on 26th of April in Mutaibijah east of Samarra has killed more than 50 IS fighters.
CJTF-OIR:
On the 29th of April 2017 CJTF-OIR has conducted 24 strikes in Syria. CJTF-OIR's main focus in Syria at the moment is Tabqa-Raqqa-Deir al-Zour region where they did 19 strikes supporting SDF's operation against IS destroying 21 IS boats, three barges, two IS well heads, an IS oil storage tank, an explosives cache, a front-end loader, seven fighting positions and four vehicles.
Other areas where five strikes occurred are Abu Kamal, Shadaddi and Palmyra destroying four IS oil storage tanks, two IS well heads, a vehicle bomb and a front-end loader. Full report on CJTF-OIR strikes conducted in both Syria & Iraq can be found here.
Intellectual credited property used may vary from an edition to edition.
Feel free to voice your opinion in the comments section below, constructive criticism is welcomed.
For those of you interested, you can follow us on an official Twitter account @SyrianWarDaily, or me personally on my biased twitter @joskobaric where I occasionally tweet some things.