Hello and welcome to the 76th installment of the SWD.
Military events/news are listed below by the governorates:
Aleppo:
For the third day now Turkish Air Force continues to fly over different SDF-held localities, today warplanes and drones flew over Rajo and Bulbul northwest of Afrin. This Turkish activity reportedly forced SDF to evacuate all of its headquarters in and around Bulbul.
IS launched a huge attack on SAA-held Umm Miyal village east of Khanaser, but SAA held its ground, repelled IS attack and according to the footage released killed at least five IS fighters. Amaq Agency's statement claims more than 30 SAA soldiers were killed in the IS' attack, take this claim with a grain of salt since there is no evidence to prove such high death toll.
Raqqa:
SDF supposedly advanced in Tabqa city and captured Western Tabqa Industrial Facility and Zuwayqat neighborhood from IS. Keep in mind that these advances are unconfirmed until acknowledged by official channels which usually lag a bit behind ground sources.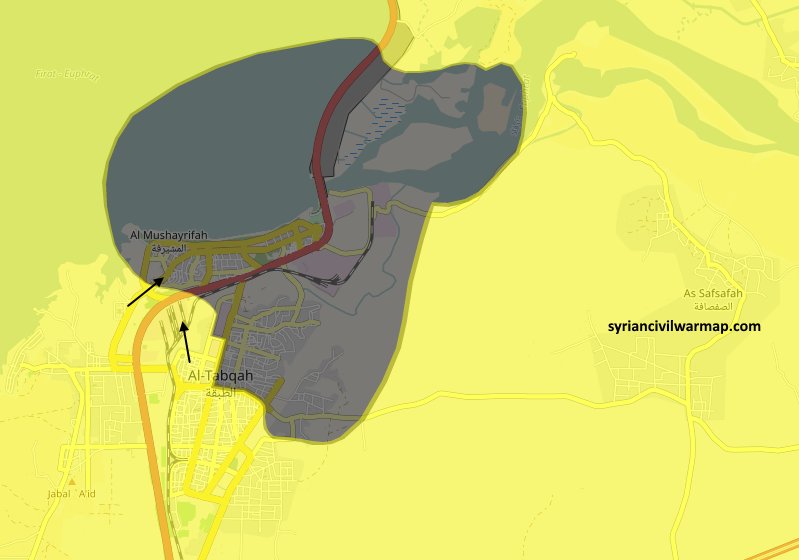 Approximate situation in Tabqa. Source: Syrian Civil War Map
Homs:
Amaq Agency, IS media outlet released a report claiming to have killed more than 20 SAA soldiers in a suicide attack on the outskirts of Al-Shaer oil fields.
Damascus:
Rebel infighting continues in East Ghouta between Jaysh al-Islam and joint Hayaat Tahrir al-Sham & Faylaq al-Rahman forces, both sides already resorted to the usage of suicide attacks and VBIEDs with reports that HTS suicide bomber detonated himself in JAI's headquarters. JAI then targeted HTS' positions with a VBIED and reportedly executed captured HTS fighters in Al-Ashaeri square.
Clashes occurred in Arbin, Jisreen and Hazeh with Jaysh al-Islam trying to advance in these areas against HTS and FAR, eventually JAI did manage to overrun Aftris east of Saqba. HTS commander Ayyub Tsinan was executed by JAI after being captured in the battles. Civilians in East Ghouta protested in a number of towns calling for factions to stop infighting and focus on fighting against the common enemy, Syrian Arab Army.
Situation in Qaboun pocket is rather strange as both SAA and rebels are advancing against each other according to different sources, either the advances are occurring in different parts of the pocket or one of the sides is intentionally reporting false events taking place. According to pro-rebel sources Ahrar al-Sham destroyed two SAA T-72 tanks and damaged an armored bulldozer with ATGM. Besides this Ahrar al-Sham also allegedly repelled SAA attack and killed seven soldiers. Jaysh al-Islam also participated in Qaboun battles today reportedly destroying a bulldozer. According to pro-government sources SAA advanced in southern part of Qaboun pocket killing five rebels and reaching the vicinity of Abdul Ghani Al-Bajqani school, Hayaat Tahrir al-Sham's headquarters in Qaboun.
Even with rebel infighting taking place in East Ghouta Jaysh al-Islam still manages to find time and resources to attack SAA, around Hawsh al-Dawahirah JAI reportedly captured dairy factory and a couple of building blocks from SAA. However, in the long run rebels will be weakened in the eastern part of East Ghouta as Faylaq al-Rahman announced its withdrawal from Al-Nashabiyah leaving JAI alone to face future SAA attacks.
Approximate situation in Qaboun pocket. Source: loomis
Daraa:
Jaysh Khalid bin Walid, IS affiliate in southwestern Daraa reportedly executed eight people yesterday after prayers in Tasil. Eight individuals were executed for allegedly being a part of or connected to Free Syrian Army.
Iraq
Nineveh:
IS has reportedly taken 30 civilians as hostage and trapped them in a school somewhere in Al-Islah Al-Zaraei district. Civilians act as human shields preventing airstrikes and slowing down ground operations in order to avoid unnecessary casualties.
Iraqi Air Force targeted IS headquarters in Al-Noor and Qadisiyah neighborhoods of Tal Afar and killed around 30 IS fighters.
According to CJTF-OIR's statement one US servicemen died today outside of Mosul, cause of death was improvised explosive device most likely planted by Islamic State. Full CJTF-OIR statement can be found here.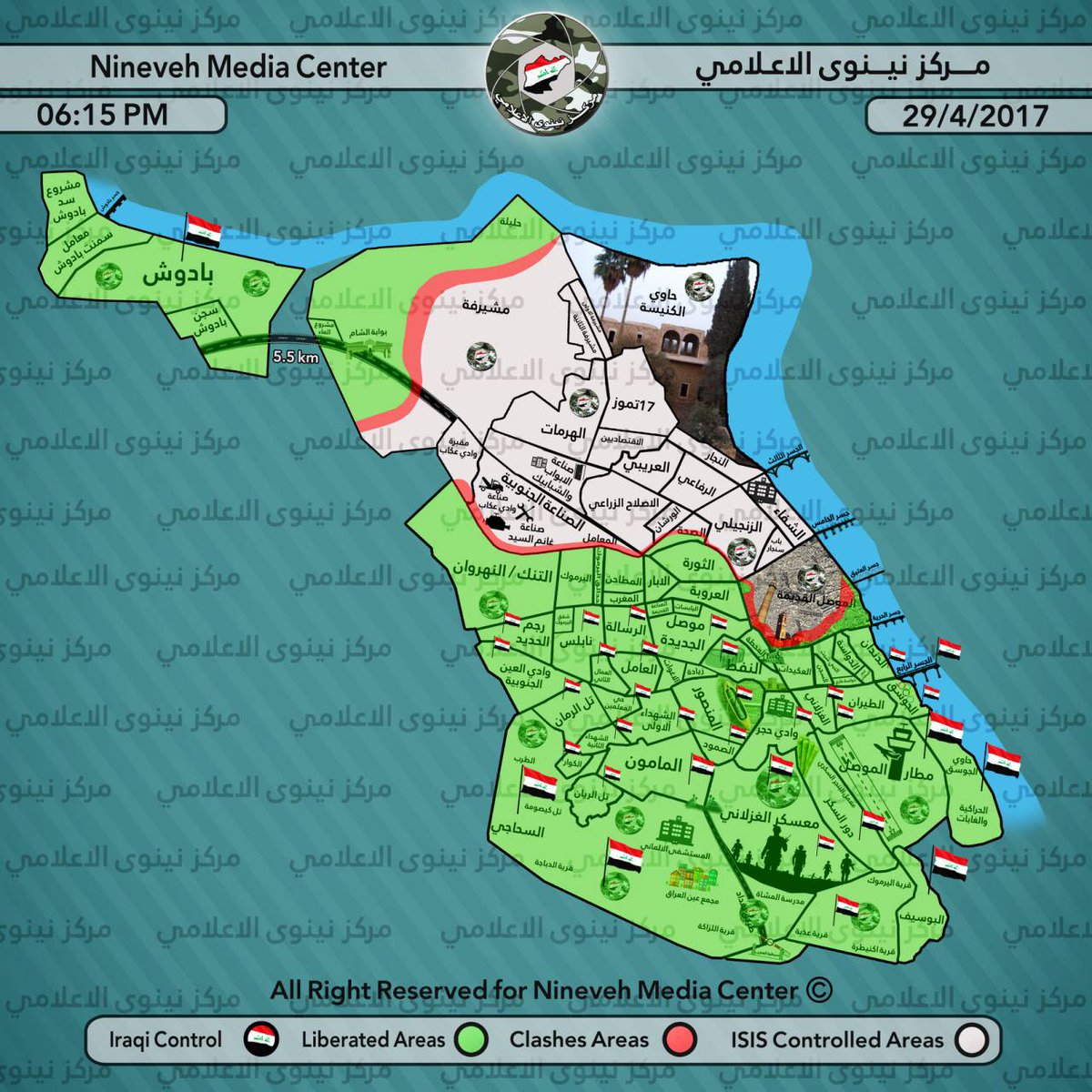 Latest map of west Mosul. Source: NinevehMC
Baghdad:
Last night a VBIED hit Karrada district in central Baghdad, explosion occurred outside the department of motor vehicles which allowed the fire to spread on surrounding vehicles. Attack was claimed by IS and caused at least 33 casualties among civilians. Karrada district is very vulnerable to IS attack since its population is majority Shia with a significant Christian minority. On 22nd of April IS suicide attack was foiled in the district.
CJTF-OIR:
On the 28th of April 2017 CJTF-OIR has conducted 15 strikes in Syria. CJTF-OIR's main focus in Syria at the moment is Tabqa-Raqqa-Deir al-Zour region where they did 14 strikes supporting SDF's operation against IS destroying nine IS oil tankers, two IS wellheads, an IS barge, five IS oil refinery equipment items, a front-end loader, a mortar team and four fighting positions.
Other area where one strike occurred is Abu Kamal destroying an IS vehicle. Full report on CJTF-OIR strikes conducted in both Syria & Iraq can be found here.
Intellectual credited property used may vary from an edition to edition.
Feel free to voice your opinion in the comments section below, constructive criticism is welcomed.
For those of you interested, you can follow us on an official Twitter account @SyrianWarDaily, or me personally on my biased twitter @joskobaric where I occasionally tweet some things.