Hello and welcome to the 75th installment of the SWD.
Military events/news are listed below by the governorates:
Raqqa:
SDF advanced against IS in Tabqa city capturing neighborhoods of Al-Zahra and Al-Nabablah, however, these reports could be premature and IS might still maintain presence in the aforementioned neighborhoods.
Southwest of Tabqa an IS convoy coming from Maskanah, Aleppo governorate was bombed by CJTF-OIR killing 40 IS fighters. Convoy's destination was Tabqa where they would've tried to lift the siege of Tabqa city and dam.
It is still tense between Turkish Army and YPG/SDF around Tall Abyad and other border towns, according to pro-Turkey sources YPG launched an attack on Turkish military base in Sanliurfa province south of the homonymous town. In the attack 11 YPG fighters were reportedly killed, three of them were carrying rocket launchers.
Several sources reported YPG's evacuation of their headquarters in Tell Hammam al-Turkmen close to Tall Abyad out of fears of being targeted by Turkish Air Force. Speaking of Turkish Air Force, several Turkish warplanes flew over Tall Abyad for some time.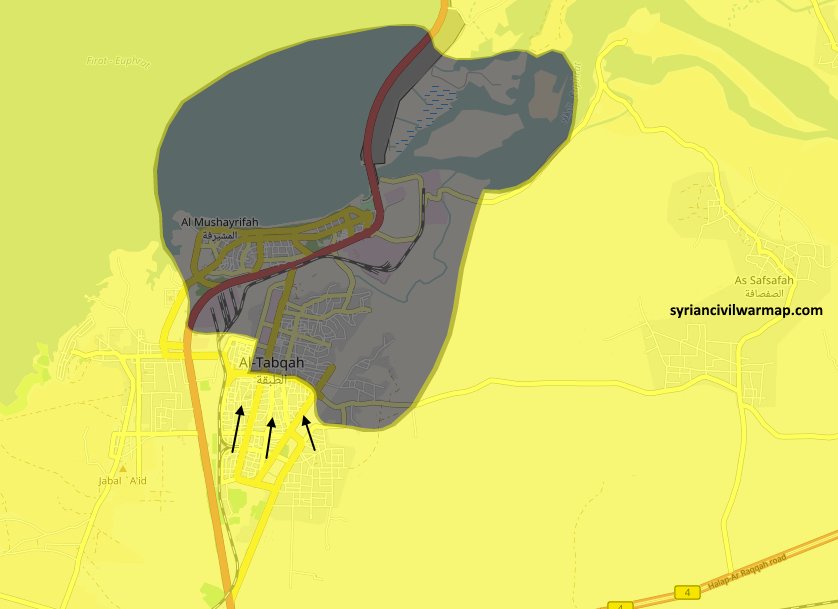 Approximate situation in Tabqa. Source: Syrian Civil War Map
Al-Hasakah:
Turkish Army reportedly shelled YPG positions in villages of Kharza and Hamduni west of Amude.
In order to de-escalate the "Border War" between Turkish Army and SDF/YPG the US Army sent troops to border towns of Tall Abyad, Al-Darbasiyah and Ras al-Ayn. The US troops are embedded with YPG and conduct joint patrols in the areas, desired effect by the US is stoppage of Turkish Army attacks on YPG positions so the latter can wholly focus without worries on Raqqa operation.
Idlib:
Reports suggest that Sheikh Salah al-Deen, leader of the Uzbek group Imam Bukhari Battalion (Jamaat al-Bukhari) and several fighters of the group were killed in Idlib by still unknown gunmen. More about the group can be read in The Path of Jihad from Turkestan to Syria.
Hama:
Situation still remains the same in northern Hama with rebels keeping pressure on SAA positions in Masasnah by launching ATGMs. Two TOW missile were launched by Free Syrian Army's Al-Firqa al-Wusta (Central Division) destroying an ATGM launcher and directly targeting a group of SAA soldiers, it is possible that the missile caused several casualties among SAA's ranks.
Damascus:
New infighting among rebels has begun in East Ghouta, Faylaq al-Rahman's statement claims Jaysh al-Islam attacked Hayaat Tahrir al-Sham's and Faylaq al-Rahman's bases in Arbin, Kafr Batna and Hazeh after HTS arrested Jaysh al-Islam's military convoy. The Attack by JAI has taken both HTS and FAR by surprise allowing JAI to seize several checkpoints, headquarters and ammo & food depots. FAR's military commander Essam al-Qadi was killed in the initial attack by JAI.
Once HTS and FAR organized they were able to expel JAI from several areas in Hazeh and destroyed one BMP. HTS' commander in Arbin known by his nom de guerre "Abu Ghazi was killed in clashes and JAI's commander known as "Abu Ammar" was captured by HTS in Hazeh. Infighting has caused large casualties among both rebels and civilians since clashes are taking place in urban areas, HTS reportedly lost 40, JAI 30 and FAR 20 fighters during the first day of infighting.
Rebel infighting allowed SAA to advance in Qaboun pocket and reach the outskirts of Hedaya mosque west of Electric Grid Station, even though several pro-government sources reported mosque as captured Jaysh al-Islam released footage around it confirming their control over it, at least for now. According to pro-rebel sources 10 SAA soldiers were allegedly killed in today's clashes in Qaboun pocket. HTS and FAR blamed SAA's advances in the pocket on JAI.
SAA and Hezbollah entered a number of evacuated villages northeast of Serghaya today including the border village of Doura and border crossing with Lebanon.
Al-Suwayda:
Clashes erupted between rebels and SAA around Khalkhalah Airbase, the clashes most likely started when the latter tried to advance against the rebels since just north of this area SAA captured ground recently from rebels.
Iraq
Nineveh:
IS counterattack resumes in west Mosul as they've reportedly captured Iraqi Army's positions located near Bab Jadid neighborhood, Old Mosul district. This information was transmitted by Amaq Agency in a statement and together with previous statements from west Mosul it appears that IS have mounted a very large counterattack against Army in the Old Mosul district.
Amaq Agency released a video showing clashes supposedly supporting recent claims of advances against Iraqi Army in Old Mosul district, video might be taken down very quickly.
IS sleeper cells in Iraqi Army-controlled east Mosul conducted an operation against Army's checkpoint reportedly killing three soldiers in Sumer district, southern part of east Mosul. IS report about this incident can be found here.
Iraqi Army is amassing in Mushrifa area, northwestern part of west Mosul in preparation to open a new axis in the city and storm the northern districts such as 17 Tamouz, Al-Harmat, Hawi al-Kanisa, remaining parts of Mushrifa and other districts.
From the 20th of April till 27th IS has reportedly committed crimes against civilians in west Mosul on three different occasions. In Al-Rifai district a family of eight was executed for trying to flee towards Army's positions in Al-Thawra district. In Al-Zanjili district a family of six was executed for trying to flee towards Iraqi Army's positions. In Mushrifa three young men were crucified by IS on charges of spying for Iraqi Army.
Al-Hashd al-Shaabi made large advances in desert west of Al-Hadhar area towards Syrian border and IS stronghold of Baaj in western part of Nineveh governorate.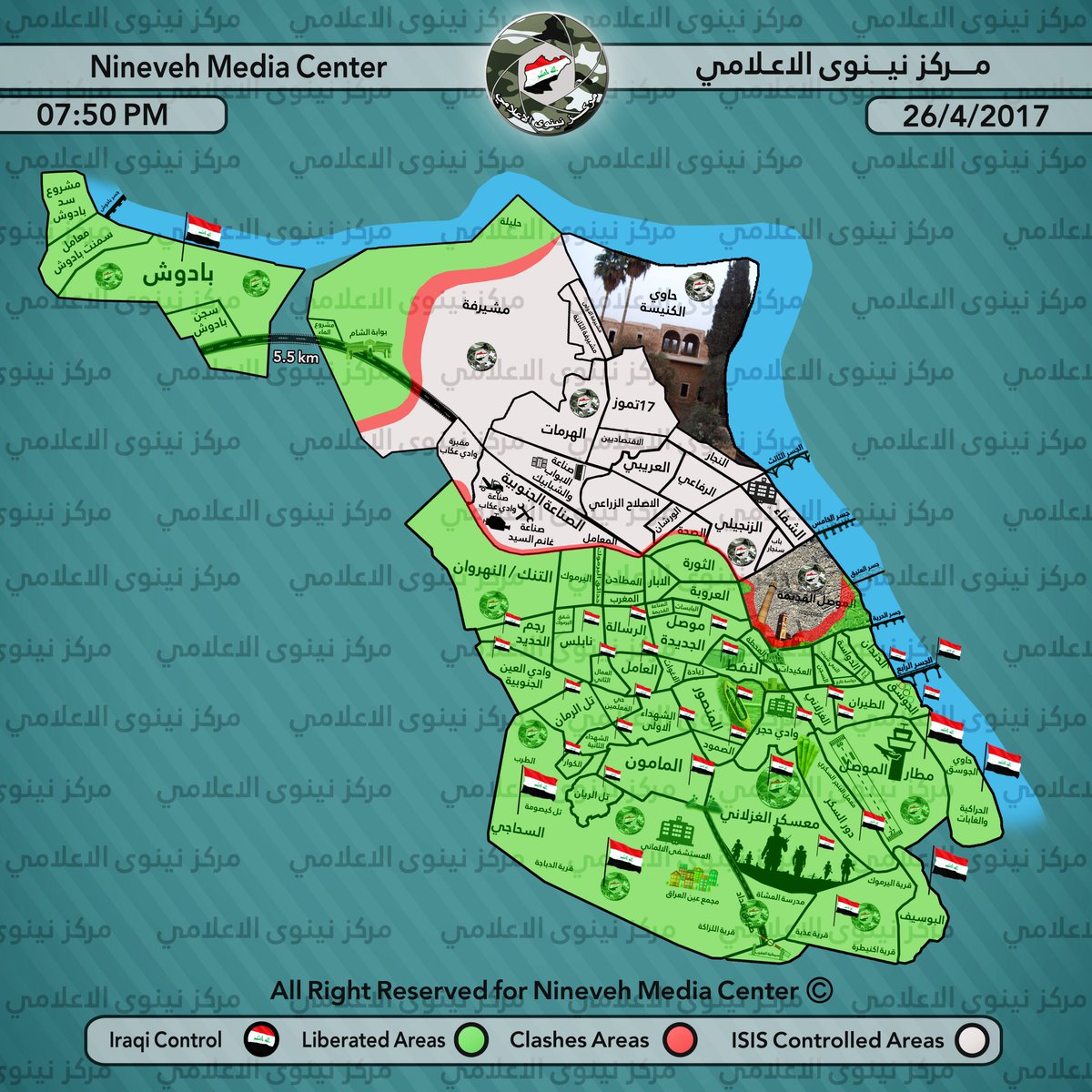 Latest map of west Mosul, nothing significant has changed since 26th of April. Source: NinevehMC
Anbar:
Iraqi Air Force carried out airstrikes yesterday targeting IS explosives factories and several headquarters near Rawah and Al-Qaim, western Anbar governorate. More than 40 IS fighters were reportedly killed by airstrikes.
CJTF-OIR:
On the 27th of April 2017 CJTF-OIR has conducted 15 strikes in Syria. CJTF-OIR's main focus in Syria at the moment is Tabqa-Raqqa-Deir al-Zour region where they did 14 strikes supporting SDF's operation against IS destroying nine IS oil tankers, two IS wellheads, an IS barge, five IS oil refinery equipment items, a front-end loader, a mortar team and four fighting positions.
Other area where one strike occurred is Abu Kamal destroying an IS vehicle. Full report on CJTF-OIR strikes conducted in both Syria & Iraq can be found here.
Intellectual credited property used may vary from an edition to edition.
Feel free to voice your opinion in the comments section below, constructive criticism is welcomed.
For those of you interested, you can follow us on an official Twitter account @SyrianWarDaily, or me personally on my biased twitter @joskobaric where I occasionally tweet some things.