Hello and welcome to the 68th installment of the SWD.
Military events/news are listed below by the governorates:
Aleppo:
As a part of the Fuah-Kafraya-Zabadani-Madaya deal Syrian Government reportedly freed 120 prisoners from Aleppo out of which 62 decided to stay in government-held areas and settled their cases, the rest of the prisoners were transferred to rebel-held Rashideen.
Raqqa:
North of Raqqa today's advances by SDF are disputed so it is unclear if IS pocket was created, the latest update by SDF's Liwa Suqur al-Raqqa stated that SDF entered Al-Hazimah and captured big part of it, nothing about the full capture was said. Even the SDF's press office is still silent about the capture of Al-Hazimah so reports about full capture of it should be treated as unconfirmed for now.
According to the material released by IS SDF suffered 370 casualties (killed/wounded) and lost 26 vehicles during the battles for Tabqa. Furthermore it states that 10 suicide and nine inghimasi (suicide fighters) attacks targeted SDF around the city.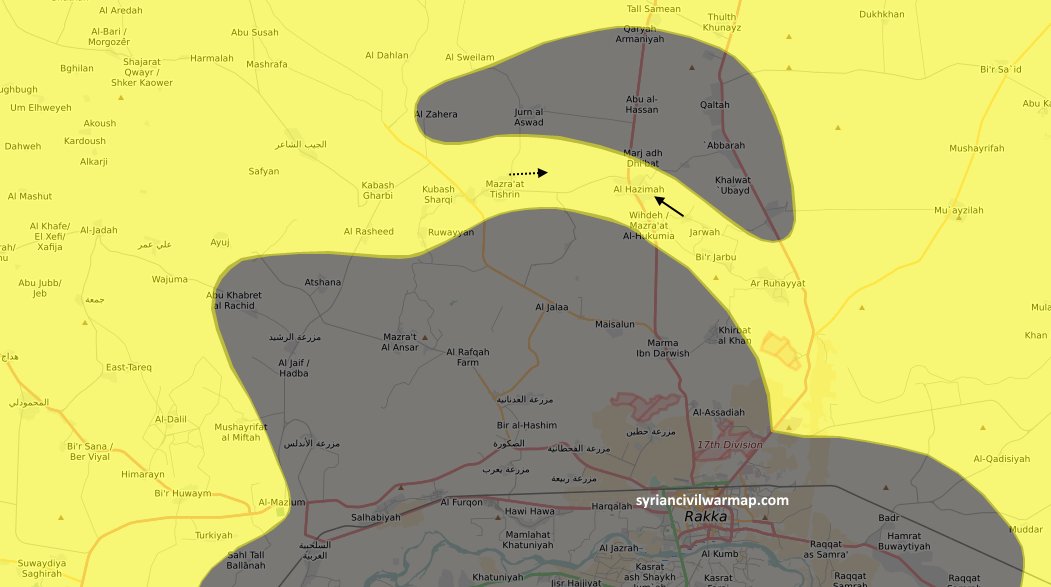 Unconfirmed situation north of Raqqa (shows Al-Hazimah as fully captured by SDF thus creating an IS pocket). Source: Syrian Civil War Map
Hama:
Now that the dust has settled around Tayyibat al-Imam it is confirmed by both sides that the city is completely under SAA control and yesterday's rebel counterattack was repelled. Since Tayyibat al-Imam is crucial for rebel-held Halfaya at least one more rebel attack on Tayyibat al-Imam should be expected, possibly as a distraction for Halfaya rebels to evacuate from it now that the city is pretty much encircled on three sides and only two roads northeast of it lead to mainland rebel territory.
Deir al-Zour:
According to CENTCOM an Uzbek IS commander linked to Abu Bakr Al-Baghdadi known as Abdul Rahman al-Uzbeki was killed in US ground operation near Al-Mayadeen on 6th of April. Abdul Rahman was reportedly the mastermind behind the 2017 Istanbul nightclub shooting that left 39 people dead and 70 injured, besides that he was also one of the IS figures responsible for foreign IS recruits and monetary funds coming in both Syria and Iraq.
Damascus:
Fronts in the eastern part of East Ghouta reopened again at least for a little while after longer stagnation, north of Al-Nashabiyah rebels reportedly repelled SAA attack in Hazrama area. West of Al-Nashabiyah around Hawsh al-Salihiyah SAA was able to advance, the advance was minor as nothing significant was reported as captured.
Approximate situation around Al-Nashabiyah. Source: loomis
Quneitra:
Israel targeted several SAA positions in Quneitra after a projectile from Syria landed in Israeli-controlled Syrian Golan Heights. Targeted areas are at the recently activated front line against rebels, strikes occurred near Al-Samadiniyah al-Sharqiyah, Ain Ayshaa and Madina Baath, drones were also spotted around this area. According to the reports SAA didn't suffer any casualties but there is some material damage done. Coincidentally moments before Israeli strikes, rebel group Alwiya Al-Furqan sent reinforcements against SAA just south of the targeted area.
Iraq:
Islamic State committed another wave of killing civilians in west Mosul this time in Al-Saha district. Around 60 civilians that tried to flee from Al-Saha south towards Iraqi Army's positions in Al-Thawra were brutally killed by IS fighters because they tried to leave "the land of Islam" towards "the land of unbelievers". Bodies of killed civilians are still lying on the streets out of which some are beheaded and some are hanging from electricity poles. IS targeted some of the civilians with snipers, it is believed that there are four of them stationed somewhere in either Al-Zanjili, Al-Saha or Al-Rifai districts.
IS launched a failed attack against Iraqi Army in Old Mosul district, the attack was mainly comprised of the suicide fighters (inghimasi) as more than 20 of them were reportedly killed and eight SVBIEDs destroyed.
In Salah al-Deen governorate IS suicide bomber attempted to target pilgrims close to Al-Dujail on the road towards Baghdad, even though suicide bombing was foiled by Iraqi security forces which wounded the attacker he still managed to detonate himself injuring several civilians. Another foiled IS attack occurred in south Baghdad where it also tried to target pilgrims, IS fighter was on the motorcycle reportedly wearing police uniform.
Syrian evacuation deal between government and rebels included the release of 26-29 Qatari hunters out of which some are royal family members kidnapped in December of 2015 around Al-Muthanna desert, south Iraq. Iraqi Kataib Hezbollah released the hunters after receiving large ransom for them. Prime Minister of Iraq Haider Al-Abadi reportedly received the released Qataris in his office shortly after they were released.
CJTF-OIR:
On the 20th of April 2017 CJTF-OIR has conducted 17 strikes in Syria. CJTF-OIR's main focus in Syria at the moment is Tabqa-Raqqa-Deir al-Zour region where they did 16 strikes supporting SDF's operation against IS destroying five IS oil tankers, six ISIS wellheads, two command-and-control nodes, three fighting positions, a tunnel, two IS oil equipment items, an IS-held building, a front-end loader and a vehicle-bomb facility; and damaged a fighting position.
Other area where one strike occurred is Al-Qaim, Iraq destroying a vehicle-bomb factory. Full report on CJTF-OIR strikes conducted in both Syria & Iraq can be found here.
Intellectual credited property used may vary from an edition to edition.
Feel free to voice your opinion in the comments section below, constructive criticism is welcomed.
For those of you interested, you can follow us on an official Twitter account @SyrianWarDaily, or me personally on my biased twitter @joskobaric where I occasionally tweet some things.