Hello and welcome to the 67th installment of the SWD.
Military events/news are listed below by the governorates:
Aleppo:
Turkish jets reportedly targeted SDF positions near Birsaya Mountain west of rebel-held Azaz. Casualties have also been reported but their number is currently unknown.
More info is now available about Rashideen bombing that targeted civilians from Fuah and Kafraya so it is only fair to list updates. On 18th of April United Nations High Commissioner for Refugees released a statement confirming previous reports that there are people still missing, however, there was no word about 200 young girls allegedly kidnapped by rebels shortly after the attack. Another update relates to the rumor spread that rebels lured children with food in a group for SVBIED to do more damage, it turned out that Il Gattaro D' Aleppo ("The Aleppo Catman") organization for stray dogs and cats of Aleppo was present at the bombing site with its ambulance giving children food.
This good deed by Il Gattaro D' Aleppo was exploited by an SVBIED driver that wanted to cause as much death and destruction as possible, in the bombing Il Gattaro D' Aleppo lost an ambulance and possibly some personnel. For those interested you can find Il Gattaro D' Aleppo here, it is a very noble organization helping those in need.
Raqqa:
North of Raqqa SDF captured Kabash Gharbi Saghir, Kabash Sharqi, Ruwayyan, Mazraat al-Hukumia, Mazraat Tishrin and Tall Hazimah from IS. As expected SDF is trying to make an IS pocket north of Raqqa and they might just do it with tomorrow's potential advances.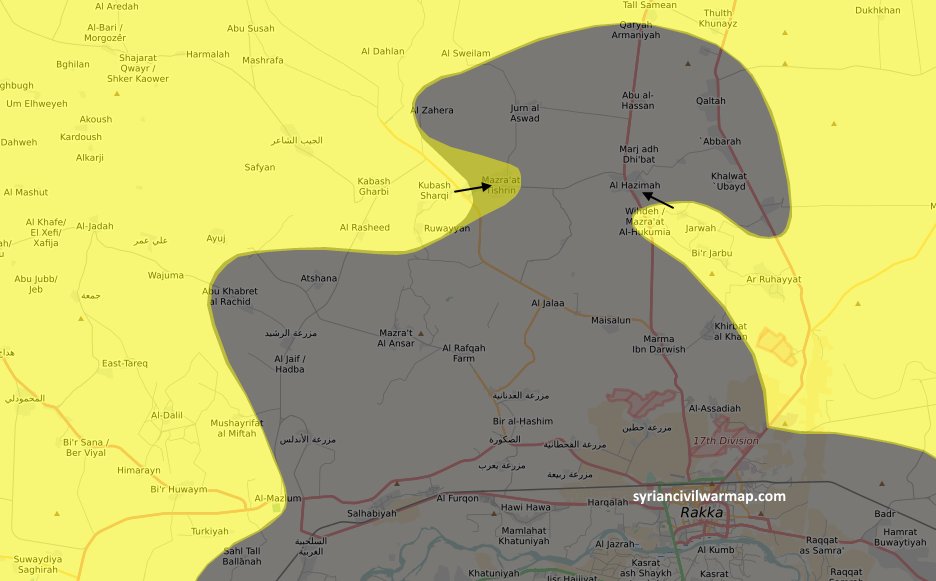 Situation north of Raqqa. Source: Syrian Civil War Map
Hama:
SAA Tiger Forces captured Tayyibat al-Imam from rebels during the day, as the attack on Tayyibat al-Imam was ongoing SAA & allies launched what appears to be a distraction attack towards Halfaya which Jaysh al-Nasr easily repelled and even released a statement about. Rebels were quick to launch a counterattack on Tayyibat al-Imam due to its strategic importance, without it Halfaya is indefensible and would fall very quickly.
Ahrar al-Sham, Hayaat Tahrir al-Sham, Free Idlib Army, Jaysh al-Nasr and Jaysh al-Izzah all participated in this counterattack on Tayyibat al-Imam and there were some reports from pro-rebel sources that rebels managed to recapture a part of the city. According to pro-government sources clashes took place west of Tayyibat al-Imam and the unified attack by rebels failed, hopefully by tomorrow situation around the city will be clearer.
Russian Ministry of Defense reported that one of their servicemen Major Sergei Bordov, a Russian Marine was killed in Syria on 18th of April in a mortar attack, reportedly another Russian soldier was killed and two Syrian in the same attack.
The date of this attack matches the TOW missile attack in northern Hama by Free Syrian Army's Al-Firqa Al-Wusta where they claimed death of two Russian soldiers, video here. From the video released it does appear that no one was directly targeted by the missile, however, the chance exists that some shrapnel may have flied towards the soldiers in the video and if there was lack of protective gear for some reason the "remains" of this attack could be lethal. Of course there is a possibility that Russian soldiers were killed somewhere else and/or in a separate incident.
Homs:
Free Syrian Army restarted their offensive against IS in the southeastern desertous part of Syria, 60 kilometers (37.2 miles) south of Palmyra Al-Alyaniya was captured and clashes are continuing around Al-Busira junction with IS.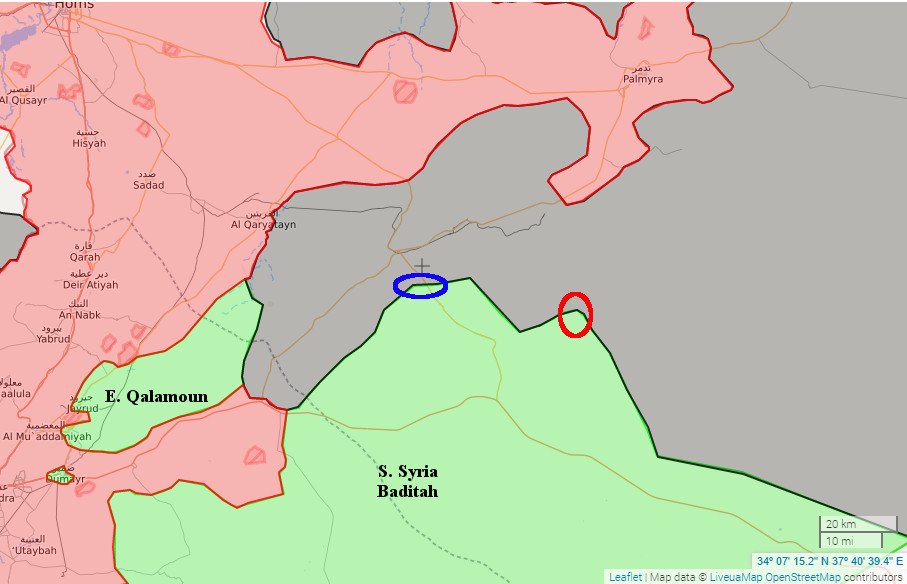 Situation south of Palmyra, red is Al-Alyaniya and blue Al-Busira. Source: Qalaat al-Mudiq
Damascus:
SAA advanced in the eastern part of Qaboun and have captured several blocks from rebels. During the advance a sizeable number of rebels were reportedly killed by SAA.
Unconfirmed reports suggest that rebels in Yalda and Babbila south of Damascus will be evacuated towards Idlib in exchange for the remaining civilians and fighters in Fuah and Kafraya.
Daraa:
Rebels advanced against SAA in the northern edges of Al-Manashiyah district where the latter still maintains some presence, but after this rebel advance this presence is even weaker. Al-Bunyan al-Marsous operations room claimed capture of Al-Salkhadi block, adjacent to Al-Sinjah district.
Iraq:
Iraq Joint Operations officially announced Al-Thawra and Al-Nasr districts, west Mosul as fully liberated by Iraqi Army from IS.
Iraqi Army killed an IS commander Abdullah al-Husseini in Old Mosul district. Al-Husseini was linked to Abu Bakr al-Baghdadi and held position of a senior commander in IS. This is the second IS senior figure killed this week directly linked to Al-Baghdadi, on 17th of April Hasiballah Al-Qawqazi was assassinated in Tal Afar.
In Al-Zanjili district five unnamed influential IS "officials" were killed when an IRAM rocket hit their headquarters, among the dead were reportedly an expert in chemical weapons and a sharia judge.
Iraqi Air Force targeted IS localities across the Iraq, firstly in Nineveh governorate near IS stronghold of Baaj around 20 IS fighters were killed. Around Tal Afar, also in Nineveh four IS factories for IEDs and VBIEDs were destroyed. In Anbar governorate between Haditha and Rawa an IS training camp was targeted reportedly killing over 20 IS fighters.
Iraqi Army and PMU launched a huge attack against IS northwest of Haditha. This attack comes after yesterday's reports that US special forces have moved from Balad Airbase in Salah al-Deen governorate to Ayn Al-Assad Airbase southwest of Al-Baghdadi in Anbar governorate indicating that the future operation to clear the western part of Anbar could be supported by the US even though majority of the forces are PMU which aren't really fond of the US.
Yesterday an IS VBIED was safely detonated in western Baghdad, target of the attack were Shia pilgrims.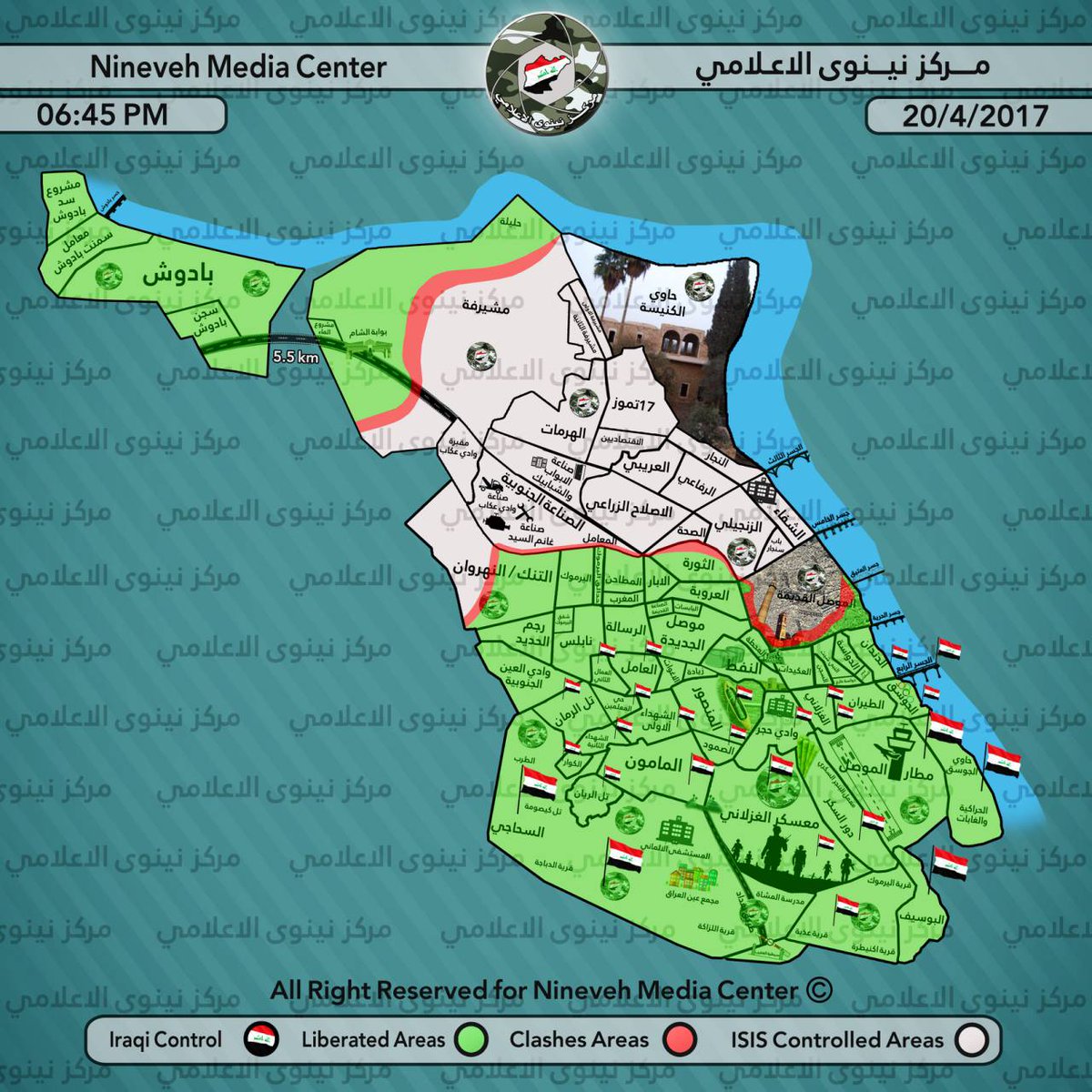 Latest map of west Mosul. Source: NinevehMC
CJTF-OIR:
On the 19th of April 2017 CJTF-OIR has conducted 16 strikes in Syria. CJTF-OIR's main focus in Syria at the moment is Tabqa-Raqqa-Deir al-Zour region where they did 12 strikes supporting SDF's operation against IS destroying four IS wellheads, a command-and-control node, an IS vehicle, a front-end loader, three fighting positions and damaging six fighting positions.
Other areas where four strikes occurred are Abu Kamal, Shadaddi and Palmyra destroying an IS staging area, an IS tank, two IS tunnels and an IS shed. Full report on CJTF-OIR strikes conducted in both Syria & Iraq can be found here.
Intellectual credited property used may vary from an edition to edition.
Feel free to voice your opinion in the comments section below, constructive criticism is welcomed.
For those of you interested, you can follow us on an official Twitter account @SyrianWarDaily, or me personally on my biased twitter @joskobaric where I occasionally tweet some things.