Hello and welcome to the 66th installment of the SWD.
Military events/news are listed below by the governorates:
Aleppo:
Explosion hit Salah al-Deen district, west Aleppo killing six and injuring 32 people. Explosion was identified as an IED with Abu Amara Brigades, part of Ahrar al-Sham claiming responsibility for it in a statement. According to them SAA & Liwa al-Quds convoy was targeted in the district.
Raqqa:
SDF captured National Hospital in Tabqa from IS north of Ayd al-Saghir, besides this noteworthy capture situation in Tabqa remains the same as clashes still continue in the city.
SDF restarted their offensive north of Raqqa and have captured Umm al-Tanak, Bir Jarba, Al-Ruhayyat, Jarwa and Al-Hitash from IS. Pattern of these advances suggest that SDF will remain true to the strategy they've used before to capture huge swaths of land from IS and that strategy is encircling IS in an area forcing them to withdraw from it or face being encircled and eventually defeated.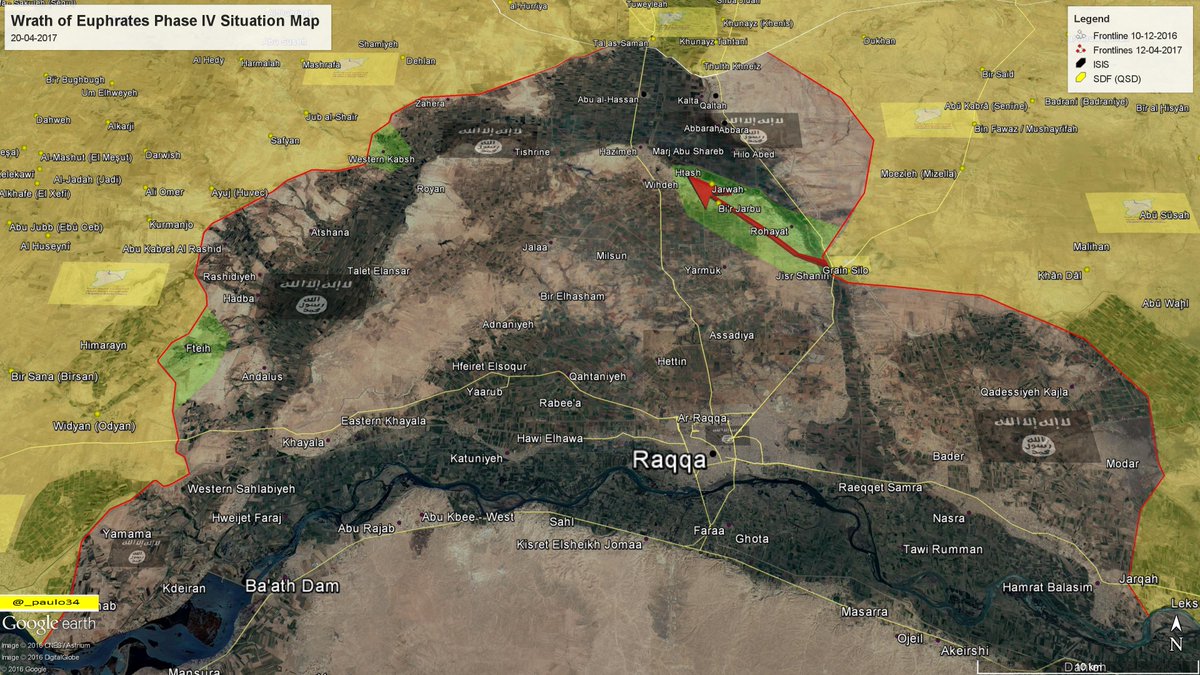 Situation around Raqqa. Source: _paulo34
Idlib:
Second batch of people left Fuah and Kafraya towards Aleppo today, around 40 buses carried 3000 local fighters from National Defense Forces.
Homs:
SAA advanced east of Palmyra and captured a number of hills from IS around Jabal Qitar.
Damascus:
Evacuation of rebel-held areas Zabadani, Madaya, Serghaya and Baqin finished today with 500 militants and their families leaving from Zabadani towards Idlib. Around 300 militants decided to stay in Zabadani and had their cases settled so they can return to normal life or rejoin either the Army or National Defense Forces. Following this evacuation of Zabadani Western Qalamoun area is now fully under SAA control and whole border with Lebanon, that is of course excluding Israeli-controlled Syrian Golan Heights.
Jaysh al-Islam led a rebel night raid on SAA positions in east Damascus, footage released from the raid shows at least five dead SAA soldiers and one destroyed BMP-1, however, it is impossible to verify if it was destroyed in a raid or on earlier occasion. Rebels captured several positions alongside with some ghanima (spoils of war) such as various small arms with ammo.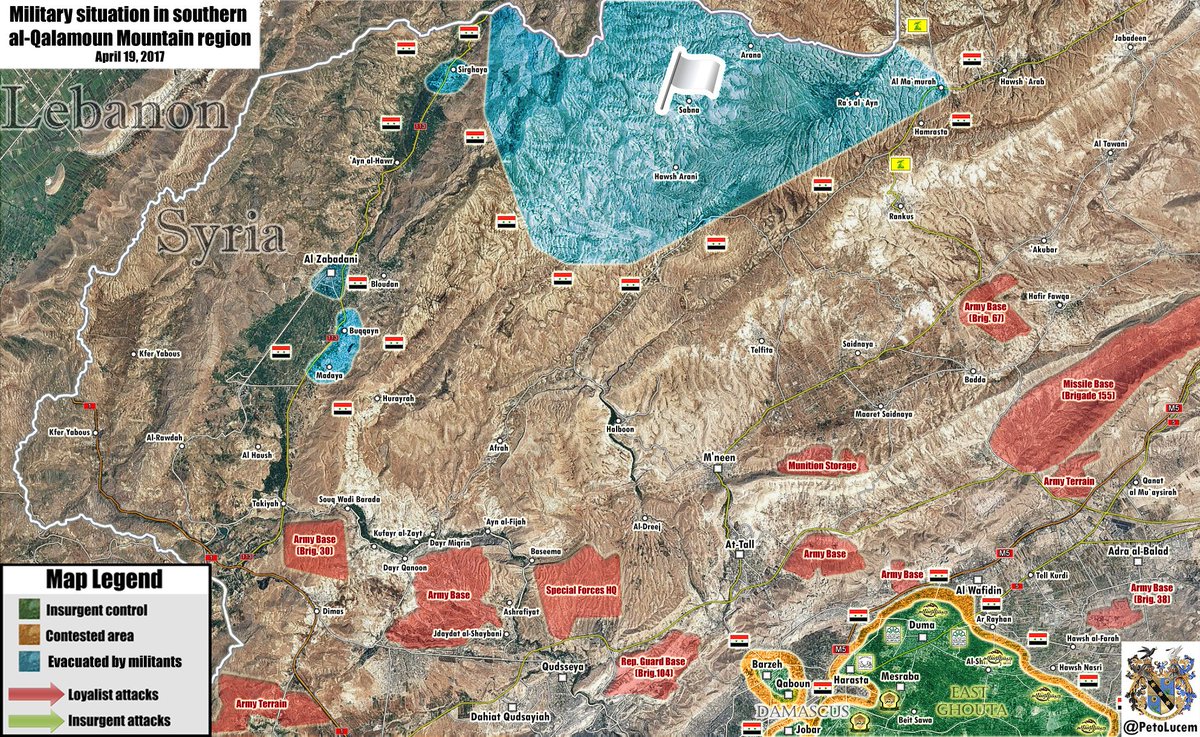 Situation north of Damascus. Source: Peto Lucem
Daraa:
Rebel Al-Bunyan al-Marsous operations room shelled SAA-held Al-Sijnah district, Daraa softening SAA defenses in the district which could be their next target after Al-Manashiyah.
Pro-government sources reported that SAA repelled rebel attack in Al-Manashiyah as they tried to recapture positions in the district lost yesterday to SAA forces.
Iraq:
Iraqi Prime Minister Haider al-Abadi arrived in Mosul this morning to inspect how are operations for liberation of Mosul progressing. Prime Minister visited Iraqi soldiers and civilians in New Mosul (Al-Jadidah) district promising victory against IS soon.
IS shelled civilian homes in Ras al-Jada neighborhood, Old Mosul district injuring a few of them and causing material damage to their property as few cars were reported to be burning due to shelling.
Two foreign IS commanders were killed in Iraqi Army's shelling of Old Mosul, commanders killed were known by their nom de guerres as Abu Maria al-Rusi and Abu Walid al-Tunisi.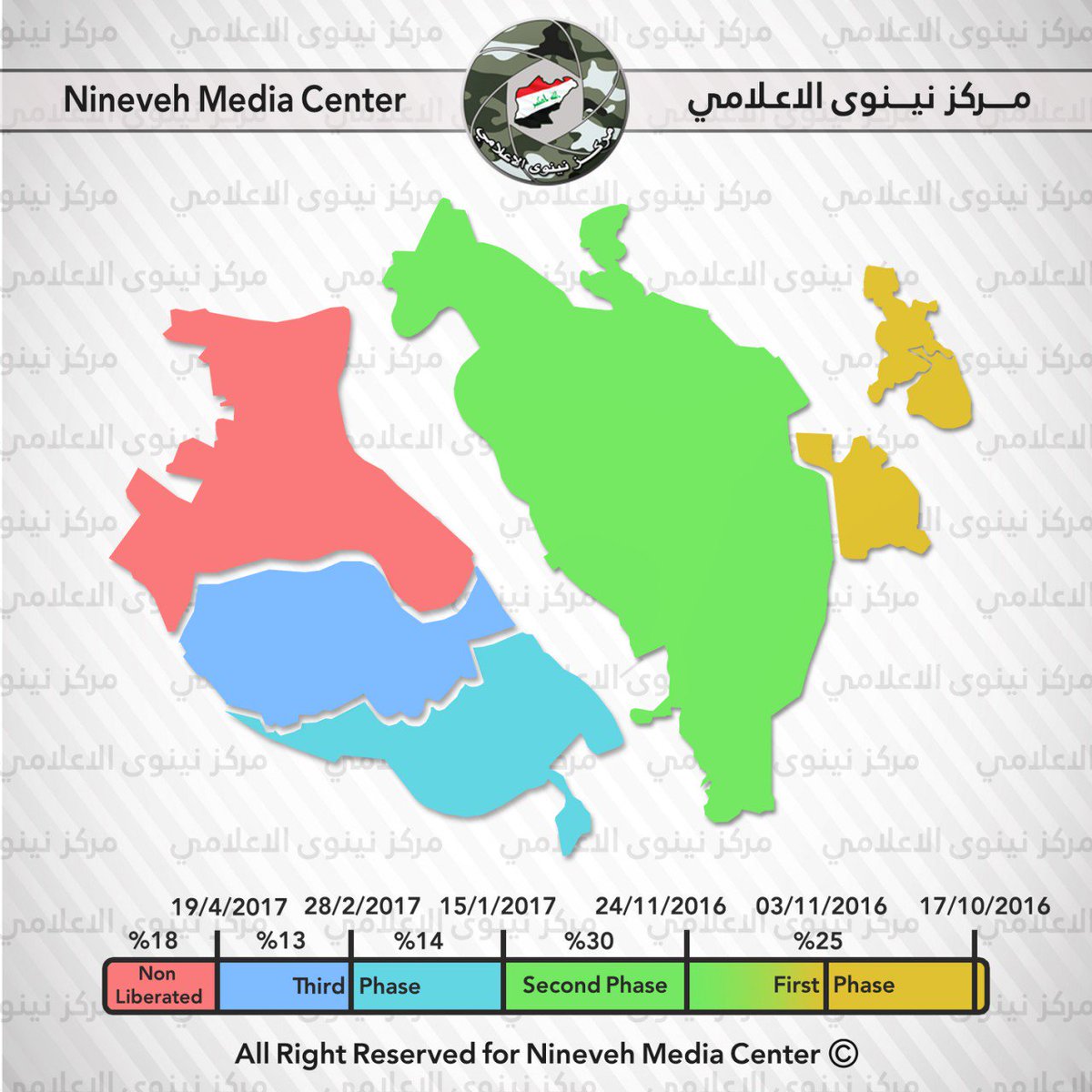 Battle for Mosul through phases. Source: NinevehMC
CJTF-OIR:
On the 18th of April 2017 CJTF-OIR has conducted 16 strikes in Syria. CJTF-OIR's main focus in Syria at the moment is Tabqa-Raqqa-Deir al-Zour region where they did 12 strikes supporting SDF's operation against IS destroying four IS wellheads, a command-and-control node, an IS vehicle, a front-end loader, three fighting positions and damaging six fighting positions.
Other areas where four strikes occurred are Abu Kamal, Shadaddi and Palmyra destroying an IS staging area, an IS tank, two IS tunnels and an IS shed. Full report on CJTF-OIR strikes conducted in both Syria & Iraq can be found here.
Intellectual credited property used may vary from an edition to edition.
Feel free to voice your opinion in the comments section below, constructive criticism is welcomed.
For those of you interested, you can follow us on an official Twitter account @SyrianWarDaily, or me personally on my biased twitter @joskobaric where I occasionally tweet some things.