Hello and welcome to the 65th installment of the SWD.
Military events are listed below by the governorates:
Aleppo:
Rebels repelled SAA & allies attempt at capturing Tall Shuwehneh west of Al-Zahraa district, Aleppo. Footage released by rebels showed two dead soldiers belonging to pro-government forces. This event at Tall Shuwehneh proves that rebels still control the hill and pro-government sources falsely reported it as captured on 11th of April.
Raqqa:
SDF repelled another IS attack around Tabqa, this time IS attacked south of Tabqa targeting Ayed Kabir village. Clashes around the village lasted for a couple of hours but SDF were able to fend off IS killing around 10 IS fighters. In the city of Tabqa itself SDF advanced again on two axis, on the western axis one kilometer (0.62 miles) of city area was captured while on the eastern axis 500 meters (0.31 miles).
Hama:
SAA Tiger Forces continue to target rebel-held Tayyibat al-Imam in preparation for an assault on the town. SAA reinforced positions captured yesterday on Tayyibat al-Imam's eastern outskirts, these positions will be used as a staging area for the future attack on the town. Rebels reportedly sent an SVBIED from Tayyibat al-Imam that was destroyed before reaching its target.
SAA found two rebel tanks under the rubble in Souran that was captured on 16th of April. Tanks captured are T-72 and T-55 both still operable.
Jaysh al-Nasr, Free Syrian Army group that targeted Hama Airbase on 16th of April released a long statement about the whole event and a list of things that were allegedly destroyed during shelling, the most interesting things claimed to be destroyed are MiG-21 and MiG-23 warplanes. Take these claims with a grain of salt as there is no way to verify if things claimed are really destroyed.
Free Syrian Army's Al-Firqa Al-Wusta (Central Division) released a statement stating that they have targeted SAA infantry near Khattab with a TOW and killed several of them including two Russians. At first this sounded unlikely but possible since there's been a notable Russian presence in northern Hama for some time now. However, in the video that was later released by the group it is clearly visible that TOW missile hit the earth berm making it highly unlikely that anyone was killed, couple of soldiers may have received light to medium wounds.
IS was feeling opportunistic again and tried to exploit Hayaat Tahrir al-Sham's attack southwest of Al-Salamiyah, several SAA checkpoints along the Al-Salamiyah-Ithriyah road were attacked by IS. Attack was concentrated on Wadi al-Adhib area but it failed with reports that one SVBIED and two ammo trucks were destroyed by SAA.
Homs:
Fifth batch of civilians and rebel fighters left Al-Waer district, Homs towards Jarablus. Considering the fact that there wasn't any info spread about district being fully evacuated, at least one more batch of evacuees is going to leave Al-Waer.
SAA and allies advanced north of Tiyas Airbase (T4) and have captured Abu Qalah dam from IS.
Situation in eastern Homs countryside, Abu Qalah dam is circled on the map. Source: Al-Alam al-Harbi Markazi
Damascus:
SAA captured one of the rebel prisons in Qaboun and has freed 34 prisoners from it. Most of the prisoners are captured SAA soldiers but there is a possibility that some of them were civilians jailed for various reasons by rebels. Besides the prison SAA also reportedly "captured" a prison guard along with three other injured rebels.
Also in Qaboun, Faylaq al-Rahman fended off SAA's attempt to advance further in the district and have released footage of SAA's T-72 Adra tank burning. Tank was reportedly hit by an IED which resulted in driver's death so the rest of the crew abandoned it and rebels have set it on fire later.
FSA-linked Jaysh Usud al-Sharqiya stated that Syrian Arab Air Force targeted their positions in Eastern Qalamoun that they recently captured from IS.
Quneitra:
Yesterday's reports about SAA and NDF capturing Samadaniyah al-Gharbi and Al-Arjaf turned out to be false, based on that it appears that pro-rebel sources were correct when they reported that the attack was repelled.
Iraq:
Last night west of Baghdad IS gunmen opened fire on a checkpoint in Abu Ghraib near prison. Following the attack road leading to prison was temporarily closed for traffic, later it was reported that the attack was repelled but fate of the attackers is unknown, they were most likely able to flee the area without suffering any casualties. Abu Ghraib is notoriously known for harboring IS sleeper cells.
Big IS sleeper cell was dismantled today and its members arrested in northern Baghdad by Iraqi forces. Cell was allegedly a part of IS Wilayat Shamal Baghdad (IS Province of Northern Baghdad) and was preparing for several large attacks across the Baghdad city. Large quantities of weapons and explosions were seized by security forces.
IS suicide bomber targeted civilians around Al-Baghdadi, Anbar governorate reportedly killing at least two and injuring another two according to the information available, number may rise as this is not the official number.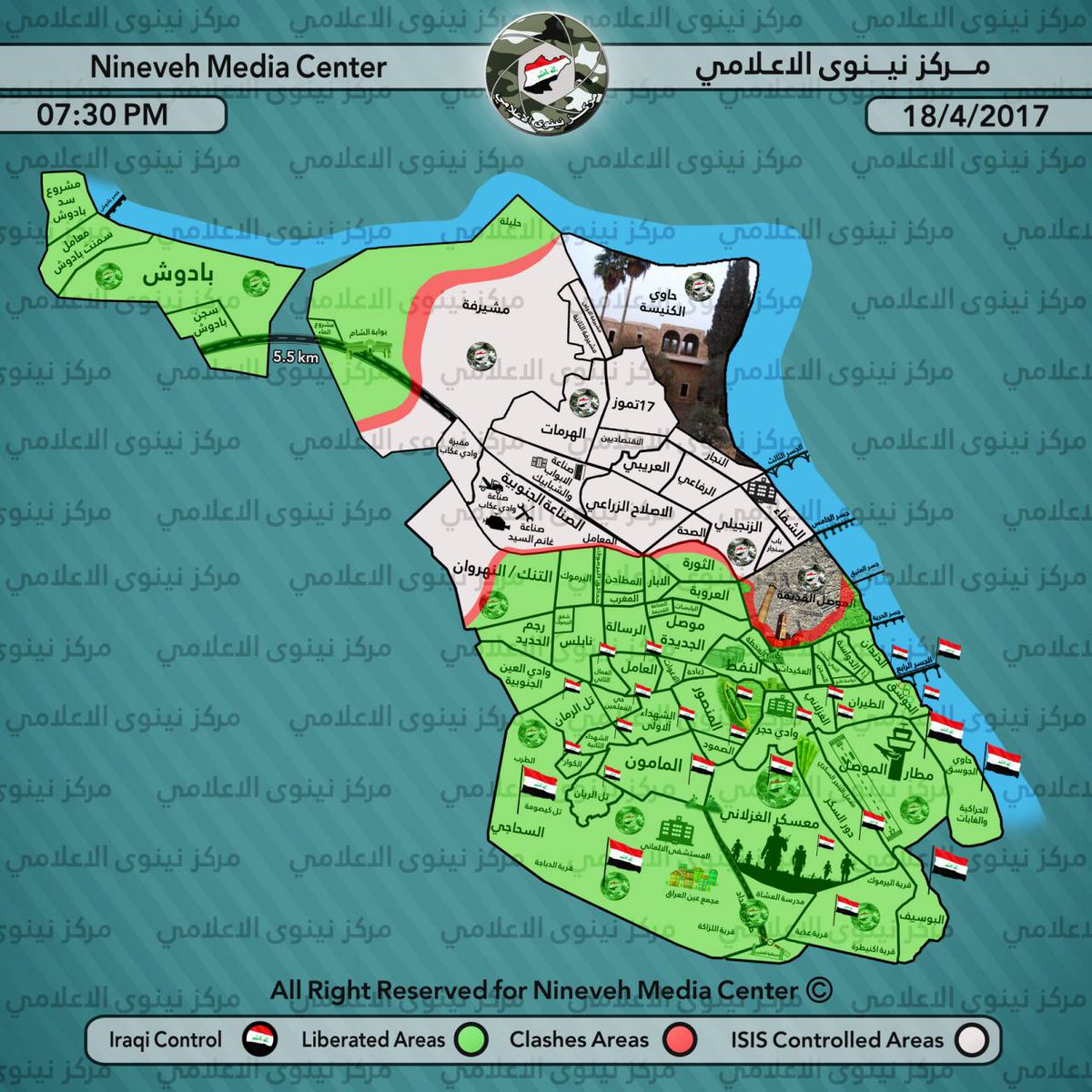 Latest map of west Mosul. Source: NinevehMC
CJTF-OIR:
On the 17th of April 2017 CJTF-OIR has conducted 21 strikes in Syria. CJTF-OIR's main focus in Syria at the moment is Tabqa-Raqqa-Deir al-Zour region where they did 19 strikes supporting SDF's operation against IS destroying four fighting positions, a mortar system, nine IS oil equipment items, five wellheads and one vehicle; and suppressing four IS tactical units.
Other area where two strikes occurred is Abu Kamal destroying an IS vehicle. Full report on CJTF-OIR strikes conducted in both Syria & Iraq can be found here.
Intellectual credited property used may vary from an edition to edition.
Feel free to voice your opinion in the comments section below, constructive criticism is welcomed.
For those of you interested, you can follow us on an official Twitter account @SyrianWarDaily, or me personally on my biased twitter @joskobaric where I occasionally tweet some things.