Hello and welcome to the 64th installment of the SWD.
Today is the 71st Independence Day of Syria, commonly known as Evacuation Day (Eid al-Jalaa) in Syria. It marks the day when the last French soldiers evacuated from Syria and independence was proclaimed on 17th of April 1946. Celebrations were held in a number of towns throughout the country, even in Israeli-occupied Syrian Golan Heights.
Military events are listed below by the governorates:
Raqqa:
SDF continued to advance against IS in Tabqa city on two axis and captured around 500 meters (0.31 miles) of the city area on the both west and east axis. IS tried to push back SDF from the eastern part of Tabqa city but all of their attack were repelled and an SVBIED was destroyed by SDF.
To decrease an unnecessary amount of civilian casualties SDF opened several corridors in Tabqa for civilians to evacuate the city, this is also the reason provided by an SDF commander as to why they occasionally stop their advances, priority is on the civilian lives.
Approximate situation around/in Tabqa city (lines represent previous front line). Source: Interactive Rurikmap which can be found here.
Hama:
SAA Tiger Forces reportedly captured Qaban checkpoint east of Tayyibat al-Imam and have been targeting Tayyibat al-Imam city the whole day with artillery together with heavy Syrian Arab Air Force's airstrikes on it. Attack towards the city was also reportedly launched but seeing the lack of the reports about advances taking place it is safe to assume that the attack was either repelled by rebels or reports about the attack were premature.
Last night Hayaat Tahrir al-Sham's inghimasi (suicide fighters) from Northern Homs pocket launched a raid on several SAA or NDF checkpoints southwest of Al-Salamiyah. HTS released footage from the raid showing ghanima (spoils of war) consisting of two technicals with mounted machine guns, a dozen of motorbikes and various small arms along with ammo. HTS also showed at least four bodies belonging to either SAA or NDF. Pro-government sources reported that the attack by HTS was repelled and that the Army lost six soldiers and seven got wounded in the clashes.
Homs:
It was reported this morning that the last, 5th batch of rebels and civilians are ready to leave Al-Waer district towards Jarablus, however, the lack of further info about it indicates that the evacuation was possibly delayed for an unknown reason.
Today around 500 people that decided to stay in Al-Waer have settled their cases and will return to normal life once the evacuation is finished and security forces re-establish security and stability in the district.
Deir al-Zour:
Unconfirmed reports are suggesting that the US forces conducted a special operation which included paratroopers landing behind IS lines south of Al-Mayadeen city somewhere in the area around the former T2 airport, operation also might have been supported by French special forces. Goal and outcome of this reported operation are unknown and most likely will remain that way.
If the T2 airport is captured it could be used as an US army base in the eastern Syria strengthening US influence in the area that is already somewhat present through military-backed proxy forces. Again if this capture of T2 airport happened it could be used as a staging area towards Abu Kamal which appears to be the key area for US forces as the new US strategy in Syria is to cut it off from Iraq by using proxy/allied forces which would mean weakening of "Axis of Resistance" by preventing future arms shipments and reinforcements by land.
Daraa:
With almost full control over Al-Manashiyah district rebel Al-Bunyan al-Marsous operation room is already eyeing and preparing for next district to attack. Al-Sijnah district north of Al-Manashiyah was shelled by rebels today with reports coming that an Omar Missile directly hit SAA base in the district.
Jaysh Khalid bin Walid, an IS affiliate in southwestern Daraa governorate continues to pose as a threat if left unopposed, in a new statement released by the group it was claimed that they killed and wounded 52 rebels in an attack on rebel positions around Jallin Housing Area. IS media outlet Amaq agency also released a similar statement claiming the same thing.
Approximate situation in southwestern Daraa governorate. (black = Jaysh Khalid bin Walid, green = rebels, red = Syrian Arab Army) Source: Interactive Rurikmap which can be found here.
Quneitra:
According to the pro-government sources Syrian Arab Army and allies advanced and captured Samadaniyah al-Gharbi and Al-Arjaf which are east of Quneitra, however, pro-rebel sources claimed that rebels were able to repel the attacks and have allegedly killed nine members of National Defense Forces's Golan Regiment. Advances by SAA and allies are reportedly confirmed by Majd Haimoud, NDF Golan Regiment commander.
Since these advances by SAA and allies are being disputed it is best to treat them as unconfirmed for now until they provide evidence (footage) from it and prove their control over locality.
Iraq:
Iraqi Army continued to advance in Al-Thawra district, west Mosul after taking control of southern part of it yesterday, with today's advances most of the district is under Army's control, IS still maintains presence in the district only on the northern edges.
Tensions are rising in Tal Afar, Nineveh governorate between Islamic State fighters which may have lead to an assassination of a foreign commander from Caucasus, Hasiballah Al-Qawqazi. Hasiballah held an important role in IS leadership as a commander with links directly to Al-Baghdadi. Prime suspects for this assassination, even more likely than anti-IS sleeper cells are domestic Iraqi fighters, infighting has been reported in a number of areas such as Tal Afar, west Mosul and Hawijah pocket between Iraqi IS fighters and foreign IS fighters. This infighting in IS can be traced to when they seriously started losing ground in Iraq and reports about it just keep on intensifying as they are continuing to lose even more territory.
Iraqi intelligence revealed a new, potential location of Abu Bakr al-Baghdadi, he is allegedly still alive and taking a shelter in one of the villages in eastern Syria very close to Iraqi border.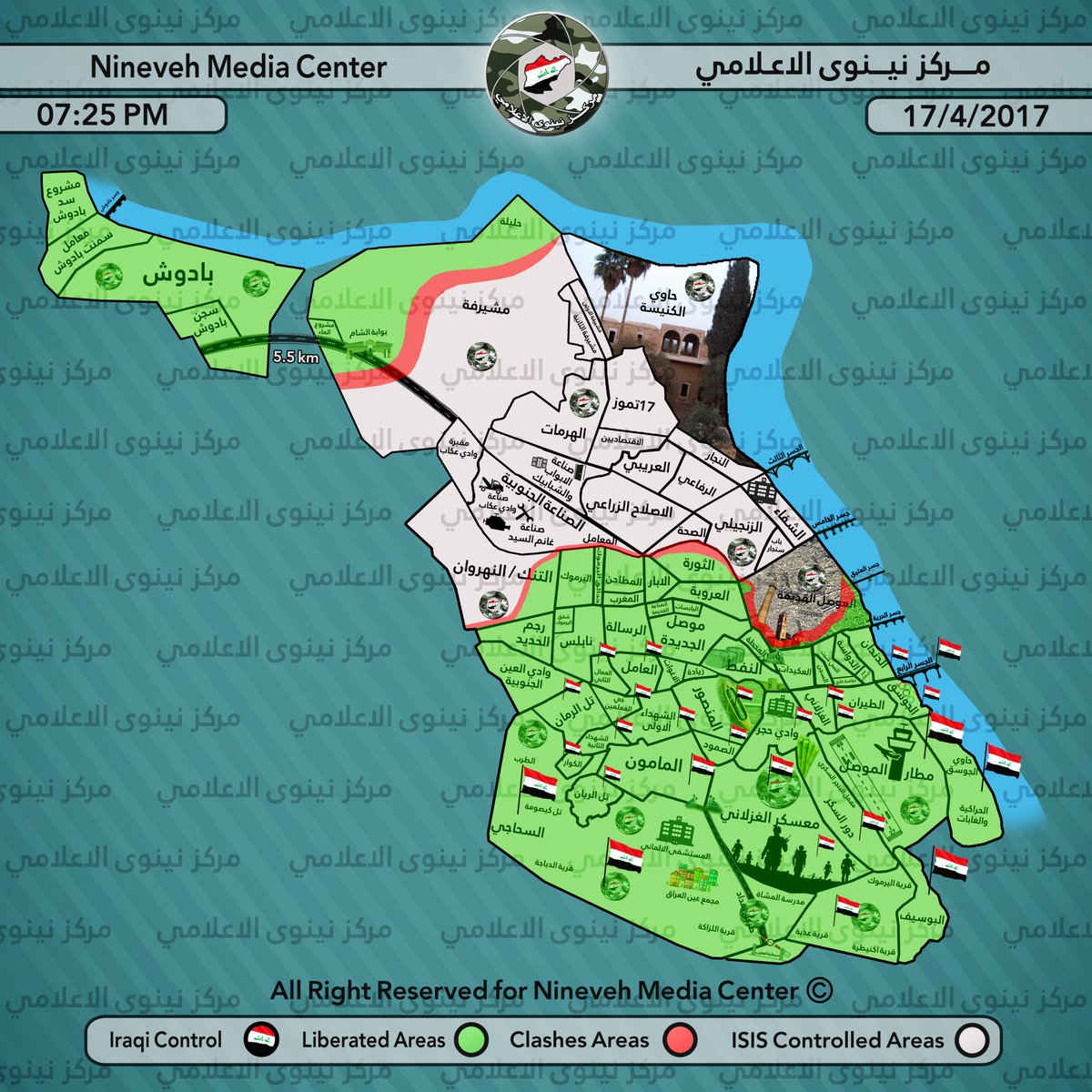 Latest map of west Mosul. Source: NinevehMC
CJTF-OIR:
On the 16th of April 2017 CJTF-OIR has conducted 20 strikes in Syria. CJTF-OIR's main focus in Syria at the moment is Tabqa-Raqqa-Deir al-Zour region where they did 17 strikes supporting SDF's operation against IS destroying seven fighting positions,an IS vehicle and an IS bridge and damaged an IS supply route.
Other area where three strikes occurred is Abu Kamal destroying three IS wellheads and IS engineering equipment. Full report on CJTF-OIR strikes conducted in both Syria & Iraq can be found here.
Intellectual credited property used may vary from an edition to edition.
Feel free to voice your opinion in the comments section below, constructive criticism is welcomed.
For those of you interested, you can follow us on an official Twitter account @SyrianWarDaily, or me personally on my biased twitter @joskobaric where I occasionally tweet some things.