Hello and welcome to the 63rd installment of the SWD.
Military events are listed below by the governorates:
Aleppo:
More info is available regarding yesterday's deadly attack that killed around 100 civilians from Fuah and Kafraya, firstly it was wrongly reported as a VBIED attack as it now appears that the attack was SVBIED because the new footage shows a blue truck headed towards gathering of civilians moments before explosion.
This is where the new facts about the attack end and unconfirmed info and rumors start so take everything written after this with a huge grain of salt. According to the pro-government sources the attacker was identified as Samer Kharita rebel fighter that was evacuated to Idlib from Zabadani. Before the SVBIED attack occurred according to the civilians from Fuah and Kafraya rebels lured a number of children with food towards the attack site. Several pro-government sources also reported that rebels allegedly kidnapped more than 200 civilians mostly young girls after the attack took place.
Once again keep in mind that none of this can be classified as truth for now until more concrete evidences surface.
Raqqa:
After capturing Mushayrifat al-Miftah village from IS SDF continue to advance west/northwest of Raqqa taking control of Kabash Gharbi and Al-Rasheed villages.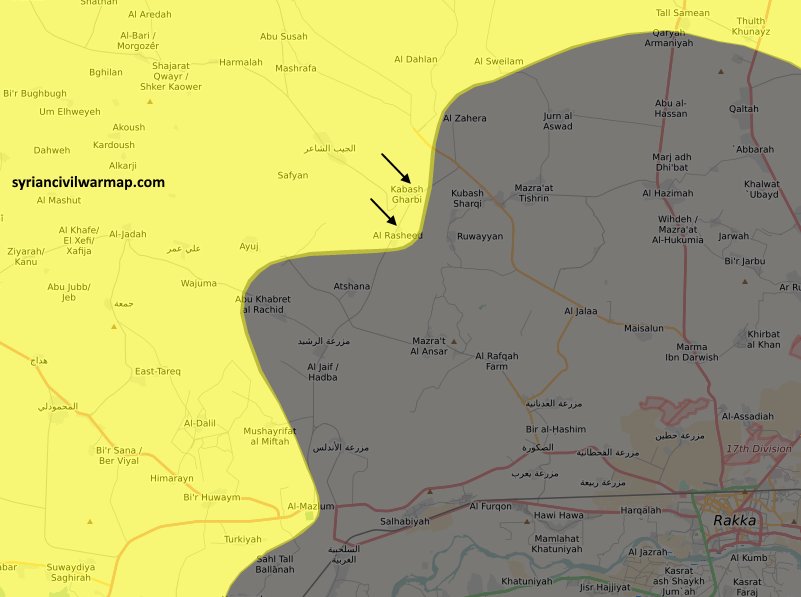 Situation around Raqqa after SDF's advances nortwest of it. Source: Syrian Civil War Map
Hama:
SAA Tiger Forces advanced against rebels today and captured Souran, Tall Bizam and Al-Maktab checkpoint. With this wave of advances SAA reversed all territory gains rebels made since the start of their offensive on 21st of March. Shelling by SAA forces was reported on Tayyibat al-Imam, most likely the next target.
Jaysh al-Nasr, Free Syrian Army group released a series of statements about their shelling of Hama Airbase. In the first statement the group stated they fired a dozen of Grad rockets on Hama Airbase. In the second statement it was claimed that the airbase went out of service due to 40 Grad rockets targeting it and that fire broke out inside of it. In the third statement Jaysh al-Nasr claimed that their shelling destroyed a MiG-23, there are other things claimed to be destroyed but this one was the most interesting one. Footage published revealed fire coming from Hama Airbase that could be seen from far away confirming claim that the fire broke out after shelling, however, for now it is impossible to verify if rebels really destroyed MiG-23 during shelling.
Jaysh al-Izzah another Free Syrian Army group released a statement saying that they also started targeting Hama Airbase with Grad rockets.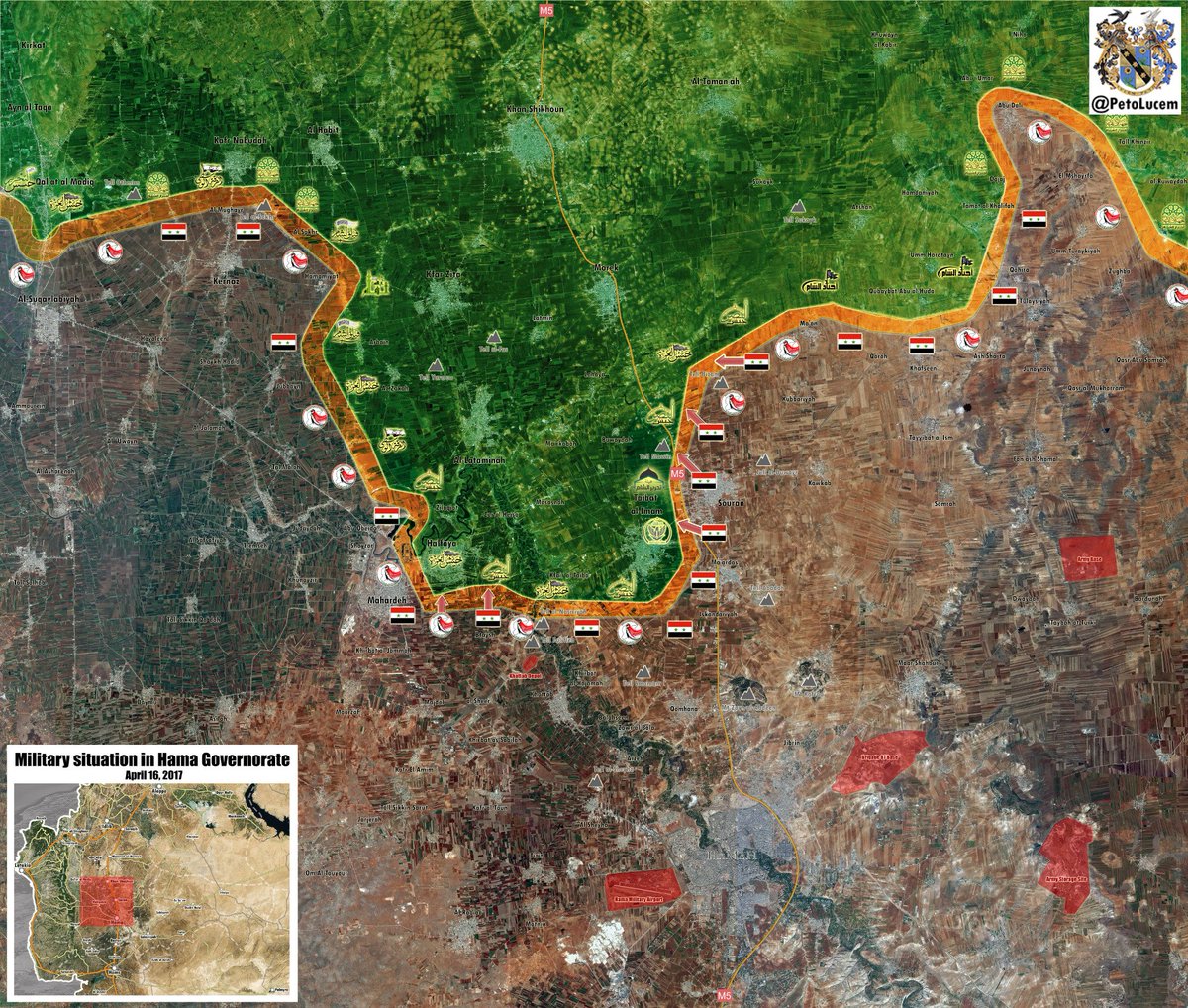 Situation in northern Hama after SAA's advances, HD version of this map can be found here. Source: Peto Lucem
Iraq:
Iraqi Army conducted another night operation in Old Mosul district around Al-Nuri mosque capturing several buildings surrounding the mosque, similar operation by Iraqi Army was conducted on 11th of April also capturing several buildings in the vicinity of Al-Nuri mosque. Advances also occurred northwest of Old Mosul district, Army captured southern part of Al-Thawra district from IS and clashes are still taking place in central part of the district as Iraqi Army tried to assert full control over Al-Thawra.
Iraqi Air Force targeted IS localities in west Mosul reportedly killing over 30 IS fighters, mostly foreigners.
Unconfirmed reports suggest that yesterday around 40 civilians were killed in Bab Sinjar, west Mosul as a result of accidental CJTF-OIR airstrike on a building. Since CJTF-OIR takes reports about civilian casualties very seriously we can expect an investigation which will then determine if the airstrike took place and if there were unintentional civilians casualties.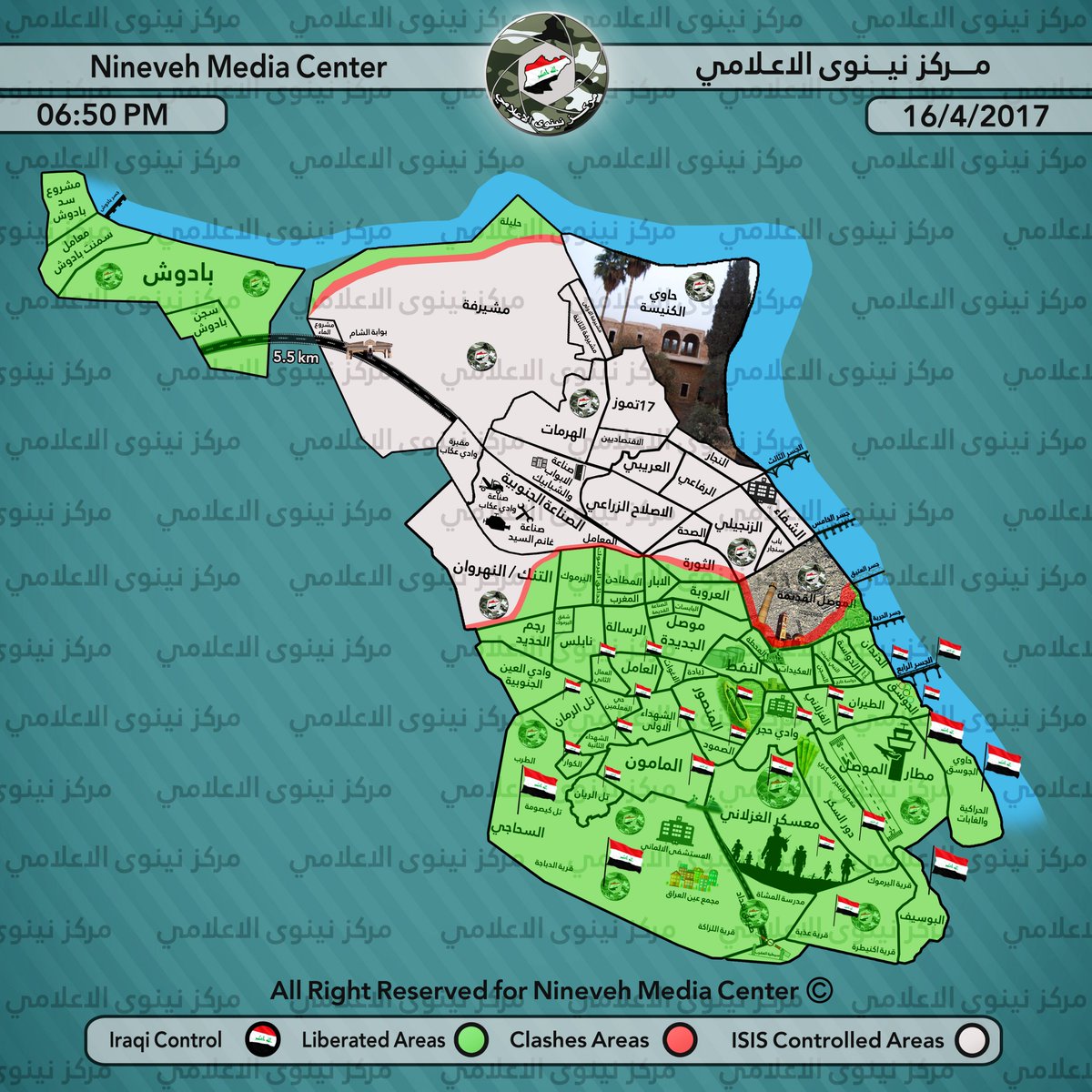 Latest map of west Mosul. Source: NinevehMC
CJTF-OIR:
On the 15th of April 2017 CJTF-OIR has conducted seven strikes in Syria. CJTF-OIR's main focus in Syria at the moment is Tabqa-Raqqa-Deir al-Zour region where they did five strikes supporting SDF's operation against IS destroying three fighting positions and a weapons cache; damaging an IS fuel facility and suppressing an IS tactical unit.
Other areas where two strikes occurred are Abu Kamal and Shadaddi damaging an IS fuel facility and destroying an IS-held building, respectively. Full report on CJTF-OIR strikes conducted in both Syria & Iraq can be found here.
Intellectual credited property used may vary from an edition to edition.
Feel free to voice your opinion in the comments section below, constructive criticism is welcomed.
For those of you interested, you can follow us on an official Twitter account @SyrianWarDaily, or me personally on my biased twitter @joskobaric where I occasionally tweet some things.