Hello and welcome to the 62nd installment of the SWD.
Military events are listed below by the governorates:
Aleppo:
Sadly another tragedy hit Syria today, VBIED targeted evacuated civilians from Fuah and Kafraya in rebel-held Rashideen, Aleppo. Attack was very deadly and caught everyone off guard killing between 50-100 civilians and wounding many more, most of the victims are women and children. Several rebels allegedly from Hayaat Tahrir al-Sham that were guarding civilians were also killed in explosion.
In the attack several buses used to transport civilians were also destroyed delaying the exchange process. After the attack occurred it was reported that rebels didn't allow wounded civilians to be transported to government-held Aleppo sending them towards hospitals in rebel-held cities in western Aleppo countryside, however, couple of hours later several ambulances arrived from Aleppo to transport wounded alongside several buses to replace the ones destroyed in the attack.
No one has taken responsibility for this horrible crime against civilians, several rebel sources claimed Jund al-Aqsa, now part of IS is responsible for the attack. Jund al-Aqsa and IS are of course one of the main suspects alongside several more radical rebel groups that have called for extermination of the same Shia civilians that were targeted today. It is possible that we never officially find out who was behind this attack since there is a possibility that the attack was carried out by one of the radical rebel factions and since the news about the attack were picked up by mainstream media rebels currently can't afford to let anything shatter narrative they have been pushing towards mainstream media for years now. Keep in mind that this is just speculation on my part and shouldn't be treated in any way as a fact, the best thing to do is wait and see if someone claims responsibility for this attack.
In the evening exchange process delayed by explosion started and Zabadani-Madaya-Baqin civilians left Al-Ramouseh district towards Rashideen just like Fuah-Kafraya civilians left Rashideen for Al-Ramouseh.
Latakia:
Hayaat Tahrir al-Sham targeted Syrian Arab Army's position/checkpoint near Kifartah village between Salma and Kinsabba with an SVBIED. According to the reports no one was killed and only a couple of soldiers were wounded.
Raqqa:
SDF advanced against IS in Tabqa city on two axis today, on the western axis Ayed al-Saghir village was captured adjacent to Tabqa's western neighborhoods. On the eastern axis Alexandria / Iskandariyah neighborhood was captured by SDF located in southeastern Tabqa city.
Northeast of Tabqa and west of Raqqa SDF also captured village Mushayrifat al-Miftah from IS.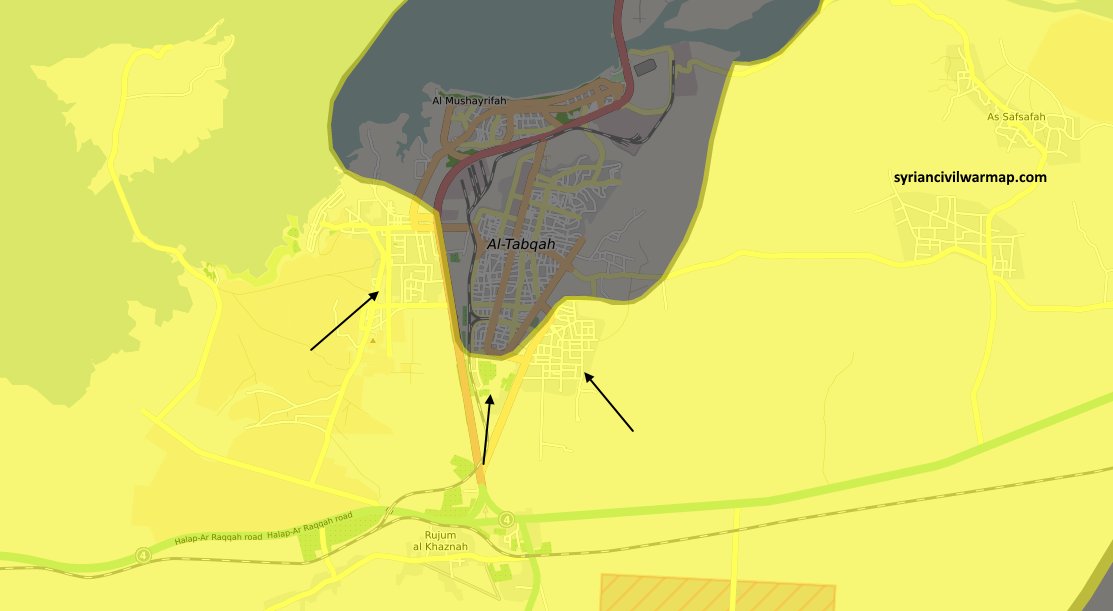 Situation around Tabqa city. Source: Syrian Civil War Map
Iraq:
Iraqi Army successfully finished counterinsurgency operations in Al-Tarmiyah, Salah al-Deen governorate that started on 9th of April with intention to rid the town of IS sleeper cells. Official results of the operations are not released yet, they should be released soon hopefully.
Iraqi Air Force targeted IS across the Nineneh governorate, around Baaj, Tal Afar and Hatra reportedly killing over 50 IS fighters.
Iraq and Syria continue their cooperation aimed at targeting IS positions primarily in borer area between the two countries but as Iraq has stated in the past, they will continue to strike IS wherever they are. Iraqi intelligence gave coordinates of IS localities around Raqqa and Abu Kamal to Syrian Ministry of Defense which then forwarded it to Syrian Arab Air Force that hit the given localities.
CJTF-OIR:
On the 14th of April 2017 CJTF-OIR has conducted nine strikes in Syria. CJTF-OIR's main focus in Syria at the moment is Tabqa-Raqqa region where they did nine strikes supporting SDF's operation against IS destroying three fighting positions and damaging four supply routes.
Full report on CJTF-OIR strikes conducted in both Syria & Iraq can be found here.
Intellectual credited property used may vary from an edition to edition.
Feel free to voice your opinion in the comments section below, constructive criticism is welcomed.
For those of you interested, you can follow us on an official Twitter account @SyrianWarDaily, or me personally on my biased twitter @joskobaric where I occasionally tweet some things.