Hello and welcome to the 61st installment of the SWD.
Military events are listed below by the governorates:
Aleppo:
FSA faction in SDF Jaysh al-Thuwar denied yesterday's reports about SDF handing over localities east of Afrin to TFSA.
Idlib:
First batch of buses left Fuah-Kafraya and reached Aleppo, reportedly around 5000 people were evacuated from the two towns. At least one more batch carrying also at least 5000 people is needed to fully evacuate Fuah-Kafraya, it will be interesting to see if the 2nd batch will go as smoothly as the first one, even though buses in Fuah-Kafraya were shelled last night it still went pretty smoothly compared to previous evacuations of the two towns. Since Madaya and Baqin were fully evacuated today only a small number of rebels and civilians remain in Zabadani and other areas, small number enough to break the deal and attack the buses? We will just have to wait and see what happens.
Hama:
Rebels repelled yet another SAA & allies attempt at advancing towards Halfaya from Muhardah, after this failed attack Jaysh al-Izzah released a statement claiming to have captured T-72 and T-90 tanks from Hezbollah and IRGC. Jaysh al-Izzah then proceeded to release footage of today's ghanima (spoils of war) showing two T-62M tanks which SAA received from Russia in January of 2017 and a technical mounted with a machine gun. One thing can be concluded out of this, Jaysh al-Izzah doesn't know how to differentiate tanks and instead they just claim that any a bit modern tank is a T-90, in this case it was T-62M.
South of Halfaya pro-rebel sources claimed Btaysh village and Sensehr south of it were captured by rebels from SAA but pro-government sources reported Btaysh was recaptured by SAA & allies and they provided footage from it confirming SAA control over locality.
Approximate situation in northern Hama, keep in mind that Maardes is shown as mostly rebel-controlled even though it is fully under SAA control. Source: Interactive Rurikmap which can be found here
Damascus:
Rebels in Qaboun-Barzeh pocket launched an attack against SAA positions in Qaboun and according to pro-rebel sources they were able to capture some positions previously lost to SAA, however, footage released earlier today by pro-government sources shown at least two rebel BMPs destroyed, furthermore the same sources claimed rebel attack was repelled.
Madaya-Zabadani-Baqin evacuation deal went into effect today with around 2200 civilians and 400 rebels leaving the aforementioned towns. Madaya and Baqin were completely cleared from rebel fighters so reconciliation committee entered towns in order to settle the cases of those remaining, interestingly enough thousands reportedly opted to remain and settle their cases instead of going to Idlib. Shortly after SAA entered areas free from rebels and established full control over them. Zabadani is still not yet fully evacuated.
Daraa:
Rebels restarted their attack in Al-Manashiyah district, Daraa with clashes concentrated on the northern edges of the district where SAA and allies still maintain presence. Al-Bunyan al-Marsous operations room reported significant advances against SAA in the north of district capturing reportedly around 90 buildings including Aqaba bin Nafi mosque and at least two checkpoints Muawiyah and Al-Maqsem. After these rebel advances SAA almost doesn't control any ground anymore in Al-Manashiyah with 85-90% of district reportedly taken by rebels.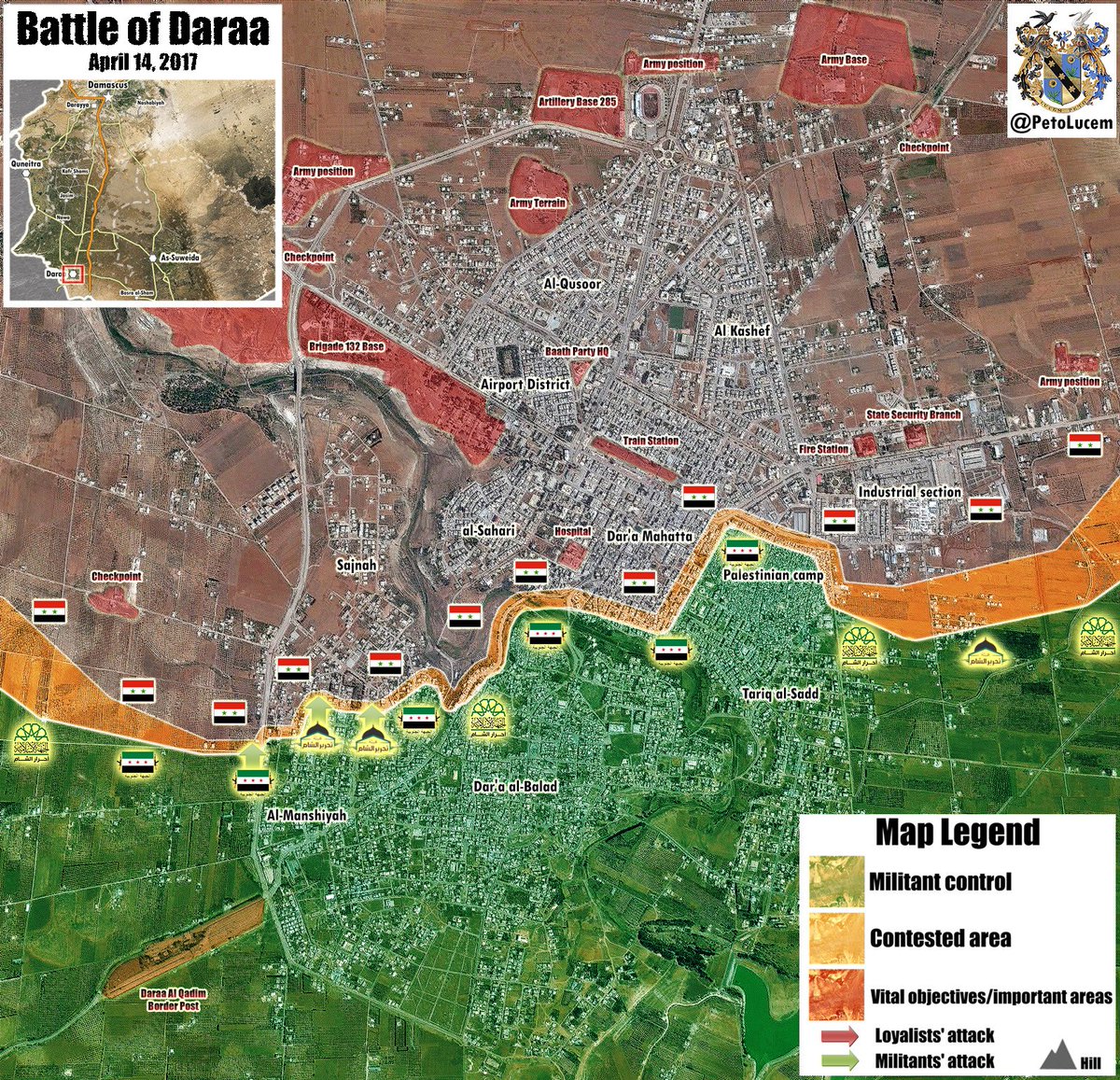 Approximate situation in the city of Daraa, HD version of this map can be found here. Source: Peto Lucem
Iraq:
Bad weather conditions around Tal Afar keep delaying PMU-led operation aimed at liberating the city and its surroundings.
Unconfirmed reports suggest that one of IS religious leaders Abu Ayoub Al-Atar was killed in west Mosul by an airstrike. Abu Ayoub became known for his fatwas allowing enslavement of Yezidis, displacing Christians and permitting attacks on civilians in Iraqi Army-controlled parts of Mosul calling them "apostates". These claims about Abu Ayoub's death should be taken with a grain of salt until confirmed by Amaq agency, IS media outlet or footage can that Abu Ayoub is dead because just a month ago in March of 2017 Qoraish claimed that Abu Ayoub was killed by an airstrike during the meeting with IS commanders in Omar al-Aswad in Al-Farouq district, number of IS fighters and civilians were reportedly killed in airstrike, full Qoraish article can be found here.
Iraqi Air Force was busy as usual yesterday targeting IS stronghold of Baaj, Nineveh governorate and reportedly killing over 50 IS fighters. Air Force also targeted several villages west of Mosul killing around 20 IS fighters.
CJTF-OIR:
On the 13th of April 2017 CJTF-OIR has conducted four strikes in Syria. CJTF-OIR's main focus in Syria at the moment is Tabqa-Raqqa region where they did four strikes supporting SDF's operation against IS destroying two fighting positions, two vehicles and a heavy weapons system.
Full report on CJTF-OIR strikes conducted in both Syria & Iraq can be found here.
Intellectual credited property used may vary from an edition to edition.
Feel free to voice your opinion in the comments section below, constructive criticism is welcomed.
For those of you interested, you can follow us on an official Twitter account @SyrianWarDaily, or me personally on my biased twitter @joskobaric where I occasionally tweet some things.