Hello and welcome to the 60th installment of the SWD. For better archiving purposes and easier navigation Syrian War Daily editions will now have a date in the title instead of "X edition". Big thanks to u/Lynak and u/_Sakurai for their input regarding this change.
Military events are listed below by the governorates:
Aleppo:
Rebels released a video from Khirbet Anadan confirming their control over locality, on 11th of April it was reported by pro-government sources that Khirbet Anadan was captured, since then they either retreated from it or never captured it and all reports about capture were just one of many lies spread by reporters in this conflict, the latter option seems more reasonable since there was no footage released showing SAA in control over the locality. Control over Tall Shuwehneh also allegedly captured by SAA on 11th of April is still disputed as no one has yet released any footage confirming control over it.
Several pro-rebel sources claimed that negotiations are ongoing between TFSA and SDF regarding the transfer of latter's territory east of Afrin captured in early 2016 back to TFSA. Negotiations are reportedly backed by CJTF-OIR and reports about negotiations were confirmed by Liwa Ahfad Salah al-Deen and Liwa al-Mutasim both part of TFSA. Notable localities that are allegedly going to be handed over to TFSA are Tell Rifaat, Sheikh Issa, Ayn al-Daqnah and Maaranez along with Menagh city and airbase. Deal will not be implemented immediately but rather SDF is expected to withdraw from the aforementioned localities in the upcoming weeks.
Tell Rifaat Military Council released a statement denying that they reached any agreement with SDF yet regarding transfer of Tell Rifaat and Menagh over to TFSA.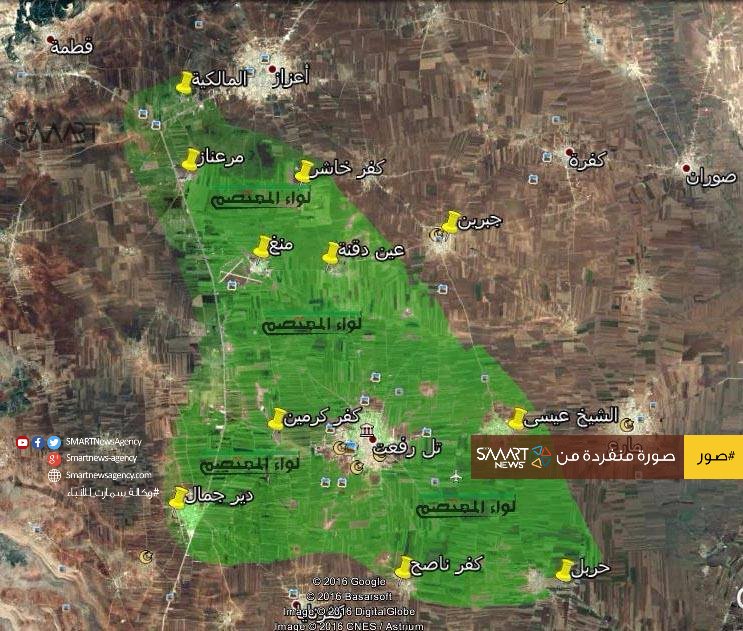 Map showing areas from which SDF is allegedly going to retreat from. Source: SMART News Agency
Idlib:
Over 90 buses entered Fuah-Kafraya in order to evacuate the civilians, however as the 1st batch was getting ready to leave towards Aleppo rebels reportedly fired a dozen of mortar rounds on the buses injuring two civilians. Just in case some do not know, during the evacuation of east Aleppo it was also agreed that a number of people would be evacuated from Fuah-Kafraya but rebels torched a number of buses.
Raqqa:
CJTF-OIR accidentally bombed Liwa Suqur al-Raqqa, part of SDF near Tabqa on 11th of April. Accidental airstrike killed 18 Liwa Suqur al-Raqqa's fighters, full statement by CJTF-OIR cam be found here.
Homs:
Middle-aged woman reportedly from northern Homs countryside was arrested in Homs by National Defense Forces with several IEDs. Before being arrested she was able to place one IED near a school in Akrama neighborhood. In October of 2014 the same school was targeted by an IED reportedly killing 45 civilians and wounding over 100. It hasn't been revealed yet if the woman arrested is connected to any organization.
Deir al-Zour:
Syrian Arab News Agency claimed that CJTF-OIR bombed a weapons depot belonging to IS containing chemical agents. Airstrike reportedly occurred over Hatla village, Deir al-Zour governorate. Following the release of the alleged chemical agent which produced yellow smoke hundreds of civilians were killed. CJTF-OIR's spokesmen Air Force Colonel John L. Dorria denied SANA's allegations saying they are untrue. Russian Ministry of Defense stated that they have no information regarding the alleged huge number of casualties caused by CJTF-OIR's airstrike on IS weapons depot containing chemical agents. Full SANA's report can be found here in Arabic and here in English.
Iraq:
Iraq Joint Operations officially announced Al-Abar district in west Mosul fully liberated by Iraqi Army from IS. Clashes erupted between Iraqi Army and IS in the northwestern Mosul as the former is advancing in Mushirfah area towards Hawi Al-Kanisa.
Around Badush area Iraqi Army captured Shuita, Tal Asfour and Al-Sabounya villages from IS.
Iraqi National Security Service released a statement stating they have arrested an IS sleeper cell responsible for six VBIED attacks in Baghdad during 2017. Arrested members of sleeper cell cooperated with Iraqi authorities providing them with details about other IS sleeper cells which led to more members being arrested.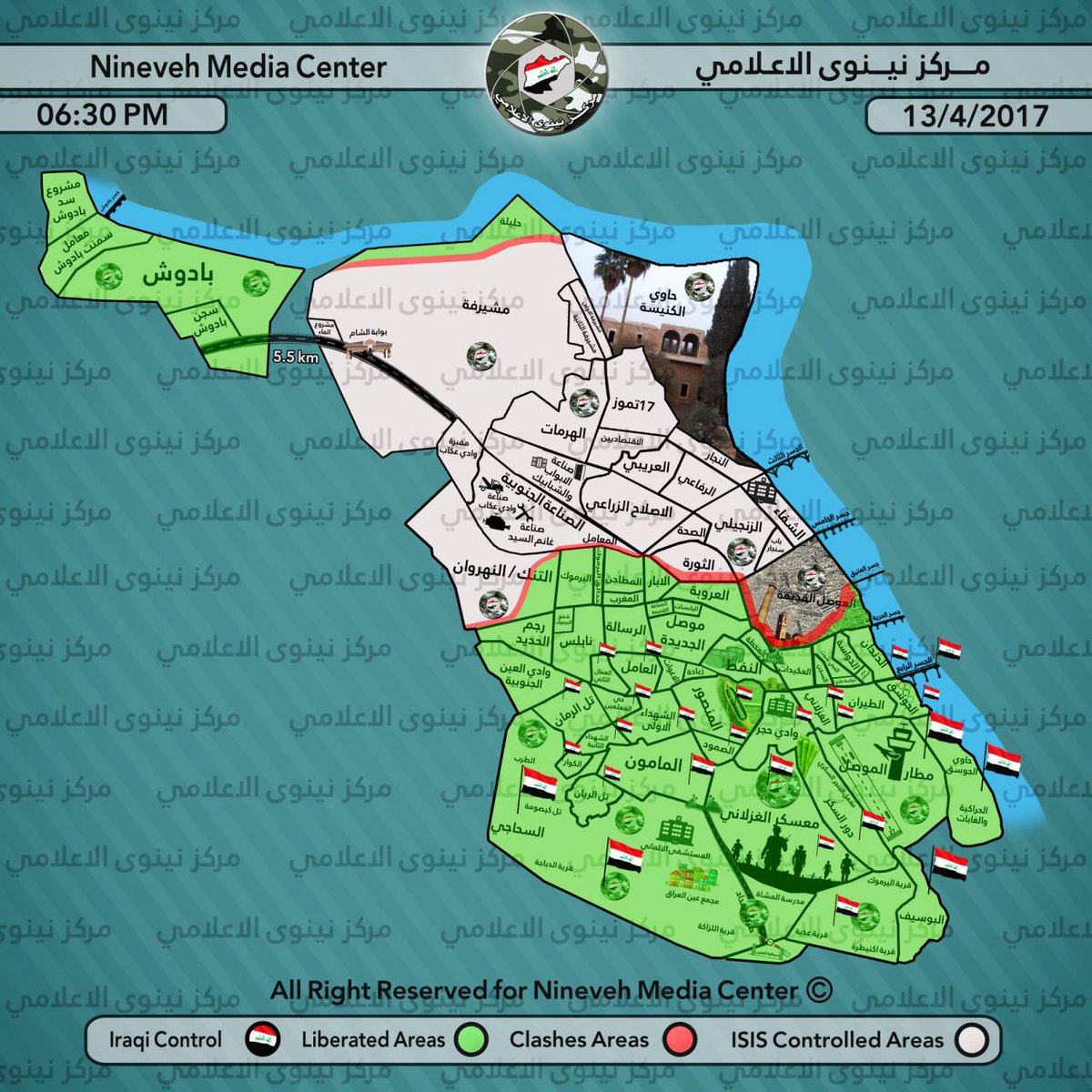 Latest map of west Mosul. Source: NinevehMC
CJTF-OIR:
On the 12th of April 2017 CJTF-OIR has conducted four strikes in Syria. CJTF-OIR's main focus in Syria at the moment is Tabqa-Raqqa region where they did four strikes supporting SDF's operation against IS destroying two fighting positions, two vehicles and a heavy weapons system.
Full report on CJTF-OIR strikes conducted in both Syria & Iraq can be found here.
Intellectual credited property used may vary from an edition to edition.
Feel free to voice your opinion in the comments section below, constructive criticism is welcomed.
For those of you interested, you can follow us on an official Twitter account @SyrianWarDaily, or me personally on my biased twitter @joskobaric where I occasionally tweet some things.