Hello and welcome to the 59th installment of the SWD.
Military events are listed below by the governorates:
Raqqa:
SDF captured an area to the west of Tabqa allowing them to advance 2.5 kilometers (1.5 miles) towards the city and tightening the siege of the city and dam. Clashes between SDF and IS continue south of Tabqa around Ayed Kabir and Ayed Saghir villages.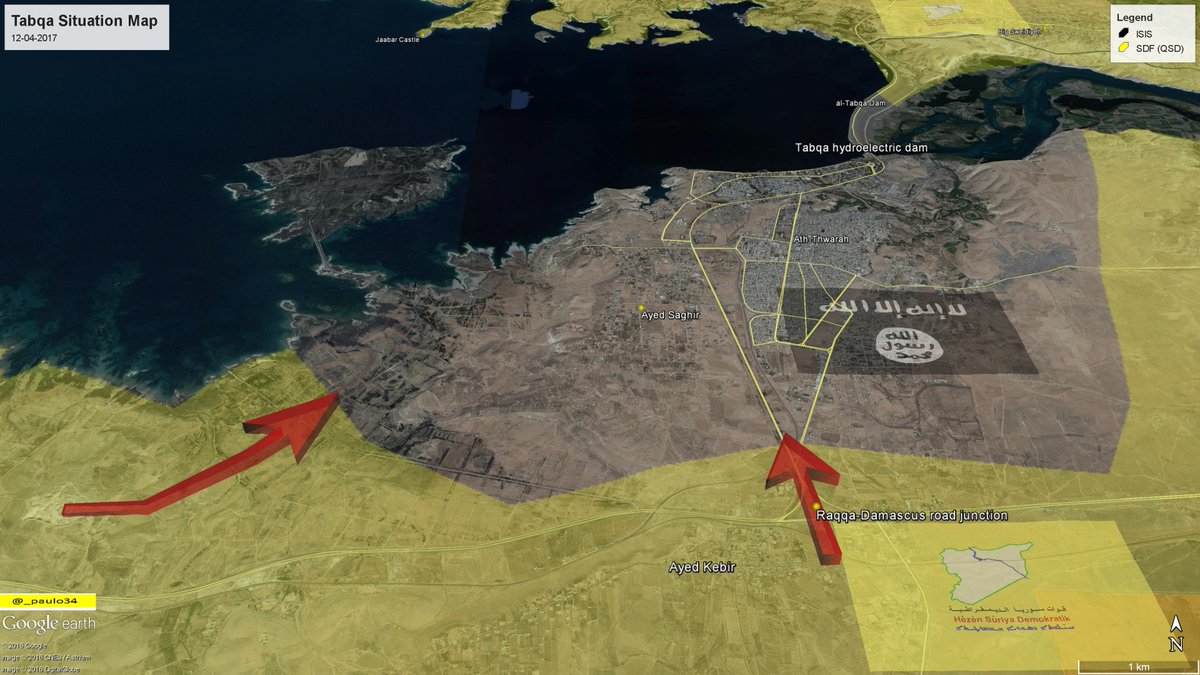 Situation around Tabqa after SDF's advances. Source: _paulo34
Hasakah:
Members of Asayish, predominately Kurdish police force in Rojava (SDF-controlled part of north Syria) reportedly arrested 15 pro-government soldiers on a road between Al-Hasakah and Al-Qamishli. Reason why Asayish arrested these soldier is still unknown, but it was reported that soldiers are a part of Syrian Arab Army. This detail about arrested soldiers being part of SAA sounds unusual but its possibly true although it is likely that arrested individuals were a part of the local National Defense Force.
This move could increase tensions between SDF & allies and SAA & allies in Al-Qamishli, just in case some do not know last time tensions rose up between Asayish and National Defense Forces in Al-Hasakah SDF and SAA  both got involved which resulted in government forces being expelled from Al-Hasakah. Now Syrian police controls small part of Al-Hasakah where government institutions are situated.
Damascus:
SAA made limited but important advances in Qaboun today capturing Al-Siyarat tunnel connecting Qaboun-Barzeh pocked and east Ghouta. Besides the tunnel SAA also captured a large rebel trench around Hafez street.
Everything is ready for the agreed evacuation of rebels and civilians from Zabadani, Madaya and Baqin and pro-government fighters and civilians from Fuah and Kafraya. Buses are prepared in the vicinity of Zabadani and Madaya to transport about 3000 rebels and civilians towards either Idlib or TFSA-held Jarablus, it still remains to be seen. Buses for Fuah and Kafraya are also in the position waiting for orders to start moving from Al-Ramouseh, Aleppo towards two encircled villages in Idlib governorate in order to evacuate around 8000 government fighters and civilians.
First part of the agreement was fulfilled as National Defense Forces in Fuah-Kafraya released 19 prisoners and handed over a body of one rebel fighter. Likewise rebels in Idlib freed 16 prisoners among which were women and children and also handed over eight bodies out of which there were reportedly women and children. One of the bodies handed over by rebels was a Hezbollah fighter Jamil Faqih killed in July of 2015.
Rebel fighters reportedly burned their headquarters in Madaya and Baqin ahead of the evacuation.
Approximate situation in Qaboun-Barzeh pocket, keep in mind that map may be slightly inaccurate. Source: Interactive Rurikmap which can be found here
Iraq:
Iraqi Army advanced in west Mosul and captured southeastern part of Al-Tanak/Al-Nahrawa district from IS.
Iraq Joint Operations officially announced Ahleela village northwest of Mosul fully liberated by Iraqi Army from IS.
Iraqi Air Force targeted IS positions around the ancient city of Hatra, southwest of Mosul in Nineveh governorate. Around 15 IS fighters were reportedly killed in air raids. IS captured Hatra area in mid-2014 and have demolished ruins of it in March of 2015. Twelve IS fighters that fled from Hatra towards PMU positions in Salah al-Deen governorate have been captured.
Another locality targeted by Iraqi Air Force today was village of Saboniyah west of Mosul, 20 IS fighters were killed.
IS convoy coming from Abu Kamal, Syria towards Al-Qaim, Iraq was targeted as it entered Iraq reportedly killing at least 20 IS fighters.
IS used a tanker as an SVBIED to target southwestern Ramadi, Anbar governorate reportedly killing and wounding at least 10 civilians. Casualty information is not a final official one so there is a possibility that a number of casualties could rise.
Two days ago Mosul Eye issued an appeal to Human Rights Watch and Amnesty International regarding the sexual assault against internally displaced young girls from Mosul in Hammam Al-Alil IDP camp, south of Mosul. Perpetrators of these assaults were reportedly members of Liwa Ali al-Akbar (Ali Al-Akbar Brigade) part of Hashd al-Shaabi (Popular Mobilization Units) and members of federal police.
Another group accused of committing these crimes is notorious Fursan Al-Jubur (The Knights of Al-Jubur), group belonging to Ahmed Abdullah al-Jubouri an Iraqi parliament member. Fursan Al-Jubur has also been accused of assaulting citizens and looting their homes in Al-Tayaran and Al-Jawsaq districts. Besides sexually assaulting women the aforementioned groups have falsely detained men for several hours in horrible conditions and then harassed and blackmailed women. Full Mosul Eye's statement can be found here.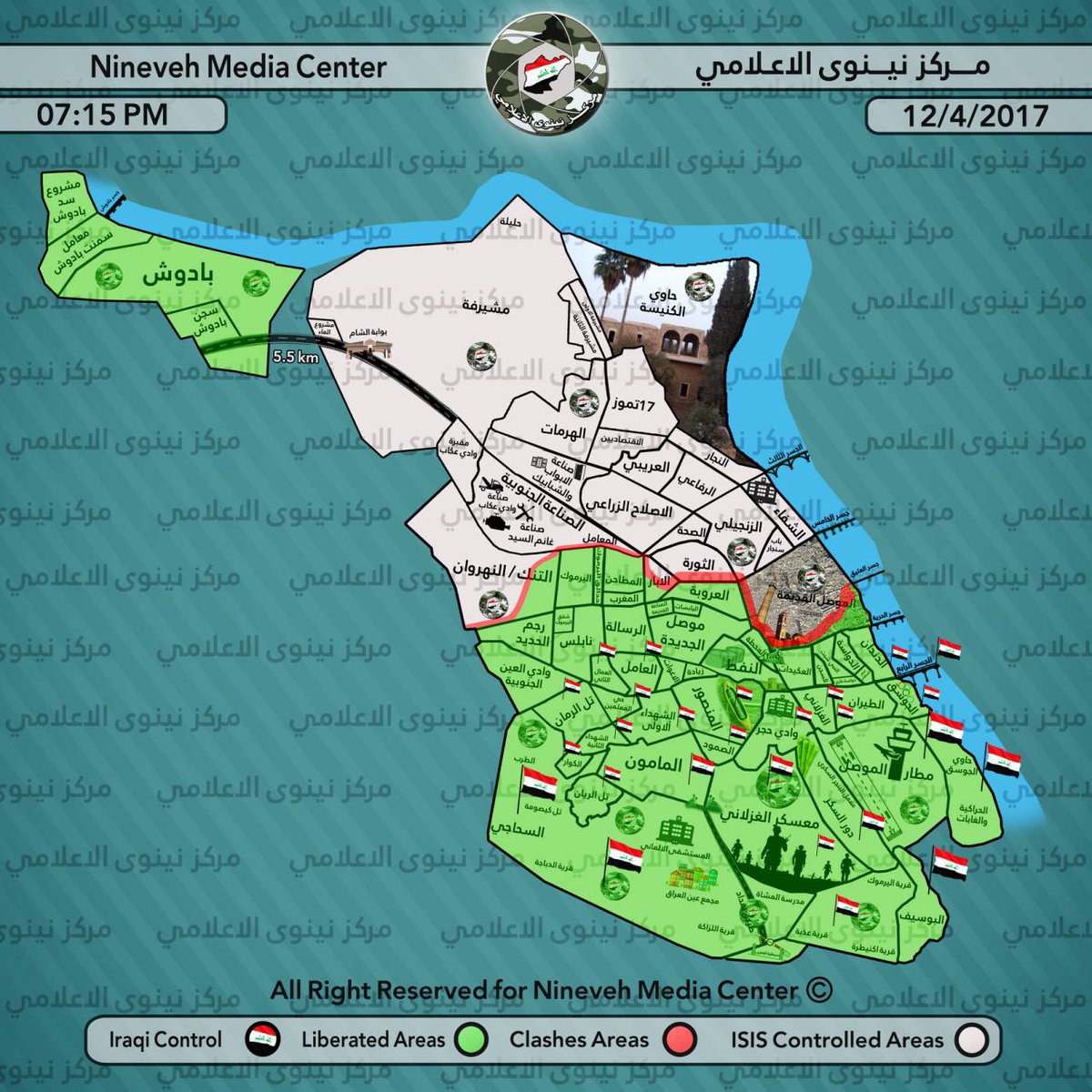 Latest map of west Mosul. Source: NinevehMC
CJTF-OIR:
On the 11th of April 2017 CJTF-OIR has conducted 19 strikes in Syria. CJTF-OIR's main focus in Syria at the moment is Tabqa-Raqqa region where they did 18 strikes supporting SDF's operation against IS destroying four vehicles, three fighting positions, a vehicle-borne bomb, an IS wellhead and a tactical vehicle.
Other area where one strike occurred is Abu Kamal damaging two IS wellheads. Full report on CJTF-OIR strikes conducted in both Syria & Iraq can be found here.
Intellectual credited property used may vary from an edition to edition.
Feel free to voice your opinion in the comments section below, constructive criticism is welcomed.
For those of you interested, you can follow us on an official Twitter account @SyrianWarDaily, or me personally on my biased twitter @joskobaric where I occasionally tweet some things.