Hello and welcome to the 58th installment of the SWD.
Military events are listed below by the governorates:
Aleppo:
SAA and Liwa al-Quds were able to capture some territory from rebels during the second day of their offensive. On Al-Tamourah axis Khirbet Andan was captured southeast of Al-Tamourah. On the Al-Zahraa, west Aleppo axis Tall Shuwehneh west of Al-Zahraa was captured.
Pro-rebel sources have denied that pro-government made any advances northwest of Aleppo and reported that all attacks have been repelled. Since these advances are being disputed it is best to keep them unconfirmed for now until evidence is provided by either side confirming their control over locality.
Even if today's attacks by SAA and Liwa al-Quds were repelled by rebels, strategy that is going to be used by attacking force was revealed and confirmed what many have speculated, SAA will encircle rebel-held towns in Anadan plains northwest of Aleppo.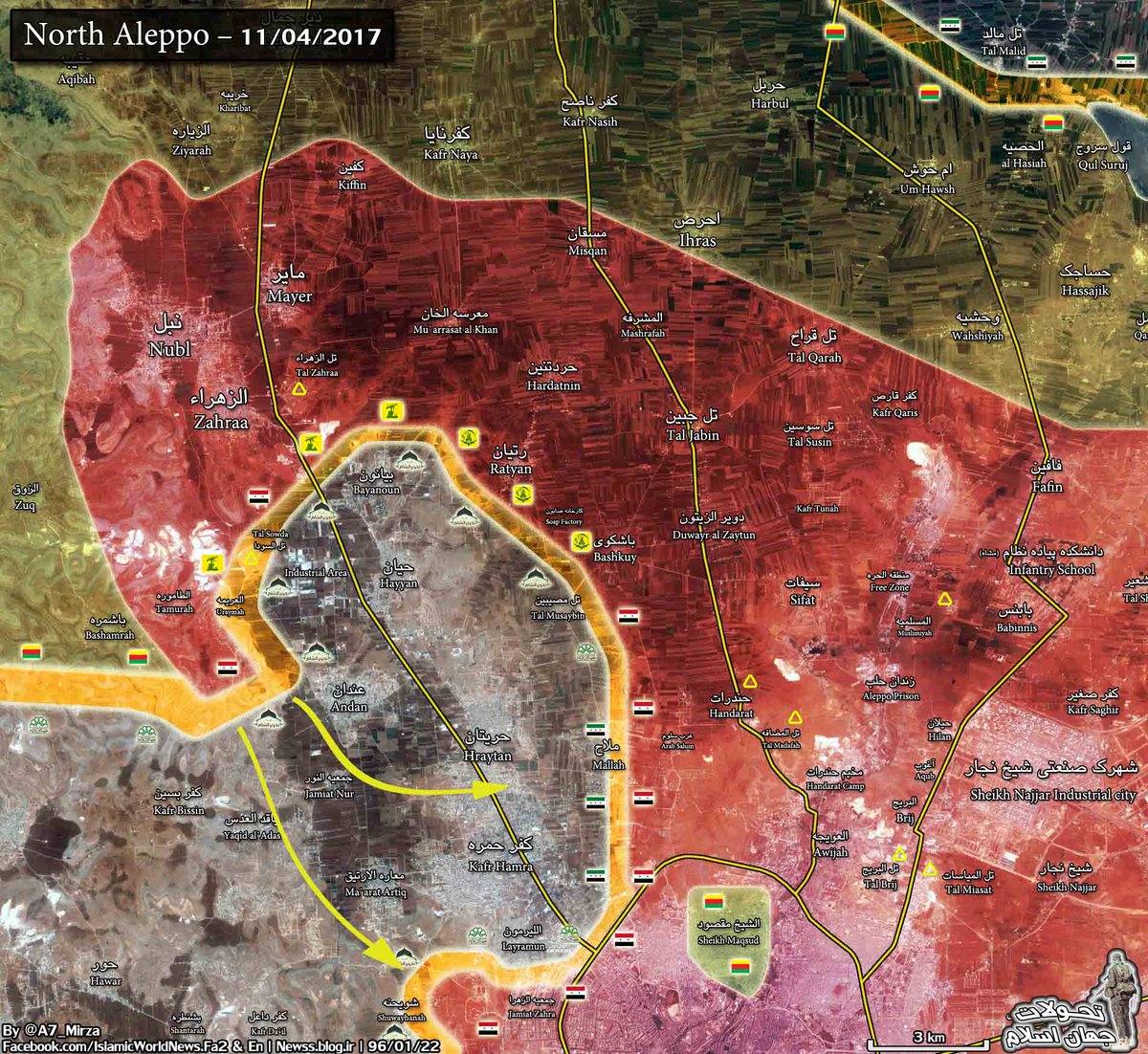 Situation northwest of Aleppo after SAA's advances and possible future attacks against rebels. Source: A7_Mirza
Raqqa:
SDF repelled IS attack on Ayed Kabir village south of Tabqa and former reportedly advanced northeast of Ayed Kabir capturing Raqqa-Damascus junction.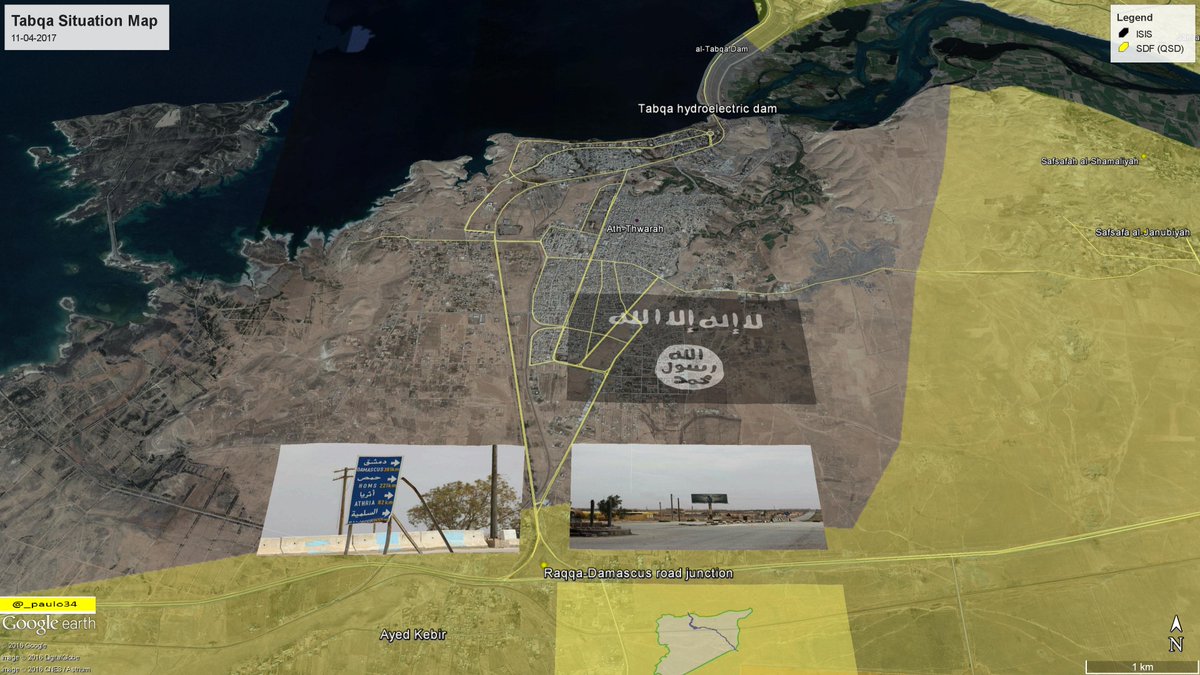 Situation south of Tabqa. Source: _paulo34
Homs:
SAA has captured Qasr al-Halabat and Jabal Abtar south of Palmyra and in the vicinity of the yesterday captured Syriatel. This operation appears to be aimed at capturing Damascus-Palmyra road and connecting to Al-Seen Air Base.
Another aim of this operation could be preventing rebels in eastern Qalamoun from reaching those in eastern Homs-Damascus desert area because if rebels from these two areas are connected they could endanger SAA in greater Damascus region.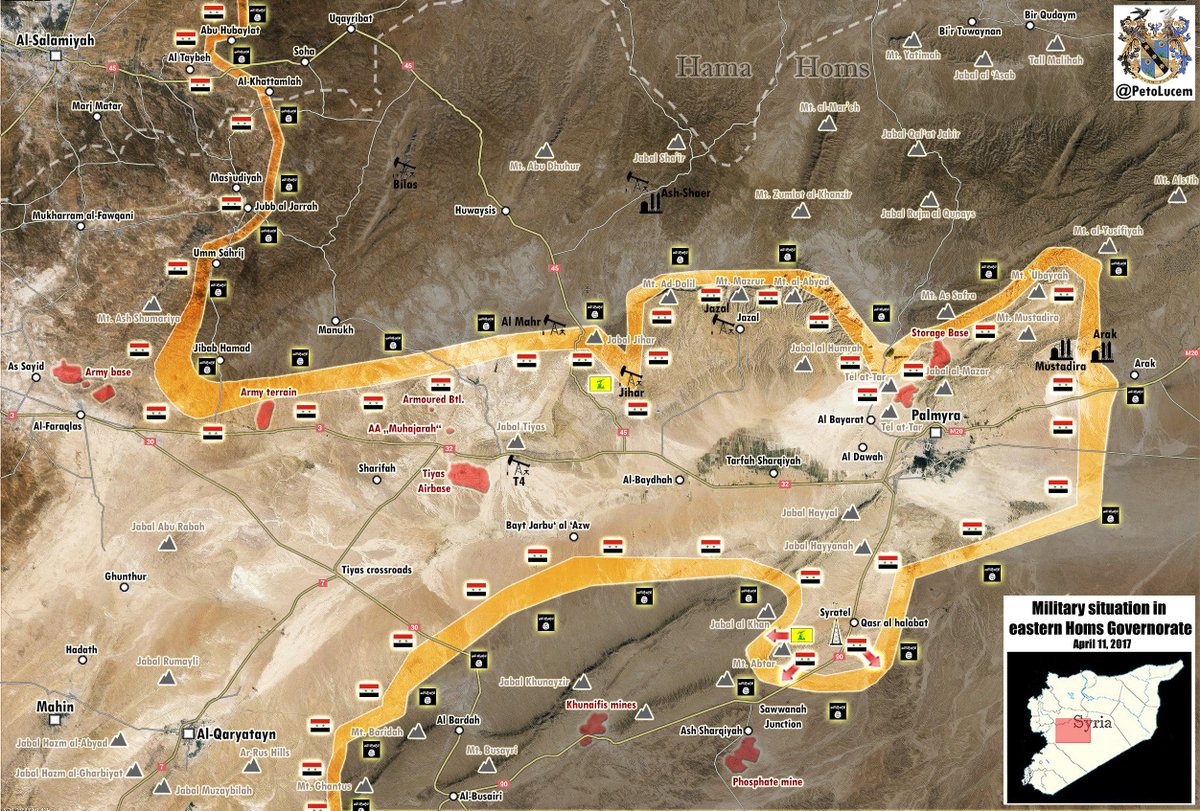 Situation around Palmyra. Source: Peto Lucem
Damascus:
Syrian Air Force reportedly targeted FSA groups and FSA-linked Jaysh Usud al-Sharqiya in eastern Qalamoun. Air Force conducted at least 11 air raids using cluster munition. Rebel positions on Jabal Batra, Jabal al-Sharqi and Jabal al-Manqourat. Main objective of this air raids was most likely to discourage rebels from connecting to those in desertous area to the east.
General:
Russian Ministry of Defense stated that two Russian soldiers were killed and another one wounded by a mortar shell launched by rebels. Russian soldiers were reportedly acting as military instructors within a Syrian Arab Army's unit. Ministry of Defense did not disclose location, date nor identities of personnel killed in this incident.
Iraq:
Iraqi Army conducted an operation last night in Old Mosul district and advanced a bit towards Al-Nuri mosque.
IS executed six brothers of one of its commander because they tried to flee towards Ras al-Jadda neighborhood in Old Mosul district. Reason given for executions is "leaving the land of Islam" towards "unbelievers". Speaking of executions, IS yesterday reportedly executed 20 civilians in Al-Yarmouk district for transmitting information to Iraqi Army. Shortly after the executions took place IS was completely pushed out of Al-Yarmouk by Iraqi Army.
Iraqi Air Force targeted Al-Tanak, Al-Thawra and Al-Zanjili districts in west Mosul and reportedly killed around 40 IS fighters.
Iraqi Army's counterinsurgency operations in Al-Tarmiyah enter its third day.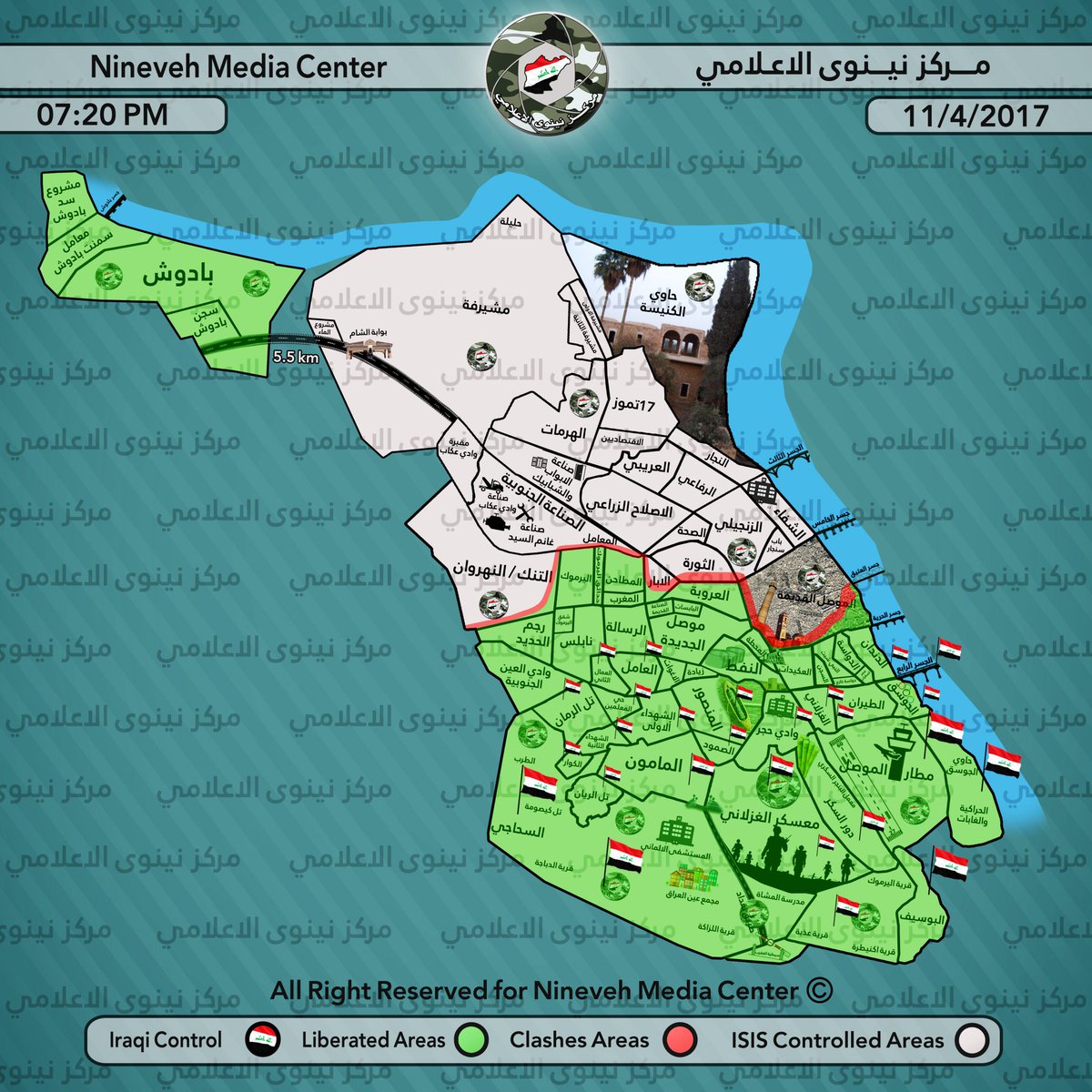 Latest map of west Mosul. Source: NinevehMC
CJTF-OIR:
On the 10th of April 2017 CJTF-OIR has conducted 19 strikes in Syria. CJTF-OIR's main focus in Syria at the moment is Tabqa-Raqqa region where they did 14 strikes supporting SDF's operation against IS destroying five vehicles, two fighting positions and a vehicle bomb; and suppressing an IS tactical unit.
Other area where four strikes occurred is Abu Kamal destroying two IS pumpjacks and two wellheads.. Full report on CJTF-OIR strikes conducted in both Syria & Iraq can be found here.
Intellectual credited property used may vary from an edition to edition.
Feel free to voice your opinion in the comments section below, constructive criticism is welcomed.
For those of you interested, you can follow us on an official Twitter account @SyrianWarDaily, or me personally on my biased twitter @joskobaric where I occasionally tweet some things.