Hello and welcome to the 52nd installment of the SWD.
Military events are listed below by the governorates:
Aleppo:
SAA Tiger Forces captured Baylan village from IS located directly north of Jirah Air Base, with this advance all village north of Jirah are captured by SAA.
Situation in eastern Aleppo after SAA's advances. Source: loomisroberto
Raqqa:
Clashes between SDF and IS continue in al-Safsafa area as former tries to encircle Tabqa city and dam, Safsafa al-Janubiyah was captured by SDF early in the morning. IS desperately used four SVBIEDs in an attempt to stop SDF from advancing but to no avail as all four of them were reportedly destroyed before reaching desired target. Usage of VBIEDs by IS shows that they are very desperate and not able to fight against SDF which is backed by CJTF-OIR's airstrikes giving them huge advantage.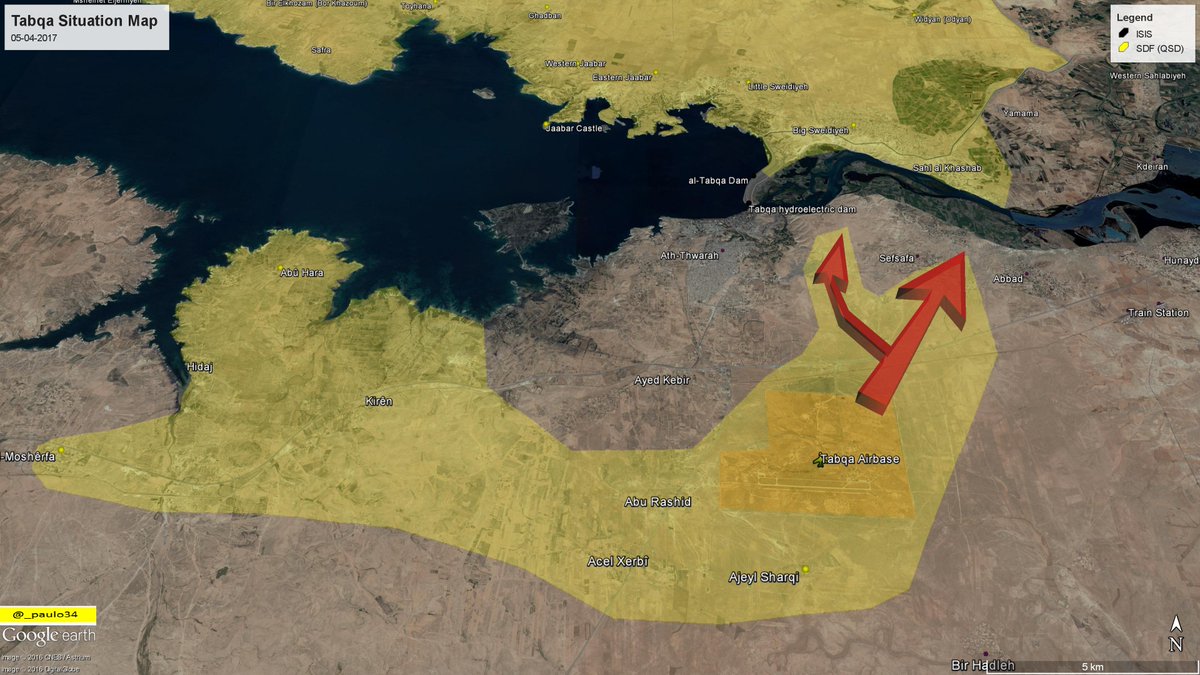 Approximate situation around Tabqa. Source: _paulo34
Idlib:
HTS tried to assassinate a commander of FSA 13th Division and leader in Free Idlib Army Lieutenant Colonel Ahmad al-Soud, his condition is unknown as half of the sources reported that he was killed and other half reported that he was just injured and already being treated in a hospital in Turkey. Assassination attempt happened at a checkpoint near Khan al-Subul, two other passengers identified as Colonel Ali al-Samahi (chief of staff in Free Idlib Army) and Muhammad Tnara were killed, both also commanders of FSA 13th Division. Free Idlib Army which 13th Division is a part of released a statement confirming an assassination attempt on al-Soud but they do not know his condition. If al-Soud is confirmed to be dead it would be a huge blow to moderate section of rebels that seek democracy and it would strengthen positions that extremists hold in rebel controlled areas.
Lieutenant Colonel Ahmad al-Soud has in the past criticized organizations that operate like Al-Qaeda saying that democracy can't be achieved by bringing Al-Qaeda or similar extremists to power. Al-Soud also stated that Syrian people just want to live in a democracy similar to Western countries. Seeing how Al-Qaeda-linked HTS has silenced anyone that opposed them in the past this assassination attempt on al-Soud should't be surprising.
Al-Soud was arrested in December of 2013 by IS in Idlib governorate and was released in January of 2014.
Photo of Lieutenant Colonel Ahmad al-Soud in 2013 from a video where he announced his defection to FSA.
Hama:
On Maardes front HTS stated they repelled SAA & allies attempt to seize back village and have allegedly destroyed one T-72 tank and captured two tanks and a BMP.
In a new attempt to capture Halfaya SAA & allies made advances on the western outskirts reportedly capturing Al-Tarabia located between Halfaya and Muhardah. South of Halfaya SAA officially captured village and hill of Batish, capture was confirmed by Syrian Ministry of Defense.
Latest situation in northern Hama. Source: v4st0
Iraq:
Iraq Joint Operations officially stated that district of Al-Maghrib in central Mosul was fully captured by Iraqi Army and declared free of IS presence. A bit to the east of Al-Maghrib near 5th bridge airstrikes or shelling killed around 30 IS inghimasi (suicide fighters) including a commander of "Dabiq Army" Abdulqader Saleh.
Iraqi Air Force was busy today as well, in Nineveh governorate west of Mosul it aided PMU against IS, encounter reportedly resulted in more than 30 IS fighters dead and a number of vehicles destroyed. This clash between PMU and IS occurred around villages of Salal and Kum Habeeb. In Anbar governorate Air Force targeted several IS camps in desert killing a number of IS fighters and destroying several camps. One of the camps destroyed was the main source and supplier for VBIEDs that have been hitting Baghdad for quite some time, hopefully with destruction of this camp number of VBIEDs in Baghdad decreases.
Last night five IS fighters dressed in police uniforms attacked a checkpoint in Tikrit, Salah al-Deen governorate, two fighters were immediately killed by Iraqi forces. IS fighters that infiltrated Tikrit were all wearing suicide vests and shortly after the attack happened Iraqi Army enforced curfew in TIkrit. Heavy clashes continued throughout the night until very early in the morning it was announced that all five IS fighters were killed. In this attack five Iraqi officers were killed as well as 30 civilians, 40 civilians are wounded. Curfew in Tikrit was lifted during the day but was reimposed hours later because Iraqi forces received information about new possible IS attacks.
Another IS attack occurred last night, this time west of Ramadi a checkpoint was the target but Iraqi Army foiled an SVBIED attempt before attacker was able to detonate it. Driver was arrested and VBIED was defused by explosives experts.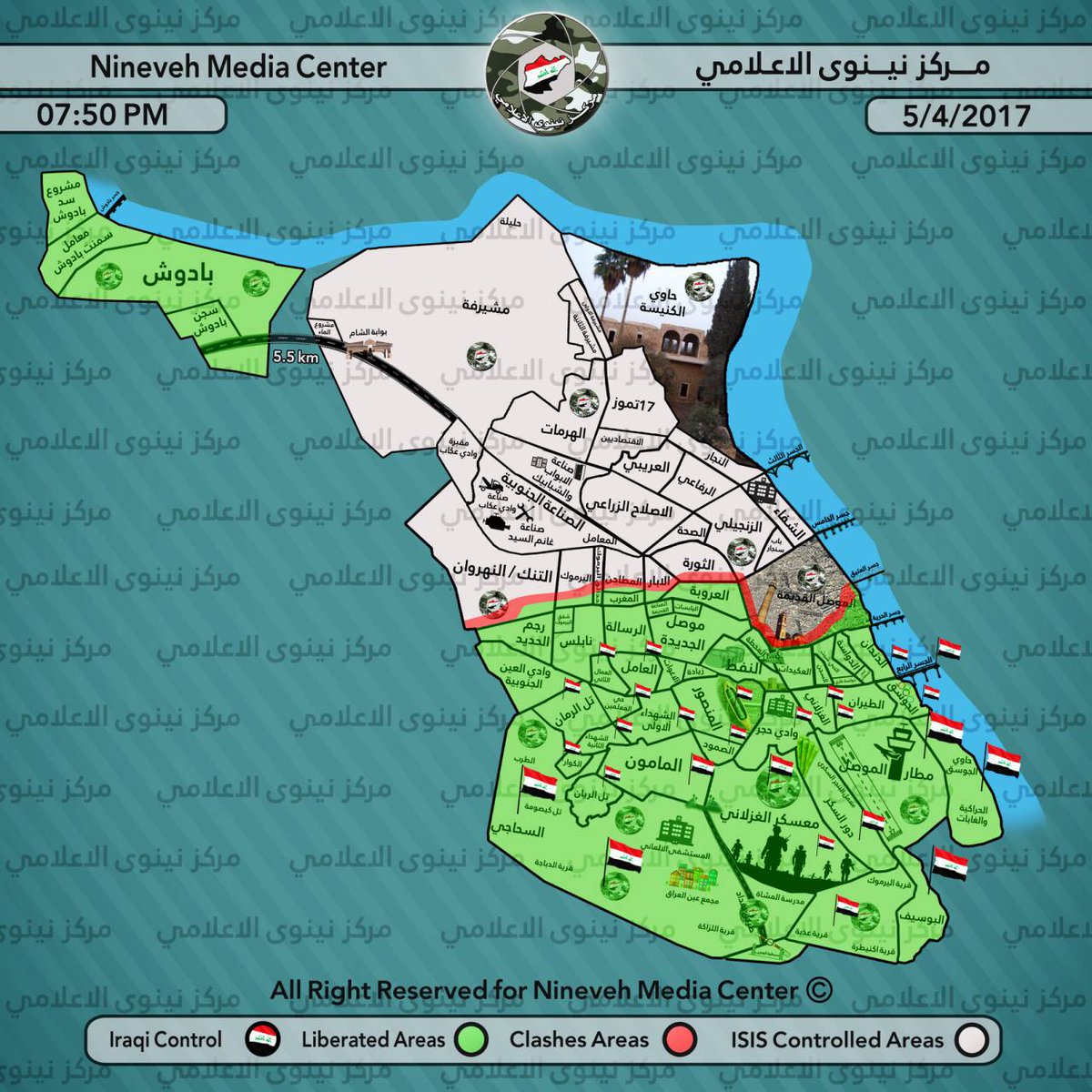 Latest map of west Mosul. Source: NinevehMC
On the 4th of April 2017 CJTF-OIR has conducted 14 strikes in Syria. CJTF-OIR's main focus in Syria at the moment is Tabqa-Raqqa region where they did eight strikes supporting SDF's operation against IS destroying five IS wellheads, five barges, two fighting positions and a tank.
Other areas where three strikes occurred are Abu Kamal and Palmyra destroying nine IS wellheads & an oil storage tank and a heavy machine gun, respectively. Full report on CJTF-OIR strikes conducted in both Syria & Iraq can be found here.
Intellectual credited property used may vary from an edition to edition.
Feel free to voice your opinion in the comments section below, constructive criticism is welcomed.
For those of you interested, you can follow us on an official Twitter account @SyrianWarDaily, or me personally on my biased twitter @joskobaric where I occasionally tweet some things.