Hello and welcome to the 48th installment of the SWD.
Military events are listed below by the governorates:
Raqqa:
Another IS attack was repelled by SDF on Al-Mushrifah village near Tabqa and the latter continued its assault on al-Safsafah village in order to besiege Tabqa city and dam. Later in the day an unconfirmed report surfaced claiming that SDF besieged Tabqa and repelled all IS attempts at breaking the imposed siege. Report continues to claim that the number of killed IS fighters is 24 and that SDF seized an armored vehicle. Violent clashes between IS and SDF still continue as former tries to break the alleged siege of Tabqa.
Hama:
Since yesterday's counterattack by SAA & allies not much has changed in Northern Hama, mutual shelling and sporadic clashes alongside the front line do continue and of course SyAAF and RuAF airstrikes on rebel-held territory.
Following yesterday's advances by SAA and allies road between Hama and Muhradah was secured and now opened for traffic meaning that the siege of Muhradah is officially over.
Homs:
Evacuation of Al-Waer continues with 3rd batch of fighters and civilians leaving district towards TFSA-held Al-Bab. 19 buses left Al-Waer carrying around 800 rebel fighters and around 1800 civilians. Since we are on the topic of reconciliations, Governor of Homs stated that reconciliation talks are continuing with "leaders" in rebel-held Rastan, Talbisah and Houla in Northern Homs pocket and both sides are eager to reach a deal that will bring peace and security to the aforementioned areas.
Situation in Eastern Homs remains mostly the same territory-wise between SAA and IS, however, there were reports that SAA made some progress east of Palmyra towards Arak, more specifically Arak oilfields.
Iraq:
Iraqi Army started new serious push in Old Mosul district, aim of this new push is to capture Al-Nuri mosque which is an important IS stronghold in district. IS responded to this new assault by sending higher than usual number of SVBIEDs. According to the reports at least 30 IS fighters were killed in Old Mosul since the push started.
IS leadership suffered a heavy loss today, Ayad al-Jumaili, unofficial "Minister of War" and alleged Al-Baghdadi's second in command was killed by Iraqi Air Force in Al-Qaim, western Al-Anbar governorate. Al-Jumaili was from Fallujah which is infamously known for its large extremist network. He was "intelligence officer" during Saddam Hussein's reign.
PMU repelled another IS attack killing several fighters and destroying multiple vehicles southwest of Tal Afar, Nineveh governorate. This attack comes after yesterday's reports that Iraqi Air Force allegedly killed around 200 IS fighters that arrived from Syria to Baaj region in order to break the siege of Tal Afar.
Last night Iraqi Army prevented a suicide attack and saved numerous lives in Baghdad by defusing a suicide vest in the vicinity of Al-Nahtha bus station.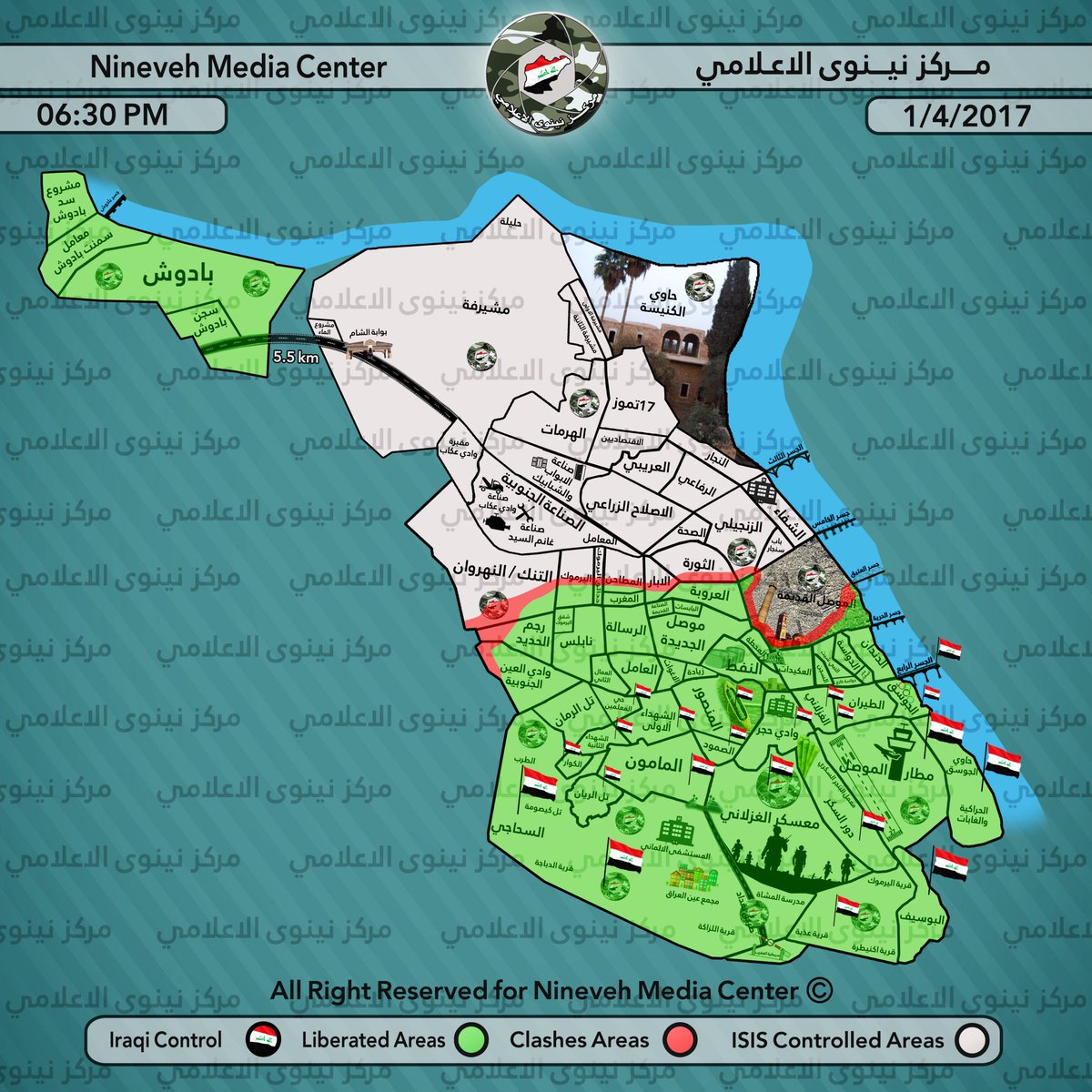 Latest map of west Mosul. Source: NinevehMC
On the 31st of March 2017 CJTF-OIR has conducted 10 strikes in Syria. CJTF-OIR's main focus in Syria at the moment is Tabqa-Raqqa region where they did six strikes supporting SDF's operation against IS destroying nine IS wellheads, a front-end loader. a vehicle and a unmanned aerial vehicle.
Other area where four strikes occurred is Abu Kamal destroying eight IS wellheads and a pumpjack.. Full report on CJTF-OIR strikes conducted in both Syria & Iraq can be found here.
Intellectual credited property used may vary from an edition to edition.
Feel free to voice your opinion in the comments section below, constructive criticism is welcomed.
For those of you interested, you can follow us on an official Twitter account @SyrianWarDaily, or me personally on my biased twitter @joskobaric where I occasionally tweet some things.