Hello and welcome to the 47th installment of the SWD.
Military events are listed below by the governorates:
Aleppo:
Clashes erupted between HTS and SAA in west Aleppo after former tried to advance against the latter in Al-Zahra district. Attack was quickly repelled by SAA and Liwa al-Quds which then launched a counterattack against HTS in the district, advances happened but are very minimal since the captured area is reported to be just four buildings.
Following this HTS attack on Al-Zahra it was reported that Liwa al-Quds backed by SAA launched / is about to launch an offensive aimed at completely securing Al-Zahra district, rebels hold northwestern part of it. Pro-rebel sources reported that rebels were able to repel SAA & Liwa al-Quds offensive allegedly killing five pro-government fighters and injured many other.
Raqqa:
After securing Tabqa Airbase SDF is trying to advance northeast of it in order to completely surround Tabqa city and dam. Clashes are ongoing with IS around Al-Safasafah and Ibad.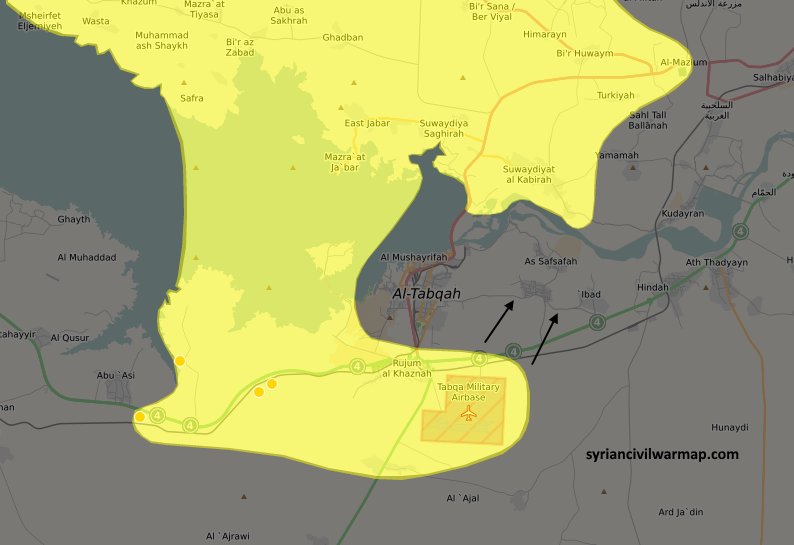 Direction of SDF's attacks against IS east of Tabqa. Source: Syrian Civil War Map
Hama:
SAA and allies made very large advances in Northern Hama today, with today's advances almost all rebel gains in the latest offensive have been reversed and some gains from the 2016 Hama offensive led by Jund al-Aqsa. Khattab and area west and north of it was captured which includes localities such as; Majdal, Biyju, Batish, Khattab Warehouses, Tal Fulifleh and Tell al-Nasiriyah. All today's gains were confirmed by Syrian Ministry of Defense. North of Muhradah SAA and NDF captured Abou Obaidah and Al-Shalyout checkpoints as well as Shalyout village. After these advances SyAAF and RuAF started targeting localities which are now a part of the new front line and those near it, reportedly targeted localities are: Morek, Kafr Zita, Tayyibat al-Imam and Souran.
According to the unnamed Jaysh al-Izza commander the reason why rebels retreated from Khattab and its surroundings is due to "chemical attacks" and in order to regroup for counterattack. The reason was also provided why Northern Hama's offensive wasn't successful as hoped by rebel commander and the reason is once again rebel disunity. Ahrar al-Sham was blamed this time for refusing to cooperate with HTS on this offensive and there is some truth to it, Ahrar al-Sham's offensive started few days later than the HTS-led one and the attacks that occurred once both offensives were active weren't synchronized meaning that SAA and allies had easier time repelling them one at a time.
New photo from Hama surfaced allegedly showing Major general Qasem Soleimani, commander of special forces "Quds Force" part of Islamic Revolutionary Guard Corps. If this picture is true it means that IRGC and allied militias have presence in Northern Hama and aided in repelling HTS-led offensive. Again, if this picture is true it would mean big development for Hama and potential new offensive led by Soleimani. IRGC and allied militias were present in Southern Aleppo's countryside for some time preparing for an offensive to break the siege of Fuah and Kafraya but just as they were about to launch it, their offensive was interrupted twice by Russia imposed ceasefire.
With reports suggesting that Fuah and Kafraya will be evacuated Southern Aleppo loses its importance and isn't very strategically crucial at this moment and that could be the reason for IRGC's redeployment to Hama. It only remains to be seen if there will be IRGC-led offensive and where will it take place.
Latest map of Northern Hama after today's SAA advances, HD version of this map can be found here. Source: Peto Lucem
Iraq:
Heavy clashes continue between Iraqi Army and IS in old Mosul, Yarmouk and Tanak districts. Front lines remain the same and Iraqi Army hasn't advanced significantly yet since yesterday.
Another VBIED targeted iraq sadly. today's attack happened in Ramadi, Anbar governorate where it targeted a checkpoint west of the city. Reported number of casualties is 7 killed and wounded, official numbers may be higher and offer more information about the exact number of killed and wounded.
Iraqi Army backed by PMU started a large counter-insurgency operation aimed at dismantling IS sleeper cells in Al-Mansouriya area which is located in Al-Khalis district in Diyala governorate. Al-Mansouriya is one of the few places in Diyala where Sunnis form a majority. Al-Mansouriya was captured by IS on 26th of June 2014 and was recaptured by Iraqi Army and PMU in January of 2015.
On the 30th of March 2017 CJTF-OIR has conducted 18 strikes in Syria. CJTF-OIR's main focus in Syria at the moment is Tabqa-Raqqa region where they did 16 strikes supporting SDF's operation against IS destroying 11 IS oil tanker trucks, five wellheads, two pumpjacks, an oil inlet manifold, four vehicles, two fighting positions, two tractors, an oil trailer and two tactical vehicles.
Other area where two strikes occurred is Abu Kamal destroying four IS wellheads. Full report on CJTF-OIR strikes conducted in both Syria & Iraq can be found here.
Intellectual credited property used may vary from an edition to edition.
Feel free to voice your opinion in the comments section below, constructive criticism is welcomed.
For those of you interested, you can follow us on an official Twitter account @SyrianWarDaily, or me personally on my biased twitter @joskobaric where I occasionally tweet some things.