Hello and welcome to the 46th installment of the SWD.
Military events are listed below by the governorates:
Hama:
First to get out of the way everything that was wrongly reported as captured yesterday by both sides. SAA didn't capture Tell Bizam located northeast of Souran and rebels didn't capture Buraydij west of Kernaz which means that Ahrar al-Sham and Faylaq al-Sham attack on Kernaz was met once again with fierce resistance and was repelled for the 3rd time, only minor gains were achieved on this axis so far.
At one point yesterday SAA withdrew from Tell al-Samam north of Qomhane which meant that front line was once again at the outskirts of Qomhane. It was reported today that SAA recaptured both Tell al-Samam and checkpoint "point 50".
Southwest of Qomhane SAA and allies were able to break through rebel lines and have captured Arzeh, Balahseen, Zawr al-Balah and Zawr al-Qusayyah. West of Qomhane, Khirbat al-Hajamah was also captured meaning that Qomhane's surroundings are now SAA controlled and the city can't be attacked by rebels anymore.
After these advances Khattab is surrounded by SAA from east and south with reports that SAA is already trying to capture the city. However, to show that not everything is going so smoothly for SAA in Northern Hama today, Jaysh al-Nasr issued a statement claiming to have killed six SAA soldiers while they were trying to advance on Khattab and in a later statement they claimed to have repelled SAA's attempt to capture the city.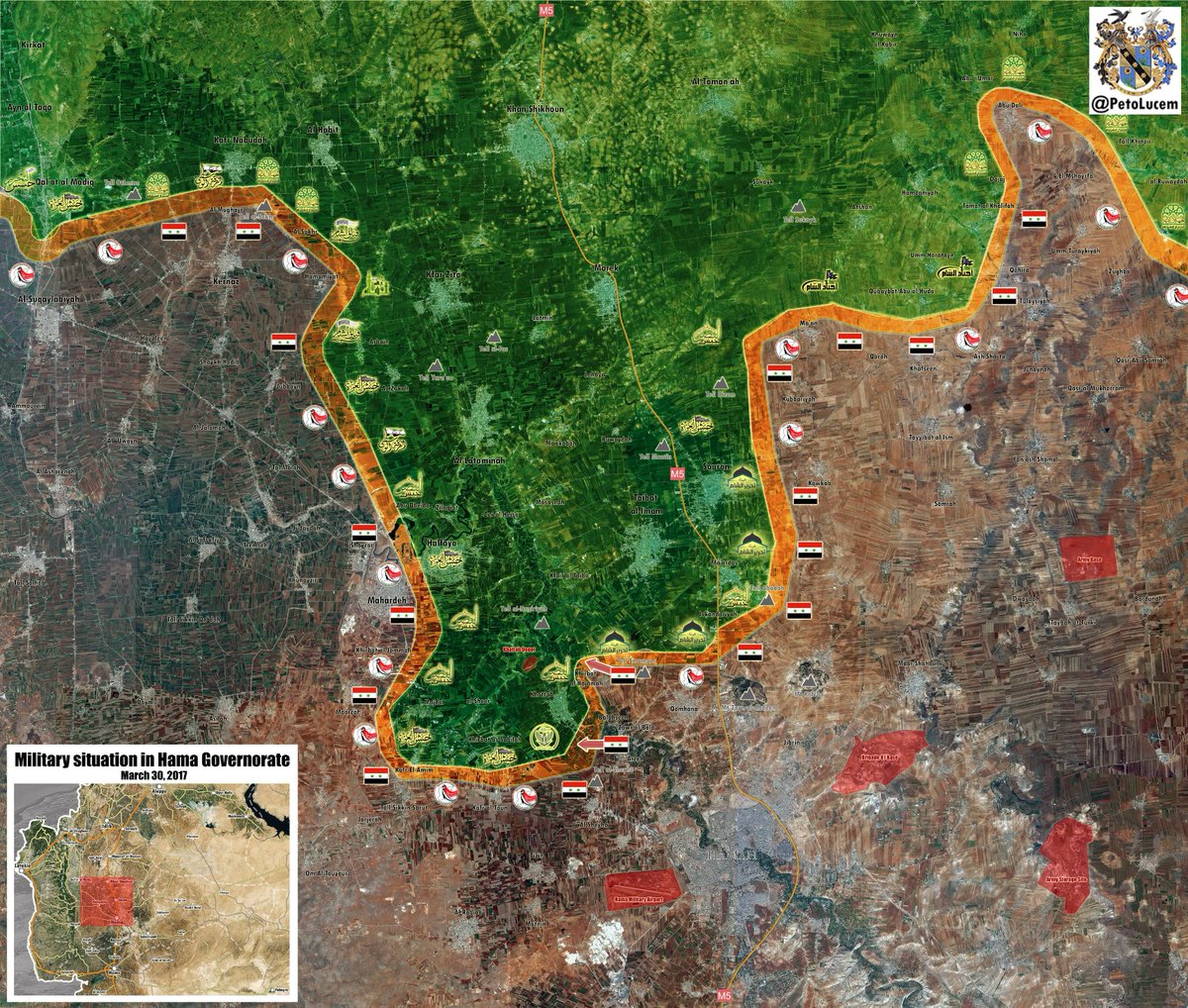 Situation in Northern Hama after today's SAA advances, HD version of the map can be found here. Source: Peto Lucem
Damascus:
FSA managed to fully capture IS pocket south of SAA controlled Al-Seen Airbase, this comes after IS retreated from Eastern Damascus and Northeastern Al-Suwayda governorates a couple of days ago. Even though majority of this territory is inhabited, it gives FSA more influence in Eastern Damascus countryside.
Now that IS is expelled from the area rebels are in position to endanger SAA-held Al-Seen area and even encircle it. One even bigger unlikely possibility that rebels have is to try and break the siege of East Ghouta, however, without additional manpower and armor this almost seems impossible.
FSA and SAA have been in some kind of ceasefire and "alliance" in the area in order to fend off IS threat, but now that the IS is gone "friends" could turn to enemies. FSA is now left with two options, either reconcile with Syrian government and be incorporated in some unit or open a new front, not necessarily against SAA in Damascus, they can advance towards Deir al-Zour governorate or Palmyra from the south.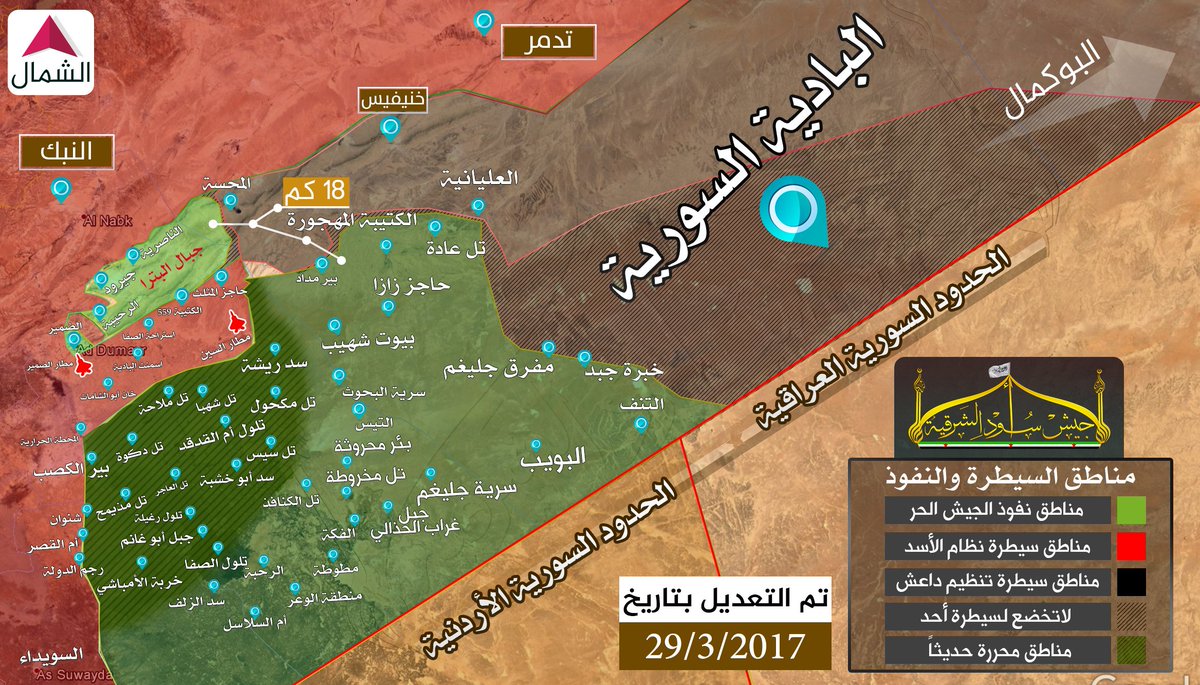 Situation in eastern Damascus and Al-Suwayda after rebel advances in the region by a rebel group participating in the offensive against IS. Source: Jaysh Usud al-Sharqiya
Iraq:
Iraqi Army backed by PMU advanced west of Badush towards Tel Afar, villages of Al-Rayhana and Al-Sabouna were liberated from IS.
Last night Baghdad was targeted by another SVBIED attack unfortunately, the culprit didn't use a standard vehicle for this attack but rather a tanker. "Arch" Checkpoint in Al-Yousifia district south Baghdad was the intended target and the death toll from the attack was reported at 14 killed and 20 wounded, possibility exists that the number of casualties may rise over time.
Thanks to Iraqi Army today's Daily doesn't have to include two now foiled IS suicide attacks in east Mosul, suicide bombers reportedly reached the east part of the city by crossing TIgris river from west Mosul.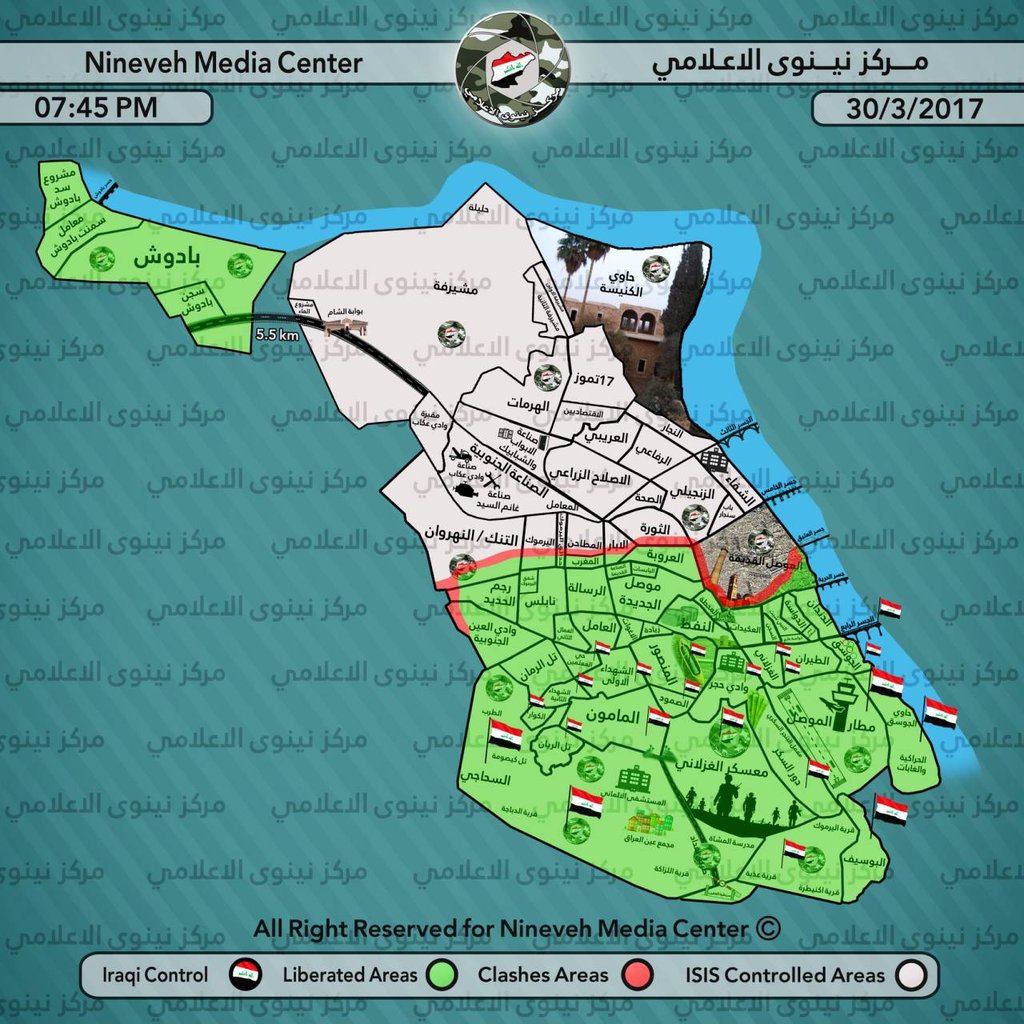 Latest map of west Mosul. Source:NinevehMC
On the 29th of March 2017 CJTF-OIR has conducted 22 strikes in Syria. CJTF-OIR's main focus in Syria at the moment is Tabqa-Raqqa region where they did 20 strikes supporting SDF's operation against IS destroying nine IS wellheads, two pump jacks, a barge, seven fighting positions, four oil tanker trucks, two front-end loaders, a mortar system and a vehicle; and damaged a supply route.
Other areas where two strikes occurred are Abu Kamal and Shadaddi destroying an IS oil inlet manifold and an IS tactical vehicle, respectively. Full report on CJTF-OIR strikes conducted in both Syria & Iraq can be found here.
Intellectual credited property used may vary from an edition to edition.
Feel free to voice your opinion in the comments section below, constructive criticism is welcomed.
For those of you interested, you can follow us on an official Twitter account @SyrianWarDaily, or me personally on my biased twitter @joskobaric where I occasionally tweet some things.