Hello and welcome to the 43rd installment of the SWD.
Military events are listed below by the governorates:
Latakia:
Ahrar al-Sham released a statement claiming to have downed a helicopter in Latakia countryside around Salma, however, no footage was released during the day supporting this claim so it appears to be false. Russia later stated that none of their helicopters was downed, source is RIA. Based on that, helicopter that was allegedly downed had to be Syrian but as previously mentioned as there is no footage to back this claim it is most likely fake and just for propaganda purposes.
Raqqa:
SDF captured Sahl al-Khashab and Uwayj Wedyan villages west of Raqqa around Tabqa Dam. Speaking of Tabqa Dam for those interested about the whole "The US destroyed Tabqa Dam and its now close to collapsing" fiasco, you can read more in an analysis done by Aldin Abazović that can be found here.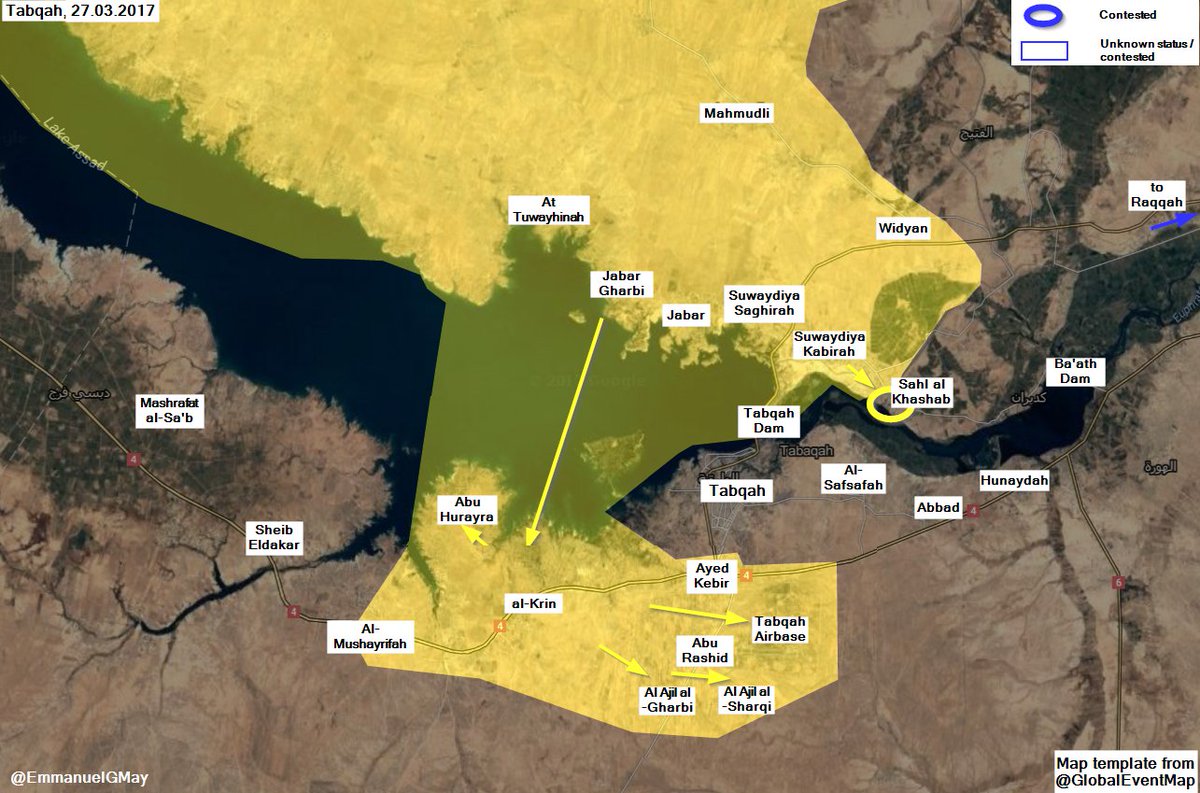 Situation west of Raqqa after SDF's advances. Source: EmmanuelGMay
Hama:
SAA and allies captured Maarzaf, south of Muhardah from rebels today. This comes after the yesterday's reports that SAA was advancing in Maarzaf area, the capture was also confirmed by Syrian Ministry of Defense. Jaysh al Izza (FSA group) also released a video showing them targeting SAA infantry in Maarzaf with TOW missile confirming that SAA captured the city. Attack on Maarzaf was allegedly led by Hezbollah and backed by SAA and NDF and after taking Maarzaf northeast of it Muhardah bridge and Tall Biyjo were also captured.
In the evening SAA and allies allegedly launched an attack from Qomhane southwest towards Azrah, the outcome of this attack will be known tomorrow hopefully.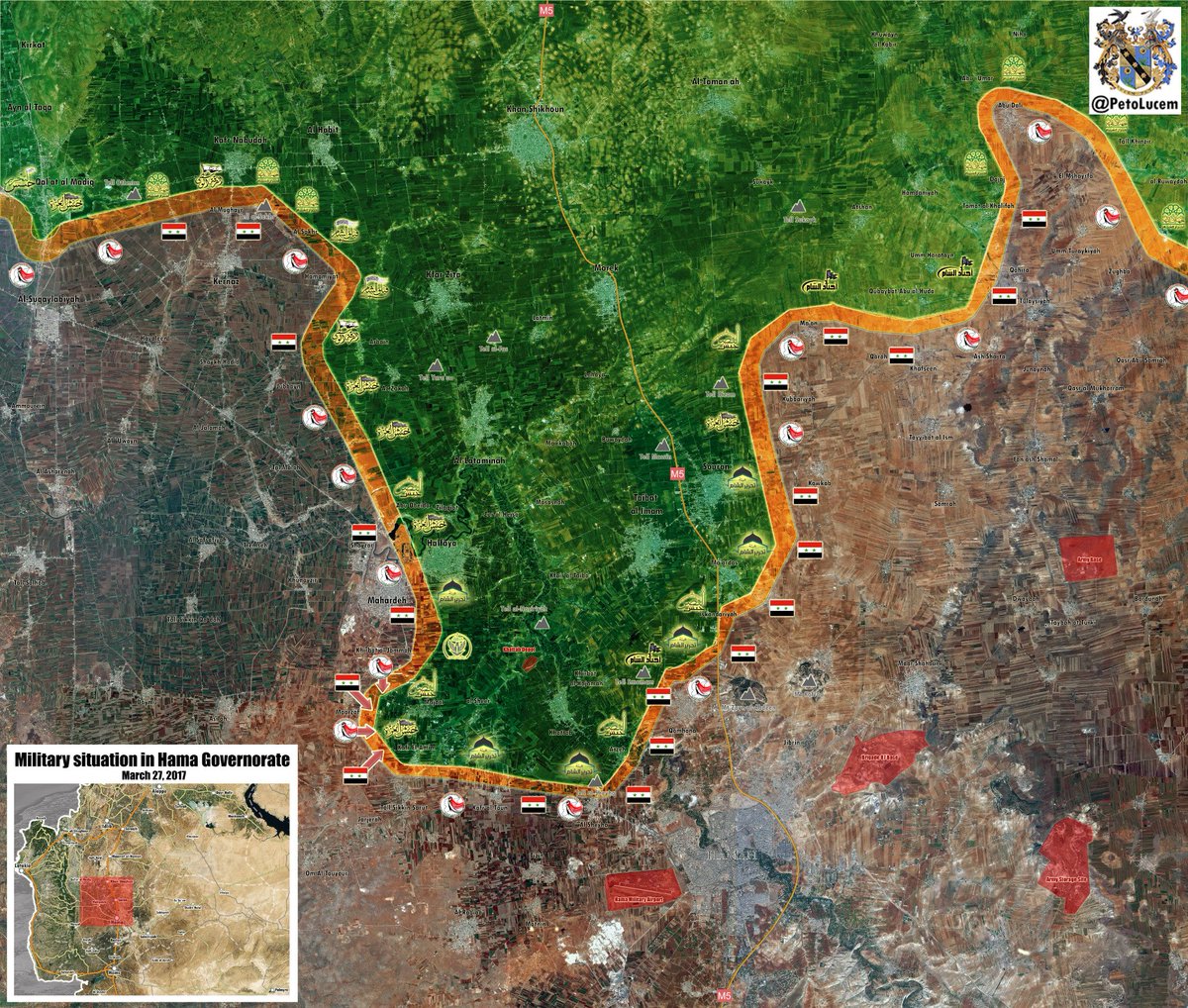 Situation in Northern Hama after SAA and allies captured Maarzaf from rebels. Source: Peto Lucem
Homs:
Second batch of rebels and civilians started to exit from Al-Waer, Homs today. Evacuation was postponed for two days due to heavy clashes in Northern Hama but now that the fighting is ongoing on a smaller scale evacuation is possible.
SAA captured several mountains from IS after "resting" for a bit, captured mountains are: Jabal Antar, Jabal Zalil and Jabal al-Hayd.
Situation in eastern Homs after SAA's advances. Source: Vasto
Damascus & Al-Suwayda:
IS lost a big chunk of territory it held in northeastern Al-Suwayda governorate and eastern Damascus. It is still disputable who took the territory from IS as both pro-rebel and pro-government sources reported that FSA and SAA, respectively, captured it from IS. Reason provided for these advances is alleged IS retreat from the area towards Deir al-Zour and/or Raqqa.
Notable captured localities include: Khirbet Sa'd, Qasr, Bastarah, Rjam al-Dala, Sakia, Yellow Hill, Fadian, Ashihab, Ashheb, Sharq, Tall Al-Musaitbah, Tallul Salman, Tal Saed, Shaqraniyah, Bir Qassab and Dirat al-Tulul. The only thing remaining to be seen is who took this territory from IS, SAA or FSA.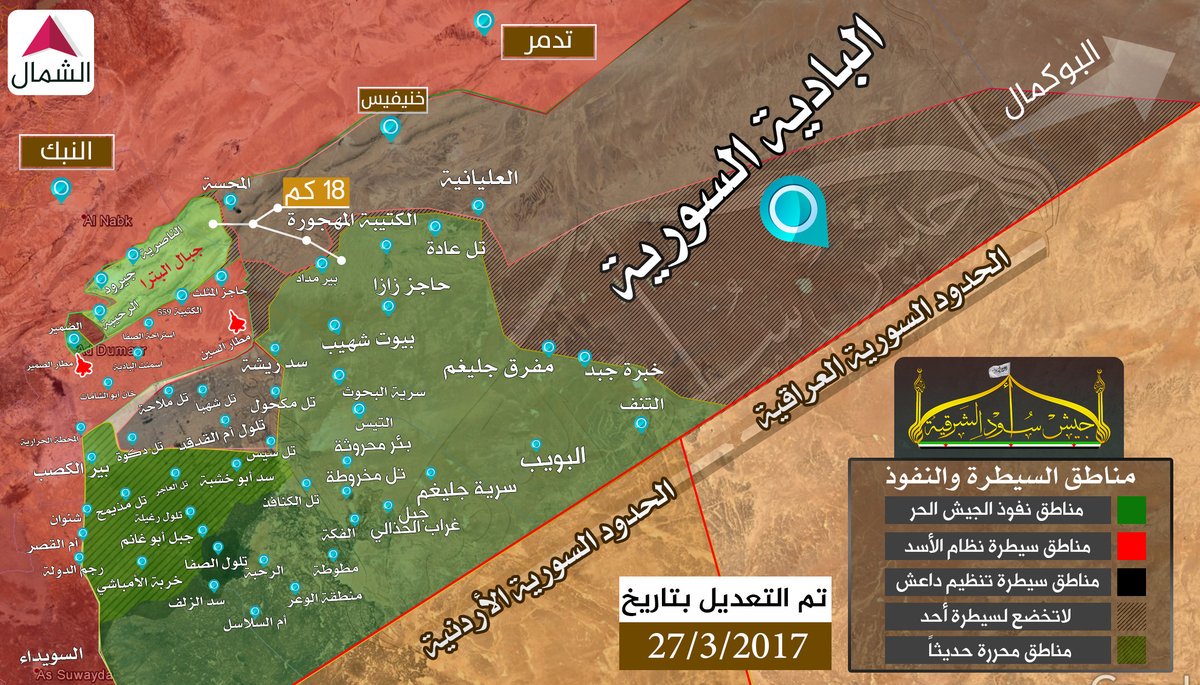 Map released by Jaysh Usud al-Sharqiya shows alleged rebel gains against IS in Al-Suwayda and Damascus.
Iraq:
Iraqi Army is now less than 300 meters away from Al-Nuri mosque, the stronghold of IS in old Mosul and very symbolic place because Abu Bakr al-Bagdadi proclaimed his caliphate there. Battle for Al-Nuri mosque is expected to be tough as IS has heavily fortified it and brought a lot of troops to defend it.
West of Mosul IS tried to advance again against PMU in Tal Afar region, village of Qamshliyah southwest of Tal Afar was attacked. PMU repelled the attack and reportedly killed between 20 and 30 IS fighters.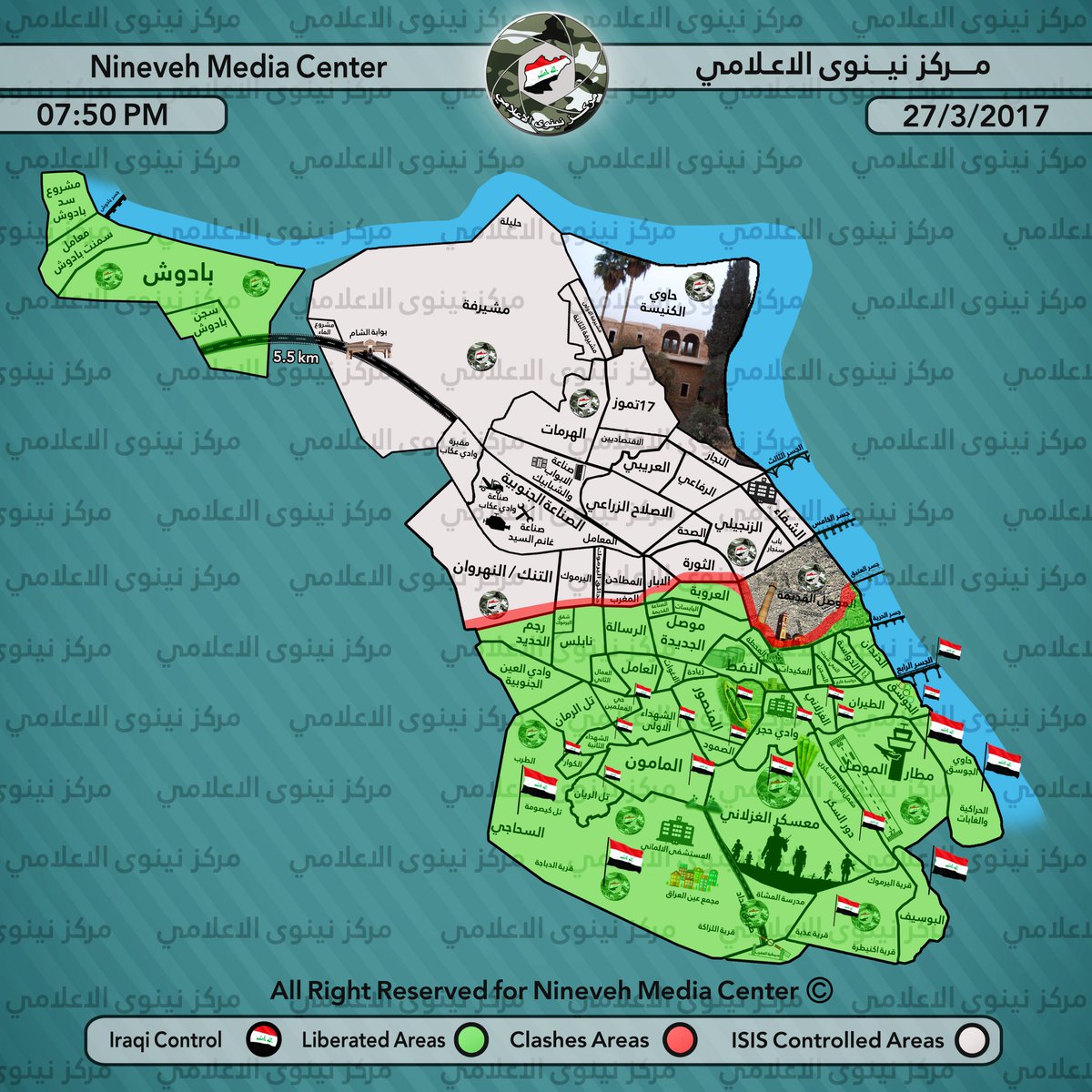 Latest map of west Mosul. Source: NinevehMC
On the 26th of March 2017 CJTF-OIR has conducted 18 strikes in Syria. CJTF-OIR's main focus in Syria at the moment is Tabqa-Raqqa region where they did 13 strikes supporting SDF's operation against IS destroying ten fighting positions, an improvised weapons facility, a weapons factory, a tactical vehicle and a mortar system.
Other areas where five strikes occurred are Abu Kamal and Deir al-Zour destroying 35 oil barrels, six oil refinement stills & a well head and two pump jacks & an oil rig, respectively. Full report on CJTF-OIR strikes conducted in both Syria & Iraq can be found here.
Intellectual credited property used may vary from an edition to edition.
Feel free to voice your opinion in the comments section below, constructive criticism is welcomed.
For those of you interested, you can follow us on an official Twitter account @SyrianWarDaily, or me personally on my biased twitter @joskobaric where I occasionally tweet some things.