Hello and welcome to the 42nd installment of the SWD.
Military events are listed below by the governorates:
Aleppo:
Tadef saga continues, today some pro-rebel sources claimed that TFSA is holding the northern part and SAA the southern. This claim was also quickly refuted as yesterday's one and TFSA allegedly holds no ground in Tadef.
Even though most of the SAA Tiger Forces were redeployed to Northern Hama, the remainder of them backed by other units and militias continue to steamroll IS in east Aleppo, today's captured localities are: Rasm al-Jays, Jufayrat Ghazal, Tell Abu Maqbarah and Rasm Khamis al-Gharbi.
Situation in Deir Hafer-Jirah airbase region after SAA's advances against IS. Source: loomisroberto
Raqqa::
Capture of Tabqa airbase and some villages south of it has happened but not yesterday as many thought, today in the evening reports came out stating that the airbase was just captured from IS.
Amaq Agency released two new statements in English regarding the Tabqa Dam, in the first statement they claimed that the dam was out of service due to CJTF-OIR's airstrikes on it. In the second statement Amaq claimed that the dam could collapse at any moment, citing again due to CJTF-OIR's airstrikes.
Damage to the dam's infrastructure was geolocated at administration building due to airstrikes and at electricity station due to shelling, damage was quickly repaired on the dam. Seeing that the damage of dam is not as bad as Amaq stated it is obvious that this was a propaganda stunt in order to paint the CJTF-OIR as the bad guys in this case. However, this stunt backfired on IS, due to statements released civilians in Raqqa started to panic and tried to evacuate the city but were stopped by IS. IS fighters even drove in the streets of Raqqa denying rumors about dam's collapse and threatened to punish those spreading them.
Possibility still exists that the rumors were spread by CJTF-OIR to get civilians to evacuate from Raqqa in order to reduce civilian casualties before the imminent assault starts on the city, this scenario is unlikely but still possible.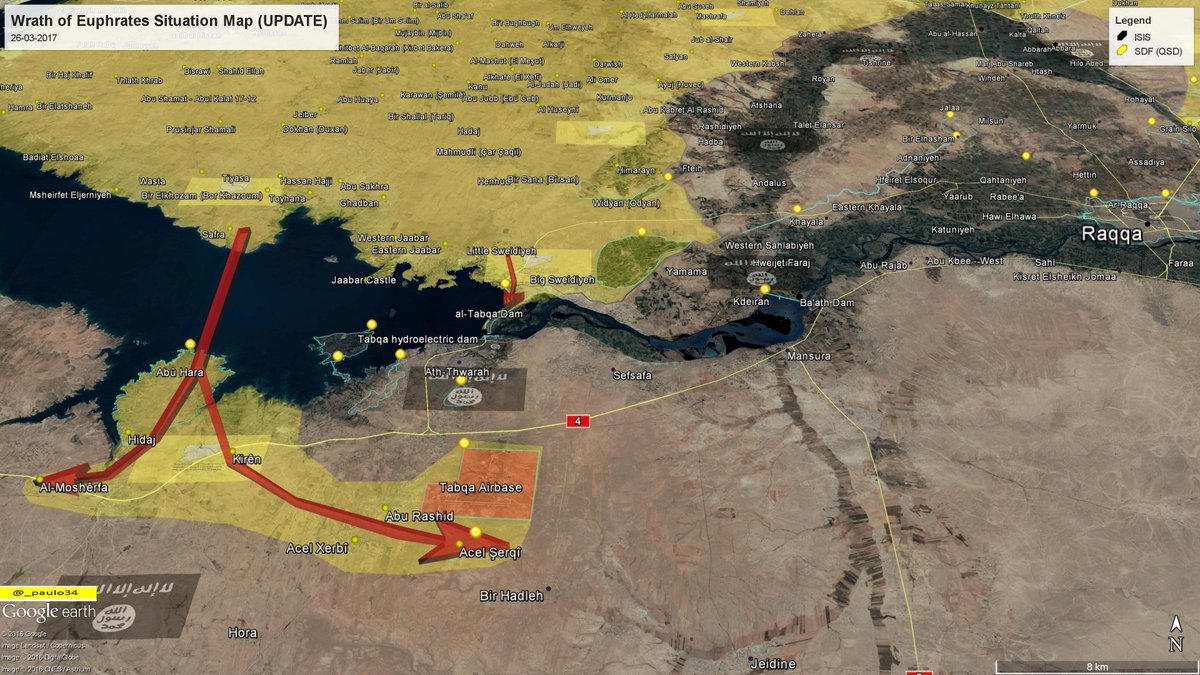 Situation west of Raqqa after SDF captured Tabqa airbase and villages south of it. Source: @_paulo34
Hama:
New day, new rebel attack on Qomhane, heavy clashes erupted in the afternoon, HTS-led attack wasn't able to capture any important positions in or around Qomhane from SAA and it was reportedly fully repelled. Before the HTS launched another attack on Qomhane there were reports about SAA going on offensive from the city and have allegedly captured Bukhary checkpoint west of Qomhane.
New report surfaced about Russian airstrikes accidentally hitting SAA units, the first one occurred two days ago at the entrance of Qomhane and the second one took place yesterday at Mount Zayn al-Abdeen. Casualties from these accidental strike are estimated at 33 killed and 40 other wounded, info transmitted by Ivan Sidorenko.
Just like yesterday, there were a dozen of claims and a couple of videos showing rebels targeting SAA–NDF "military vehicles" with TOW missiles.
Statement released by Abna al-Sham claimed the repelled the fourth SAA attempt at capturing Maarzaf, south of Muhardah. However, pro-government sources reported that "huge advance" was made by SAA and allies at Maarzaf front, as always we will just have to wait and see what the exact situation is.
Damascus:
Situation remains the same on Jobar and Qaboun-Barzeh front lines with no new reports about either side advancing, clashes presumably do resume.
FSA continues to advance in the Eastern Qalamoun capturing vast areas of desert from IS and today's notable capture in the area includes abandoned airstrip in Raj al-Issa area, ~115 kilometers (~71.5 miles) east of Damascus.
A bit southern in Al-Suwayda governorate on another axis of what appears to be large operation to clear IS from the southeastern desert/sparsely populated area rebels captured Diyatha, Ard al-Kara and Mushrifa areas, east Al-Suwayda.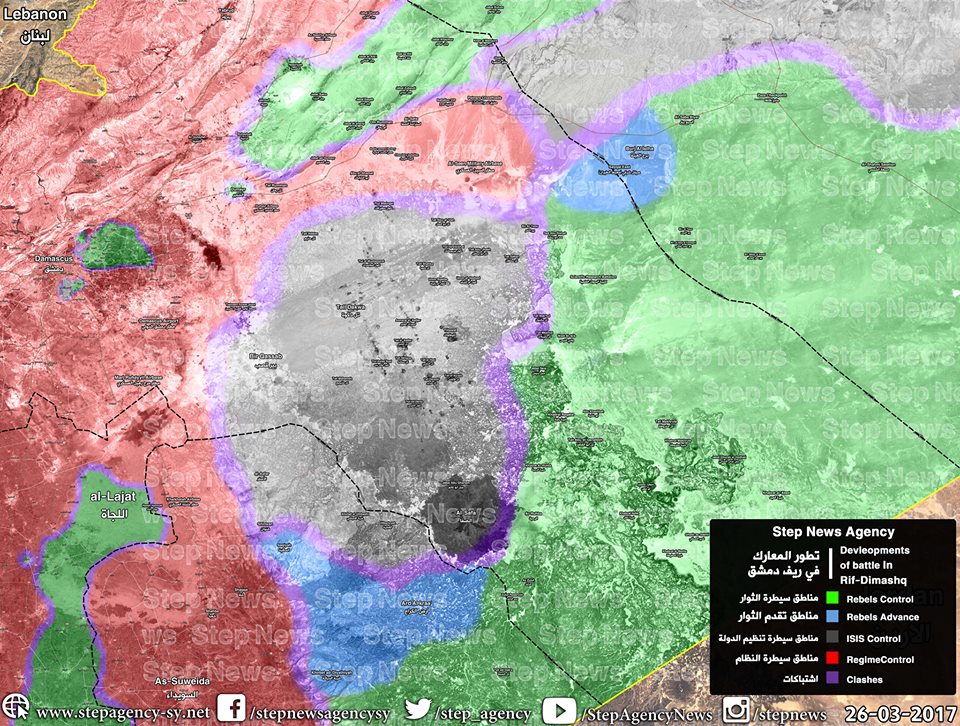 Map showing recent rebel gains against IS in Eastern Qalamoun and Eastern Al-Suwayda. Source: Step News Agency
Iraq:
Iraqi Army made huge advances today in west Mosul and its surroundings, districts of Al-Aruba, Wadi al-Ayan, Rajam al-Hadded and "Old Industrial district" were officially announced as fully liberated from IS. In the Badush region cement factory and Badush Dam were captured fully securing Badush "district" northwest of Mosul.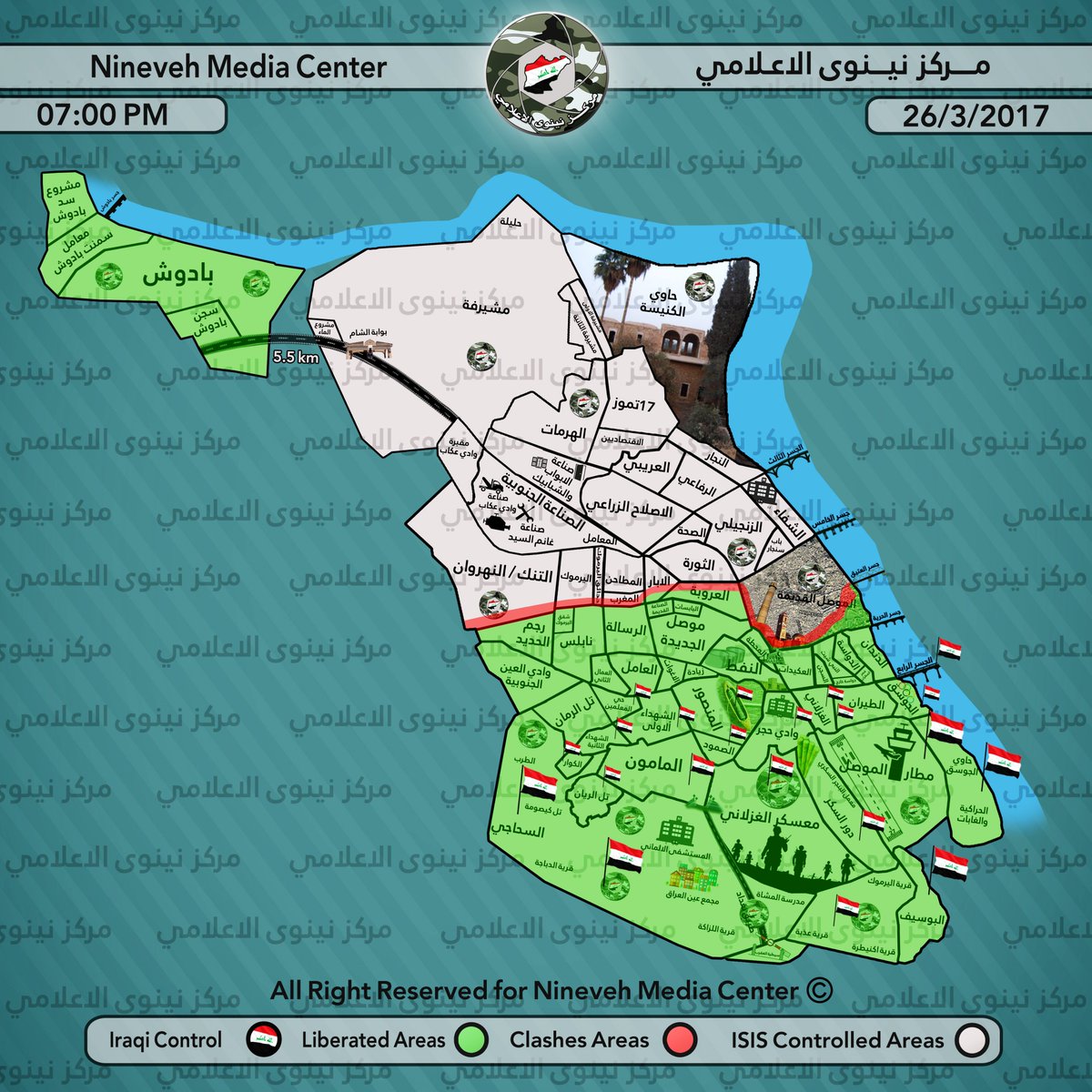 Latest map of west Mosul. Source: NinevehMC
Situation in Greater Mosul area. Source: loomisroberto
On the 25th of March 2017 CJTF-OIR has conducted eight strikes in Syria. CJTF-OIR's main focus in Syria at the moment is Deir al-Zour-Raqqa region where they did four strikes supporting SDF's operation against IS destroying two fighting positions, two vehicles and a weapons storage facility; and damaged a supply route
Other areas where four strikes occurred are Abu Kamal and Tabqah destroying IS-held building and a fighting position, respectively. Full report on CJTF-OIR strikes conducted in both Syria & Iraq can be found here.
Intellectual credited property used may vary from an edition to edition.
Feel free to voice your opinion in the comments section below, constructive criticism is welcomed.
For those of you interested, you can follow us on an official Twitter account @SyrianWarDaily, or me personally on my biased twitter @joskobaric where I occasionally tweet some things.