Hello and welcome to the 39th installment of the SWD.
Military events are listed below by the governorates:
Aleppo:
Regular clashes occurred between TFSA and SDF, this time near Sheikh Issa, Ayn Daqnah and Marea, east of Afrin. No casualties reported regarding these clashes for either side.
Battle of Deir Hafer finished sooner than most expected, after besieging the city yesterday SAA Tiger Forces asserted full control over Deir Hafer with little reports about the clashes. This indicates that the city was evacuated by IS fighters but it is unknown whether the evacuation happened just before the siege was imposed or earlier.
Raqqa:
SDF continues to advance east of Raqqa capturing Mashrafat ash Shahnat, Al-Ghassaniyah, Fatsat Abd Ismail and Fatisat Bayram from IS.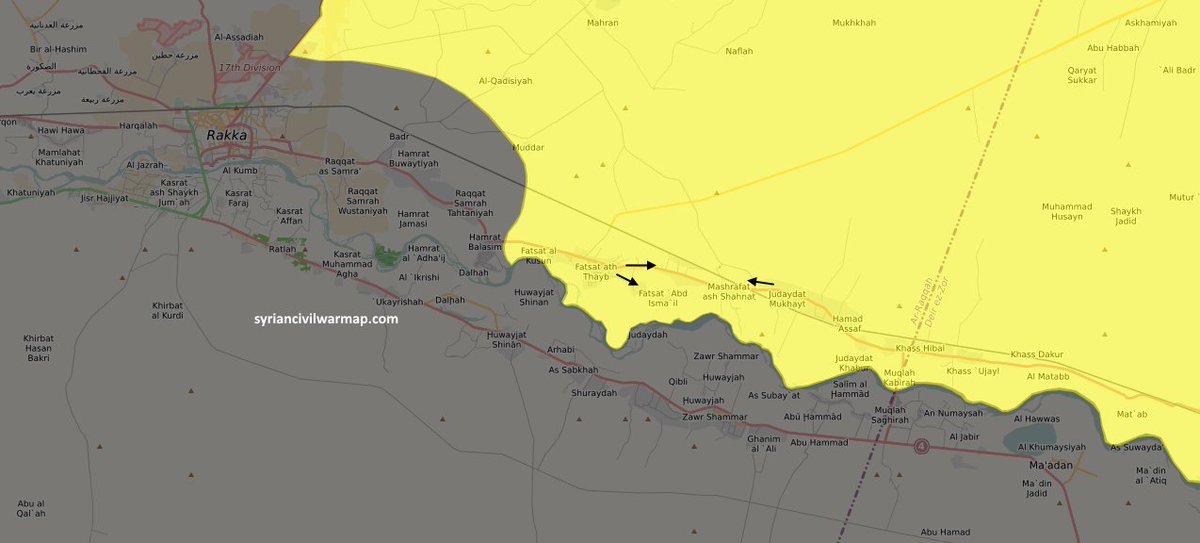 Map of eastern Raqqa after SDF's advances. Source: Syrian Civil War Map
Hama:
Northern Hama offensive launched by rebels entered its third day and it still managed to capture several areas from NDF. Events will be listed chronologically because a lot has happened and some rebel gains are already reversed by SAA Tiger Forces and other reinforcements. Day started off with rebels capturing Shaliyout and Sheyzar on the western axis north of Muhardah and on the eastern axis Kawkab, Iskandariyah, Tell Abadah, Tell Bazzam were captured. Besides the usual reports of capturing NDF soldiers and "military vehicles", rebels claimed to have destroyed with a TOW missile a helicopter stationed in Hama airbase.
Pro-rebel sources also reported that the offensive by Ahrar al-Sham and Faylaq al-Sham started on different axis, to the west of the current ones reportedly targeting Kernaz, Baradij, Sakhr and Mughir with artillery, so far no ground was captured on this axis and the whole "new axis" reports could be false, only time will tell.
In the evening SAA launched a huge counterattack aimed at recapturing the lost territory from the rebels. Unconfirmed notable recaptured localities include: Kawkab, Azrah, Zawr al-Balah, Tell Abadah, Khattab and Shayzar. Keep in mind that these captures remain unconfirmed for now and could be exaggerated, one thing is for sure, government seem to have regrouped and with additional reinforcements launched a large counterattack with heavy clashes, we will just have to wait until there is some evidence that can prove these SAA advances.
Even though rebels stated yesterday that the predominately Christian city of Muhardah isn't the target of this offensive, with capture of Shaliyout and Sheyzar city was almost fully besieged, only road to the west was open and it could've been under fire control by rebels. Shelling was also reported on the city.
Map of Northern Hama showing unconfirmed advances by SAA. Source: Peto Lucem
Damascus:
Situation is still unclear in Industrial Districts where clashes between rebels and SAA enter the fourth day. Rebels stated they destroyed a number of tanks today (six) and one Gvozdika, it is baffling to see a Gvozdika so close near the front line as they have a firing range of ~15 kilometers (~9.3 miles).
East of Damascus SAA recaptured "western", "eastern" and 559. battalion around Al-Seen airbase, since IS was almost completely pushed out of the area by FSA, SAA could've captured them without any resistance from IS.
Iraq:
District of Al-Yabsat, north of "New Mosul" district was officially declared as liberated from IS, other than that there weren't any significant advances made by Iraqi Army in west Mosul, clashes do continue, mostly in "old Mosul". Today's big story picked up by the mainstream media contains alleged accidental airstrike by CJTF-OIR on civilians in "New Mosul" district, west Mosul, number of killed varied between the sources but can be estimated between 100 and 200. Iraq Joint Operations denied that an airstrike took place accidentally targeting civilians.
Baghdad is on a higher alert than usual with extra security forces soon to be deployed when Muqtada al-Sadr's "Million Man March" takes place tomorrow.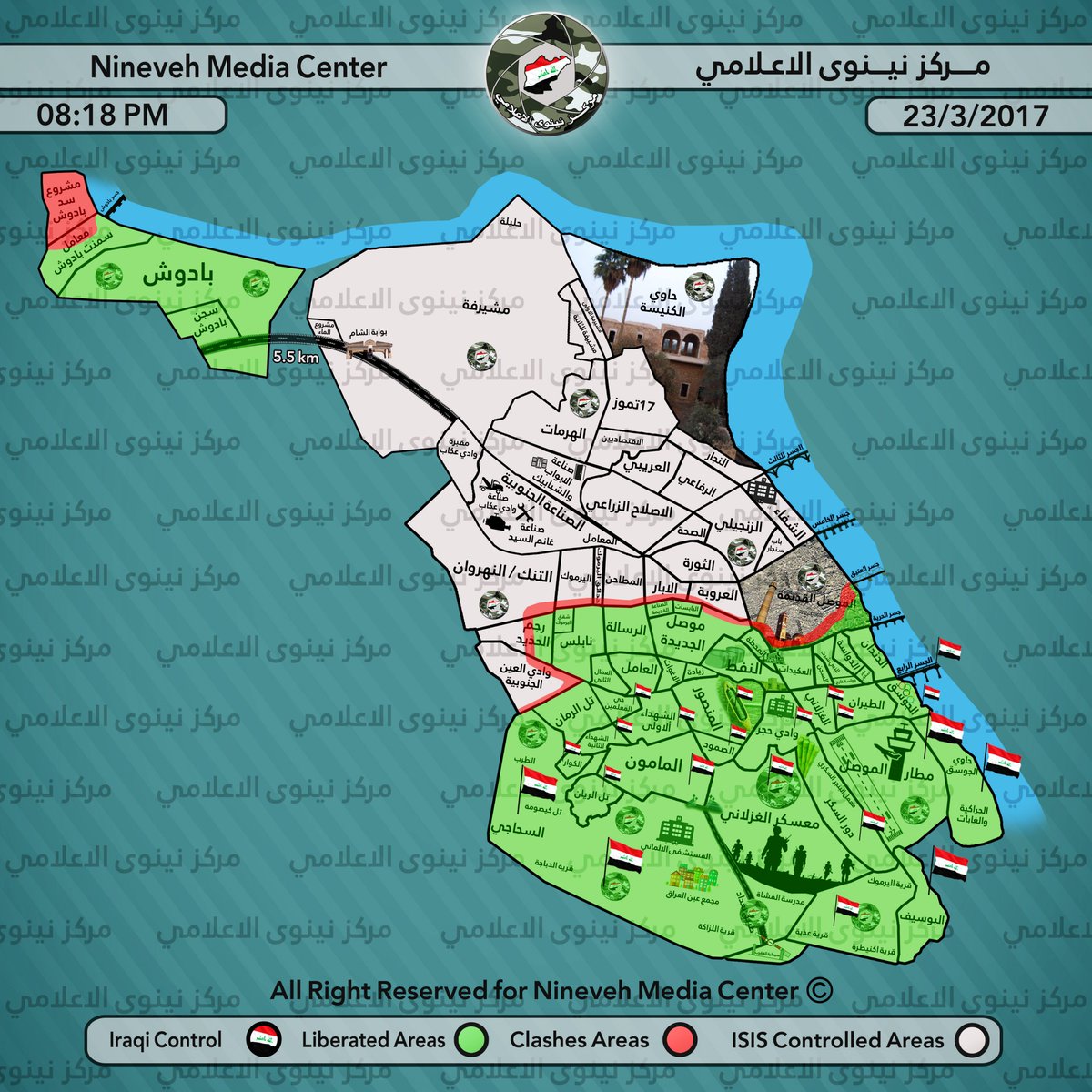 Latest map of west Mosul. Source: NinevehMC
On the 22nd of March 2017 CJTF-OIR has conducted 23 strikes in Syria. CJTF-OIR's main focus in Syria at the moment is Deir al-Zour-Raqqa region where they did 21 strikes supporting SDF's operation against IS destroying four command-and-control nodes, three tanker trucks, two wellheads, an oil inlet manifold, three IS-held buildings, an oil storage tank, a vehicle-borne bomb, an IS headquarters, a fighting position and an IS media facility; and damaged four supply routes.
Other areas where two strikes occurred are Abu Kamal and Al-Shadaddi destroying a wellhead and suppressing an IS tactical unit, respectively. Full report on CJTF-OIR strikes conducted in both Syria & Iraq can be found here.
Intellectual credited property used may vary from an edition to edition.
Feel free to voice your opinion in the comments section below, constructive criticism is welcomed.
For those of you interested, you can follow us on an official Twitter account @SyrianWarDaily, or me personally on my biased twitter @joskobaric where I occasionally tweet some things.