Hello and welcome to the 37th installment of the SWD.
Military events are listed below by the governorates:
Aleppo:
SAA Tiger Forces captured Jafar Mansour, Kharayih Diham and Al-Jafira villages from IS southeast of Deir Hafer. Al-Jafira village is an important capture because SAA now has fire control over the last big road leading to Deir Hafer, IS is now forced to use still accessible smaller roads to transport soldiers and goods in and out of Deir Hafer.
Map of eastern Aleppo after SAA's advances, focus on Al-Jafira. Source: loomisroberto
Hama:
New anticipated rebel offensive on northern Hama countryside was launched today. Offensive appears to be spearheaded by HTS and backed by Jaysh al-Nasr (FSA group), Ajnad al-Sham, Ajnad al-Kavkaz (Chechen group, more about them in this long article), TIP (Uyghur group) and Free Idlib Army (FSA group).
Operation started with two SVBIEDs, unclear if they were successful, pro-government sources reported that they were destroyed before reaching the targets, however, they almost always claim that when an SVBIED is used against SAA or allied milita making their statement questionable. At least one SVBIED might have been successful and has destroyed a part of the defense line as there were reports that rebels took control of checkpoints around Souran and subsequently the city itself.
Pro-rebel sources got a little excited at the offensive and have already claimed that rebels captured Maardes and Iskandariyah, besides the aforementioned claims. These captures are a big development and should remain unconfirmed until there is some evidence that can prove otherwise. Jaysh al-Nasr issued a statement stating that they have destroyed two aircrafts stationed at Hama Air Base in shelling of air base with Grad rockets. This offensive is also the first recorded usage of one of the two T90s captured by rebels from SAA and now operated by HTS.
Considering that Northern Hama is one of the weakest government's fronts and is only manned by local NDF at the moment, rapid advances by rebels wouldn't be strange as NDF is infamous for fleeing from position when attacking and leaving huge "ghanima" (spoils of war) to the enemy forces. Speaking of "ghanima" rebels already claim to have seized a couple of tanks (six) from NDF. This new rebel offensive might force SAA Tiger Forces to abandon their East Aleppo operation in order to deal with this attack just like they had to last time when rebels attacked Northern Hama. What differentiates this Hama offensive from the previous one is usage of new "shock troops", last time it was Jund al-Aqsa (part of IS now), and now it's mix of TIP and HTS.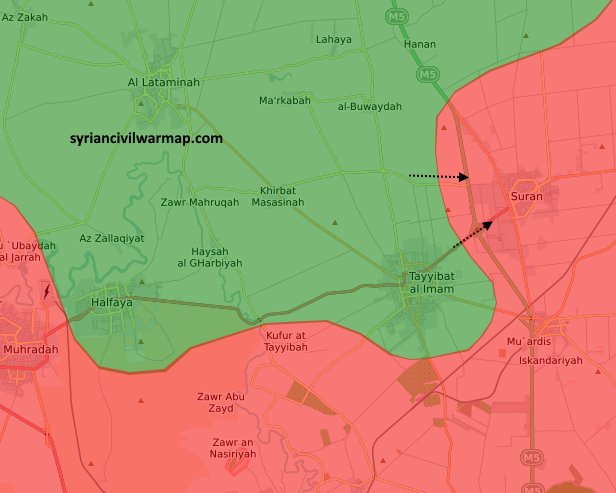 Situation in northern Hama before offensive showing directions of the attack. Source: Syrian Civil War Map
Raqqa:
SDF recaptured localities that IS captured from them yesterday; Al-Kulayb & its silos and Hamad Assaf.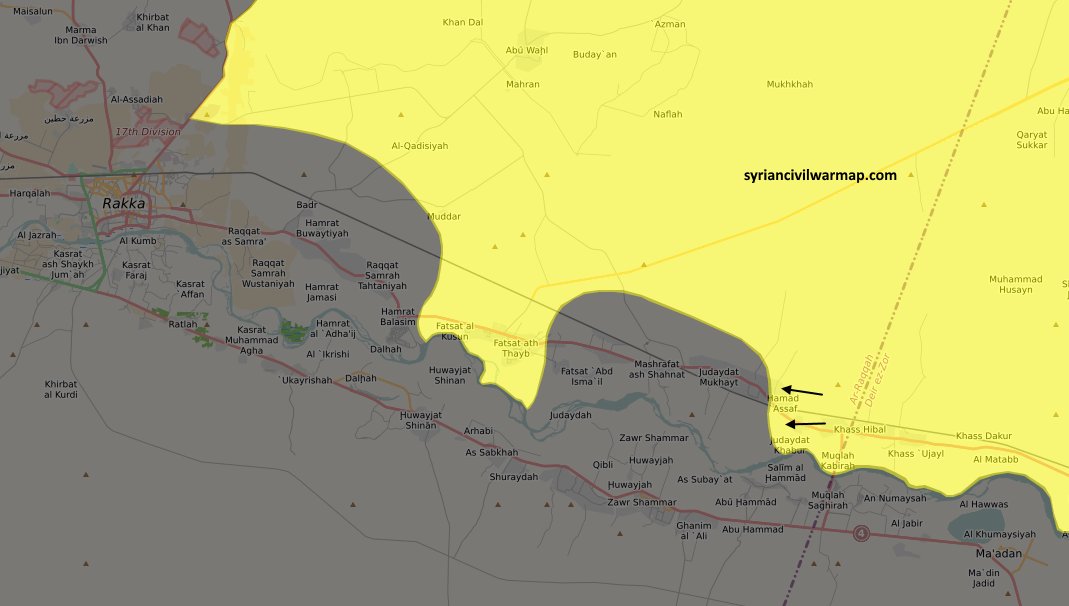 Map of eastern Raqqa after SDF's advances. Source: Syrian Civil War Map
Damascus:
Second attempt at breaking the siege of Qaboun-Barzeh was launched by rebels from East Ghouta. Rebels were able to capture a chunk of Industrial district, mostly factories area near Jobar. Faylaq Al-Rahman stated they destroyed one SAA tank during the battles. However, the attack either stalled in the same area as yesterday since there were no additional claims about further captures or rebels were expelled from the captured areas again by SAA as reported by several pro-government sources.
On the eastern Qalamoun front FSA continues to make impressive advance against IS in the mountain area capturing; Mihassah, Dabaa Hill, Thaniyat al-Yaridah and Thaniyah Wadhath. Following these advances IS is almost completely expelled from the Qalamoun region. Keep in mind that this FSA operation is allegedly coordinated with SAA and Russia.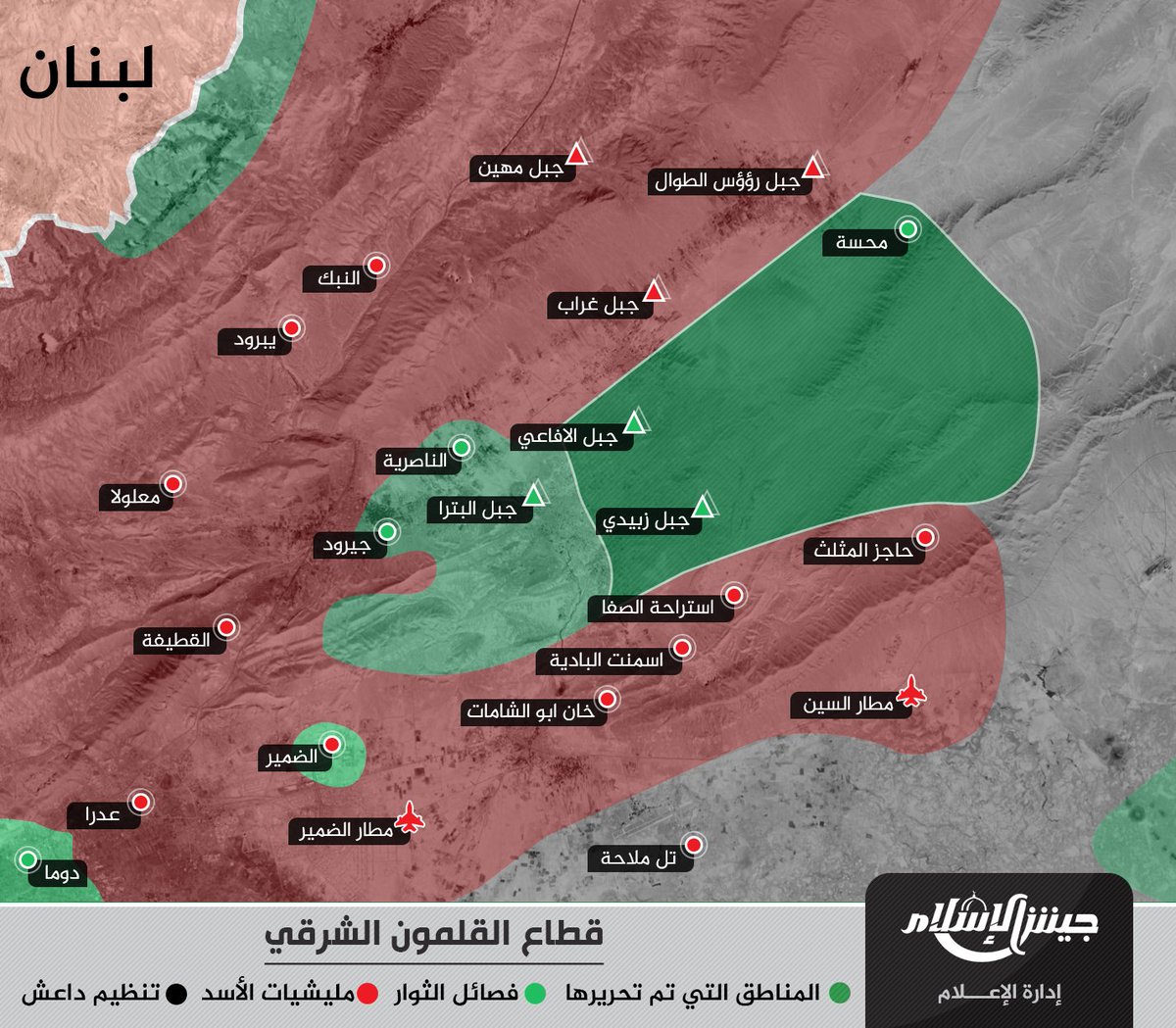 Map by Jaish al-Islam showing advances against IS in eastern Qalamoun. Source: Jaish al-Islam
Iraq:
After yesterday's capture of "Mosul North Gate" and Al-Sham village PMU are now on the northwestern outskirts of west Mosul and might open a new front soon. In Badush area PMU repelled IS attack towards west Mosul in latter's attempt to break the siege and potentially evacuate fighters from the city. IS reportedly suffered heavy casualties in this desperate attempt, claimed as high as ~70 fighters, which does seem a bit high and could be far from the truth.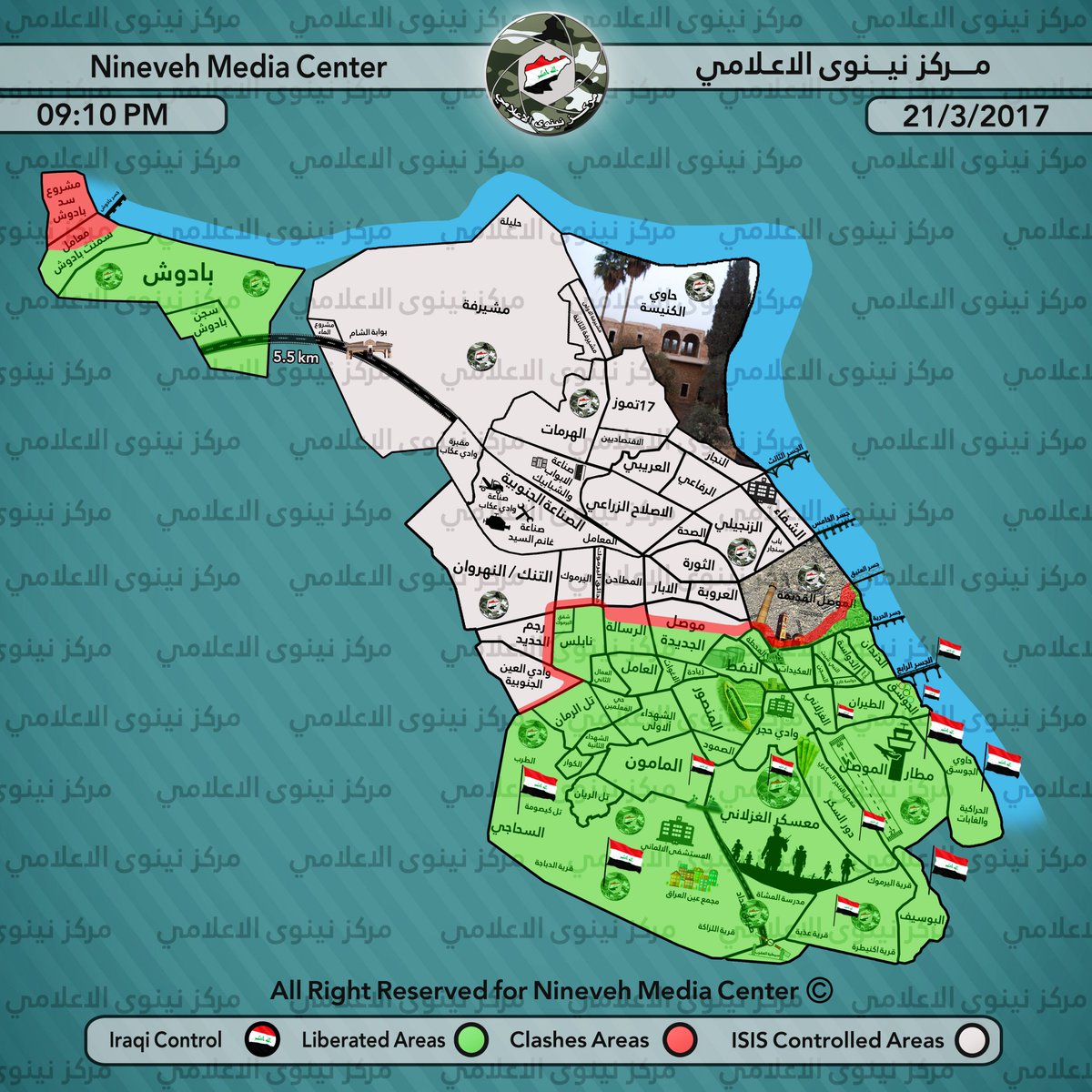 Latest map of west Mosul. Source:NinevehMC
On the 20th of March 2017 CJTF-OIR has conducted 19 strikes in Syria. CJTF-OIR's main focus in Syria at the moment is Deir al-Zour-Raqqa region where they did 18 strikes supporting SDF's operation against IS destroying 10 fighting positions, six barges, three ISIS headquarters, a tactical vehicle, an improvised-explosive-device factory and a weapons factory; and damaged a supply route.
Other area where one strike occurred is Abu Kamal destroying two wellheads, two tanker trucks and a pump jack. Full report on CJTF-OIR strikes conducted in both Syria & Iraq can be found here.
Intellectual credited property used may vary from an edition to edition.
Feel free to voice your opinion in the comments section below, constructive criticism is welcomed.
For those of you interested, you can follow us on an official Twitter account @SyrianWarDaily, or me personally on my biased twitter @joskobaric where I occasionally tweet some things.