Hello and welcome to the 36th installment of the SWD.
Military events are listed below by the governorates:
Aleppo:
Today's big story about Syria picked up by Mainstream Media was a rumor that Russia was setting up a military base in SDF controlled Afrin northwest of Aleppo. Russia quickly denied the rumor saying that there are no plans to construct new military bases on the territory of Syria. SDF in Afrin may not be getting a Russian base that would make it a safe haven from attacks but they are getting training by Russians. SDF is in an interesting and favorable position in which both Russia and US are trying to get them into their own camp. Russia made a deal with SDF to protect Manbij and its western countryside from potential TFSA attacks and US delivered SDF military shipment containing armored vehicles. This indicates that SDF has become an important player in Syria and will have a say in the future of Syria.
SAA Tiger Forces captured two villages southwest of Deir Hafer; Al-Qusayr and Jannat al-Salamah. Direction of these advances hints that SAA is going to cut Latakia-Aleppo-Al-Bukamal highway depriving IS of the option to send reinforcements to Deir Hafer during the future attack on it.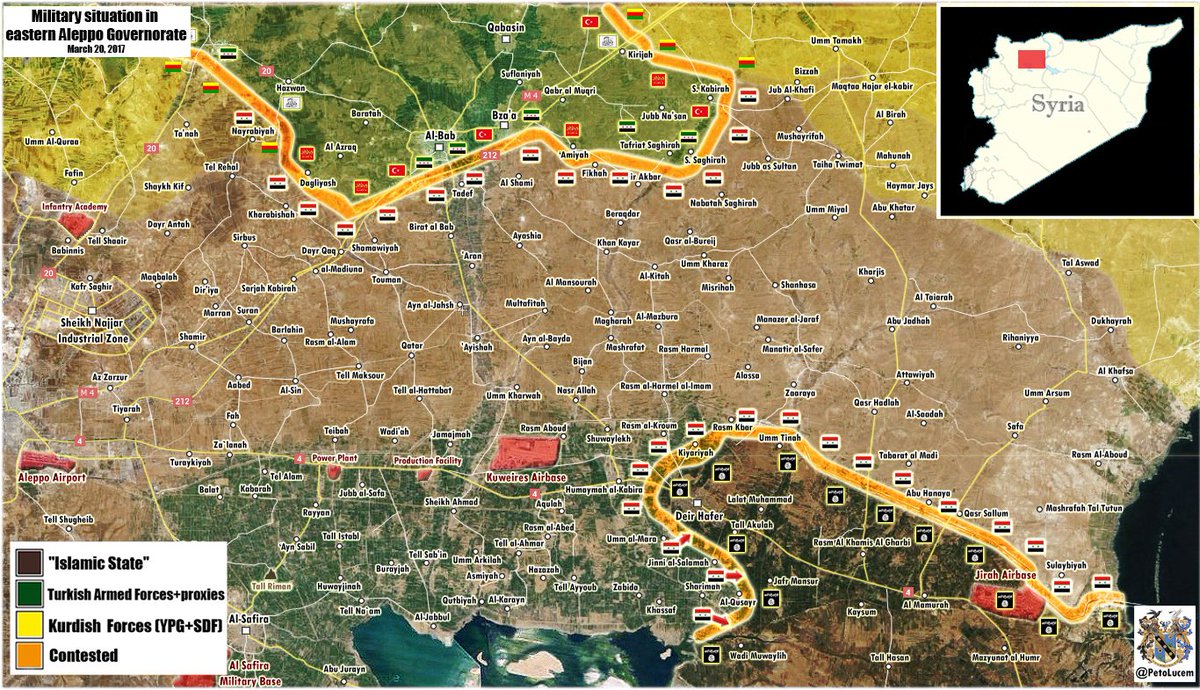 Map of eastern Aleppo after today's advances by SAA Source: Peto Lucem
Raqqa:
SDF captured a number of localities from IS east of Raqqa, Fatsat al-Kusun, Fatsat ath Thayb, Tal Fatisah, Khardal / Cerqa and Balasim oil storage were captured from IS. However, IS was able to capture Al-Kulayb and its silos once again from SDF.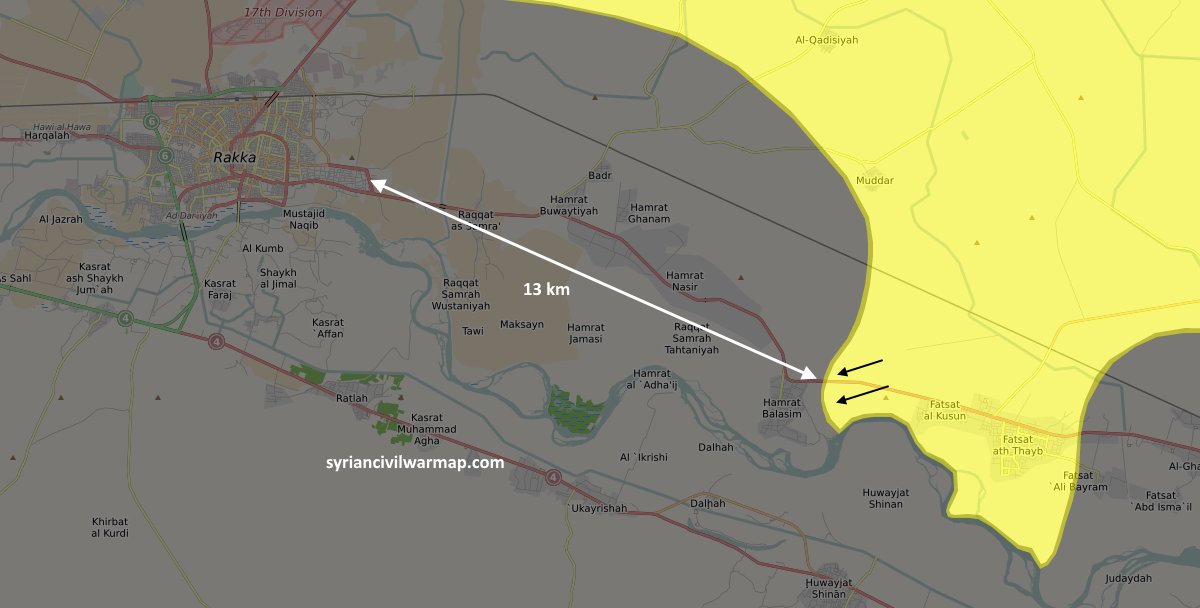 Map of east Raqqa after SDF's advances. Source: Syrian Civil War Map
Damascus:
Situation in Damascus is clearer now, a day after the rebels in East Ghouta launched an offensive towards Qaboun-Barzeh pocket aimed at lifting the siege. Once again the truth was somewhere in between what pro-rebel and pro-government sources reported. Rebels were able to advance in Industrial district and captured some positions from SAA but they weren't able to reach Qaboun and the initial surprise push stalled. SAA launched counterattack recapturing most of the areas they lost yesterday. Both sides suffered heavy casualties in the short offensive that so far hasn't achieved anything other then maybe captured a few buildings. SAA KIA are estimated at around ~70, sizeable part of the casualties was caused by two SVBIEDs that caught SAA off-guard. It is estimated that rebels suffered around ~100 KIA.
FSA captured more ground from IS in eastern Qalamoun, Jaysh al-Islam stated they captured Jabal al-Naqab and Jabal al-Sharqi.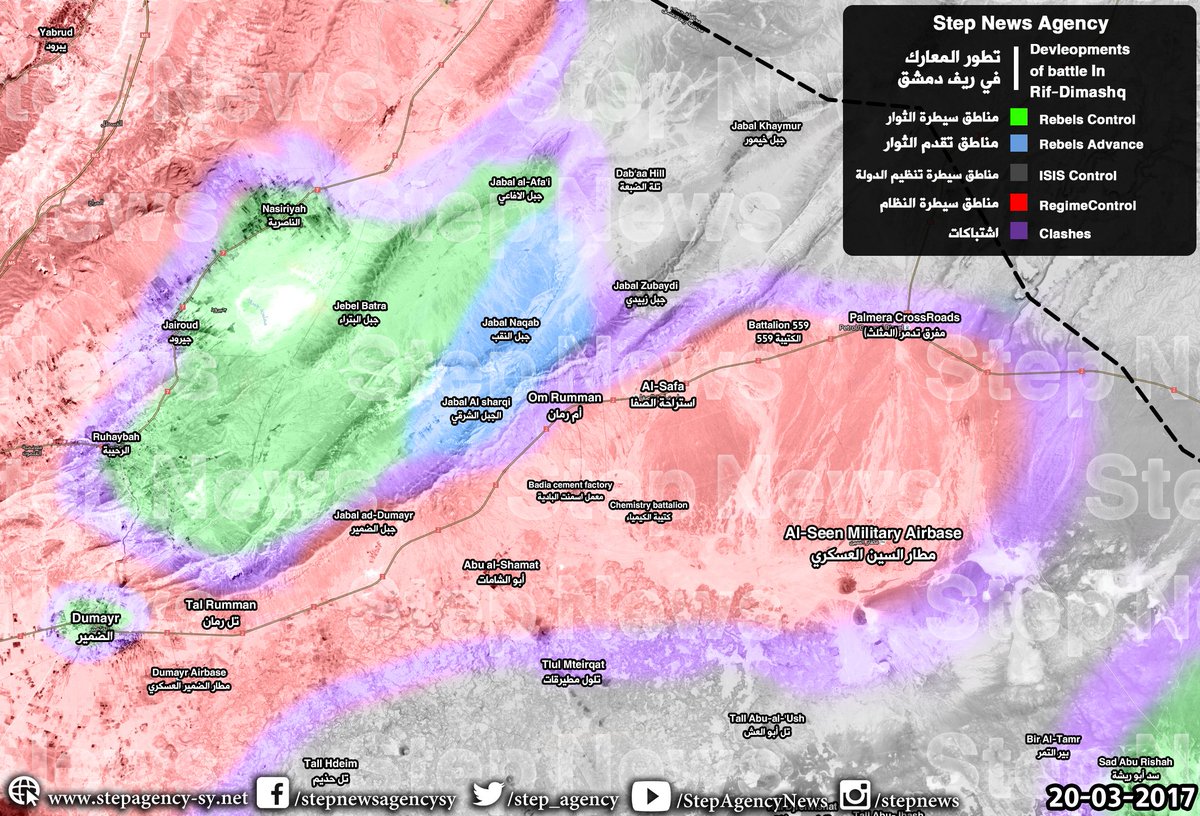 Map showing rebel advances against IS in eastern Qalamoun. Source: Step News Agency
Iraq:
Today's advances were focused on Mosul's surroundings rather than in the city itself, clashes do continue in "old Mosul" district with Iraqi Army making limited but very significant progress. In the Badush area Iraqi Army and PMU took control of Arhiyah, Al-Daraji Al-Ulyia, Al-Jadihad and water treatment plant. North of Mosul village of Al-Darmachi Al-Shaghira was captured and "Mosul North Gate" Al-Sham village.
Head of Iraq's Counter Terrorism unit stated that IS used 870 VBIEDs in Mosul city since the start of the operation 156 days ago. It is unknown how much of these VBIEDs were SVBIEDs but the percentage must be high. According to the number of VBIEDs given Iraqi Army faced on average between five and six of them daily.
Baghdad experienced a new VBIED attack today targeting civilians in Al-Amal district in southwestern part of the city. Ministry of Interior announced that the number of dead and wounded is at least 44.
On the 19th of March 2017 CJTF-OIR has conducted 17 strikes in Syria. CJTF-OIR's main focus in Syria at the moment is Deir al-Zour-Raqqa region where they did 14 strikes supporting SDF's operation against IS destroying six fighting positions, four wellheads, two IS headquarters; and damaged three bridges and two supply routes.
Other areas where three strikes occurred are Palmyra and Al-Shadaddi destroying three IS-held buildings & two well heads and three tactical vehicles, respectively. Full report on CJTF-OIR strikes conducted in both Syria & Iraq can be found here.
Intellectual credited property used may vary from an edition to edition.
Feel free to voice your opinion in the comments section below, constructive criticism is welcomed.
For those of you interested, you can follow us on an official Twitter account @SyrianWarDaily, or me personally on my biased twitter @joskobaric where I occasionally tweet some things.