Hello and welcome to the 35th installment of the SWD.
Military events are listed below by the governorates:
Aleppo:
After a few days of silence new reports emerged about TFSA capturing SAA soldiers, this time two SAA soldiers were allegedly captured near Tadef, south of Al-Bab.
Al-Bab City Council issued a statement welcoming men between the ages of 18 and 40 to apply for police force. Interested individuals will receive training in Turkey and then be deployed to Al-Bab. Before departing for training in Turkey, info will be shared over "WhatsApp" and a meeting will be held. To register for police force interested ones can apply at four locations; city center near the mosque of Omar bin al-Khatab, western section near the school of Abd al-Hamid al-Nama, northern section near the mosque of Al-Anwar and in the "south street" of Zamzam east of Zamzam mosque.
First batch of evacuated fighters and civilians from Al-Waer reached TFSA-held territory and entered Al-Bab city, they are reportedly heading for Azaz.
SAA Tiger forces captured Shuraymah village and farms around it south of Deir Hafer from IS. Shelling and airstrikes presumably resume over Deir Hafer and surrounding villages.
Homs:
SAA continues to clear area around Palmyra, southeast of it, Talila Heights were captured. On the front north of Palmyra, Jabal al-Safra north of Jabal Mazar was captured.
Map of eastern Homs after SAA's advances, mountain chain marked on map is Jabal al-Safra and the location of Talila Heights is unknown but somewhere in or around the marked area. Source: loomisroberto
Damascus:
New big offensive was launched by rebels in East Ghouta aimed at breaking the siege of Qaboun-Barzeh. Offensive started with 2 SVBIEDs by HTS, which is a part of Jaysh al-Fustat in East Ghouta. SVBIEDs allowed rebels to advance and capture electric company/facility which was supposedly recaptured by SAA later in the day. Faylaq al-Rahman stated they destroyed two government tanks during the offensive.
Later in the day a lot of info was spread by pro-rebel sources which remains unconfirmed for now, Ahrar al-Sham released a statement claiming to have captured large parts of Qaboun industrial area/district. A number of pro-rebel sources then proceeded to claim that siege of Qaboun-Barzeh was broken and that the rebels cut international highway between Damascus and Homs. Both of these things are huge developments and should stay unconfirmed until there is some evidence that can prove either of these things actually happened. According to the pro-government sources rebels attack was contained, counterattack is ongoing and rebel fighters are surrounded in several buildings captured in the offensive.
On eastern Qalamoun front FSA captured "Secret Complex of Scientific Research" and two checkpoints in the desert from IS, clashes are ongoing in the area.
Pro-rebel map showing Qaboun-Barzeh pocket connected with East Ghouta, keep in mind that these advances remain unconfirmed for now. Source: abdulwahab2070
Quneitra:
Israeli armed drone targeted a car on the road near Khan Arnabah killing Yasser Al-Sayyed. NDF immediately stated he was one of their fighters from the Golan Regiment, however, this didn't stop rumors from circulating around, Al-Sayyed was according to some sources part of the "Syria's Air Defense Unit" and others reported he was part of Hezbollah.
Several mainstream pro-government sources went so far as to claim that Al-Sayyed was just a civilian and tried to manipulate it into getting some sympathy and increase anti-Israel sentiment. Post by NDF where they stated that Yasser Al-Sayyed was one of their fighters can be found here.
Iraq:
Nablus district was officially announced as liberated today by Iraq joint operations, besides that there aren't much new news regarding advances in west Mosul clashes do continue between Iraqi Army and IS.
Directly west of Mosul, Al-Mulawatha was captured by Iraqi Army. This advances places them at the outskirts of Al-Tanak districts and allows them to open new front in west Mosul. Advances also happened northwest of Mosul, precisely north of Badush localities captured are; Al-Hiwadra, Al-Mulawatha, Rashidiya mill and station.
IS launched an attack on Tharthar city, Anbar governorate in the morning and reportedly after five hours PMU were able to fend off the attack. Number of casualties for either side is unknown.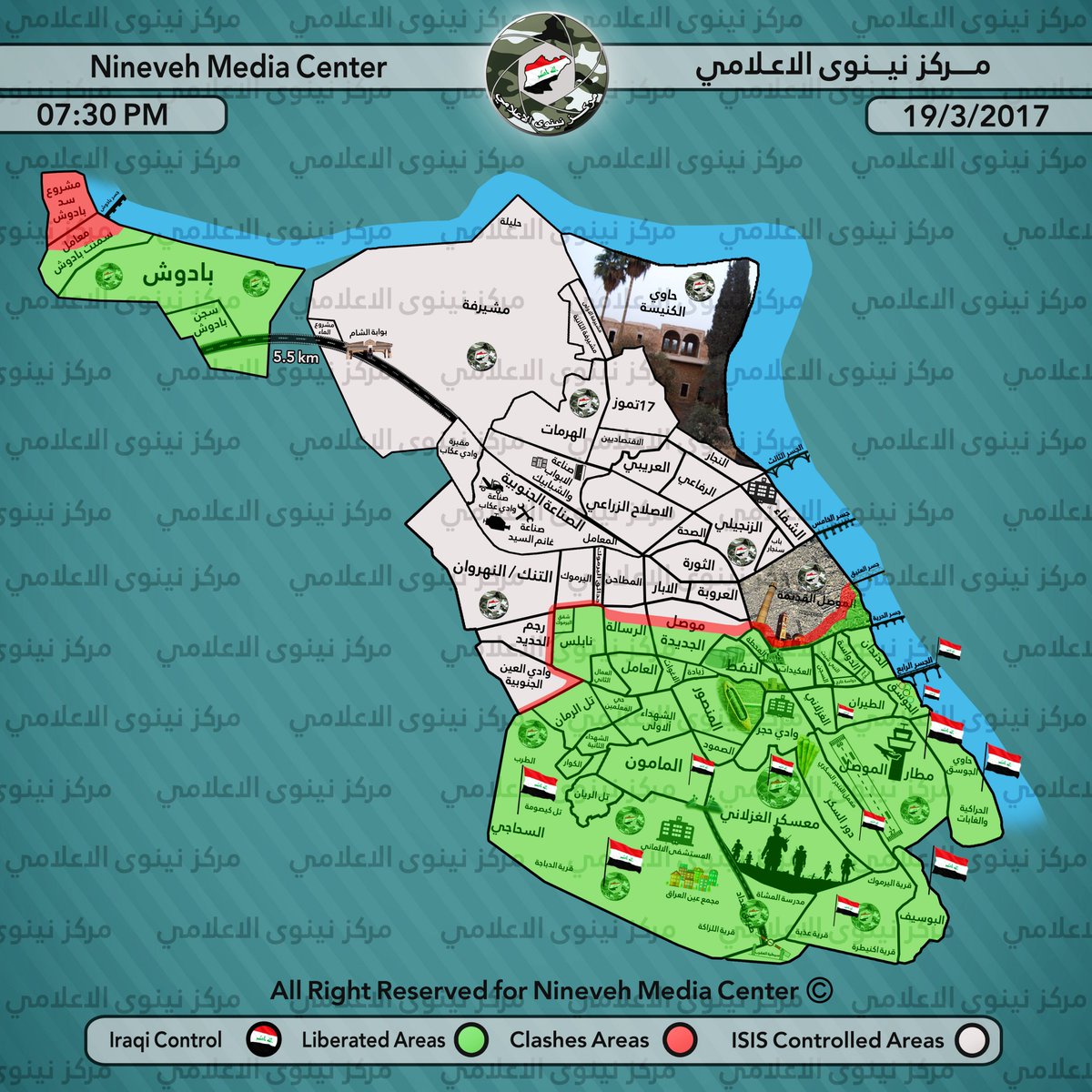 Latest map of west Mosu. Source: NinevehMC
On the 18th of March 2017 CJTF-OIR has conducted 7 strikes in Syria. CJTF-OIR's main focus in Syria at the moment is Deir al-Zour-Raqqa region where they did 5 strikes supporting SDF's operation against IS destroying three fighting positions, two IS tactical vehicles, and an IS weapons factory; and damaged a bridge.
Other area where two strikes occurred is Palmyra destroying two IS front-end loaders and a cave entrance. Full report on CJTF-OIR strikes conducted in both Syria & Iraq can be found here.
Intellectual credited property used may vary from an edition to edition.
Feel free to voice your opinion in the comments section below, constructive criticism is welcomed.
For those of you interested, you can follow us on an official Twitter account @SyrianWarDaily, or me personally on my biased twitter @joskobaric where I occasionally tweet some things.