Hello and welcome to the 34th installment of the SWD.
Military events are listed below by the governorates:
Aleppo:
SAA Tiger Forces captured al-Mabuja, Umm al-Mara and Tell Umm al-Mara from IS around Deir Hafer. Tell Umm al-Mara was a very valuable capture by SAA as it by the looks of it overlooks Deir Hafer and will ease the future assault on the city. Several pro-government sources spread false reports about the capture of Ahmadiyah and Um Tinah, these localities remain under IS control for now. Heavy airstrikes were reported on Deir Hafer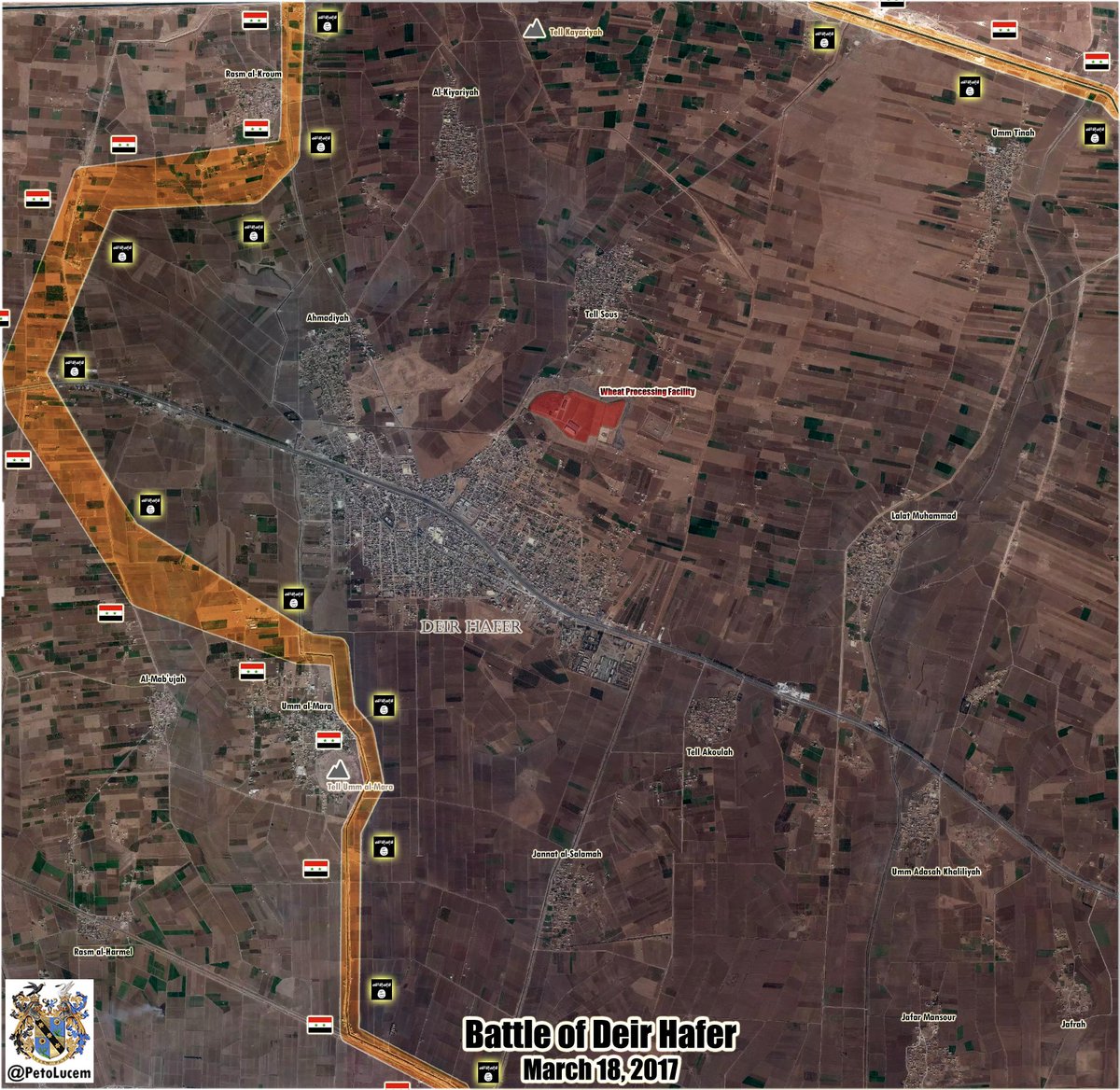 Map showing situation around Deir Hafer. Source: Peto Lucem
Homs:
Evacuation of Al-Waer neighborhood in Homs started today, ~300 rebels and ~1000 civilians left the neighborhood today and are being transported to TFSA's territory, reportedly to Jarablus. Once the evacuation finishes, Russian Military Police is expected to enter the district and keep it secure. Recent deployments of the RMP are interesting seeing that they have been deployed in areas where reconciliation & evacuation deals have been agreed, the main reason rebels and civilians in several rebel-held areas rejected reconciliation deals in the past was because they feared retribution from the SAA & allied militias. RMP's role is to prevent that from happening therefore increasing number of reconciliation deals, however, some crimes can't be stopped even by RMP as east Aleppo suffered widespread looting by pro-government militias. According to the deal signed about Al-Waer, SAA and other pro-government armed groups will be forbidden to enter the neighborhood for six months, only RMP and Syrian police will be allowed to enter.
After rumors started to surface about death of Hezbollah commander Badie Hamieh in Israeli raid on T4 yesterday, al-Mayadeen was quick to deny these claims and state that Hamieh was killed in Quneitra on Thursday. It is not possible to verify neither the reports about Hamieh being killed in Israeli raid or reports about Hamieh being killed in Quneitra. Two possible options exist; either Hamieh was really killed in Quneitra and it's just being coincidentally reported just now or Hamieh was successfully targeted by Israeli raid yesterday and Hezbollah is trying to cover up his death by saying he died elsewhere before the raid happened.
Damascus:
SAA managed to advance in parts of Hafez street in Qaboun and have taken control of an HQ used by FSA 1st brigade. Main SAA objective is to separate Qaboun and Barzeh pressuring rebels located in the pocket to accept reconciliation or evacuate to other rebel-held areas. Clashes are ongoing in Barzeh "farmlands" and Ahrar al-Sham released a statement claiming they killed eight SAA soldiers and destroyed one T-72 tank.
Considering the fact that SAA's operation has been going for a few weeks now it has achieved very little, it almost seems like they underestimated rebel's strength and motivation, not even the daily, heavy shelling of Qaboun-Barzeh pocket was unable to soften rebel's defenses nor force them to negotiate.
Daraa:
New rebel counterattack finally happened against JKW in southwestern Daraa governorate, front line was static for some time with neither side attempting to make any gains. Rebels successfully took control of Tell Ashtara near Adwan, it will be interesting to see if this the first real, serious attempt by rebels to finally end JKW once and for all, so far the counterattack doesn't seem to be that serious. UPDATE: JKW retook Tell Ashtara from rebels.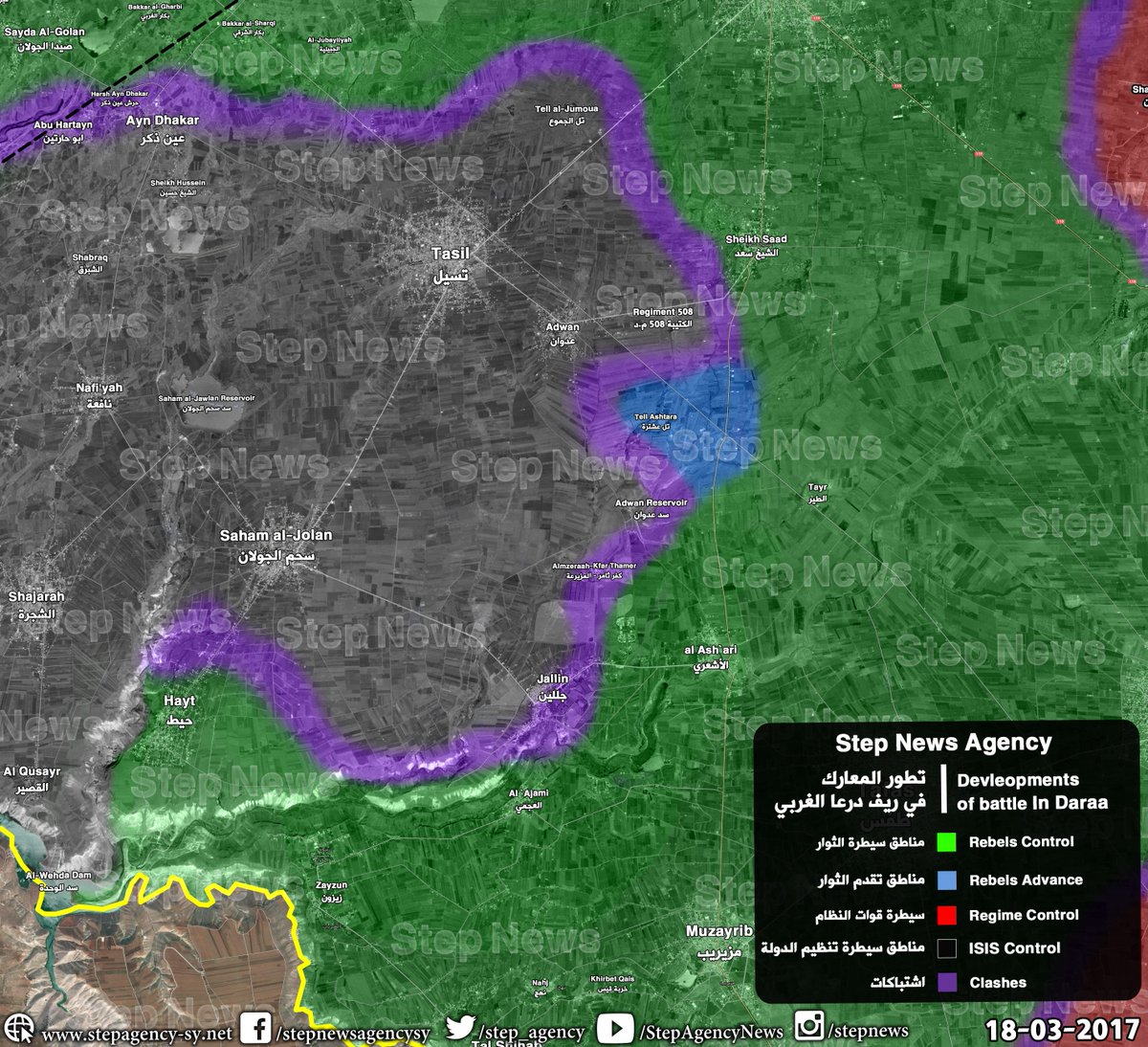 Latest map of southwestern Daraa, keep in mind that Tell Ashtara is recaptured by JKW. Source: Step News Agency
Iraq:
New wave of advances by Iraqi army took place in west Mosul, Al-Resala was unofficially reported as liberated but this seems like wishful thinking as IS still maintains presence in the outskirts of the district. Bad weather conditions persist over west Mosul limiting both Iraqi army's operations and Iraqi air force's ability to provide air support to the army on the ground. Despite the bad weather Iraqi army captured "wednesday" market and a sharia court used by IS in "old Mosul". Army is now around half a kilometer away from al-Nuri mosque an important, symbolic IS bastion where Abu Bakr al-Baghdadi announced the creation of his "caliphate". IS fighters are amassing around the mosque in order to repel future Iraqi army's attacks, al-Nuri mosque can be considered the only major obstacle in the way of Iraqi army in "old Mosul" and after its capture the rest of the district should go easier, if nothing surprising happens.
PMU have reportedly finished preparations for the Tal Afar operation and are just waiting for the order from Haider al-Abadi, Iraq's Prime Minister.
New IS "surprise attack" in Al-Dulab, Anbar governorate, target were homes of army's members. Info hasn't been released regarding casualties for any side and curfew has been enforced in Al-Dulab.
IS foreign commander Abu Hilal from Saudi Arabia was reportedly assassinated in Hawijah, Kirkuk governoate. It is unknown if this is the result of an internal dispute between IS members or if the act was done by Iraqi army or maybe even by a displeased local. Keep in mind that Hawijah is surrounded in a medium sized pocket by Iraqi army and Peshmerga.
An American convoy was spotted today somewhere in northern Iraq heading for Syria. This comes after reports that SDF-led Raqqa city operation will begin somewhere in April.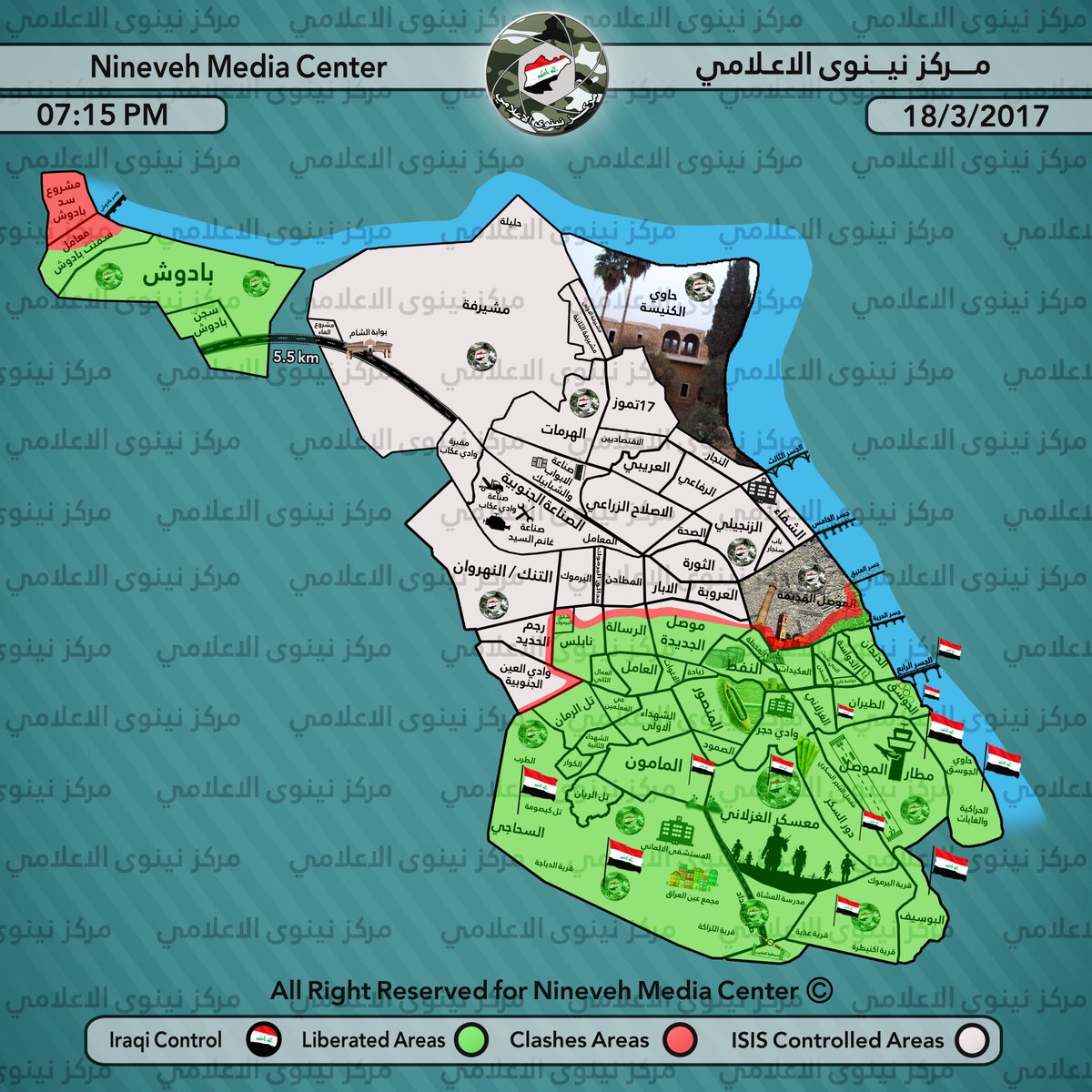 Latest map of west Mosul. Source: NinevehMC
On the 17th of March 2017 CJTF-OIR has conducted 12 strikes in Syria. CJTF-OIR's main focus in Syria at the moment is Deir al-Zour-Raqqa region where they did 11 strikes supporting SDF's operation against IS destroying four wellheads, two front-end loaders, an oil inlet manifold, three fighting positions, a vehicle, an IS-held building and an oil refinement still
Other area where one strike occurred is Palmyra destroying a tank. Full report on CJTF-OIR strikes conducted in both Syria & Iraq can be found here.
Intellectual credited property used may vary from an edition to edition.
Feel free to voice your opinion in the comments section below, constructive criticism is welcomed.
For those of you interested, you can follow us on an official Twitter account @SyrianWarDaily, or me personally on my biased twitter @joskobaric where I occasionally tweet some things.