Hello and welcome to the 30th installment of the SWD.
Military events are listed below by the governorates:
Aleppo:
In the city of Al-Bab, Independent Doctors Association stated that they will rebuild and reopen Al-Hikmah hospital in the city. This is a part of the broader initiative to restore health sector of northern Aleppo that was ruined in battles. Initiative is reportedly supported by Turkey, full post by Independent Doctors Association regarding Al-Hikmah hospital can be found here.
Clashes were reported between TFSA and SDF north of Manbij during the day. Ahrar al-Sham released a statement claiming to have killed and wounded a number of SDF fighters and captured some weapons from them. It appears that the attack was initiated by AAS, however, it is doubtful that it was just a simple raid but rather to probe SDF's defenses north of Manbij as the offensive might be looming on it with constant reports of TFSA and Turkish convoys heading towards Manbij region. To avoid this scenario of TFSA invading Manbij or the other parts of Rojava SDF and government allegedly held talks discussing possibility of dual control over SDF-held areas. Syrian flag was raised in Manbij on the entrance with reports that government services will restart soon.
Pro-rebel sources reported that Russian Military Police detained two SDF members in Aleppo after supposedly clashes took place between SDF and SAA. This could just be pro-rebel sources trying to stir and increase tensions between SDF and SAA because it would greatly benefit them to see the two fight each other. If this event did indeed took place it shouldn't amount to anything and it shouldn't negatively affect SDF–SAA relations.
According to the unconfirmed reports SAA captured Tell Sous and Al-Kiyariyah north of Deir Hafer and with this move they have reportedly encircled Deir Hafer from three sides, this information should stay unconfirmed until reported by more sources. Heavy airstrikes were reported on Deir Hafer, second day in the row.
After almost two and a half months water has finally reached Aleppo city from water treatment plant in Khafsa. Water reached Suleiman al-Halabi plaint in Aleppo and will be equally distributed across the districts as more of it arrives with time. Electricity powering up water treatment plan in Khafsa does seem to be coming from Tishreen dam under the control of SDF. This may not be the most favorable solution to the water crisis but it is the only one currently available and water is desperately needed. Control of Tishreen dam gives SDF strong position as they can cut water to Aleppo if relations become strained between them and government.
Alternative electricity source that can power up the plant is Tabqa dam, however, it is unlikely at this moment that SAA will be able to capture it before SDF does seeing that they are at the outskirts of it and can storm it whenever they want.
One unconfirmed claim changes this whole situation, it suggests that SDF is preparing to transfer Tishreen over to the government, claim by Special Monitoring Mission to Syria.
Homs:
SAA continued to advance around Palmyra capturing Wadi al-Ahmar and Jabal al-Mustadira, operations around Palmyra are supposedly led by 5th corps, new unit trained and equipped by Russia. It will be interesting to see if SAA advances in direction of Arak signaling an operation towards Deir al-Zour.
Latest map of eastern Homs countryside after SAA's advances. Source: v4st0
Iraq:
Today's advances by Iraqi army in west Mosul were mainly focused on "old Mosul", Bab Al-Jadid neighborhood officially liberated in it. Besides the aforementioned neighborhood Iraqi army secured old bridge and now control three out of five bridges connecting east and west Mosul. Other notable locality captured today is Mosul train station west of "old Mosul".
It seems rather unproductive and unnecessary for Iraqi army to venture into fighting in "old Mosul" as the district provides defenders with significant advantage. IS resistance and number could be weaker than what's widely reported and that could be the reason Iraqi army is going to continue pushing in "old Mosul".
West of Mosul, Iraqi army and PMU almost cleared whole Badush area taking Sheikh Mohammed and Jamalia villages today. Final assault on Badush might be this week and then PMU will turn to Tal Afar region.
Situation in Sinjar (Shingal) escalated again today after tensions cooled down, Peshmergas allegedly opened a fire on a large group of people demonstrating killing one Yazidi woman and wounding four. This situation could worsen relations between KDP and PKK in Sinjar to a point where it becomes an open conflict instead of just threats. This also won't help KDP with their reputation amongst local Yazidis who already despise and distrust them for everything that happened in the past.
Iraqi airplane carrying bodies of Iraqi pilgrims killed a few days ago in Damascus suicide bombing has arrived in Najaf airport this morning. Suicide attack by Hayaat Tahrir al-Sham will only encourage rumored PMU incursion into Syria after clearing Iraq from IS.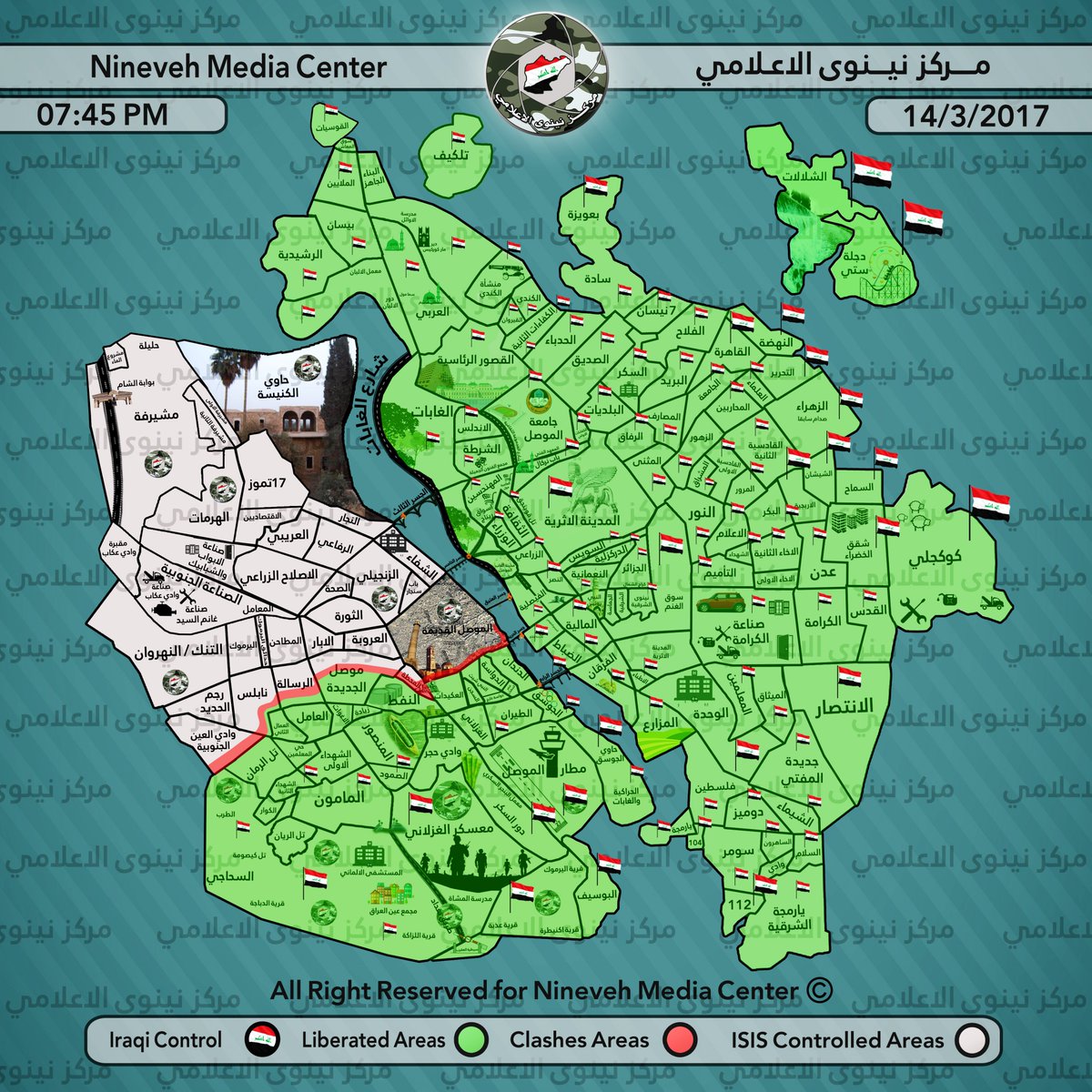 Latest map of Mosul. Source: NinevehMC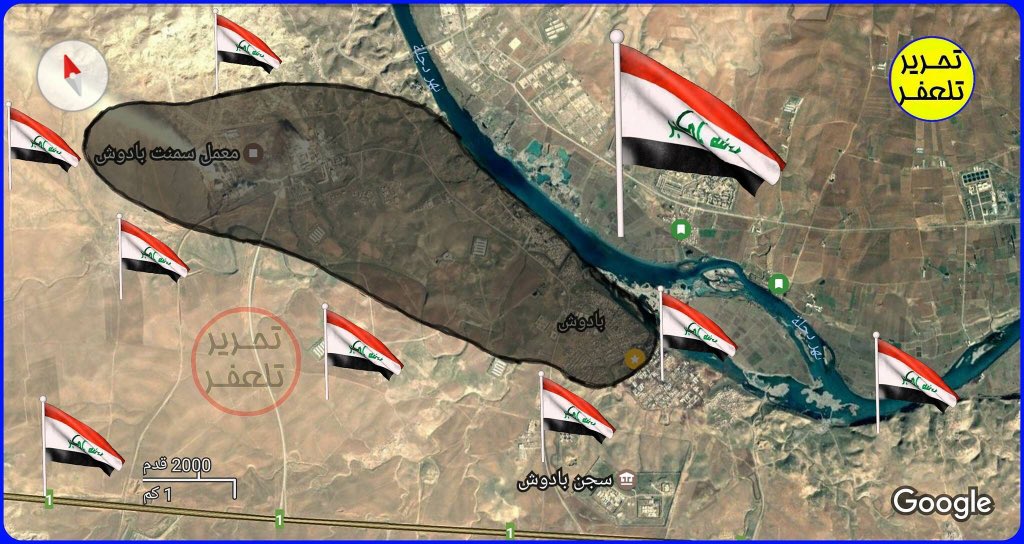 Map showing remaining IS-held territory around Badoush. Source: iraqi_day
On the 13th of March 2017 CJTF-OIR has conducted five strikes in Syria. CJTF-OIR's main focus in Syria at the moment is Deir al-Zour-Raqqa region where they did five strikes supporting SDF's operation against IS destroying an oil refinement still, work rig, two fighting positions and an IS headquarters.
Full report on CJTF-OIR strikes conducted in both Syria & Iraq can be found here.
Intellectual credited property used may vary from an edition to edition.
Feel free to voice your opinion in the comments section below, constructive criticism is welcomed.
For those of you interested, you can follow us on an official Twitter account @SyrianWarDaily, or me personally on my biased twitter @joskobaric where I occasionally tweet some things.