Hello and welcome to the 29th installment of the SWD.
Military events are listed below by the governorates:
Aleppo:
A new video has surfaced allegedly showing SDF abusing a prisoner. Prisoner is accused of being an IS member and has been repeatedly physically assaulted while under detention. Fighters involved in this act of war crime are supposedly a part of Arab unit in SDF, no way to confirm as there are no patches shown in the video. This action could tarnish SDF's propagated reputation as the "only" side that cares about human rights and commits no war crimes.
SAA Tiger Forces restarted their advance against IS in east Aleppo, direction of advance was west of Deir Hafer which surprised many as everyone anticipated an attack on Jirah airbase. Villages captured by SAA today are Humaymah Kabira and Humaymah Saghira.
SAA's short term goal could be to continue advancing south till they reach Jaboul lake and make a pocket out of IS villages south of Kweires airbase. This hypothetical advance could be a part of long term goal of encircling Deir Hafer making it easier to capture. However, later in the day Deir Hafer was targeted by airstrikes and artillery possibly indicating that SAA might go directly for it as the defenses around it are being weakened.
Aleppo's water problem is finally over and water is expected to reach the city in 24 hours. Engineers have fixed electricity problem after fixing plant's infrastructure, according to the unconfirmed reports electricity is reportedly coming from Tishreen dam which is under SDF control. In case this turns out to be true it indicates that SDF-government cooperation is greater than what's being reported.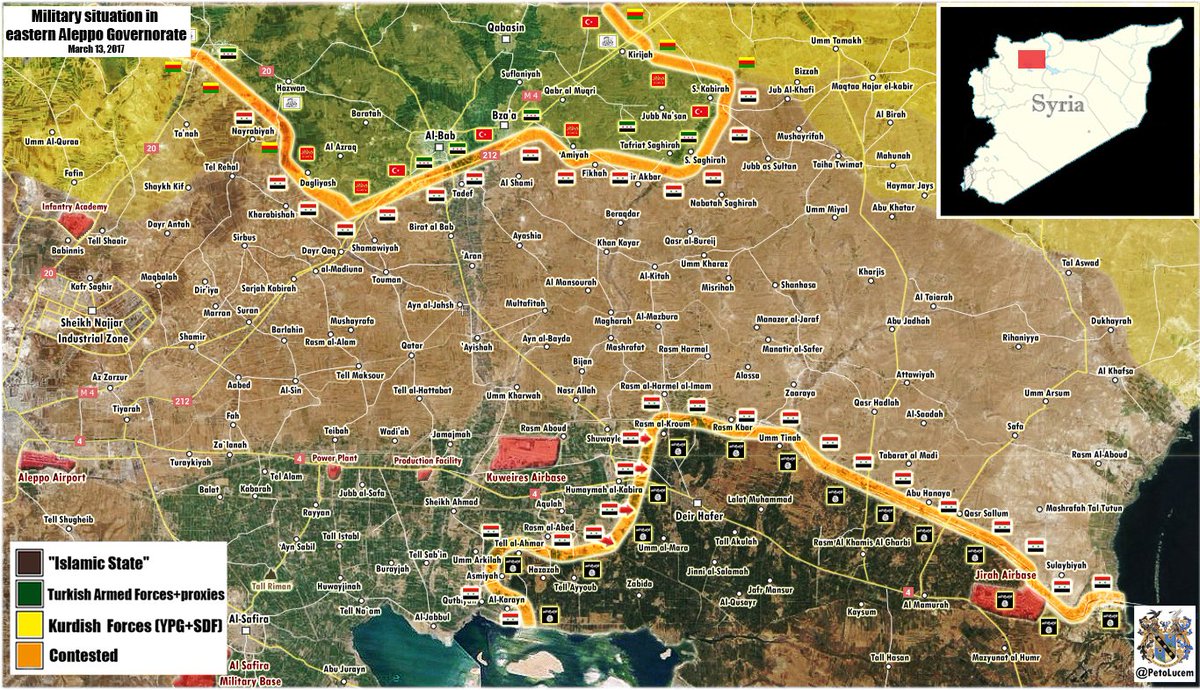 Map showing situation in eastern Aleppo after SAA's advances. Source: PetoLucem
Homs:
After being reported a few days ago, agreement between government and local rebels has been signed regarding the evacuation of Al-Waer, last rebel-held neighborhood of Homs. Militants and their families that do not wish to reconcile will be transported most likely to Idlib in the period of six to eight weeks under the "protection" of Syrian Arab Red Crescent.
In the eastern Homs SAA advanced around Palmyra securing the city's perimeter even further. South of the city power station and Sabkhat al-Muh were captured from IS. Northeast from Palmyra silos were also captured with Amaq releasing statement that IS SVBIED hit SAA in silos area.
Iraq:
Today's advances in Mosul were primarily west of "old Mosul" with small advances also in the "old Mosul" district. Al-Naft and "New Mosul" districts were officially declared as completely liberated by Iraqi army from IS. Important localities in "old Mosul" liberate today are; Al-Sabonji mosque, Al-Khader mosque, Ashur hotel and Al-Sharqiya high school.
It appears that Iraqi army is trying as already written a couple of times already to encircle the most populated and densest district "old Mosul" as noted by recent advances to the west of it. At the same time they are keeping IS occupied in the district by making small advances on the outskirts of the district.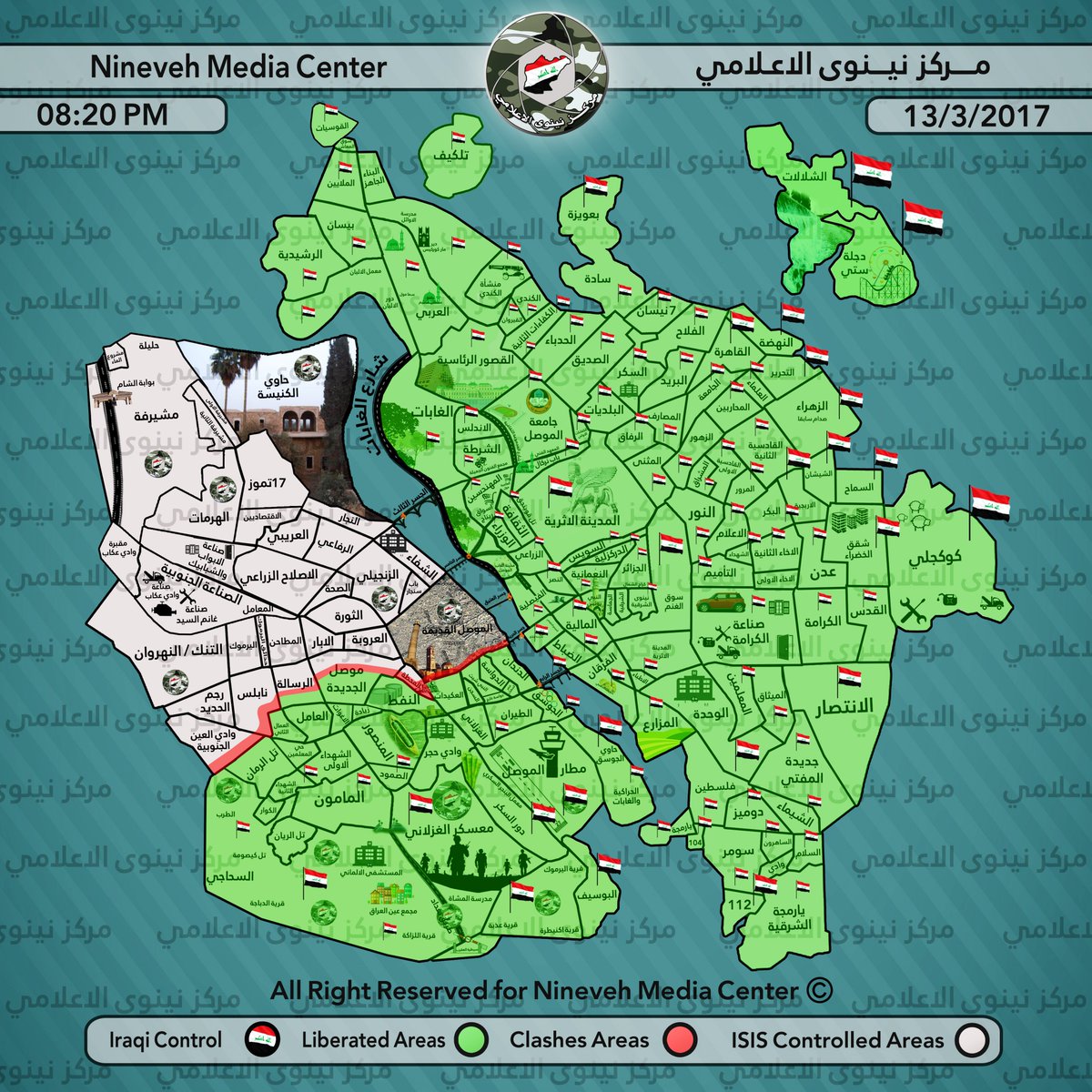 Latest map of Mosul. Source: NinevehMC
On the 12th of March 2017 CJTF-OIR has conducted 15 strikes in Syria. CJTF-OIR's main focus in Syria at the moment is Deir al-Zour-Raqqa region where they did 14 strikes supporting SDF's operation against IS destroying an oil inlet manifold, two wellheads, three fighting positions, two tanker trucks, a weapons storage facility, an IS-held building & an anti-air artillery system; and damaged two bridges.
Other area where strikes occurred is Abu Kamal destroying a wellhead. Full report on CJTF-OIR strikes conducted in both Syria & Iraq can be found here.
Intellectual credited property used may vary from an edition to edition.
Feel free to voice your opinion in the comments section below, constructive criticism is welcomed.
For those of you interested, you can follow us on an official Twitter account @SyrianWarDaily, or me personally on my biased twitter @joskobaric where I occasionally tweet some things.