Hello and welcome to the 28th installment of the SWD.
Military events are listed below by the governorates:
Aleppo:
New day, new claims by TFSA about capture of SAA soldiers, this time three soldiers were allegedly captured near Al-Bab grain silos, full statement about capture by Hawar Kilis operations room can be found here. Clashes between TFSA and SAA were also reported in Al-Bab – Tadef area.
Deir al-Zour-Raqqa:
SDF resume their operation "Wraith of Euphrates" against IS although at a much slower pace than it was couple of weeks ago. Today's confirmed gains are Khass Ujayl and Khass Dakur villages, ~50km east of Raqqa.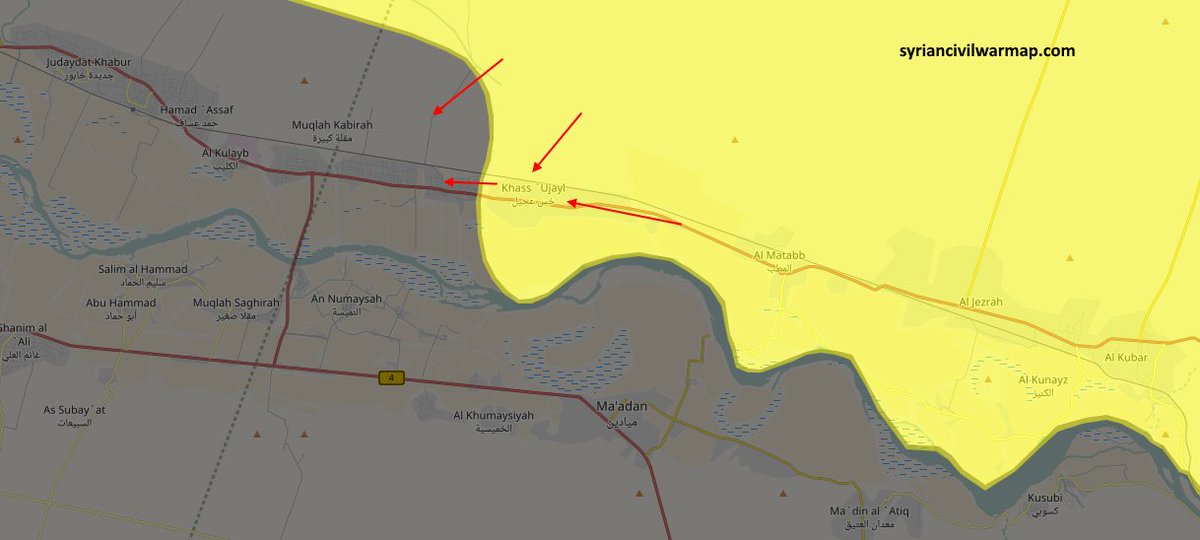 Map showing recent SDF advances against IS. Source: Syrian Civil War Map
Damascus:
It is finally known who is responsible for yesterday's twin suicide bombing in Damascus, Hayaat Tahrir al-Sham claimed to have targeted "Shia militias" in their new statement.
This means that yesterday's statement by Saif al-Sham brigades claiming responsibility for the attack was indeed faked. This false claim may have surprised some as the obvious choice was either IS or Hayaat Tahrir al-Sham and as it turns out one of them did commit this heinous act targeting a group of people solely because of what "sect" they belonged to. Even though part of the victims were military personnel, majority were pilgrims from Iraq as claimed by Iraqi Foreign Ministry yesterday.
SAA captured rebels HQ in Qaboun in security zone and discovered new tunnel from Qaboun to east Ghouta. It is unclear if these advances took place yesterday and are just now being reported because it was claimed yesterday that all supply routes between Qaboun-Barzeh pocket and east Ghouta were cut. But then again, claim about cutting all supply routes could have been reported solely for PR purposes and could be false.
Daraa:
New SVBIED used by rebels struck government position in Al-Manashiyah district this morning. Statement released by Al-Bunyan Al-Marsous operations room later in the day claimed advances in northern part of Al-Manashiyah, statement can be found here. SVBIED used this morning appears to have given rebels a chance to make small advances today and capture "Abu al-Raha" position from SAA. Heavy clashes continue in Al-Manashiyah and airstrikes were reported on rebel-held part of Daraa.
SAA has been slowly reversing gains made by rebels in the first few days of the operation, over the past few weeks regular reports suggested that SAA retook a number of buildings in Al-Manashiyah.
Iraq:
One new district has been officially declared as liberated in west Mosul from IS, Al-Aghwat. Clashes are happening in New Mosul district and in the old part of Mosul. In old Mosul clashes were concentrated on Bab al-Tub area, if fully captured this area would provide Iraqi army with a great staging area for future endeavours towards the center of the district.
With limited advances in Bab al-Tub army is inching towards old bridge and Al-Nuri mosque where Abu Bakr Al-Baghdadi proclaimed its caliphate. Another important locality in Bab al-Tub is its square that is notoriously known because of all the executions IS committed there and transmitted through its official media channels, such as Amaq agency.
West of Mosul Iraqi army backed by PMU took control of Al-Dernajokh, Al-Sabih villages and residential complex near Sheikh Mohammad. Another mass grave was found today in Badush area containing remains of around 20 Iraqi soldiers executed by IS in 2014.
PMU will focus on Tal Afar after clearing Badush region according to today's statement.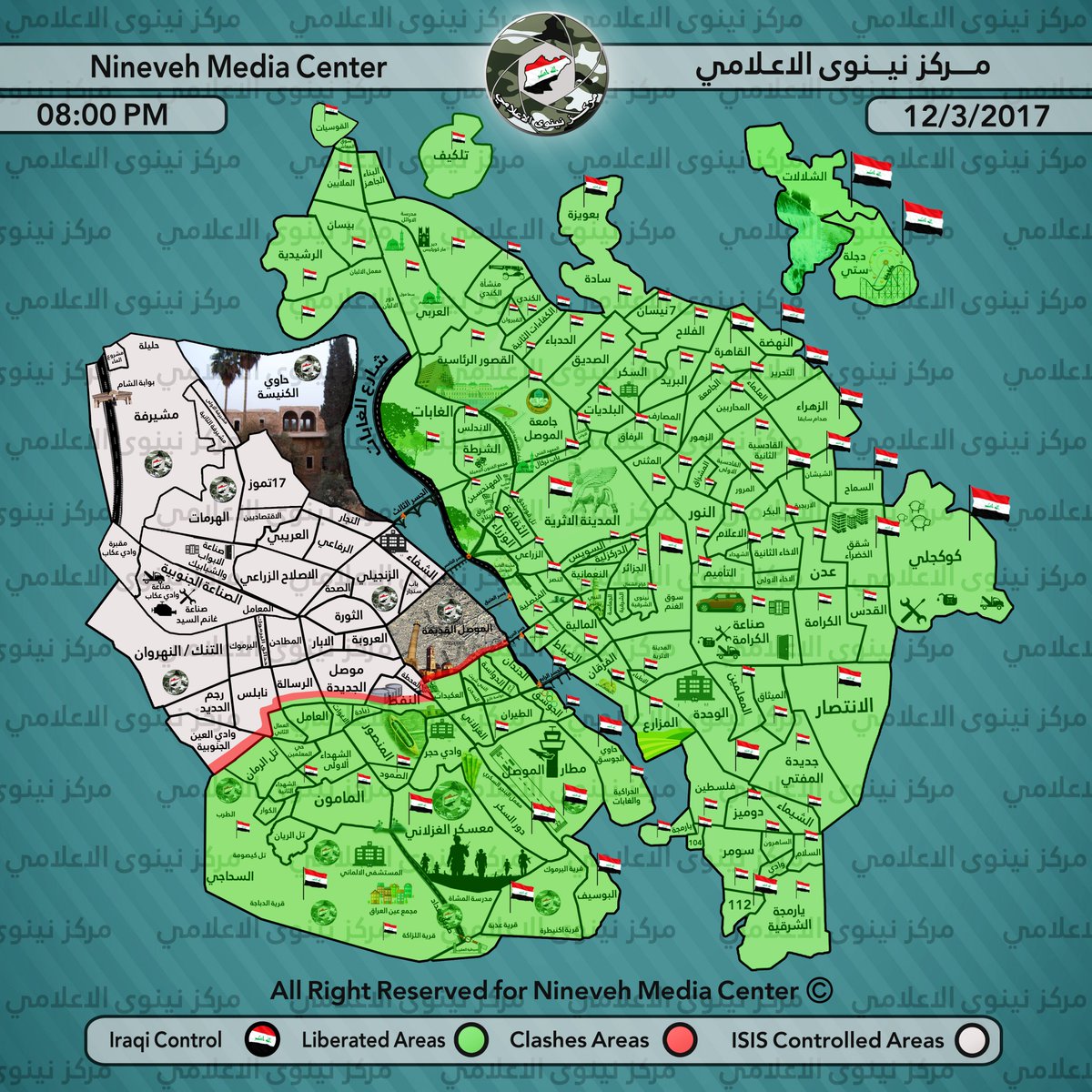 Latest map of Mosul. Source: NinevehMC
On the 11th of March 2017 CJTF-OIR has conducted 19 strikes in Syria. CJTF-OIR's main focus in Syria at the moment is Deir al-Zour-Raqqa region where they did 17 strikes supporting SDF's operation against IS destroying two wellheads, four fighting positions, two ISIS-held buildings, two watercraft, two weapons factories, a tunnel, a vehicle & a vehicle-borne bomb; and damaged five supply routes and a crane.
Other area where strikes occurred is Abu Kamal destroying two pieces of engineering equipment and a vehicle. Full report on CJTF-OIR strikes conducted in both Syria & Iraq can be found here.
Intellectual credited property used may vary from an edition to edition.
Feel free to voice your opinion in the comments section below, constructive criticism is welcomed.
For those of you interested, you can follow us on an official Twitter account @SyrianWarDaily, or me personally on my biased twitter @joskobaric where I occasionally tweet some things.