Hello and welcome to the 27th installment of the SWD.
Military events are listed below by the governorates:
Aleppo:
Compared to the previous days, it was a slow day in Aleppo governorate, usual TFSA shelling happened, this time on SDF-held Tal Rifaat.
Jaysh al-Thuwar, FSA group inside of SDF released captured TFSA fighters, number of released prisoners is allegedly 80. It is unclear under what terms were prisoners released, if the motive for the release is purely "goodwill" it may be counterproductive since the prisoners can very easily enroll back in TFSA and participate in attacks towards SDF.
Unconfirmed claims were spread today about IS counterattack against SAA south of Khafsa. Attack was allegedly accompanied by 4 SVBIEDs and captured a dozen of localities; al-Dara, Rajm al-Aqraa, Tatun hill, Mushrifat Tin, al-Huriya, Babiri, Khirbet Aflee, Khirbet Salib and Qawas hill. These claims should be considered as unconfirmed until there is an official confirmation by IS channels, such as Amaq agency.
Khafsa water treatment plant is ready to start supplying Aleppo with water again, only problem needed to fix is electric current.
Hama:
SAA backed by NDF captured village of Al-Bargoutiah, east of Salamiyah from IS. Village was already reported to be captured by pro-government sources at the beginning of March, today's capture of Al-Bargoutiah proved once again that there isn't completely reliable source as they have all been proved wrong at one or many points, this is not exclusively directed towards pro-government sources, but towards all sources closely covering Syria.
Homs:
It looks like the last rebel-held neighborhood in Homs city, Al-Waer is getting evacuated. A deal mediated by Russia has been finally reached between government representatives and local rebels. Info regarding the deal is still a bit unclear so take everything said here with a grain of salt.
Biggest disagreement regarding the terms of the deal is where will rebels be transported to, according to one source rebels will be allowed to go in Idlib only with government hesitating about allowing them to go towards Jarablus. On the other hand second source claimed rebels will be allowed to choose where they want to go, Idlib countryside, northern Homs pocket or Jarablus. Interesting part of this deal states that SAA won't be allowed to enter Al-Waer for six months and only Syrian and Russian police will be allowed to enter the neighborhood.
Damascus:
Double suicide attack hit Bab Mousallah area, Damascus earlier today killing around 40 and wounding at least a 100 people. Attack targeted Iraqi Shia pilgrims as confirmed by Iraqi Foreign Ministry. However, 16 NDF members were killed and another 7 wounded in the attack, NDF was probably there to ensure the safety of the pilgrims. Pro-rebel sources have tried to justify the bombings claiming that the attack hit military infrastructure, hence the dead NDF members.
The only group to claim an attack was Saif al-Sham brigades part of FSA's Southern Front, in the statement that can be found here group claims to have targeted "Iranian Shia bus", keep in mind that authenticity of the statement can't be verified for now and statement may be false, it is included here since no one else claimed responsibility for the attacks.
SAA appears to have finally made some significant progress in Qaboun-Barzeh pocket weeks after starting operation. Darb al-Tawila street linking Qaboun with Barzeh was captured today, it seems that SAA will try to split the pocket. Ten tunnels linking pocket to east Ghouta have been discovered by SAA two of them being big enough for vehicles. With the capture of these tunnels supply route between Qaboun-Barzeh and east Ghouta has been reportedly cut.
Iraq:
In west Mosul clashes continue between IS and Iraqi army primarily in Risalah, Nablus, Al-Jadidah and Al-Yarmouk districts, the latter made limited advances in the areas mentioned. Areas where clashes occurred are all west of old Mosul, most populated and densest district in Mosul, based on that it appears that Iraqi army is trying to encircle it in some way and force IS to flee from it. However, advances were reported in old Mosul in the direction of old bridge, this part of the district is the least dense and area around it has strategic value as it provides army with a foothold in the district and ability to connect with east Mosul, provided of course that bridge is captured and repaired to a limit where it can be used for transport.
Interesting discovery was made under Mosul's university as demining operations continue inside of it and in surrounding area, it looks like IS have dug a whole series of tunnel networks under the university leading to a number of areas in Mosul.
West of the city of Mosul, Iraqi army continued progress and have captured Khawaja Khalil village and Mosul water plant. In the recently captured Badush prison PMU found disturbing discoveries, mass grave was uncovered reportedly containing remains of around 500+ people killed by IS. When IS captured Badush prison in June of 2014 it freed all Sunni prisoners and executed mostly Shia prisoners and some Yezidis and Kurds. After securing area around Badush prison PMU detained a number of people accused of being involved in massacres that occurred in the area, including Badush prison one. IS completely destroyed Badush prison, unknown if destruction happened after the massacre, during IS occupation or prior to liberation of it by Iraqi army.
IS made several desperate attacks today across the Iraq in order to ease the pressure on Mosul and make army concentrate efforts on suppressing these attacks. Attacks failed miserably resulting in around ~30 IS militants killed, ~20 wounded, multiple vehicles destroyed and 3 destroyed SVBIED. Launched attacks were west of Ramadi, Anbar and north of Baiji, Sallahadin governorate.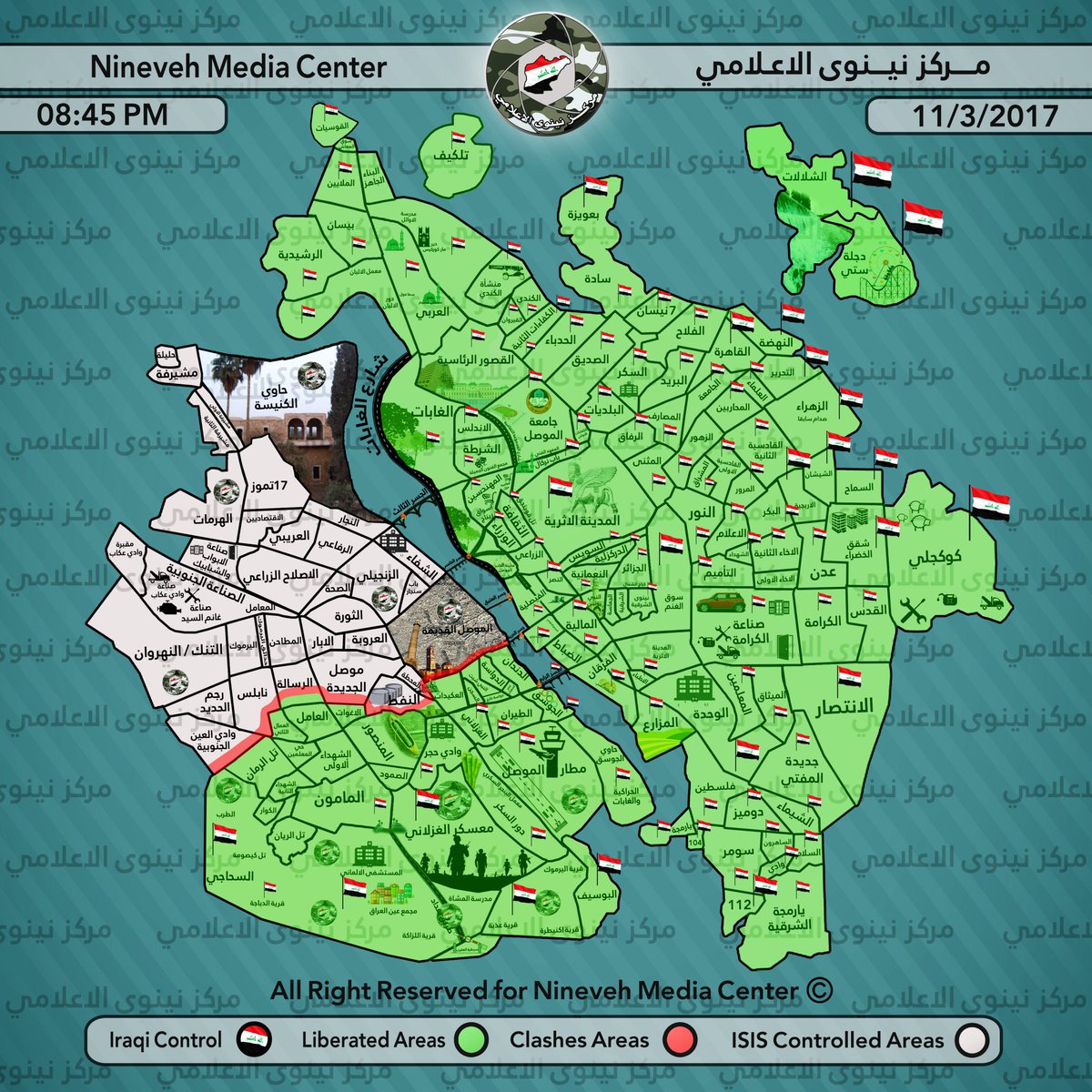 Latest map of Mosul. Source: NinevehMC
On the 10th of March 2017 CJTF-OIR has conducted 19 strikes in Syria. CJTF-OIR's main focus in Syria at the moment is Deir al-Zour-Raqqa region where they did 19 strikes supporting SDF's operation against IS destroying five barges, four wellheads, a weapons factory, four vehicles, a fighting position, a tactical vehicle, an IS headquarters and a vehicle-borne bomb factory; and damaged three supply routes and an IS-held building.
Full report on CJTF-OIR strikes conducted in both Syria & Iraq can be found here.
Intellectual credited property used may vary from an edition to edition.
Feel free to voice your opinion in the comments section below, constructive criticism is welcomed.
For those of you interested, you can follow us on an official Twitter account @SyrianWarDaily, or me personally on my biased twitter @joskobaric where I occasionally tweet some things.