Hello and welcome to the 26th installment of the SWD. In case some missed yesterday's announcement, You can find an interactive and regularly updated map of Syria embedded on our page, for those interested it can be found here and above in the site's always present "menu" section.
Military events are listed below by the governorates:
Aleppo:
Turkish or TFSA's artillery continues to strike Jubb Al-Hamra village now under the control of SAA "Border Guards" and TFSA is reportedly trying to advance on the village. TFSA convoy departed for western Manbij indicating that they are preparing for an offensive despite the "border deal". These actions by TFSA could be happening without Turkish approval and could showcase how much influence Turkey has over its "proxies". However, these actions could be Turkish directives to send a message that it wont oblige by the "border deal" and that they will continue shelling area around Manbij until SDF withdraws from it.
TFSA shelled a dozen of SDF positions east of Afrin in Maranaz, Menagh airbase, Ayn Dagnah and Tell Bilouna.
SAA Tiger Forces still haven't launched an offensive towards al-Jirah airbase as airstrikes and artillery weakens defenses around it and even wider. Offensive once launched might include taking Jirah airbase, Maskanah and Deir Hafer in one go without stopping, if for some reason offensive doesn't include taking Deir Hafer it could aim to just encircle it.
Raqqa:
SDF continued advance against IS and have captured Al-Matabb and Tall Unayzah.
Homs:
The first team of 187 servicemen of the International Demining Center of the Russian Armed Forces arrived in Palmyra to demine it for the 2nd time. Last time during demining operations engineers cleared 825 hectares, 8,500 buildings as they demined about 18,000 explosive units. Full article regarding demining operations in Palmyra can be found on TASS.
West of Palmyra the process of repairment and reconstruction started on Hayyan Gas Facility, the facility was damaged by IS in an attempt to completely destroy it using explosives.
Iraq:
Iraqi army has made significant progress in west Mosul today liberating Al-Nabi sheet, Al-Aqedat, Al-Amal 1, Al-Amal 2 and Al-Aghwat districts. Other notable localities liberated today include Palestine Hotel in the vicinity of Al-Hurria bridge and the institute of the fine arts in Al-Resala district. Based on the recent advances it appears that Iraqi army might be trying to encircle old Mosul area and force IS to flee from it before encirclement occurs. If this is indeed what Iraqi army intends to do, it is completely understandable seeing that old Mosul is and this can't be emphasized enough a very densely built district with narrow streets giving defenders considerable advantage over attackers.
Important to note that Iraqi army faces a dozen of SVBIEDs daily in west Mosul.
West of Mosul advances took place around Badoush, Iraqi army and PMU captured Hamidat, Jamasah and Alumluk.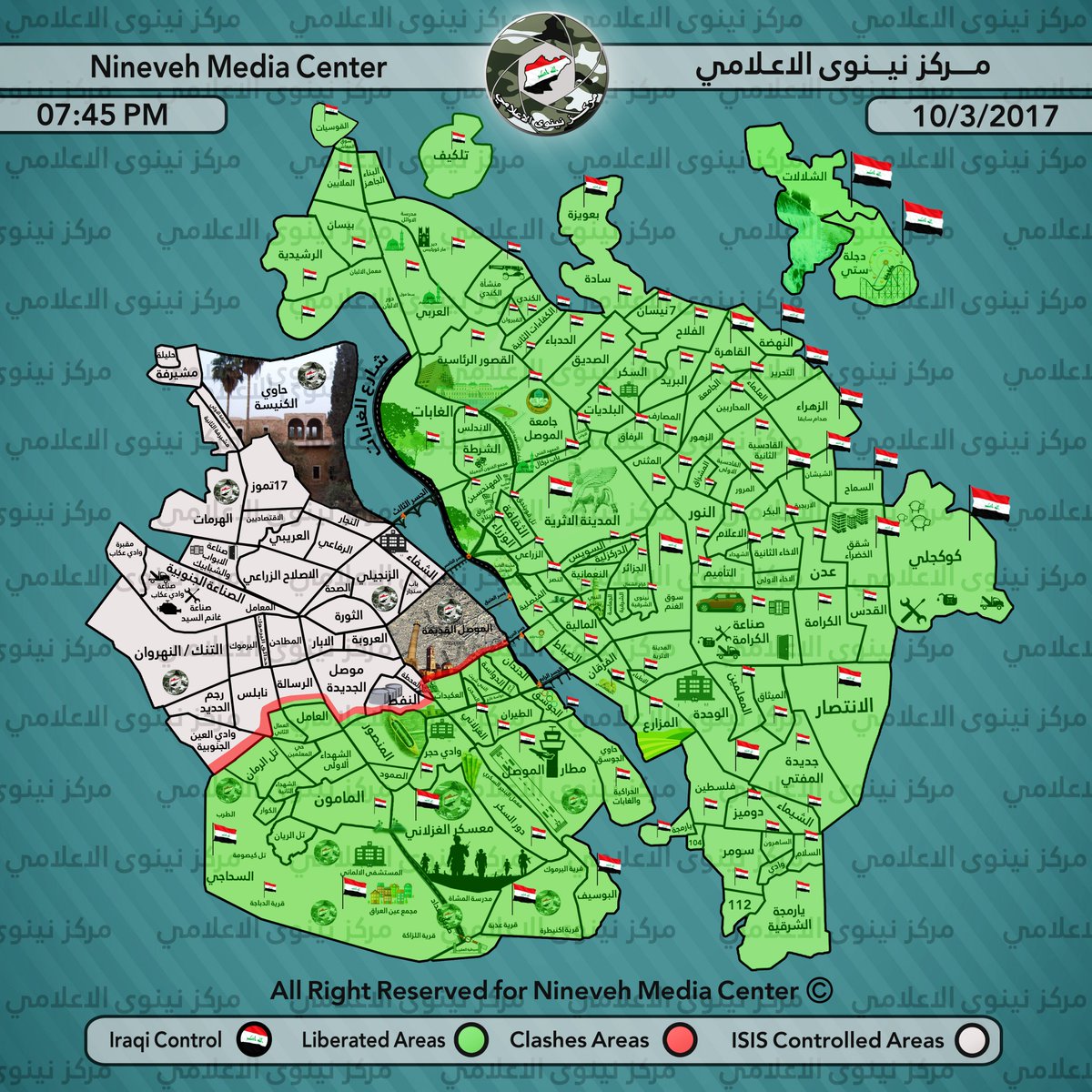 Latest map of Mosul. Source: NinevehMC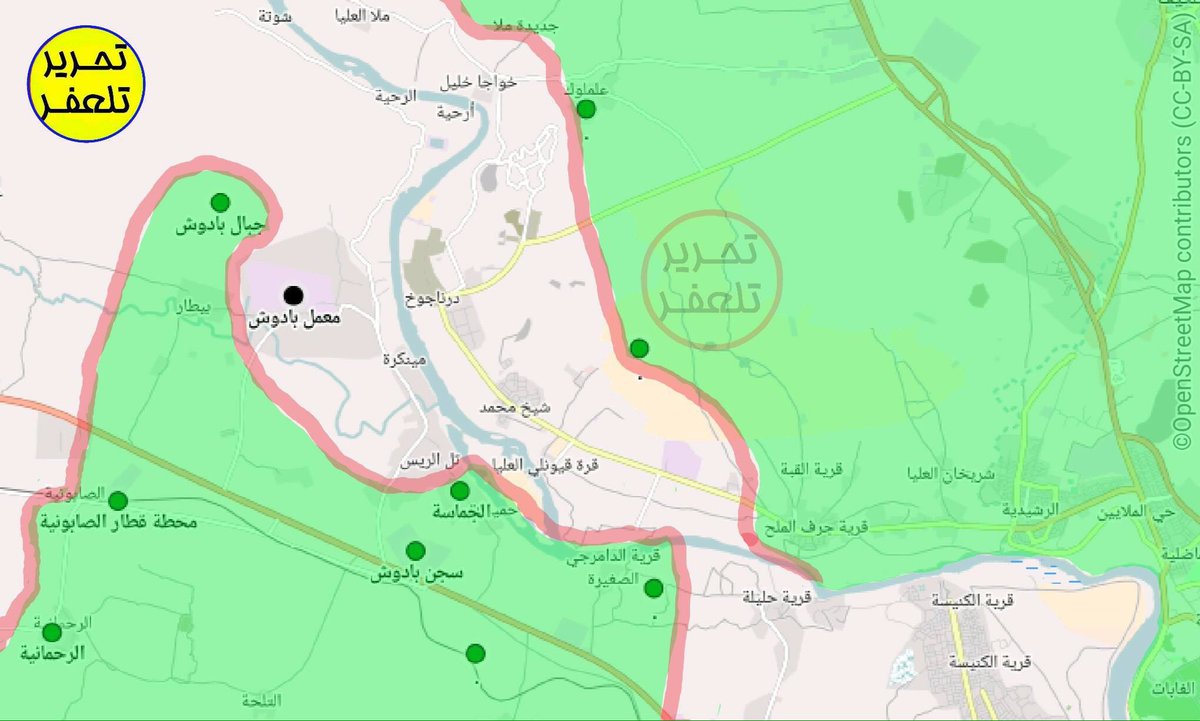 Situation around Badoush. Source: iraqi_day
On the 9th of March 2017 CJTF-OIR has conducted 14 strikes in Syria. CJTF-OIR's main focus in Syria at the moment is Deir al-Zour where they did 9 strikes supporting SDF's operation against IS destroying two barges, five wellheads, a fighting positions and a vehicle; and damaging two barges.
Other area where strikes occurred is Deir al-Zour destroying two wellheads, a tactical vehicle and three fighting positions, two tunnels, a vehicle repair facility & a tactical vehicle, respectively. Full report on CJTF-OIR strikes conducted in both Syria & Iraq can be found here.
Intellectual credited property used may vary from an edition to edition.
Feel free to voice your opinion in the comments section below, constructive criticism is welcomed.
For those of you interested, you can follow us on an official Twitter account @SyrianWarDaily, or me personally on my biased twitter @joskobaric where I occasionally tweet some things.