Hello and welcome to the 25th installment of the SWD. As of today, You can find an interactive, regularly updated map of Syria embedded on our page, for those interested it can be found here and above in the site's always present "menu" section.
Military events are listed below by the governorates:
Aleppo:
SDF-Russia deal regarding western Manbij finally came into effect and it couldn't have started any worse than it did. Artillery shelling by Turkey has hit SAA "Border Guards" positions in Boughaz and Korhiyook villages, western Manbij killing at least 8 and wounding even more. Turkey might have acted in ignorance assuming that only SDF is present in villages shelled by artillery, if that is the case it shows that countries involved in the war need to work on developing better cooperation in order to avoid incidents like these occurring in the future.
Besides the villages mentioned in the earlier sentence SAA entered Kurt Wayran, Abu Hayj and Jubb al-Hamra that are a part of the "border" between TFSA and SDF. Assuming that these are all the villages SAA is getting from SDF, this deal seems even worse for government as it was initially thought they were going to get control of Arimah and even more villages. Even with "Border Guards" deployed clashes resume between TFSA and SDF  west of Manbij.
According to the pro-rebel sources remote controlled VBIED belonging to the SDF was destroyed in the vicinity of Boughaz village. This may not sound like SDF's typical modus operandi, but anything is possible in this war. VBIED might have been captured from IS and repurposed to detonate at a distance, lack of CJTF-OIR's airstrikes against TFSA could have forced SDF to resort to using remote controlled VBIED which can be almost efficient as sorties.
After a few days of stagnation, TFSA claims to have captured 2 SAA soldiers today around village of Batushiya, east of Al-Bab.
Several pro-government sources falsely reported that Jirah airbase was captured by SAA Tiger Forces from IS after the latter allegedly retreated from it. Heavy artillery and airstrikes hit Jirah airbase and Maskanah weakening IS defenses in these areas while new phase of the operation is being planned aimed at capturing these areas.
Aleppo will have to wait a few more days before it gets water from the water treatment plant. Repair teams entered the plant today and damage done to the plant's infrastructure is greater than expected. Repairment started immediately and is expected to take several days before plant is operational.
This part of the daily might be a bit older, but it is interesting enough that it deserves inclusion. "Photosphere" from January this year shows the amount of damage remaining in the city of Kobani. IS was pushed from the city in the early 2015 and extensive reconstruction is in progress since then.
Hopefully this sheds some light about situation in Kobani and how much of it was destroyed in the battles.
Raqqa-Deir al-Zour:
SDF advanced on multiple fronts against IS today capturing; al-Kajla, Kubar, Al-Jezrah, Tal Hamid and Tal Minkhar Sharqi.
Iraq:
Two more districts were officially announced as liberated in west Mosul, Al-Mualameen and Al-Silo. Iraqi forces are now in control of around half of west Mosul and they are expected to continue advancing at this rapid pace as IS collapses in the whole Nineveh governorate.These rapid advances unfortunately come at a price, with IS getting weaker and demoralized in Mosul they resort to SVBIEDs and shelling of liberated areas which cause direct civilian casualties.
West of the Mosul PMU and Iraqi army continue advancing around Badoush that is now cut off from both Mosul and Tal Afar after advances by PMU and army. Villages captured today in Badoush area are; Al-Buwiter, Al-Akilat and Al-Beetar.
Iraqi Prime Minister Haider al-Abadi reiterated today that Iraq will continue to strike IS in Syria and other countries in the region under the permission of country where strikes occur.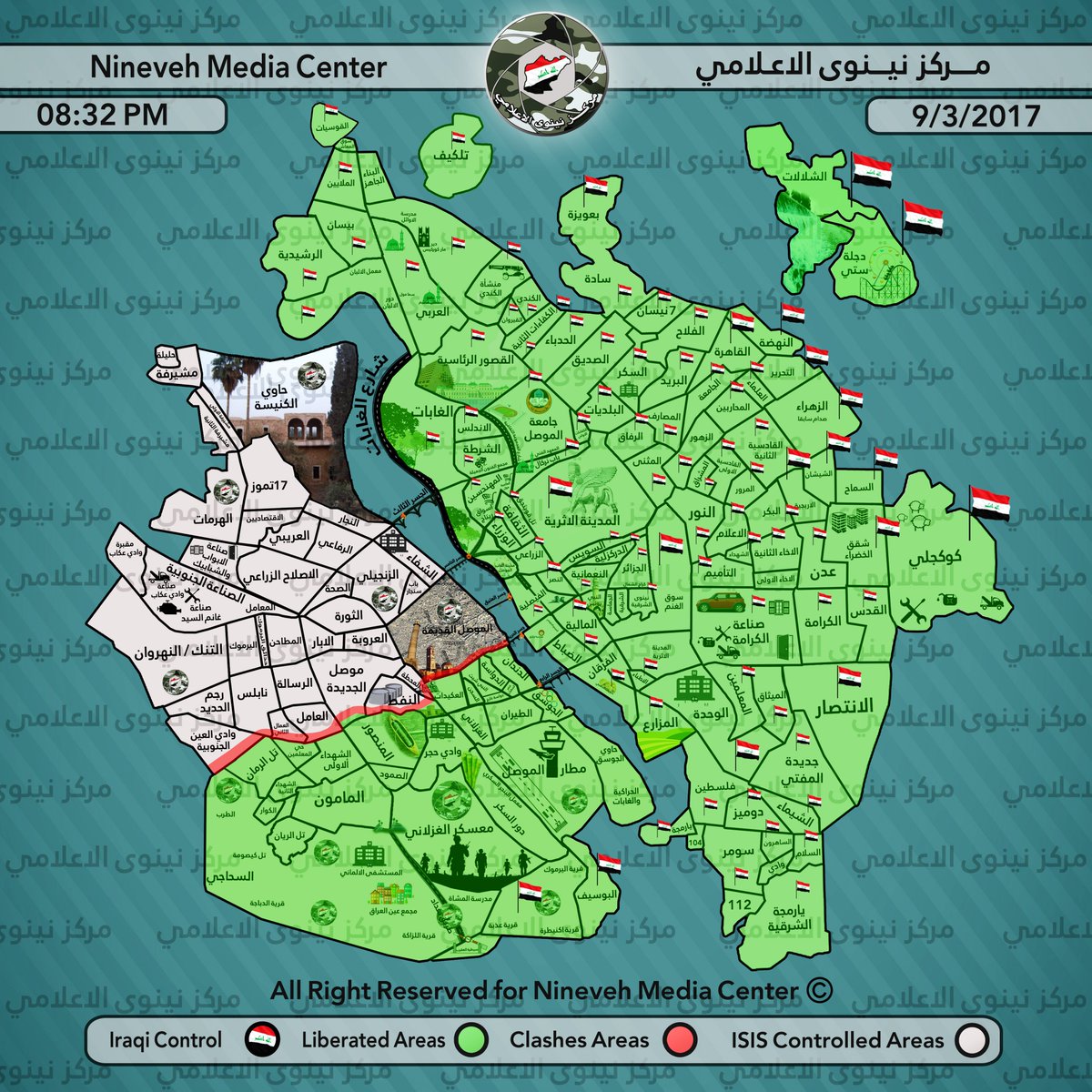 Latest map of Mosul. Source: NinevehMC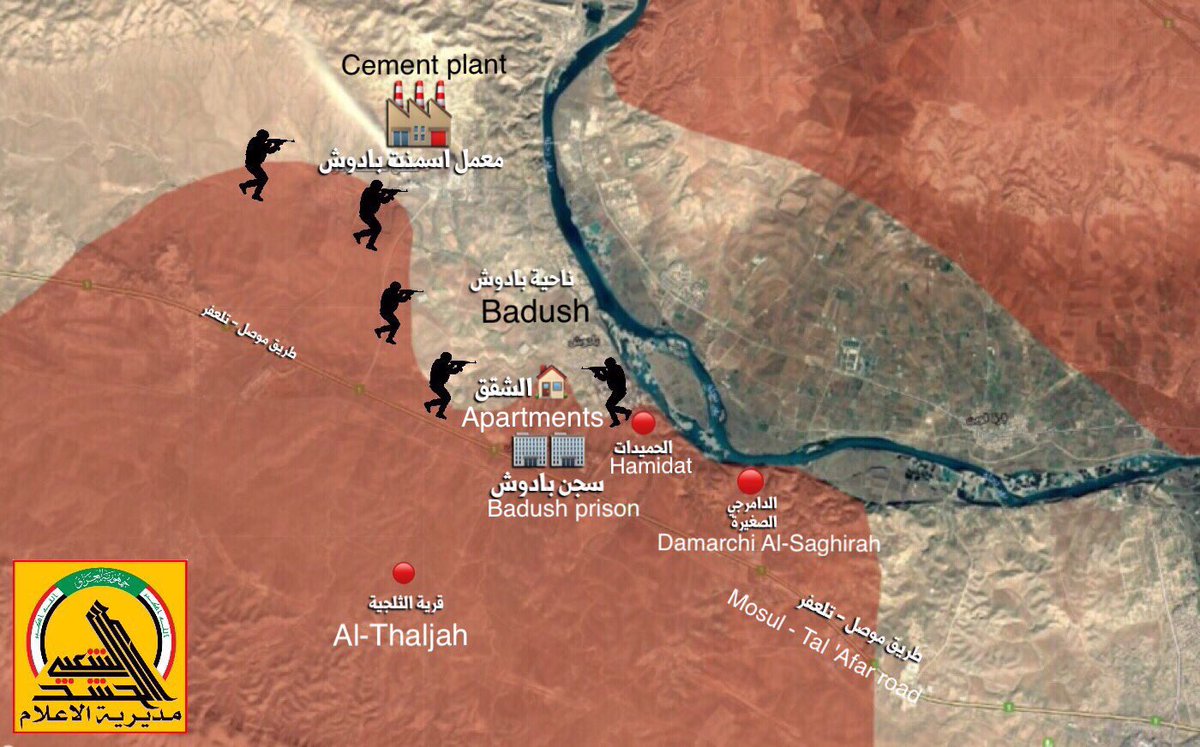 Map showing situation around Badoush. Source: IraqiSecurity
On the 8th of March 2017 CJTF-OIR has conducted 20 strikes in Syria. CJTF-OIR's main focus in Syria at the moment is Deir al-Zour where they did 13 strikes supporting SDF's operation against IS destroying six wellheads, three gas-oil separation plants, a vehicle, a fighting position, a vehicle-borne bomb, a weapons storage facility and a tank.
Other areas where strikes occurred are Abu Kamal, Manbij and Raqqa destroying two wellheads, a tactical vehicle and three fighting positions, two tunnels, a vehicle repair facility & a tactical vehicle, respectively. Full report on CJTF-OIR strikes conducted in both Syria & Iraq can be found here.
Intellectual credited property used may vary from an edition to edition.
Feel free to voice your opinion in the comments section below, constructive criticism is welcomed.
For those of you interested, you can follow us on an official Twitter account @SyrianWarDaily, or me personally on my biased twitter @joskobaric where I occasionally tweet some things.