Hello and welcome to the 24th installment of the SWD.
Military events are listed below by the governorates:
Aleppo:
Clashes between TFSA and SDF continue west of Manbij, despite the clashes neither side was able to advance. Clashes also allegedly occurred between SDF and Turkish army west of Afrin canton. Three Turkish soldiers and one SDF's were injured in the clashes, village where clashes occurred is Qarah Baba. Over the past week there were reports of Turkish army amassing around the Afrin canton, it will be interesting to see if this was just an ordinary border clash or a prelude to something bigger.
Convoy of 25 vehicles by IHH Humanitarian Relief Foundation based in Turkey entered the city of Al-Bab, convoy delivered 150 tons of flour to the local population that keeps returning to the city. According to the Eldorar Alshamia, The Agency of Disaster and Emergency Management Presidency of Turkey plans to build a city north of al-Bab city, it is expected to be built in 6 months and have ~11500 apartments, four clusters of schools &hospitals and three mosques. City is expected to be a home to around 80 thousand Syrians who fled from Aleppo during the battles, full report can be read here.
SAA Tiger Forces have captured all of the villages and localities north of al-Jer canal including the main water treatment plant. However, even though SAA captured water treatment plant today, Aleppo's water problem persist due to IS cutting electricity coming from Euphrates. Maintenance teams will enter treatment plant tomorrow, evaluate the damage done and try to fix it as quick as possible.
Localities captured by SAA today include; Al-Sukhni, Arouda Kabira, Khafsah Saghira, Rasm al-Hirmil Kabira, Rasm al-Hirmil Saghira, Habboubah Kabiira, Habboubah Saghira, Rasm al-Aboud, Khafsah al-Hamoud, Al-Durra, Mashrafah Tall tutun, Tell Qawas, Tell al-Tutun, Rajm al-Aqra, al-Hurriyah and Mashrafah Tinah.
Following today's advances SAA is on the doorstep of Jihar airbase with some unconfirmed rumors circulating that SAA is storming it. In case SAA doesn't take a break from advancing Jihar might be captured tomorrow.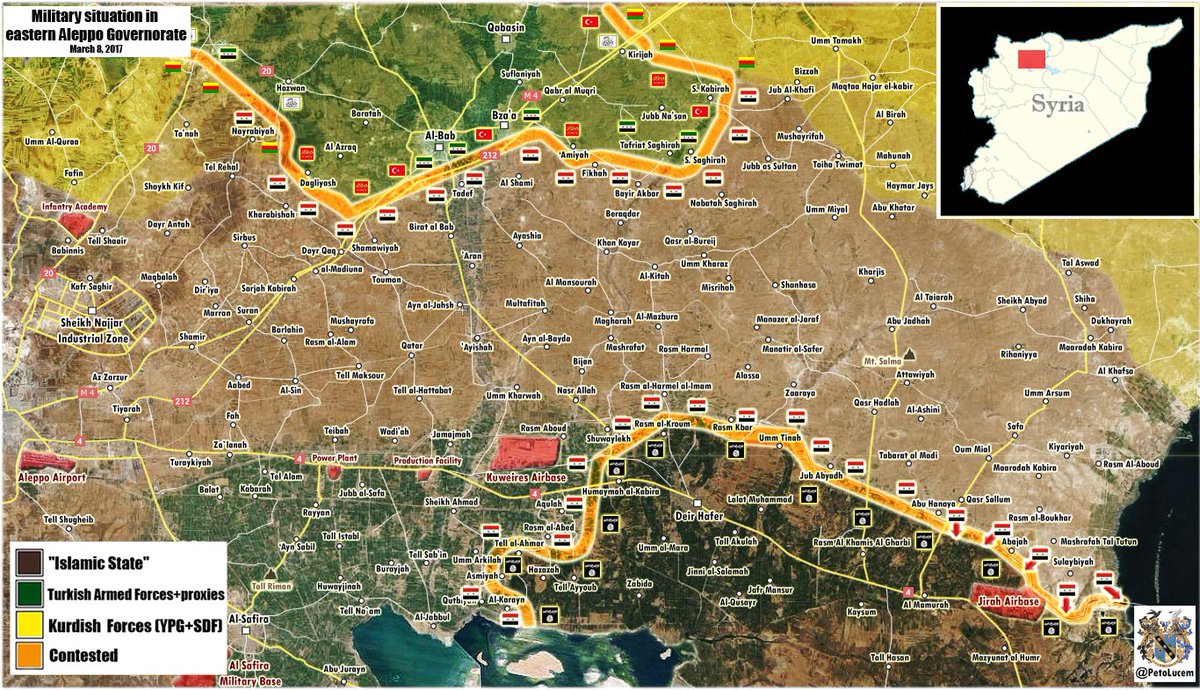 Map of eastern countryside of Aleppo after SAA's advances. Source: @PetoLucem
Raqqa:
SDF have made small advances against IS east from the city of Raqqa capturing West Minxer Hill, capture of the hill could be preparation for the next stage of Raqqa operation so SDF is trying to attain strategic localities that would allow them to advance with ease in the future.
Map of Raqqa showing latest advance by SDF. Source: @_paulo34
Iraq:
After yesterday's liberation of Al-Dandan and Al-Dawasa districts, Iraqi army has reached the outskirts of old Mosul with some limited advances reported inside of it. Old part of Mosul is the last big obstacle standing in the way of Iraqi army, with its narrow streets and very high density it is an urban nightmare to fight in when attacking. Two districts in west Mosul were officially declared as liberated Al-Mansour and Al-Shuhada Al-Thaniya. IS doesn't seem to be able to stop Iraqi army from advancing on multiple fronts in Nineveh governorate as army and PMU liberated a number of localities northwest and west from Mosul such as; Al-Hamidat, Al-Rayhana, Badush prison, cement factory & apartments, Tall Khazaf and Atshana hills.
Iraqi army killed a suicide bomber that tried to target them north of Baghdad before he got a chance to blow himself. However, two IS suicide bombers successfully detonated themselves during wedding celebration in Hajaj, north of Tikrit killing 25 and injuring 26 civilians. Unfortunately this cowardly tactic of attacking civilians always correlates to Iraqi army's advances, whenever there is a significant advance by the army suicide attacks spike up across the country.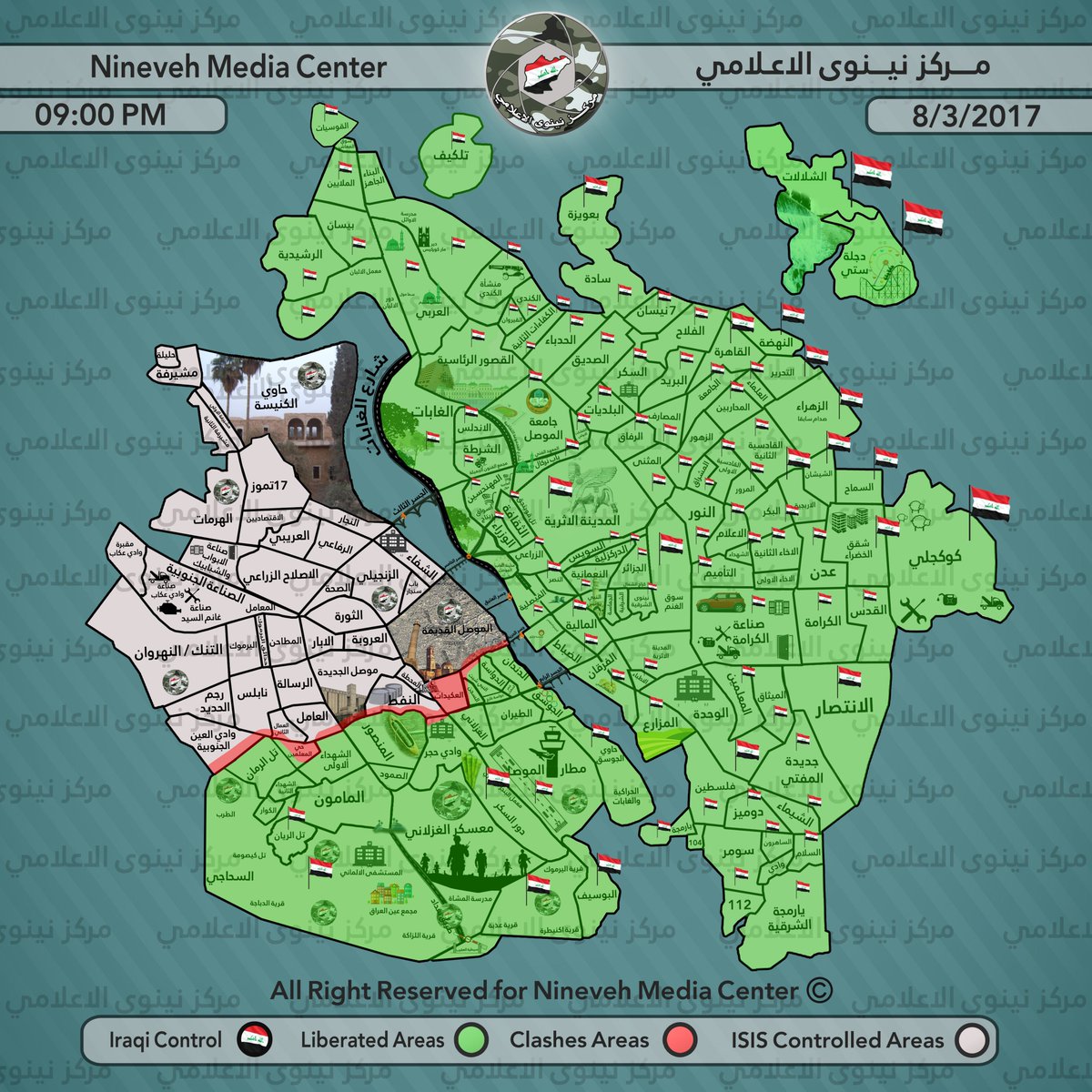 Latest map of Mosul. Source: @NinevehMC
On the 7th of March 2017 CJTF-OIR has conducted 21 strikes in Syria. CJTF-OIR's main focus in Syria at the moment is Deir al-Zour where they did 16 strikes supporting SDF's operation against IS destroying nine wellheads, six fighting positions, three oil inlet manifolds, three barges, a pumpjack and a shipping container and damaged three supply routes and two bridges.
Other areas where strikes occurred are Shaddadi, Abu Kamal and Raqqa destroying an IS headquarters, a gas-oil separation plant and a footbridge & an IS-held building, respectively. Full report on CJTF-OIR strikes conducted in both Syria & Iraq can be found here.
Intellectual credited property used may vary from an edition to edition.
Feel free to voice your opinion in the comments section below, constructive criticism is welcomed.
For those of you interested, you can follow us on an official Twitter account @SyrianWarDaily, or me personally on my biased twitter @joskobaric where I occasionally tweet some things.