Hello and welcome to the 23rd installment of the SWD.
Military events are listed below by the governorates:
Aleppo:
It appears that yesterday's claims of TFSA capturing Boughaz were false and village remains with SDF as clashes around it are happening. New "report" by ANF news claimed 16 TFSA were killed and 1 armored vehicle belonging to the Turkish army was destroyed during failed infiltration attempt in Boughzaz village, there is still no evidence to back up these claims so take it with a grain of salt.
More Turkish armor is being sent north of Manbij to support the inevitable operation by Turkey and TFSA to capture the city from SDF. US forces are also present in Manbij countryside so it will be interesting to see if there will be a direct clash between two NATO countries.
Even more advances were made today by SAA Tiger Forces in east Aleppo, some of the localities that are to be listed may have already been previously listed, some may even be missing or their names may not be 100% correctly translated, I do apologize in advance if it is any of these cases, it is very hard to keep track of all the villages, hills and hamlets since there is a lot of them in the area.
Today's advances made by SAA Tiger Forces include: Jarkes, Ebajeh, Abo Teneh, Al-Esmaeliah, Khafiyah, Al-Humur, Khirbat Shihab, Al-Rihaniyah, Maaradah Kabira, Jubb Qahwa, Um Rasum, Rasm Bukhir, Dukhayrah, Sheikh Abyad, Harb Kabir, Harb Saghir, Ankiban, Balwahti, Kifyat al-Humr and Al-Khafsah.
There was an IS pocket north of Al-Khafsah created during the day, but it was subsequently cleared later in the day. Some pro-government sources prematurely announced capture of water treatment plant south of Al-Khafsah, plant is expected to be captured tomorrow, for more info about Aleppo's water situation and how the city gets water read "Water as a Weapon" by @alextorrell.
An explanation can be provided for the recent massive advances by SAA against IS in eastern Aleppo other than sheer military superiority by SAA, not so long ago news broke out about IS flooding al-Jer canal in order to stop SAA's advances. During that period IS could have withdrawn south from the canal leaving token to none garrison in the villages north of the canal in order to keep SAA occupied and to slow them down a little. While SAA captures a dozen "hypothetically empty" villages a day, IS is building a strong defensive line south from canal in the Deir Hafer – Jirah airbase area.
Map showing current situation in east Aleppo after SAA's advances. Source: @hamza_780
Homs:
Northeast of Palmyra, SAA captured Al-Amiriyah hill including area located near it in order to build bigger buffer zone around Palmyra and protect it from any future hostile actions by IS. Next target for the SAA could be Palmyra silos just east of the captured Al-Amiriyah hill.
Iraq:
Significant advances in west Mosul were made by Iraqi army against IS since yesterday, the most important locality liberated today is Nineveh government complex used as an HQ and a shariah court in central Mosul. One other interesting locality liberated today in central Mosul is Turkish consulate. Tal al-Ruman, Al-Dandan, Al-Dawasa districts were officially declared as fully liberated. Iraqi army is advancing in Al-Mualameen and Al-Shuhada districts amid clashes with IS. If Iraqi army can continue this moment and continue their impressive advance against IS in urban environment, we might see the entire west Mosul liberated by the end of this month.
Iraqi army and PMU took control of Al-Thalja village northwest of Mosul, tightening the siege of west Mosul even more.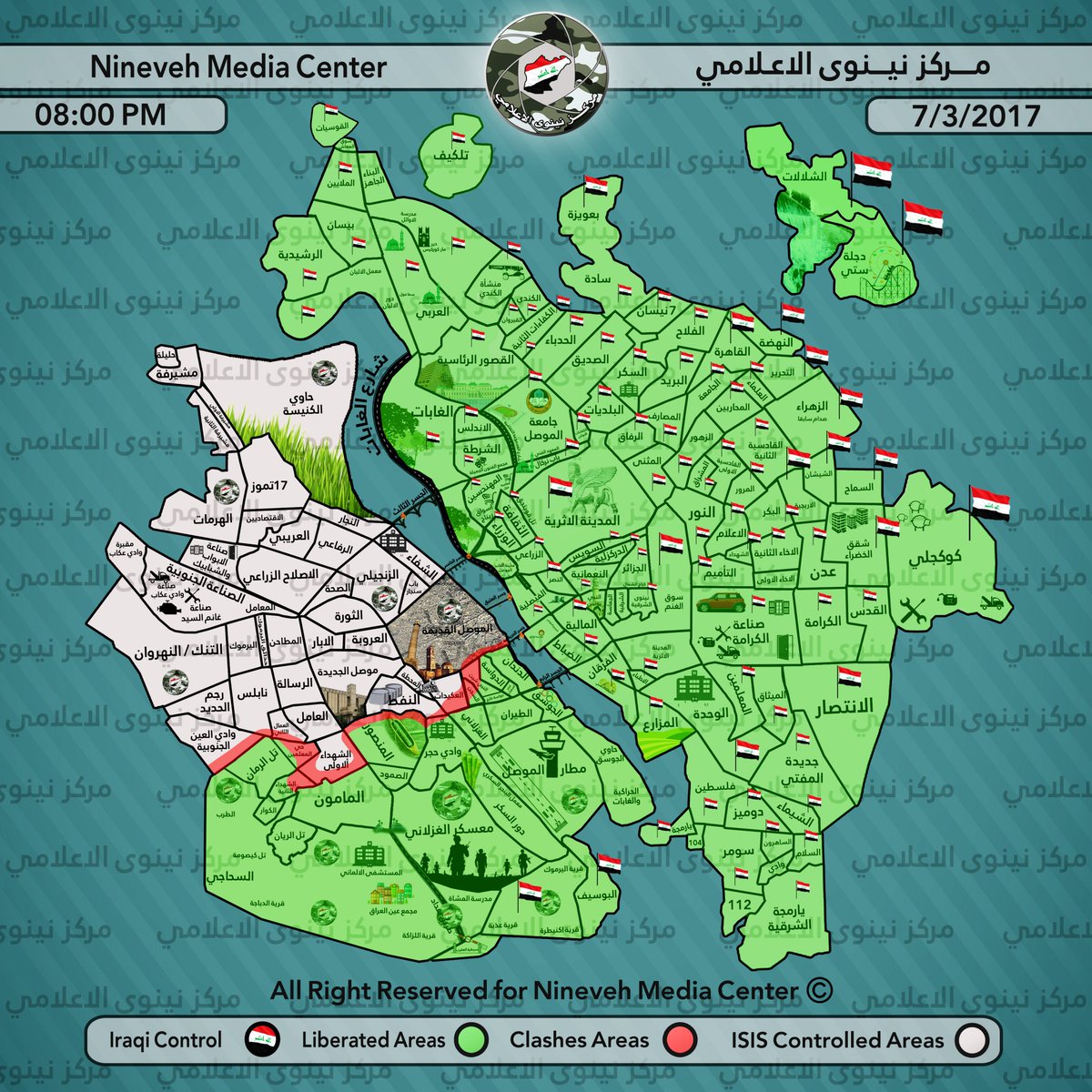 Latest map of Mosul. Source: @NinevehMC
On the 6th of March 2017 CJTF-OIR has conducted 8 strikes in Syria. CJTF-OIR's main focus in Syria at the moment is Deir al-Zour where they did 5 strikes supporting SDF's operation against IS destroying four tactical vehicles, four IS-held buildings, two wellheads, two engineering equipment pieces and a tank
Other areas where strikes occurred are Abu Kamal, Raqqa and Manbij destroying a wellhead & an oil inlet manifold, two vehicles and a vehicle & an artillery system, respectively. Full report on CJTF-OIR strikes conducted in both Syria & Iraq can be found here.
Intellectual credited property used may vary from an edition to edition.
Feel free to voice your opinion in the comments section below, constructive criticism is welcomed.
For those of you interested, you can follow us on an official Twitter account @SyrianWarDaily, or me personally on my biased twitter @joskobaric where I occasionally tweet some things.