Hello and welcome to the 22nd installment of the SWD.
Military events are listed below by the governorates:
Aleppo:
TFSA continues their streak of capturing soldiers, two SAA soldiers were captured on Tadef front and another one on western Manbij front. The only reasonable explanation for all these recent captures are navigational errors on SAA's side due to frontlines being fresh and not yet clearly established. This is how one is able to explain these captures without getting into conspiracy theories such as SAA soldiers intentionally deserting to TFSA under the pretext of capture or TFSA capturing local civilians and claiming they are soldiers for the propaganda purposes.
Four Turkish soldiers were reportedly injured today somewhere in Al-Bab. Pro-AKP sources went so far as to say that injuries occurred due to SDF shelling of Al-Bab. For now at least, there is no way to prove that injuries were caused by either shelling or engaging against SDF in Syria, for all we know injuries may have been caused by an IED left behind by IS in Al-Bab. Pro-AKP sources intentionally included that SDF was the perpetrator of the attack even though there is no way to verify it and the reasons they did are to increase anti-SDF sentiment already present in Turkey, aggravate people against SDF and try to fuel and justify an operation aimed at dismantling SDF.
Unconfirmed rumors keep circulating about the SDF-Russia deal mostly concentrating on the size of the territory that is going to be handed over to the government forces. According to some reports Syrian army has entered some villages in western Manbij, if this deal doesn't include SDF handing over the city of Manbij itself to SAA, then this whole situation does not seem very favorable to government. Being sandwiched between TFSA and SDF in a thing salient for a couple of unimportant villages isn't worth it to SAA and bearing most of the brunt if TFSA still decides to advance on Manbij from the western side and they seem inclined to do it with today's advances.
TFSA have taken control of Ulashi and Boughaz villages from SDF west of Manbij, Hawar Kilis operation room has released a statement confirming village of Ulashi was captured, statement can be found here. TFSA also announced they have killed and captured a number of SDF fighters during the clashes near Boughaz. Later in the day, video has surfaced showing TFSA abusing an SDF prisoner they captured earlier in the day.
SAA Tiger Forces continue their impressive advance against IS capturing; Al-Ruwfia, Abu Jadhad Kabir, Al-Ashini, Rasm al-Hamam Miri, Adim, Al-Aridiyah, Jabal Salma, Qasr Sallum, Abajah, Rasm al-Ahmar. If Tiger Forces keep up advancing at this pace they should liberate al-Khafsa water plant by tomorrow and end the Aleppo water crisis.
Map showing situation in eastern Aleppo after SAA's advances. Source: @hamza_780
Deir al-Zour:
After yesterday's advances against IS in Deir al-Zour governorate SDF has cut the Raqqa – Deir al-Zour road therefore making IS's logistics harder between the two towns.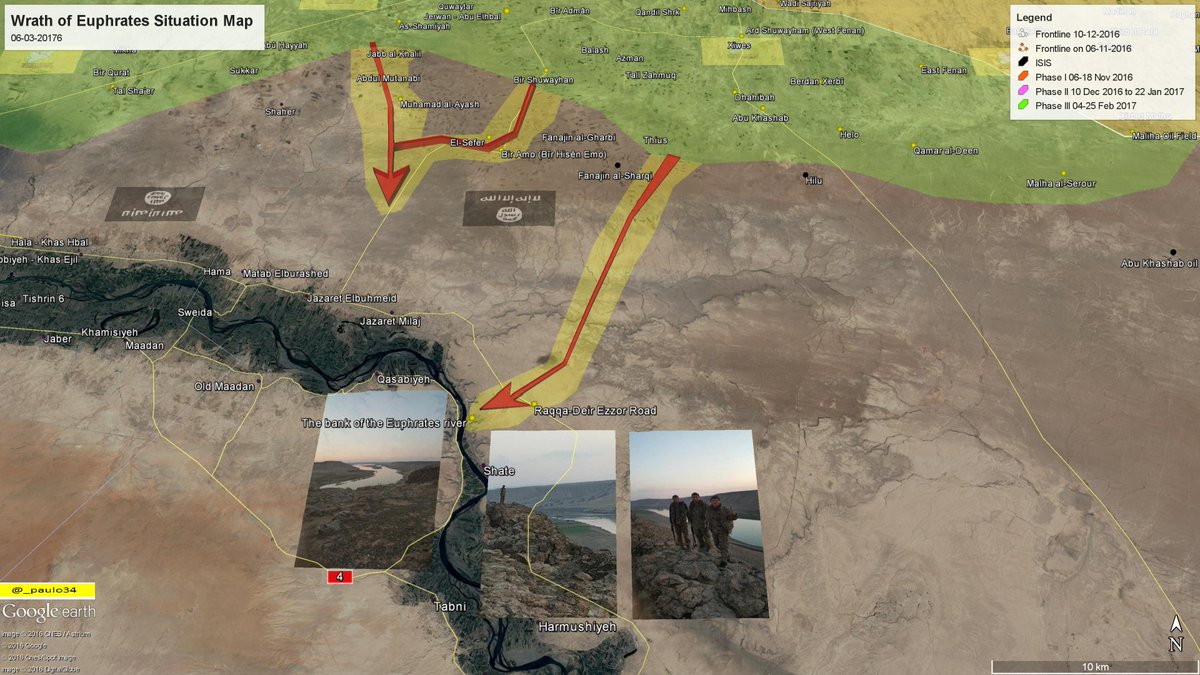 Map of northern Deir al-Zour with photo evidence of SDF cutting the aforementioned road. Source: @_paulo34
Iraq:
Iraqi army continues to make progress against IS in west Mosul officially liberating Al-Samoud district. Army also managed to capture some localities in districts near the front line such as Al-Hurriya 2nd bridge, water and sewage department in Al-Dandan, police department and court complex in Al-Dawasa and Mosul museum. Advances in the city are slowed down due to suicide attacks, snipers and IEDs.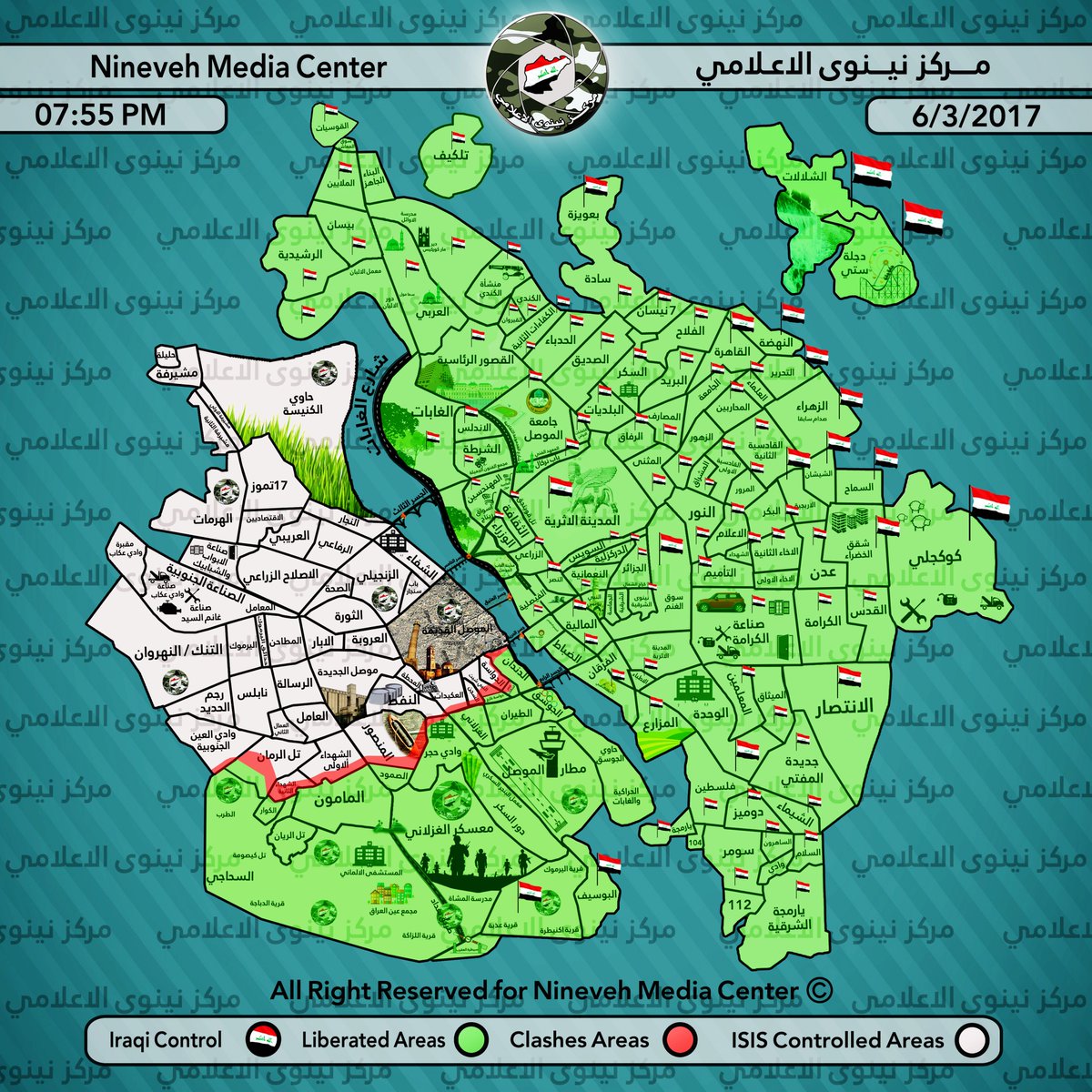 Latest map of Mosul. Source: @NinevehMC
On the 5th of March 2017 CJTF-OIR has conducted 8 strikes in Syria. CJTF-OIR's main focus in Syria at the moment is Deir al-Zour where they did 5 strikes supporting SDF's operation against IS destroying five oil well heads and an oil inlet manifold
Other areas where strikes occurred are Abu Kamal and Raqqa destroying a weapons storage facility and damaging a "supply route", respectively. Full report on CJTF-OIR strikes conducted in both Syria & Iraq can be found here.
Intellectual credited property used may vary from an edition to edition.
Feel free to voice your opinion in the comments section below, constructive criticism is welcomed.
For those of you interested, you can follow us on an official Twitter account @SyrianWarDaily, or me personally on my biased twitter @joskobaric where I occasionally tweet some things.